"Okay, GLASS. GOD IS A WOMAN," a man at 16th and Mission told the sky, wire bent around his face like glasses with an amethyst jutting over his right eye. 7:30 AM on a Tuesday, he sat on a crate in front of a produce stand and took a large bite out of an heirloom tomato. I'd never seen him there before, after all this time.
"God. Is. A. Woman," he said again into his homemade Google Glass, this time in a quiet, pouting staccato. He stood up six and a half feet tall, pumping his arms in the air like a seagull in heat, he cast the tomato onto the pile of the wet trash matted flat against the sewer. "And she don't care about you. And she don't care about me. Tell you what, girl, you better tip your gravedigger, 'cause you ain't got long. You ain't got long. I can tell you that much."
I made my way closer to the BART station stairwell and my eyes met a familiar face: Lone Star Swan, the 1970s television news reporter from Illinois who wandered to San Francisco when Schizophrenia took ahold of his brain. I see him twice a day, his unruly grey hair kept at bay beneath a piece of cloth tied securely around his temples. First in the midst of his morning pigeon feed, then again in the evening by the corner store where he nurses his bedtime blunt.
"Jesus eats his heart out at every word I say," he's told local blogs and documentarians, "My scriptures are so much better than anything in the Bible. I am a thousand person character. I have claimed to be God, Jesus, Buddha, and Napoleon, and backed it up and proved it." He used to hand out xeroxed copies of his daily writings in the 16th Street plaza. They're strange and beautiful outpourings. Like if William Blake and Haruki Murakami decided to go for a sail in a boat made of pomegranate rinds to capture eels, then use them to strangle local politicians into electric shock.
Up the street from this very scene, a small, dive-bar adjacent lot that once housed an auto shop just sold to a luxury apartment developer for 8.7 million dollars. The legendary Adobe Books and Arts Cooperative — a place you could wander into half-drunk at 11:30 PM, get your palm read, stock up on Walter Benjamin, and overhear two old timers gossip about dead presidents — faced eviction despite the entire neighborhood rallying their wallets behind them. The last and only Latino gay bar in San Francisco, Esta Noche, has been shuttered and gutted, doomed for Korean fusion small plates or pour-over coffee.
The same bar where a drag queen once bent down and whispered urgently into my ear, "I want to start a cut-and-paste project that's a cross between Los Lobos and and Françoise Hardy — do you think there's an audience for that?" I closed my eyes and nodded solemnly.
This neighborhood has always been a backdrop for political theatre.
Let me set the record straight: I'm the bad guy in this story. It's because of people like me, a twenty-something working in the technology sector, that the face of the Mission District has shifted from a blue collar melting pot where young people and immigrant families could go to reinvent themselves, to a place where a 98-year-old Dolores Street resident of 50 years can find herself Ellis-Acted with the flick of an investment banker's pen.
In many ways, the current wave of tech gentrification in the Mission is unfolding in the exact same fashion as every other colonial narrative the Bay Area has cyclically endured since the mid 1800s. What was the Gold Rush if not a parable of excess and of karmic retribution — a web of boom and bust cautionary tales passed on from angry boy to angry boy, young men ambling up to the plate for their slice of the pie? San Francisco has always been a boomtown gal.
I'll call us the Big Data group. The ones making San Francisco seem to old time residents like a big huge unchaperoned prom for echo boomers bearing succulents in lieu of boutineers. If we're lucky, we'll maybe be remembered for our obsession with swimming through giant oceans of user experience flows and presenting our wide-sweeping conclusions to live-streaming audiences like mega-church preachers. We'll be remembered for deftly fooling each other into mobile microtransactions and eclipsing timeworn worker's unions with fist bumps. We'll be remembered for skewing away from skeuomorphic design and the reign of Steve Jobs. We'll be remembered for appropriating the word "culture," then reducing and mutating it horrendously into little more than a recruiting buzzword. And perhaps most importantly, we'll be remembered for trying, and failing, to derail traditional top-down media with a half-baked, bottom-up social media democracy.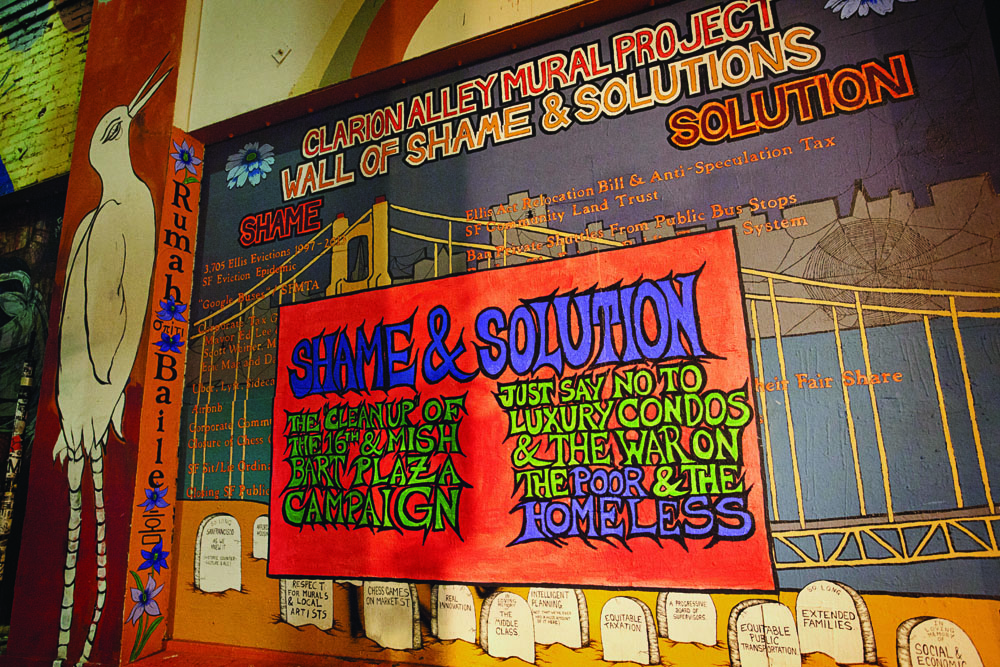 San Francisco is Doomed, released last month, is a compilation of lo-fi tracks produced by Bay Area musicians about the (young, white, male) tech workers infiltrating their fair city. It's the fourth release on multimedia artist, Hannah Lew's label, Crime on the Moon. She lifted the album's title almost directly from a record that Bay Area punk band, Crime, released just before the dot com boom of the 90's. Lew has told reporters that while she doesn't believe technological innovation itself to be inherently corrupt, it seems to permeate the city like a "dull panic."The artists she curated for the release manage to not only echo this sentiment, but seem to slither around its every permutation with solipsistic pleasure.
"Just walking down the street makes me want to puke," sets off the overture from Thee Oh Sees frontman John Dwyer on "You Can Have It," a cantankerous track hurled through the psych-rock band's signature kaleidoscopic trapdoor. Thee Oh Sees were just one of many music collectives Dwyer formed over the course of approximately two decades in San Francisco, in which time he gained a loyal following as a major player in the so-called "garage rock revival." The whole thing felt like living in one of those bug-eyed anthropomorphic drawings the stoner guys made in detention. Brain Ramen. Whatever it was, I was all in. I went to every show I could.
When Thee Oh Sees announced toward the end of their set at the Great American Music Hall last December that this would be their last show as a band for the indefinite future, a wave of betrayal washed over me. It felt like the end of something. Dwyer's now infamous exodus to Los Angeles earlier this year, joining fellow Bay Area ex-pat Ty Segall in the holy trinity of sunshine, taco trucks, and abundant garage space, left many long time fans feeling spurned. Adding insult to injury, next came this scathing press release from the former Mission resident, promoting a new addition to his label, a "deep 80s synth bass" act called POW! Their debut album titled HI TECH BOOM:
"Deep in the graveyard SF a young hand with black and cracked nails is pushing up through a broken pile of E-slag. Bitter teeth tear through server cables and motherboards, trying to be freed from the ever deepening sludge of tech waste…the Iphone is the new Styrofoam cup. Stepping over them, eyes glazed, feet dragging, blank face aglow in the eerie luminescence of the smart(?) phones underfoot, is the spirit of these songs. […] Heed the warning bell about the streets of our home being clogged with the cholesterol of normals…next they could be knocking on your door…"
I moved to the Mission when I was 22 because I was told in college that the only way to subvert the system was to get inside the system. With or without Dwyer, it's summer in San Francisco because my bay windows are all open and the girl outside is yelling about hate crime epidemics to her boyfriend. And down the BART station, 16th Street preacher is yelling about what Jesus said to Mary. And the fog's rolling in through the crevices of Sutro Tower saying, "Sooner or later, I'm coming for you."
Each gentrification cycle the city has borne gives way to a new manifestation of guilt. Give it ten years. In ten years we'll be able to see all of this clearly. After we've ransacked all the Stop-You-Dead-in-Your-Tracks Victorians and turned them into three story houses for our children to play in and taken all the briny sweetness from these streets and hung it on our walls. What we can take away from the current cycle of the San Francisco Gold Rush now is that, true to legacy, it's a two-way discourse. And that we're hearing each other. And that Dolores Park smells way, way better in real life than it does through Virtual Reality headsets. And that when technology forces the media to transform from an oligarchy to a democracy at a speed faster than society can scale, we get a whole new breed of lonesome.
– Kate Mitchell, Contributing Writer
@katescarmitch
Photography by Hannah Baumhofer