To leave a conversation with John Maus, PhD, is to leave a conversation more curious than you were upon entering. Perhaps most impressive about the musician-composer-philosopher is his regard for inner inquiry and the possibilities it might breed. Maus's latest solo album, Screen Memories, is the result of six months of meticulous curiosity and sequestered sonic experimentation. The album—part one of a twofer—gives a pulse to systematic ruin set against subtle urgency and beautiful complexity, all in hopes of leaving audiences attuned to the possibilities of curiosity.
I'm curious, what drove you to pursue your Doctorate of Philosophy in Political Science?
I found that the reason for following it all the way through was because I didn't want to leave it half finished. Completing the dissertation is really more than half the battle; that's where you really come up against vanguard and discipline and can contribute to the literature in some hopefully substantial way. The other part, of course, not that it matters (well, it seems to matter less and less) but, the petty reason of the feather in the cap. In relation to music, and in situations like this, in whatever sense I can adjust the jargon of the discipline into something more colloquial. Obtaining that sort of knowledge can prove useful in steering the discourse around the work I'm doing or the work other people are doing. The responsibility to honor the privilege to have been given, albeit a hurricane in a teacup, but still, a hurricane nonetheless. I can always go, "I'm a fucking doctor, man!"
From what I can gather from comments online and by and large, the residues of the discipline are regarded with zero respect. There's just so much nonsense that doesn't serve a purpose in a world of quantifiable knowledge where that knowledge is held up as the only knowledge worth having.
Can you speak about your responsibility as an artist in this current social-political climate?
Absolutely. I made the joke a few times that most of the album was done before the last election, so I was a little bit sad that the release didn't correspond simultaneously with the ripples of hysteria. I feel like it would have resonated much more deeply than perhaps it did having come after the dust had settled, at least a little bit. But, in terms of the political responsibility, I've always believed and maintained that the politics of aesthetics comes by way of purely aesthetic concern. The further the envelope is pushed, or the idiom is shattered at its limits, the greater the political effects will be. A new music is a call for a new people; it imagines a different situation than the one that presently stands. This is my wager, as opposed to the protest lyric, as such, you know, the ten songs of 2017 that spoke truth to power. Green Day might have a song, "Fuck Donald Trump." Does anyone honestly think that changes anybody's mind or reconfigures the situation in any radical way? Or is it merely another condition, a possibility for the world as it stands? These explicit protest lyrics, maybe they're just another turn of the screw.
While I share the sentiment, the inclination to "kill the white man," I believe that there's a better approach. My approach [aims to] reconfigure the mechanisms of power more than this so-called speaking truth to power. There's so much preaching to the choir, and so the world turns and it's the same as it was yesterday. This is just a broad picture of how I think of the political responsibility of people working in art have. They don't even have to consciously think of it that way, and if they're serious and don't come to it lightly, it most likely is going to have consequences.
And this isn't to say that there aren't a million examples of people who have protest lyrics who don't also achieve these political consequences in the manner that I'm speaking of, the purely objective musical details of their work interrogating the idiom, musically speaking. I think about a lot of early punk rock that had explicit protest lyrics—it's the music itself that's doing the political work more than the message of the lyrics, perhaps. At least, that's where I land on it now.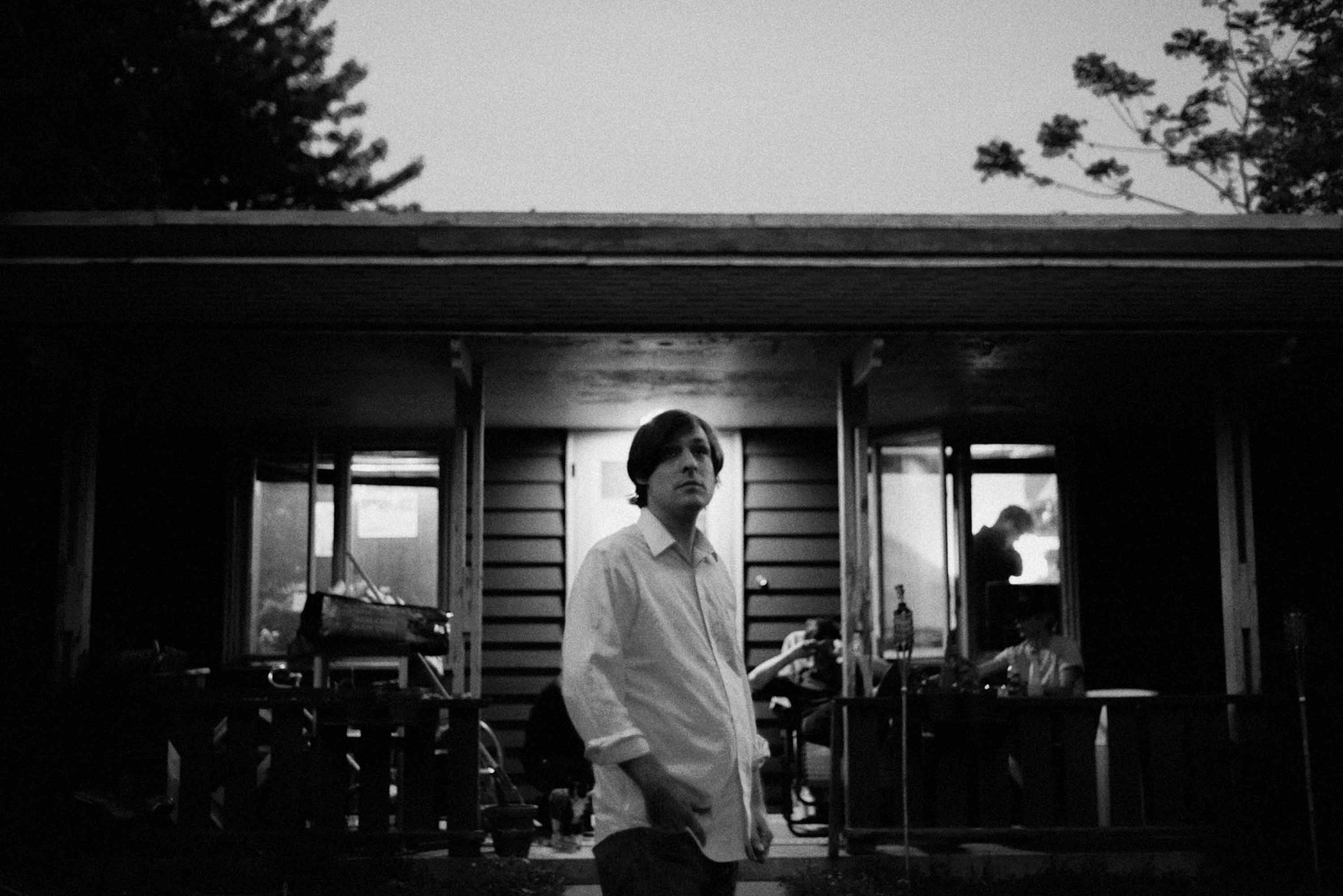 In learning to wire and create your own synthesizer have you found that your sonic aesthetic or even your approach to music have changed?
I mean, the approach has changed—again, this is partly out of a sense of responsibility. I remember when I would tour six years ago with the last record, I would play with bands, somebody like Dan Deacon, for instance, who has all these machines, and it made me think to myself, "Well, in a way this is my vocation, perhaps I ought to take seriously the dimension of media, of instruments involved." What I thought before this, the lazy approach I took, was that it doesn't really matter what gear you have—that's not going to help you write a good song. And also, coming out of the academic world, I had come across this idea that a great deal of what sets our music apart from the music of different, earlier situations and cultures and so on is precisely the media technology involved. The radical singularity of the media involved, where it's no longer a resonant cavity or a vibrating string, but energy being manipulated, unfiltered, at the level of the electron. In other words, it's a misuse of World War II army equipment, scramblers, tape decks, mixers, that whole array of machinery that was left as the rubble of cash weapons. I like that idea of becoming intimately acquainted. Maybe an artist ought to be both an advocate of the historical tendencies and a sworn enemy of them—must be in complete command of the most advanced means of artistic construction.
With all that said, I think I only went so far as to scratch the surface; it didn't go to show as much as I thought it would. It's almost in bad faith, too. As much as I would pontificate on it in such a convoluted way, wasn't I just one of these nerds that goes, "analog sounds warmer; it's more real." This cliche, as much as I tried to dress it up; wasn't that finally what was happening when I did all that? But, who's to say. 
I was just thinking last night; I was watching Nova, [an episode] about the eclipse we just had, and they were talking about the sun's corona, and I was thinking about the behavior of plasma as it's ejected from the corona of the sun. And there's a mathematical function that would describe the way that plasma moves, and then you think about using that function as an envelope of some sort, a dynamic envelope in the harmonies of a pop track—would it come alive the same way that that plasma did? Then, one of the lessons here is, let's say I spent two weeks writing the code and figuring out how to do that, assuming I had cool music to apply it to in the first place, and then it sounds like garbage, like nothing, nobody can tell. It's always a roll of the dice. Every time, it's a roll of the dice in that usually you spend all the time and then it's nothing. But, thankfully, they say the roll of the dice doesn't abolish chance, so every once in a while you might stumble on something that works. Becoming acquainted with all these techniques and procedures might open up the range of possibilities in terms of trying to accomplish that.
Read our full interview with John Maus in upcoming issue 13, out Jan 20th, and available for pre-order here.