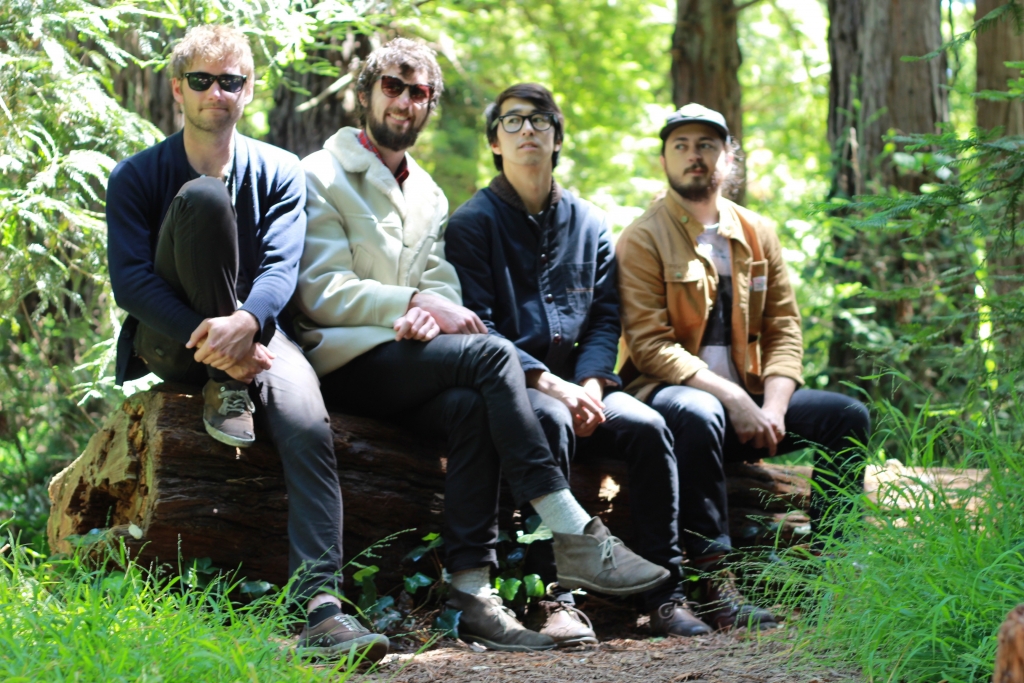 Many bands claim to remain loyal to their roots and promise never to stray. For Cool Ghouls, they truly lived up to this promise, maintaining their hometown feel with an unrestrained new-age edge.
Amadeus had to chance to catch up with Cool Ghouls to talk tour life, their new upcoming album, Treefort Fest and  more.
Cool Ghouls has now been in the garage scene for a few years. Since your formation, how have you seen the it grow ?
It's kind of hard to say, we've seen a lot of rock'n'roll bands moving to LA over the past few years. It does seem like the epicenter these days, at least in terms of numbers. Some bands move down there to be a part of the musical community there. Some probably relocate as a career move, that old making it big in Hollywood thing.
As far as our place, I guess that'd be San Francisco. It's easier for me to think in terms of physical, geographical space than in terms of abstract perceived trends. We're just trying to hold it down here in our community. Trying to keep the party going as these corporate invaders, try to push aside groups who aren't operating in the name of profit or high-tech bullshit.
Early in the bands beginning, you got to tour with groups like Shannon and the Clams. How did touring with a well respected group like this maybe influence your stage presence or motivate you?
It's been awesome befriending all these musicians we look up to. We've recorded each of our albums with a different guy who, in our minds, is a local legend. Touring with the Clams too, becoming pals, you see the attitude they approach performing on stage with. I learned how to not worry so much about what people think of me. Being accepted by performers you look up to is validation. So it gives you confidence, which is by far the most important thing when it comes to something like stage presence.
You released, Cool Ghouls, through Burger Records, but A Swirling Fire Burning Through The Rye with Empty Cellar Records. Why the change? Who will you work with next?
Actually the self-titled record and A Swirling Fire were both Empty Cellar releases. They were responsible for the vinyl, all the digital distribution, and most of the publicity. Burger released both albums on cassette and certainly did a lot as far as getting the word out about us. Our next record will be coming out on Empty Cellar. Hopefully we'll be doing the Burger tape thing again too.
Do you guys have any new albums in the works?
Yeah! We're wrapping up all the artwork for our new album right now. It'll be out later this year. We're stoked! It's our best album yet.
Is this your first time playing Treefort Festival? What are your expectations?
We played Treefort last year, which was our first time. But this will be our fourth time playing Boise. It's always a great time. The crowd there is really genuine and enthusiastic. The locals seem to welcome the festival in a way that's so much more positive than, say, San Francisco's reaction to a festival like Outside Lands. For one, Treefort is way cooler than Outside Lands because it isn't some Goldenvoice bullshit. But also, San Francisco residents are probably more jaded and cynical than people in Boise. Maybe not. But to me Boiseans seem friendlier.
Any group you're stoked to see play the festival?
Stoked that our buds Music Band from Nashville are playing the same night as us!
Any band crushes at the moment?
Um, I don't know. The new record by Cass McCombs's new band, the Skiffle Players, is really good.
Also, look out for their set during the upcoming Treefort Music Fest, March 23 – March 27, 2016.