On a cool and clear Friday night in Los Angeles, one may assume a general buzz of energy and excitement through the city to kick off the weekend anyway. That weekend liveliness felt especially heightened at the Greek Theatre where the anticipation and charge for Blood Orange's show were nearly palpable. A trail of attendees formed early in the night and kicked off with a set from MadeinTYO and Empress Of following after. The outdoor venue quickly filled up as Dev Hynes', better known for his project moniker Blood Orange, performance neared and artists such as Reggie Watts and ABRA were seen in attendance, making their way through the VIP entrance. The audience was a diverse mix of people; everything from colorful outfits, to full black, embellished, bejeweled ensembles could be spotted. Janet Mock said it best on the Negro Swan track "Jewelry" "People try to put us down by saying, 'She's doing the most' or 'He's way too much,' but like, why would we want to do the least?"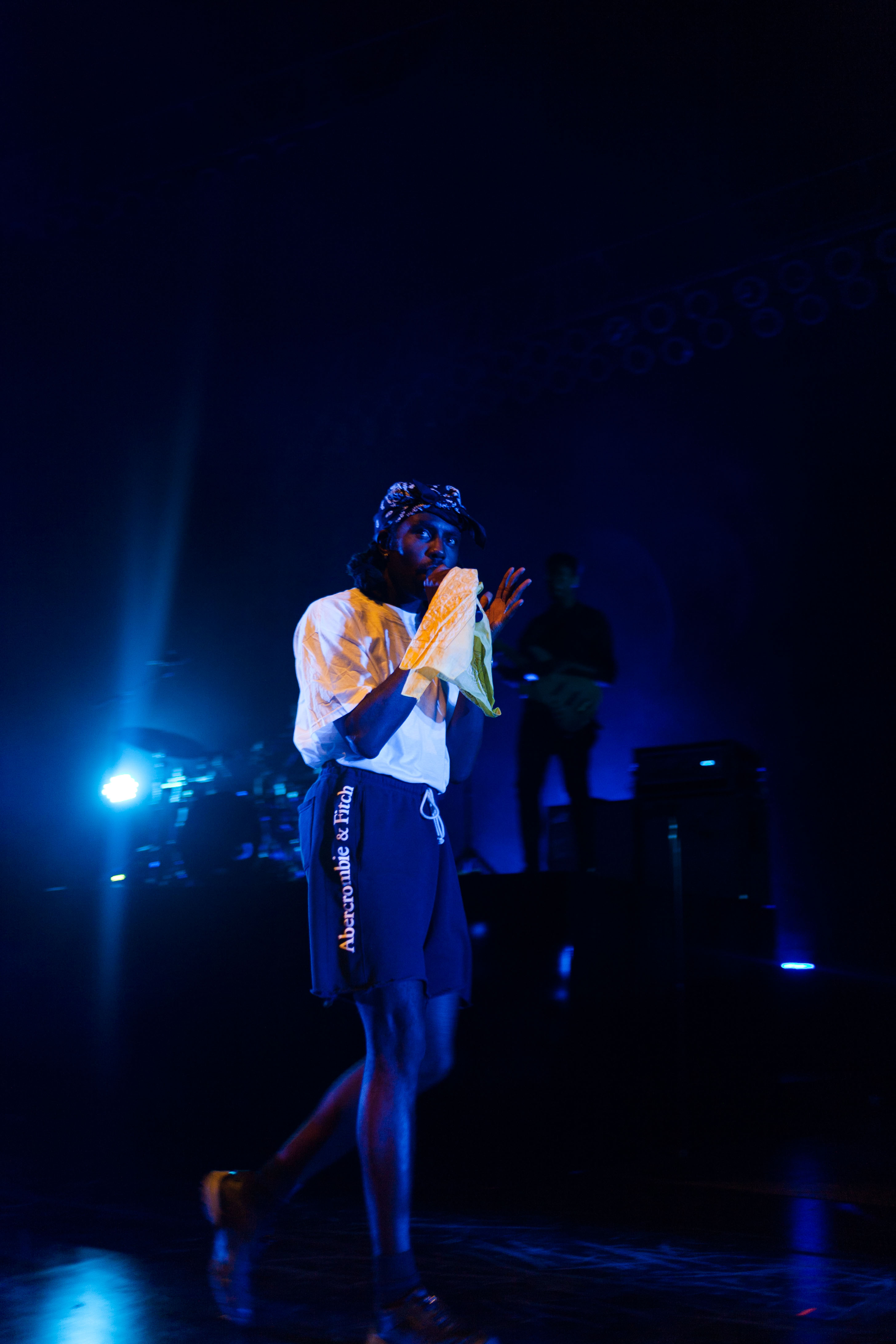 Hynes recently released his first album in two years, Negro Swan. The record brings listeners on a textural, autobiographical journey through his experiences with bullying, self-growth/progress, racism, and otherness. The British multi-instrumentalist and vocalist wore a white t-shirt, Abercrombie & Fitch knee-length shorts, and a black bandana wrapped around his locks. He kicked off the show with "Saint" stepping out between two raised platforms which held the band. The platform on stage left held the percussionists; right below towards the front was a piano and on the right platform showcased his wind instrumentalist and keyboardist. His two backup vocalists, Ian Isiah, and Eva Tolkin propped on the front right side of the stage. Each bandmate wore black, white, and/or blue attire but quite obviously stood out, each boasting their own styles, Tolkin in a white hooded jumpsuit and Isiah in an intricately wrapped white button up, hoop earrings, and a bandana over his long hair.
The lighting cast a purple-blue hue in coordination with songs like "Jewelry" and "Charcoal Baby" where Hynes' delicate vocals emoted the joy and celebration of black skin as well as the realities of being seen differently because of it. The stage glowed with orange-red gusts of light as the New York-based artist's falsetto vocals and expressive, almost instinctual-like dancing carried the fans throughout tracks like "It Is What It Is," "Desiree," and "Augustine" from previous albums Cupid Deluxe, and Freetown Sound. About halfway through the set, the stage dimmed and we were left with only a white spotlight on Isiah and Tolkin. His angelic tone and vocal runs in "Holy Will" with gorgeous harmony accompaniment from Eva had the crowd cheering and calling in encouragement for more. There was a brief break where the band and singers left and Hynes had appeared between the platforms behind a synth with blue and red lights flashing as he launched into the heart-wrenching track of "Dagenham Dream" where he took the audience back to his experience of being bullied in Dagenham, a town in Essex. Hynes played the piano as artist Empress Of came back out in a colorful striped sweater and matching skirt for their Freetown Sound hit "Best to You." The audience swayed and bounced to the track and continued the feel-good energy for "Hope" where Tei Shi skipped out enthusiastically in a white turtleneck and vinyl-like printed skirt.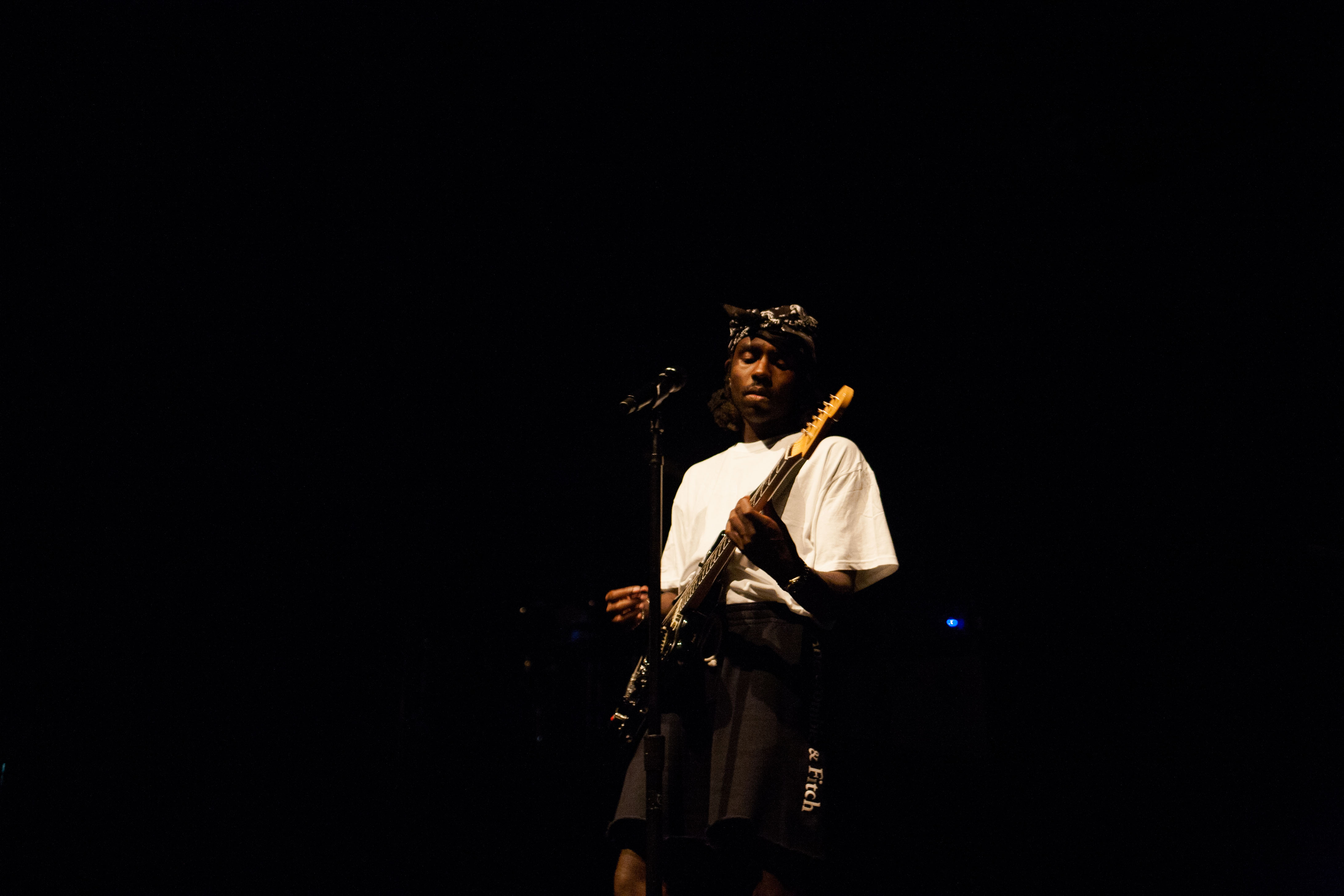 Hynes' performance traveled through moments of melancholy, depressing realizations of reality, spouts of joy, hope, and clarity with smooth transitions that mimics the record's fluctuating mixed journey through memory, lessons, and life experiences as a person of color and individual evidently not tied to expectations of societal standards or gender norms. He closed the show perfectly with the final track of the new album "Smoke," a stripped-down acoustic song simply accompanied with his backup vocals to a dark stage with only a golden spotlight lit on the three vocalists. His delicate tone with accompanying harmonies crooned, "The sun comes in, my heart fulfills within."; a message of hope, confidence, and healing. Blood Orange continues with one more show in the States at Austin City Limits and then kicks off the last leg of his Negro Swan tour in Europe and the UK.
For more from Blood Orange, follow him on Instagram.
Photography by Emil Ravelo.