From her Hackney Wick studio in London, artist Cristina BanBan paints people doing things, sometimes in situations that are also familiar to her, but that also stress the subjectivity of personal experiences. BanBan is inspired by daily life and the act of painting itself. The people she sees, the things she reads, and the conversations she has translate into her paintings; the initial reality of these scenes is distorted by the presence of symbols and motifs that are personal to the artist and which propel her to put them onto her canvas. 
Her subjects range from real street scenes and situations she encounters, to her doubts, fears and the difficulties she faces in modern society, but inevitably all of her imagery is used to tell a personal story. BanBan uses her intrinsic visual vocabulary of forms and iconography — usually voluptuous human figures, layered compositions and textures — to talk about a feeling of a moment in life. Everyday objects and otherwise considered mundane subjects are spiced up with BanBan's notably vibrant color choices that she chooses according to what is appetizing to her eyes. Instead of looking at each color individually, she tries to understand the combination of several and make color palette choices for a painting with regard to how they interact each other.
Cristina's potency lies in her ability to take both the abstract and representational, and unite the two within her color palette, which pulsates so hard it threatens to jump off gallery walls. We recently spoke with Cristina about how her environment plays a large role in her work, why the human body is usually at the forefront of her paintings, and how she's finding new ways to challenge herself artistically. 
Tell us a little about yourself. I know you grew up and went to school in Spain and now live and work in London, but tell us about you…what makes you want to get out of bed every morning? What are some of your interests outside of your artwork?
I love doing what I do for a living so every morning I am excited to come back to the studio and start painting again. Well, maybe it's the coffee that initially helps me to get out of bed as well.
I think is quite rare to find me doing anything outside of my artwork because the work itself is a pleasure for me. What I enjoy the most is having a good conversation with friends or other mates in the studio. One of the fantastic things about London is the people that attracts: intelligent and curious minds!
What was your transition like from having lived in Spain all your life, and then moving to London?
Barcelona is a great city, with beautiful architecture, great weather, people are kind and friendly and the art scene is pretty active and interesting, but I wanted to have a change in my environment and life. Living and working in London is hard, it is a very expensive city, but the huge offering and interest in culture, art, and music make it worth to pay off. At least at the moment.
Does your environment play a large role in your work? Like the things, people, and places you are surrounded by?
It definitely does. I think my work is a response of what I see and experience and the stories I hear about, the street scenarios I pass by, and the moment in time we are facing now.
Where do you live in London? What's the vibe like?
I live in Clapton and my studio is in Hackney Wick, East London. I am very lucky to have such a short commute! Hackney Wick is an area that has changed a lot in the past 20 years, many artists and musicians found affordable studios and live-works spaces here, but after the Olympics it became a hotspot. Now it there are a lot of building projects that are causing the demolition and closing of work spaces, and pushing artists to leave.
Tell us about the people in your paintings. Who are they?
The people in my paintings are a representation of the life struggles that I have heard from people around me, whether it's friends, relatives, or general issues that we are facing in our modern society. Any of these can relate directly to me so I guess those stories are somehow picked as a autobiographical narrative.
What do you like about the human body? The people in your pieces are seemingly larger than usual, with accentuated big arms and shoulders. Tell us about portraying the human body in your pieces.
I enjoy exploring with the human figure, since I was very young I did lots and lots of life drawings, so anatomy is something that comes quickly to me without much thinking or need for a model. I like voluptuous bodies, which has allowed me to experiment with the dimensions.
There are a lot of different layers and visual elements in your pieces, how do you know when a piece is done?
It is difficult to explain, but I guess I try to stop when I feel the weight of the composition; when the colors and its elements are in a certain harmony. When it feels good to my eyes is when I think the piece is finished, sometimes I carry on adding or deleting different bits, which is the completely wrong thing to do. It's all about learning when to stop.
Let's talk color palette, why do you work with such strongly contrasting and bright colors?
I use colors that are appetizing to my eyes. More than to just thinking about each color individually, I try to understand the combination of several and this is how I choose the palette in each painting. I suppose that the use of pink, peach, yellow or pistachio gives more strength to the composition and figures. I also like the counterweight that these flashy colors have with the sad or frustrating themes behind some of my paintings.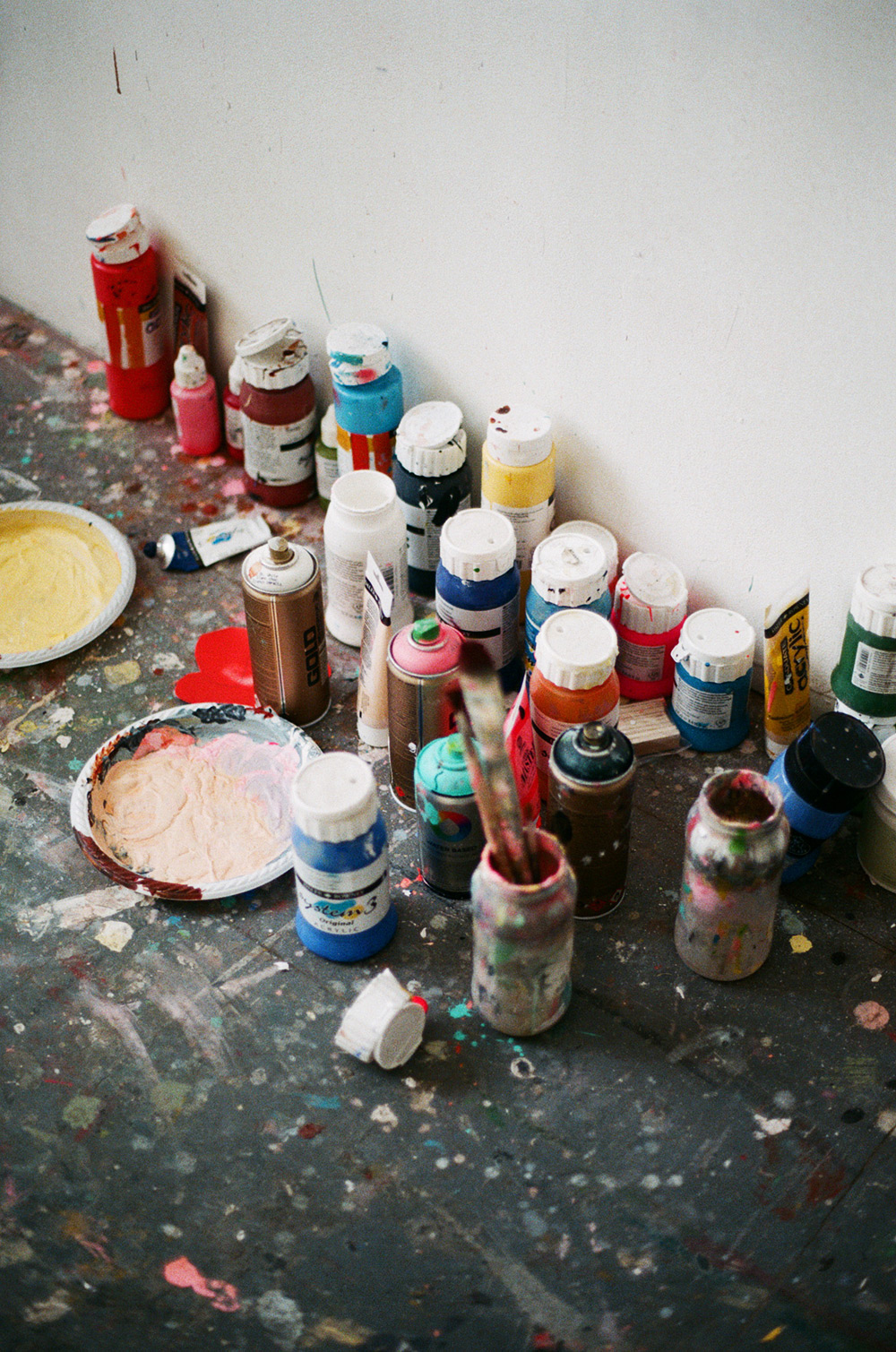 What role does black play in your pieces? It's usually thick and dense.
When painting with pastel or fluorescents colors I use black to balance.
How would you describe your work to someone? Is there a particular narrative you're trying to create?
A colorful representational work that usually depicts large human figures to tell a personal story. Through an intrinsic vocabulary of forms and iconography I talk about a feeling of a moment in life. I choose mundane subjects to convey somehow the vacuum of modern times.
What's your source of creative inspiration?
I like talking to people and reading the news whiles translating into paintings any sort of personal struggle, difficult economy, or social status. Actually, the stories behind some of my work come from real conversations.
There are tons of artists and galleries that I find constantly on the Internet and this is always refreshing. I try to make time to visit the shows I am interested in, but this is not always easy when busy, therefore social media is a great help.
I am also inspired by the act of painting itself as I think the best outcome arrives after spending hours working.
Do you have any goals for 2017 that you can share?
I am preparing for two solo shows, one in London and another one in Barcelona. But also as a personal goal I would like to get to a point where I can decide clearly when a I am happy with a painting, sometimes judging my own work makes my mind blurry.
Any subject matter or thing that you have seen coming up in your pieces more often recently?
Lately I have been experimenting with smaller pieces. Reducing the scale has been challenging and at the moment I am pushing the composition and the textures, sometimes getting closer to abstraction.
For more from Cristina Ban-Ban head follow her on Instagram: @cristina_banban.
All photos taken by Matilda Hill-Jenkins.