From Disneyland to Detroit, Spokane to Scotland, Ed Templeton has never shied from documenting his unmediated chance encounters with individuals sporting mohawks. Over the course of the last 20 years, he's shot countless rolls of film depicting friends and strangers embracing this ubiquitous expression of individuality, and has now put together a new book with Deadbeat Club called Hairdos of Defiance. 
Hairdos of Defiance is a look into a microcosm of a fringe world, one where individuals engage in the act of retreat or refusal as a generative form of identity-making. Eschewing perfection for style, progenitors of the punk scene adopted the radical alterations of their bodies to signify their displeasure. Offensively deviant, the Mohawk evolved as a style dependent on social context and determined by the historical moment; purposely assumed, it is both a mask and an act of masking.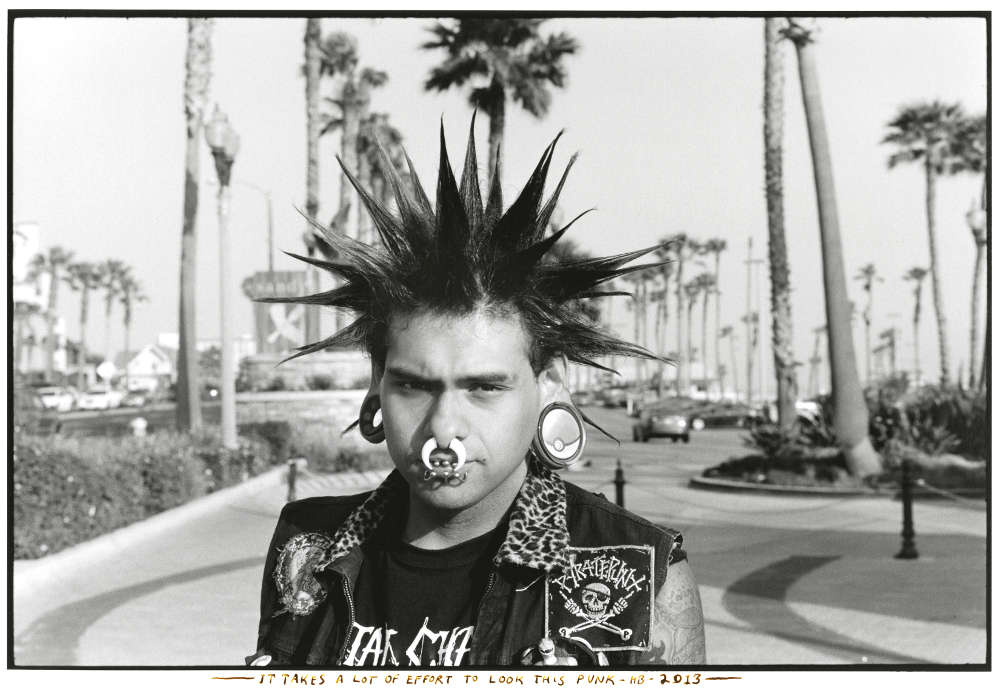 Beginning from Templeton's hyper-localized backyard of Huntington Beach and throughout the U.S. and Europe, the new book demonstrates Templeton's infamous ability to depict his down-to-earth approach to his subjects. The hardcover book features 62 photographs, and includes an accompanying essay, On Mohawks, where Templeton reflects on the evolution of the mohawk, from its origins in indigenous culture to its emergence as a punk identifier, to its co-option by the mainstream, to its significance in his own life as an outsider kid growing up in suburbia.
An explosion of spiked fluorescent pink hair precariously balanced atop a young girl's head, eyes painted black in the shape of an Egyptian goddess, slender neck choked by a black leather dog collar ringed with metal thorns, a ripped-up t-shirt barely concealing the flesh of her breasts: it had the same shocking effect on a family walking along London's King's Road in 1977 as it did on the explorers encountering the Pawnee Indians in 1541, something exotic and strange to behold. Having a punk hairstyle was a way to spit in the eye of polite society, to rebel and depart from the prevailing fashion trends. It was an emblem of non-conformity and a hairdo of defiance – until it wasn't.

—Excerpt from "On Mohawks" by Ed Templeton
Hairdos of Defiance serves as the catalog for Templeton's eponymous solo exhibition at Roberts Projects in Los Angeles, on view March 17 – April 21, 2018. The exhibition is a traditional photo show in an inventive installation that resembles a bedroom, complete with wall wood paneling and nontraditional hanging, positioning the exhibited work in the context of its natural habitat – studios, homes – to form a deeply confessional self-portrait of the objects within.