Through self-expression of societal, cultural and historical repression, Oakland-based artist Jeffrey Cheung brings that vulgarity and rawness that one sees in a skate rough-cut to a canvas. The young artist will open his first European solo exhibition Together at the Andenken Gallery in Amsterdam on September 28th.
Cheung seldom holds traditional shows of his work, but when he does and when one finds themselves the chance to go, do it. Jeffrey's work has a bold singularity to it. He takes you outside the expression of one's self. His signature lumpy figures showcase the human body in various forms and poses that some may find uncomfortable. But for those that it does, move along, because, in this rawness, Cheung creates a gentle, easy feeling inside. With playful toe and finger lengths, soft brush strokes that bend an elbow or enlarge a buttcheek, a calmness overtakes you. You get lost in this sea of hairy tree trunk thighs, swept away from breast to belly button, and you let it take you, you want to go swimming. He plays on the social construction of what and how the human body should be depicted and what should be felt based on that. Cheung's work reminds us that what is supposed to be seen and felt, may not be the only way.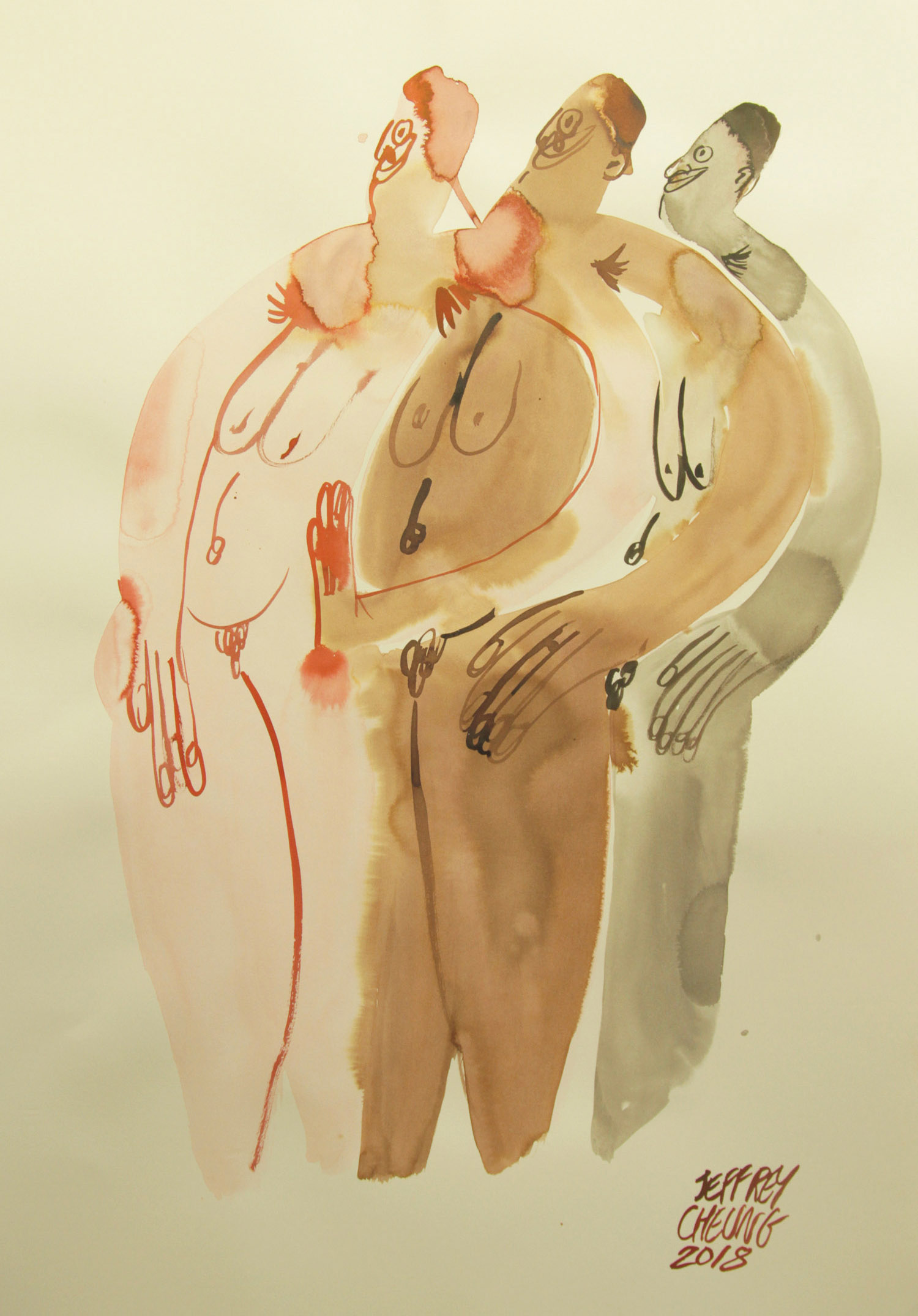 Cheung wears many hats. He is a skater, he is an artist, a musician, a community builder and one of the founders, along with his partner, Gabriel Ramirez, of Unity. Unity is an umbrella of community welcomeness through skating. The name Unity is from Cheung's garage band he started years ago with a friend. Now, it is much more than a garage two-piece. It's about bringing the Queer people, trans people, and people of color (QTPOC) together. They are all over the place; they print and publish zines, sell skate decks, which Jeffrey hand paints himself, have skate meet-ups in the Bay Area, and offer support in any way they can to the QTPOC community.
Cheung grew up in the East Bay, a skater but also an artist. Jeffrey went to school in Santa Cruz after high school and met and befriended a lot of fellow student artists that pushed his artistic abilities. After school, he moved back to the Bay and now has set up the Unity headquarters in the second story of a warehouse in Oakland that he shares with Lower Grand Radio, who often will partner with Unity on projects. For Cheung, it's simply about creating a community that's welcoming. Cheung struggled with being able to be himself while growing up. Skating for him, was a way to express his built up frustration and release it. Unity has received a great amount of support within the skate community and their decks are being sold in shops throughout San Francisco and the East Bay.
His show Together is a special one. Not only is it a solo show, which is a rarity in itself, but it's also his first time soloing in Europe. Cheung is in high-demand these days, and for good reason, but that usually means he's not frequently showing his gallery work. Most of his work can be seen under the feet of some kid skating through town. However, there is a difference in his larger studio pieces than the work he paints on Unity decks, that one does not want to miss out on.
Together opens on September 28th, and runs until October 20th. If you are in Amsterdam during that time, do yourself a favor and check it out. And the next time you are in the Bay Area be sure to stop by the Unity space.
For more from Jeffrey Cheung, follow him on Instagram.