Kristofferson San Pablo has a pretty impressive backstory. The Los Angeles-based artist teaches students at Art Center who often mistake him as fellow student on the first day of class; one of his paintings was the focus of a bidding war between Tyler the Creator and A$Ap Ferg; he runs the creative studio Vacancy Projects with his wife Mary Vu; he made designs for Gucci Mane's new line of threads; he's also got just about everyone, from his machismo childhood friend to an ex-girlfriend's best friend, to send him a nude selfie. You honestly couldn't make this stuff up.
Whether it's a painting, drawing, sculpture or installation, the work that gets made is usually San Pablo's reaction or response to something that has occurred in culture, social media, news, art or often his own life. It's what he describes as somewhat of a "reactive style" — there are always elements of humor, eroticism, and play, but San Pablo uses these ideas to touch on things that are going on around him. From pop culture, sports, and technology to the "weird B-sides of culture" like that infamous S symbol we all drew in our notebooks in middle school, San Pablo is a master of taking things that exist and changing them so the context and meaning become new and inform the current times. His witty and unflinching use of art finds the connections and collisions that exist between popular culture and the feelings or reactions he has towards them. 
I stopped by Kris' studio where we talked about everything from, artwork going viral on social media and the most shocking nude selfie he's ever been sent, to creating work in our current political climate and his upcoming show at Park Life in San Francisco.
When I first saw your work I thought some of your pieces reflected a Robert Crumb aesthetic. First, how would you describe your style? And second, give me some insight on the things, artists, or places that influence your style.
Defining my style is difficult because, in terms of aesthetic, it can go from cartoony to a more traditional way of painting/drawing. I think overall though, there is a theme of fun, play, and humor that might be seen through all the work. I suppose I could say my style is reactive, in the sense that a lot of times, the work that gets made is usually because it reacts or responds to something that might occur in culture, social media, news, art or my own life. I like to connect visual dots and look for patterns in things, and I think my work is more of a reaction or response to those occurrences. As far as influence goes, I definitely think old cartoons, comic strips, but also artists like Guston, Hockney, Crumb, and Goya find their way into my work. I'm also drawn to Conceptual Art and Appropriation Art history ideas, specifically the idea of being able to take something that exists and changing it so the context and meaning become new and maybe informs something of the current times. Being in Los Angeles and Southern California, the people and the landscape definitely inform my work as well.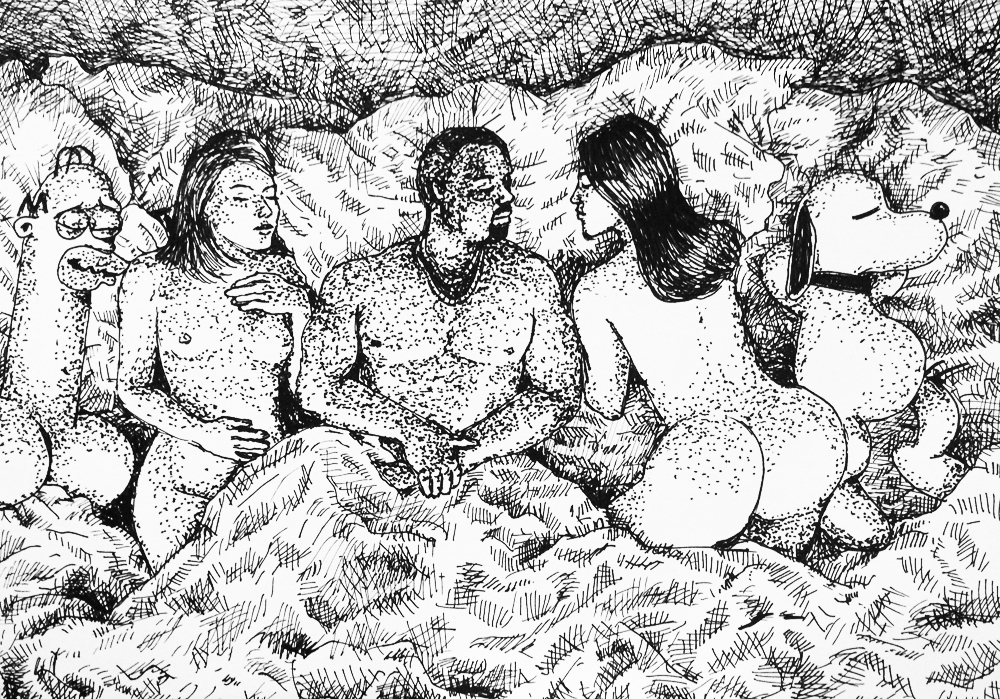 Tell me about your paintings? How do they differ from your drawings and illustrations with regard to subject matter?  
My paintings are usually fun, something small or big, sometimes watercolor, acrylic or oil. There's definitely an emphasis on the materiality of paint, especially color. I think in terms of subject matter, there are definitely main overarching themes throughout the work. Whether it be a painting, drawing, sculpture or installation, there are elements of humor, eroticism, and play, but I'm also using those ideas to touch on current events such as sports, politics, technology, and maybe the more weird B-sides of culture, such as that S symbol all the kids draw in class or finding beauty in old Americana and how it might relate to me growing up as a Filipino American. I definitely use art as a way to comment or express whatever feelings or reactions I have to the world around me or my own personal world (usually me being home with my dogs watching TV). It's almost like a visual ping-pong match between a couch potato, TV channel surfer, and an activist and critical thinker.
One thing I love about your work is how relatable it is. There's always some detail or trait in each of your pieces that everyone can latch on to and make a connection to. Is that a cognizant intention?  
I'm definitely aware of those decisions, but I don't go into the work thinking to make something that is for everyone. In fact, I think my work visually might be easy to connect to, but once inside, the content and layers of subject matter could be cryptic, but also difficult, which is fine for me. In terms of intention, I make the work and then sit with it to be able to make sure the work can say things I might want to say without being too didactic, serious, or funny, but maybe a little of each sprinkled into a visual language that people can hopefully understand.
"In terms of what I think makes a piece viral, who knows. […] If there was a formula, I'm sure it would be something Warholian like "Big colors! Patterns! More more! Yeah, that's great too. Brb." or something he might say."
A lot of your work has that "viral" (I now hate that word) quality to it. Where I could totally see it being shared a million times online and on social media. What do you think makes an image or piece of art "viral" these days?
It's funny because I had this conversation with a colleague and they didn't want to talk about the idea of viral/social media friendly. I think in the age we live in, we kind of have to think about how our work might function that way. But that's not to say that what you make should be made to go viral, in fact, I would say try to do the opposite. What I do think though is that we should be aware of it and accept the fact that maybe some fashion blogger might wear an outfit just so they can come see your work and take a picture with it. Agreeing with that way of viewing work is another story, but to act like you don't go to a museum and see people do that is crazy. In terms of what I think makes a piece viral, who knows. Sometimes I make something and worry about it becoming something that might have those qualities, but then nothing happens. Other times I find out a certain piece gets into channels that do make it go viral, and I'm fine with that too. If there was a formula, I'm sure it would be something Warholian like "Big colors! Patterns! More more! Yeah, that's great too. Brb." or something he might say.
I've found myself asking a lot of artists lately, whether or not they have found it inevitable that certain work they make is politically charged. Have you found that your recent work has a political edge to it, given our current political climate?
I think a lot of times, especially if you're looking at a work critically, the work will always find its way to being related to politics in one way or another. Especially considering the current political climate, it's almost impossible to look at an artwork that is sitting in a gallery or museum space and not think about how it might relate to the world. In fact, I think when we make work, whether the intent is political or not, we should always think about how it might relate to current events. As far as my own personal work goes, I do think that there are moments when I make things intentionally to say something about or poke fun at our current political climate.  It's hard to not watch TV or go on Twitter, get upset, and then find a way to vent. Sometimes venting might mean making art out of it. Peter Saul is actually my favorite at being able to do something like that. One painting is just a duck or a superhero, and the other painting is of some politician looking gross, but it's all in his humorous yet serious visual language.
I think the ongoing series of yours that interests me the most is the "nude selfie" series. Please tell me how this all started. What intrigues you most about the series?
Well, it started in the early 2000s when cell phones started having better cameras, and one day someone sent me a nude picture of themselves. Other than it being really cool and sexy, I was totally into this idea of self-portraiture. I think the first time I got sent a picture, I was in my figure drawing class and I remember connecting the dots of the model in class, and how the picture in my phone was posed in a similar way. I always loved that ultimately, the person who took the photo is the person in charge of how they want to be seen because they have to take the photo, review it to see if they like it or not, then send it to me. I'm kind of just the middle man who renders it.
Which nude selfie is your favorite? Which selfie were you most shocked to receive?
I think my favorite might be the ones of certain people holding objects, making interesting faces, or the men who I might know in real life that would send me something so private for the sake of art. Shocked to receive? Maybe the one of someone bending over balancing a plant on their butt.
How many nude selfie drawings have you done?
I think around 64 or so. I want to get to 100 for a possible book project. I like the idea of this existing as a coffee table book, because like the cell phone and us looking at it really close so no one can see, the book kind of does that also, where it is maybe somewhere in the privacy of one's home when no one is around. But it would also be cool to walk into a gallery and see 100 of these on a wall. Maybe a book release and exhibit? Someone holler at me!
How did you get involved with Delantic? 
It's funny because going back to that viral thing we spoke of earlier, I think it had a lot to do with the painting I did of Gucci Mane in the fur coat going viral on the internet. I'm gonna shout out Jon Caramanica from NY Times (who owns the painting) as being responsible somehow (he interviewed Gucci right after his release from prison). I made quite a few designs; the piece from the first drop is really great and I'm excited to see what lies ahead for them.
Tell me about your slightly manic obsession with, as we all know it, the "Stussy S". How has your obsession evolved over the years? I know you said there is a lot of mystery behind the iconic notebook doodle.
Just like every 3rd grader in the world, I started drawing it once I found out the sacred geometry-eqsue nature of it. From there it helped me understand how to draw block letters, then graffiti, which led to me wanting to draw other things such as comic books, characters, and more. It's this symbol that has no real original despite all the 'research' done on it, and usually, it's viewed on the sides of some kids notebook or backpack. I wanted to pay homage to this symbol that seems to exist all over the world, but only in a few inches of a piece of a paper, and make it into a giant sculpture or incorporate it into paintings, drawings or photographs.
Tell me about your upcoming show in San Francisco. 
My show is at Park Life Gallery on Nov 11th. The title is "Dog's Playing Poker".  It's mostly new work, but also a mixture of some older work. It's going to be an installation of paintings, drawings, and collages, but installed in a way that might make viewers construct a narrative when looking at it all together. I love the idea of having work exist in one space, hanging next to one piece, then a few years later it moves to another space with a different colored wall hanging next to a different piece. The narrative changes with the times and the things it's around.  It's kinda like moving into a new neighborhood and realizing how you might fit in or stand out based on your surroundings.
Kobe or Michael Jordan?
Kobe because I'm loyal to my soil.  But if I were to create a Mt. Rushmore of NBA players, I would put MJ over Kobe because of how he changed the game more than Kobe.
Which Simpsons character do you relate to most? Why?
I use to say Bart because of his rebellious, mischievous ways, but now that I'm older & more aware (possibly cynical lol), I'm probably leaning towards Lisa or Hans Moleman.
Favorite rapper?
Kanye.
Favorite record right now?
Hmmm….. right now?  Really feeling the new SZA.
Favorite thing to do on Sundays?
Binge watch on TV shows & sports while waiting for laundry to dry.
For more from Kris San Pablo follow him on Instagram: @hikristofferson.