This interview was originally published in Issue 14.
Merriam Webster offers six definitions for the word culture. I'm not a linguist, an anthropologist, or an etymologist, but as a biracial, multicultural, young woman of color, culture is more than the sum of its definitions—it determines our sense of self, measures our vitality, our interests, and our understanding of our place in society.
Luna Ikuta and I met in 2010 at Otis College of Art and Design's Summer of Art. Having coincidentally lurked her Facebook profile nights before our first day, I spotted her in the parking lot and introduced myself. That morning, we exchanged phone numbers, and later that day, we grabbed lunch at a nearby Italian restaurant, where we shared our stories with each other.
Despite being the hot Asian girls who smoked cigarettes and wore black, Luna Ikuta and I never identified with one another racially, her being Japanese and me being Eastern European, Chinese, and Polynesian. But what we always had in common was our sensitivity, understanding, and loyalty to our distinguishable cultures. In America, the Asian community is assumed the same, but despite popular opinion, we aren't the same; we come in all different shapes, sizes, hues, and historical backgrounds. Luna's story, defined by hard work, dedication, and due diligence, continues to inspire me to step out of my comfort zone, welcome my influences, and share my multicultural perspective in an array of interchangeable mediums.
What I've always found outstanding about Luna's work is her craftsmanship, experimentation with diverse textures and materials, and genuine passion to fuse her ethnic heritage and bicultural upbringing into objects, furniture, apparel, and two-dimensional works. Her unique point of view is distinctly defined by her willingness to channel pride in who she is and where she comes from into artistic expression that's simple, practical, and elegantly assessable. Her creative output, a combination of industrial design, sculpture, installation, and video, aims to heighten the way we interact with objects around us, awaken our senses, and alter our perception of our own tangible reality.
Let's revisit the first time we met. What do you remember?
We were 16 and met in the parking lot before our first day at Otis College of Art and Design's Summer of Art. We saw each other from opposite ends of the lot when you blurted out, "Hey, are you Luna Ikuta? I've seen you on Facebook!" I've never had anyone approach me like that and I admired how bold you were. I probably looked stiff and nervous, but you broke the ice in such a funny way. You've always had such a strong sense of self—in the way you speak and carry yourself. I felt a connection with you immediately. Since then, we've grown so much together and apart, but to me, you represent the strength of old friendships. You also symbolize a time in my life that ultimately redirected a new path in my life that I didn't expect. It's hard to wrap my head around the depths of it all, but there's a lot to our story.
You were born in Tokyo, raised in the San Fernando Valley, educated in Providence, and are now living and working in Pasadena. How have these environments shaped who you are as a Japanese American artist and designer?
Since my Dad's job had us constantly relocating to different states, I was never in the same place for more than a few years. Every location had its unique trademark and social atmosphere, so I've grown accustomed to adapting to different environments quickly. My parents are both Japanese so despite being in the States, I was living in a predominantly Japanese home. My bicultural upbringing has had a large influence on the meaning behind my work and the aesthetics I am drawn to; however, since I'm Americanized, I believe my influences are a fusion of both American and Asian culture. When I talk about my work in America, people react saying, "Oh, that's so Japanese," but when I express the same thoughts in Japan I receive, "Oh, that's so American." Being able to simultaneously relate to different cultures puts me in an unconfined space that has helped me create without boundaries.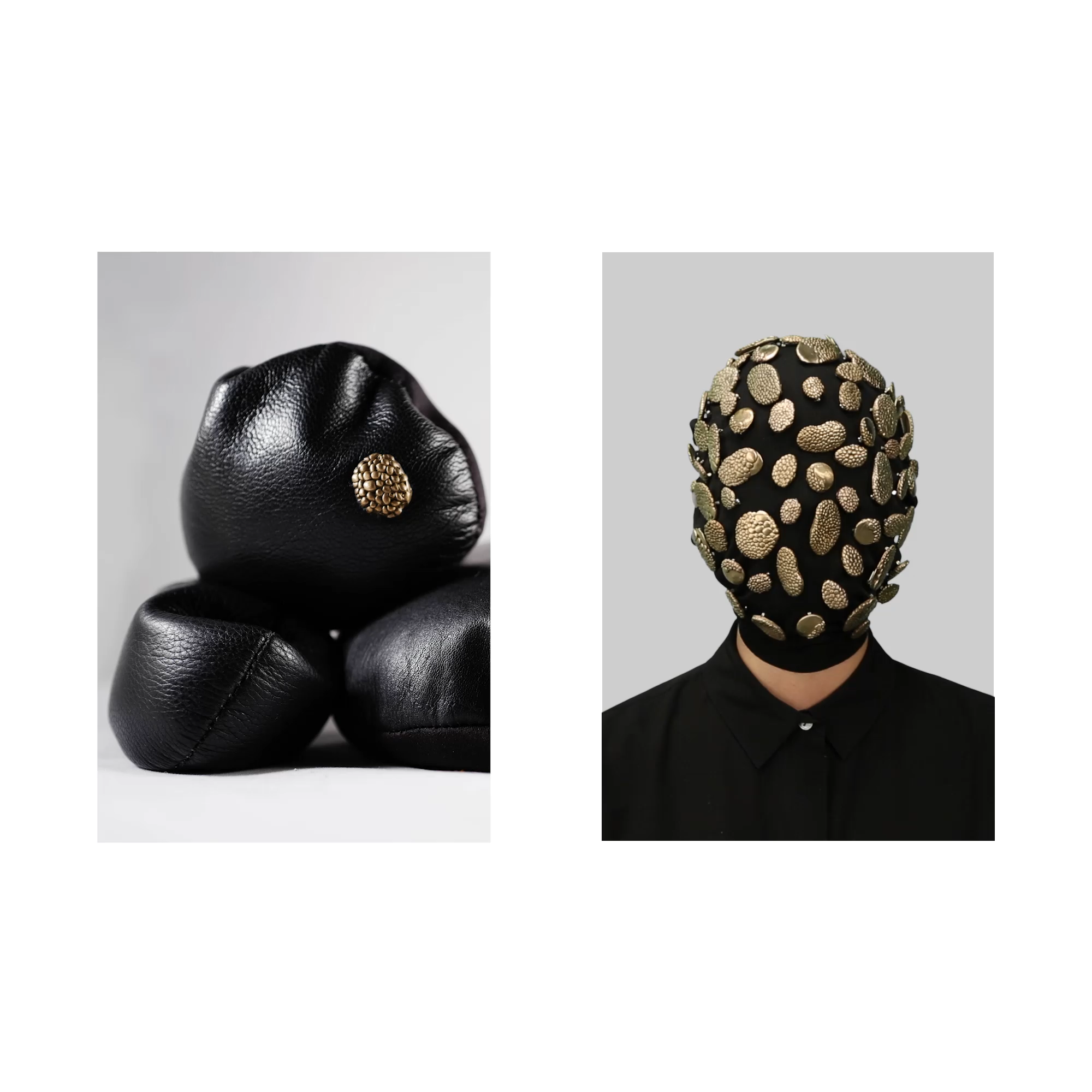 You've had the privilege of studying at some of the most elite academic institutions, like Harvard Westlake and Rhode Island School of Design. How has your academic background contributed to your career and personal growth?
Harvard Westlake was an academic boot camp where a highly intellectual and driven community surrounded me; the standards of success were exceptionally high. Attending RISD felt like I was starting all over again, in an artistic community where structure was undefined. It took time for me to find balance between these two worlds, but I was able to harness the strengths from my background into my work ethic. I knew nothing about anything when I started as a freshman at RISD, so in that setting, I relied on the learning process I had been trained to do: absorb knowledge in order to study, practice, and master a craft. I believe Harvard Westlake taught me perseverance and the confidence to fail and try again. Everything in life relates to problem-solving, and being able to accept challenges has helped me move forward in my pursuits. I am still focused on pushing my own limits and have maintained the rigorous atmosphere of both institutions within my career.
What was your experience studying at RISD?
Before OTIS, I was dedicated to an academically focused path, but as I mentioned earlier, that summer changed everything. To this day, I'm still shocked that I got accepted into RISD with the drawings from that summer and my doodles in my lined notepads. Despite the hard work I put into Harvard Westlake, my first year in college was tougher than any period in high school. On top of that, social vibes were different, class subjects were foreign, and I had no idea how to fit in. Going to RISD felt like I was being stripped of everything I was taught. A #2 pencil was called graphite, and in that setting, I was suddenly expected to translate what I see and feel, not what I know. RISD opened my eyes to a new lifestyle and depths of myself. The intensity fueled the drive to create something from nothing, and the cathartic feeling of completing a project became addicting. I gained a lot of self-confidence through discovering my love for making, and practicing my craft while surrounded by my friends. Friendships were strengthened through respect with each other's work, and this unique way of connecting with people developed a strong support system. I was in the Industrial Design department, so the shops had everything you needed to test ideas. In the studio, I treated the facilities like a laboratory for material exploration and signed up for monitor shifts just to have key access past closing hours.
What's life been like after graduating? Are you where you thought you'd be both personally and professionally?
For my senior thesis, I explored how material properties influence the perceived values of objects and space. Towards the end of the year, I was extremely interested in hospitality design, especially restaurants, bars, and hotels, for how those spaces curated emotion. Suddenly a year after graduation, I started working at Studio-MAI, a bespoke hospitality design studio, and was hired as the furniture and product designer. For two years now, I have been designing custom furniture and lighting for hospitality spaces and it's crazy to me how this all happened so fast. I recently completed my first project from start to finish called INKO-NITO, a restaurant in Los Angeles' Arts District. It's been a rewarding experience so far and I'm really honored to have such creative freedom in my job that caters to my interests. Aside from my job, I maintain my own studio practice and am working on the side to establish a brand with my own objects and installation projects.
Talk to me about your creative practice. What mediums are you working with and how would you describe your style?
My creative practice isn't limited to one category and I never want to confine myself to just doing one thing. I love art, fashion, furniture, jewelry, music, etc. I venture across a lot of mediums and I want to create a world under my aesthetic umbrella. My background as a product designer has instilled a fascination with how objects evoke visceral reactions and suggest perceived value. As an artist, I engage with materials to celebrate their intrinsic character such as weight, color, temperature, and texture. I work across mediums to create work informed by psychological studies of "preciousness," focusing on creating objects that waken our senses. Bridging the world of art and design, these objects are a reflection of how I value texture, symbolism, and material. My color palette is often monochromatic, more often black. I am also always wearing black, and that's because I believe it is the richest of all color. There is no end to the beauty of black. 
Tell me about the new project you're working on.
Currently, I am focusing on building a brand and design house called MUGEN. In Japanese, mugen has two meanings, infinity and dreams. It's an old word that isn't used so often in colloquial speech, but the term perfectly fits the kind of creative space I want to immerse myself into.
Let's talk influences. Where do you find inspiration?
My culture. Whether it's the process, the material, or the idea, my Japanese roots surface in some form or another. I also look up to designers and artists such as Escher, Nobuo Sekine, Yohji Yamamoto, Ren Hang, and Oki Sato. I often seek advice from my mother, who went to Parsons for Graphic Design, and my little sister Enna, who is now completing her final year at RISD. I have complete trust in their taste, so I constantly converse with them about ideas I have.
Where do you see your brand in five years?
I'm launching our site soon, which will have our first collection of accessories, jewelry, and objects. I'm starting with objects but hope to expand into installations, videos, graphic novels, and short films. MUGEN is going to be a production house that encompasses a lot of ideas under one overseeing eye, hence the sub-name mugeneyes. I'm really excited for the next years to come and hope for a lot of opportunities to work with friends and other artists to make it happen.
For more from Luna Ikuta,  follow her on Instagram.
Portrait by Samantha Grad.