Annabelle Maginnis is a multi-disciplinary artist, dipping her toes into every pond she stumbles upon. Though it may seem like she can't sit still, the way in which Maginnis navigates the art world is less about the inability to focus on one thing, and more about the natural —maybe insatiable—hunger to do it all. From a young age, the arts beckoned her to which she responded whole-heartedly through painting, writing, music and more. 
Maginnis' journey through life is one that could only be described as whimsical. Maginnis bounced from one coast to the other, has lived and made art in Europe, participates in her band MetronOhm, and constantly inspires her friends while simultaneously being inspired by said friends. This rather nomadic and explorative life has helped to shape Maginnis' songwriting into an equally fantastical mix of electronic, jazz, and folk that so perfectly matches her imitable honey-toned voice. We had the chance to catch up with Maginnis while the vibrant artist was overseas, to talk about picking up Suzuki violin at the age of ten, her inspiring time in Europe, and her debut EP Free Debris.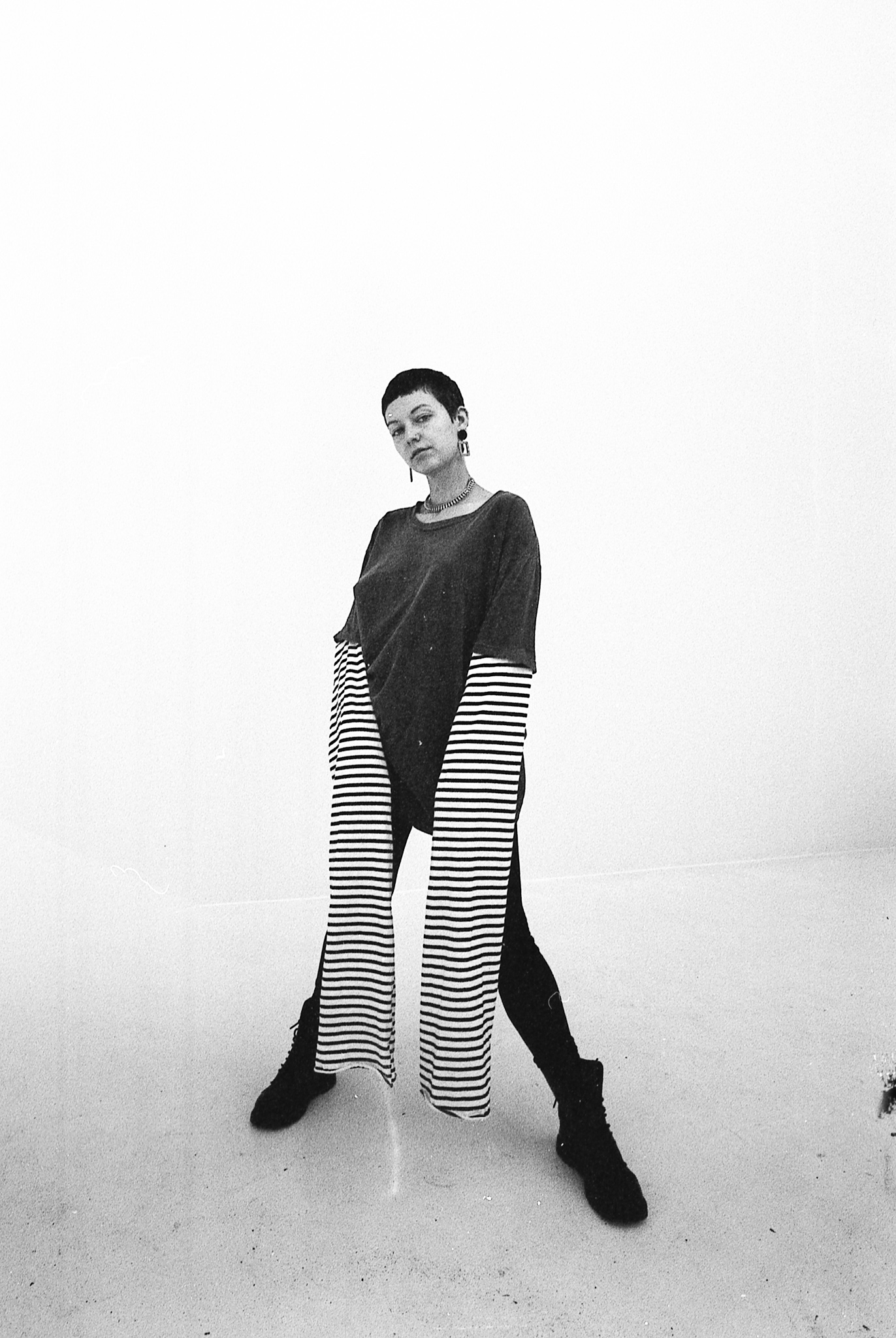 Can you tell us a little bit about your musical beginning? You started by playing the violin. Was music something your family instilled in you?
I decided to play violin when I was 10 on my own account, enticed by a couple of friends who were already learning as well. I was lucky enough to go to a school in Santa Cruz where a person was offering group and private Suzuki violin lessons. Suzuki is a Japanese method that focuses on ear-training rather than reading. It was awesome because I got to essentially learn music as we learn to speak; through repeating phrases. I moved to New York when I was 13. There everyone was sight-reading so I pretended I could read music as well to get accepted into symphony and orchestra. I listened to my stand partners and hoped they were playing the right things! We got to play some awesome material varying from John Williams scores to Brazilian jazz, to Bach. Unfortunately at 16, when I moved to Los Angeles there weren't accessible violin programs. Violin is so loud. Where I was living, I didn't feel like I could keep playing without bothering everyone. Sadly, I stopped playing music for a few years at this point. 
You moved onto the mandolin eventually. Was there a reason you were drawn to these more folky, less widely played instruments at such a young age?
I bought myself a mandolin just after graduating from high school. I guess I didn't associate the instrument with any style of music. All I knew was that it was tuned in the same way as a violin, and it was possible to play a lot quieter. It also struck me as an instrument that I could bring around with me a lot more easily since it's less fragile than a violin and fairly compact. I started teaching myself by going up to trails where I could be alone (first in Griffith Park, then in the hills of San Rafael where my university was) and just played whatever I wanted. I didn't have the intention of singing and writing music with it, but I got so addicted that it was impossible not to. 
Can you tell me about your time spent in Europe and how it affected you as an artist?
I studied abroad in a town called Nijmegen in Holland and stayed there for about 9 months, traveling around other countries as well. I made some really solid friendships with creative people who encouraged me to play for them, and with them, basically all the time. I hadn't intended on sharing my music in any serious kind of way. But after they convinced me to do some open mics, that lead to shows and festivals. I realized that other people may also identify with what I have to say. Why not give it a shot? 
Since recently working on and releasing solo work, how has the process differed from working with your band, MetronOhm?
MetronOhm has been an evolving project and a collaboration between myself and Kofi Asare-Aboagye. We've been playing together for a few years and we have built our project slowly learning a lot along the way. I feel so lucky for the knowledge and insight that this project has given me, as it's undeniably helped pave the way for my releases under my own name and vice versa. The songs I released for my own project are different in that they were all created in collaborations over the last year. I was trying to make an EP by just following some inspiration and working with artists who I really like around LA. Last fall, I realized that a lot of the songs I made in these summer collabs were songs I want to share and that they were more cohesive than I anticipated.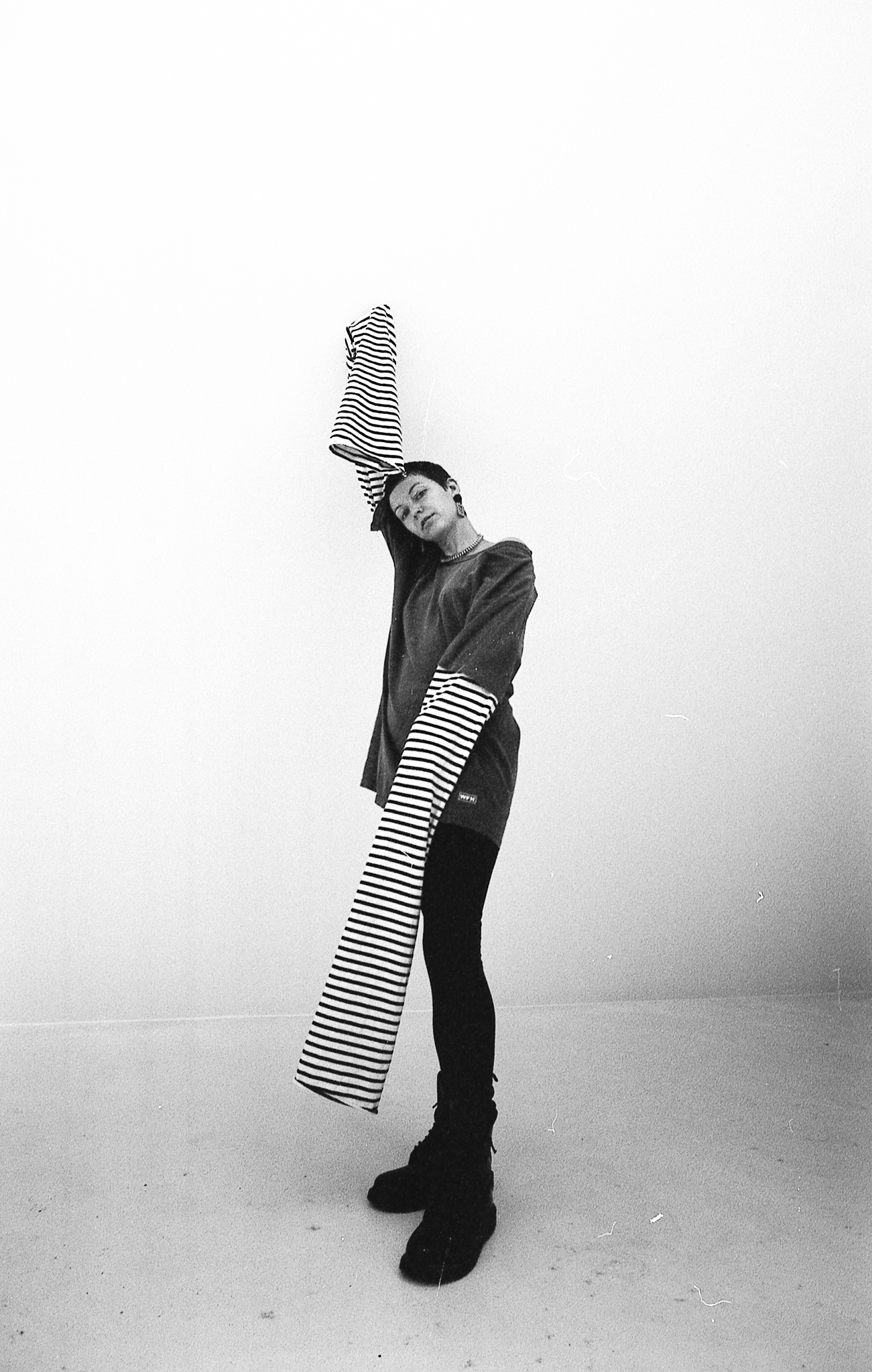 Did you have any major music inspirations growing up? Or do you have any currently?
Wow, so many. The first album I bought was The Diary of Alicia Keys and it rocked my little world. My inspirations range from Jimi Hendrix to Radiohead, Nina Simone to Grizzly Bear, Bjork to Leadbelly, Erykah Badu to Herbie Hancock and beyond. It's kind of hard to pin down who has impacted my songwriting the most, but the contemporary artists I've had on repeat as of late include Jorja Smith, Tyler the Creator, Tokimonsta, Rosalia, James Blake and of course some of the incredible talents throughout Los Angeles.
You consider yourself a multi-disciplinary artist. Can you tell us about the other mediums you participate in? 
Switching between visual and audio expression is really important for me. I used to draw and paint a lot, did film and digital photography for several years, played around with ceramics, collage, and mixed medium as well. As a perfectionist, once one medium feels like too much pressure, it recharges my creative energy to switch to something where I can feel a bit more free to explore. Lately, I've been getting really into continuous line drawings of faces. I've been doing the designs on clothing and 3D items. Nothing in my house is safe; everything's all covered in these doodles. It feels really emotive since I don't plan what will happen at all and often don't even look at what I'm doing. I've been having a lot of fun creating sustainable fashion pieces as well from discarded materials and even incorporating actual pieces of garbage or trash bags.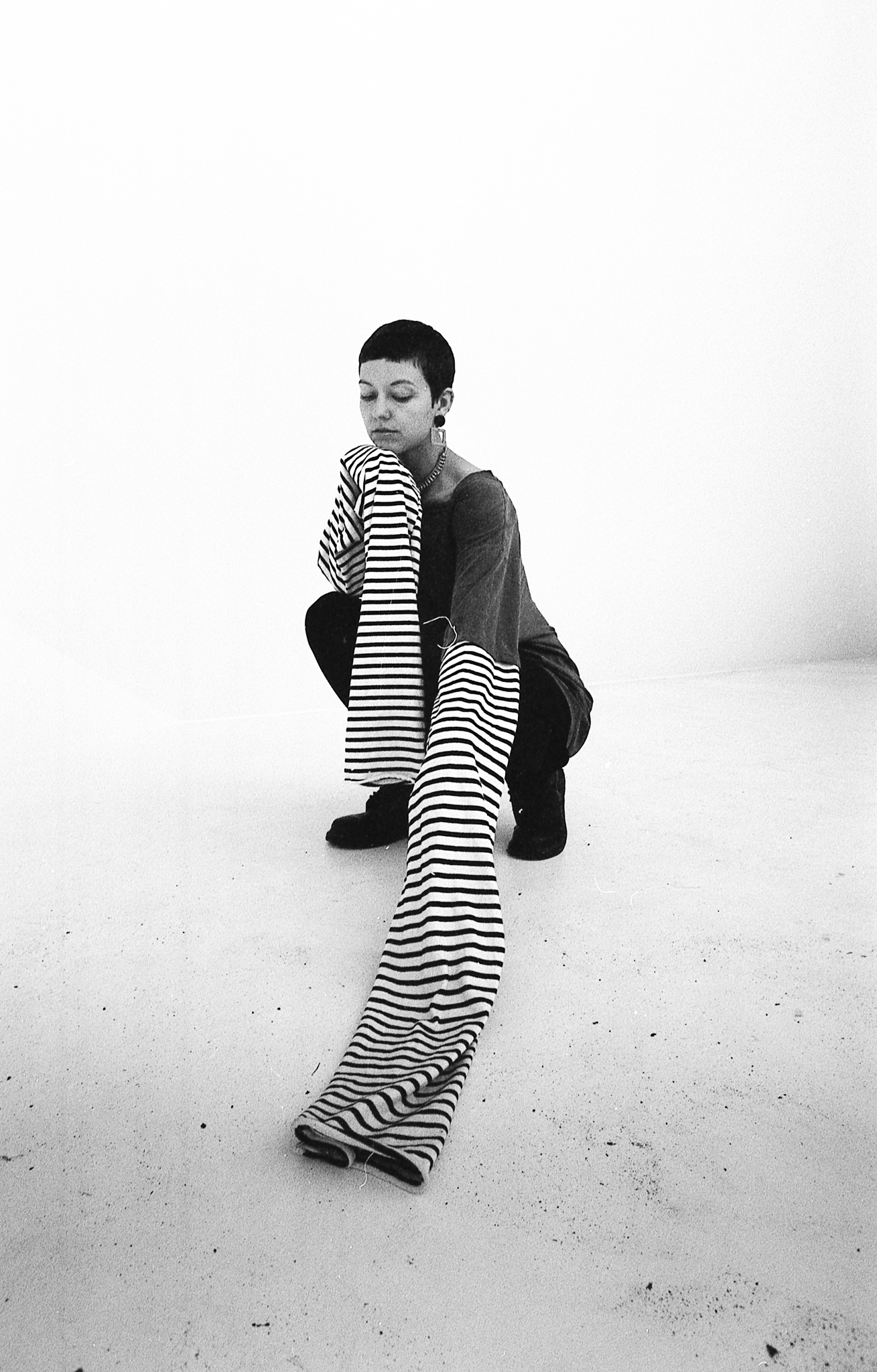 Do you think that being creative in so many different forms benefits each other or do you consider them entirely different entities?
When people originally asked me my inspiration for writing mandolin songs, I used to respond with watercolor painting. They're super linked in ways that I guess are mostly subconscious. 
Your debut EP, Free Debris, has been released just in time for summer. Can you give us some insight into the process of writing and recording the record? Since it is your debut, were you sitting on some of these songs for a while or were they all quite fresh ideas?
All of these songs are fairly new. I lost a roommate and dear friend, Emery Becker, about a year ago before working on the songs. He was a great photographer who was super inspired by himself and others, in a contagious way. When he passed, I realized something that I really missed about his personality was how he didn't wait for anyone to give him permission. I decided to reach out to all of the collaborators that I was waiting to work with until I was "good enough," whatever that means! Almost everyone said yes. The only song that was written completely before any session was "Courage."  I made this song with the producer, B~Smooth, who actually offered the idea of splitting it into three separate songs. This element changed my perception of the quality of the project from a mixtape to an EP. I had a lot of fun working with Delwin Campbell (of CAPYAC) in mixing all of the songs and adding elements of cohesion for the careful observer. The subtle link between songs is something I was really insistent on since little details have held a lot of importance in my life as an artist and beyond. It was so cool to work with people who were excited to actualize my ideas with me throughout the process.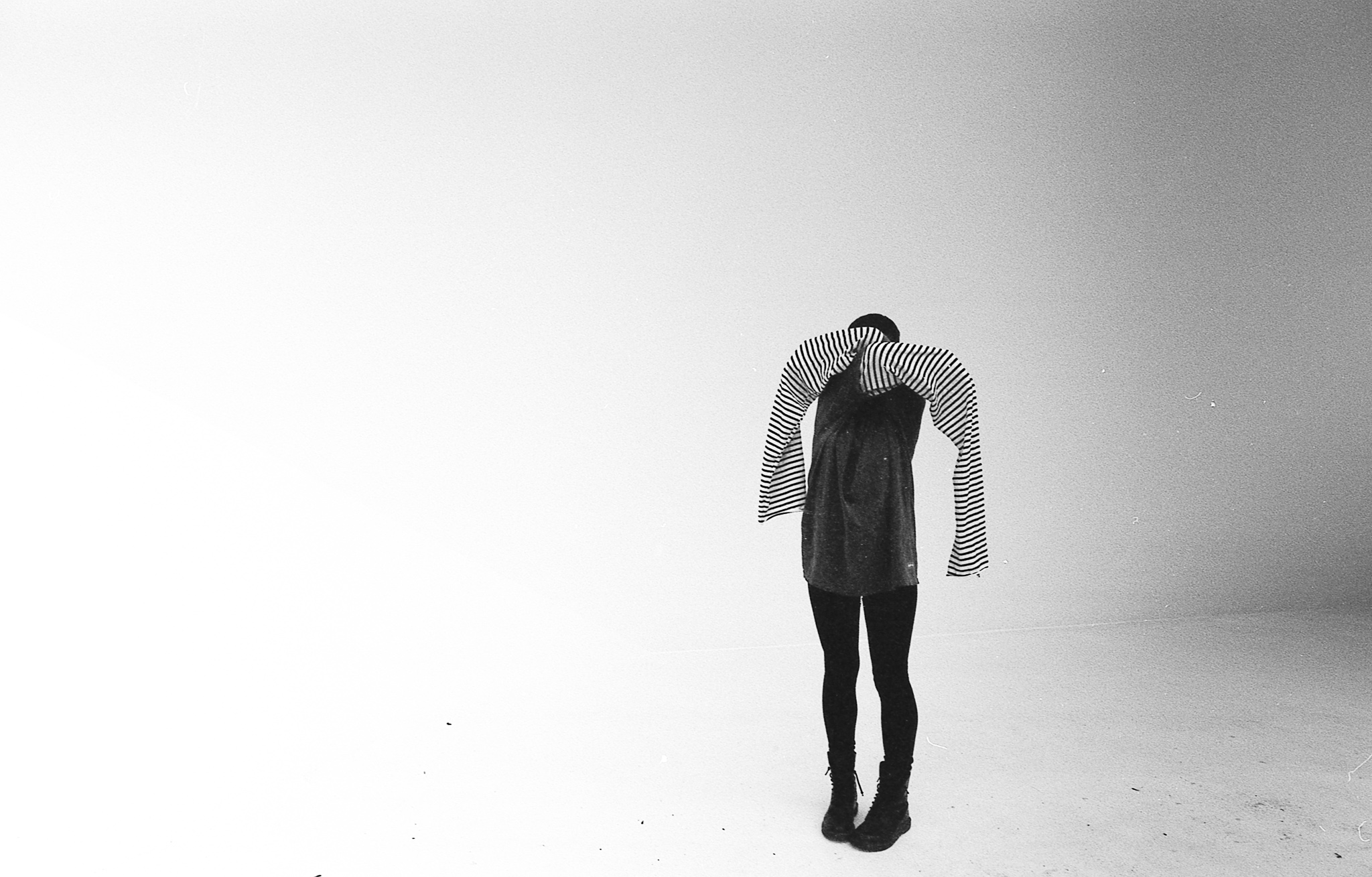 What's next? Can you fill us in on upcoming concerts, releases, etc.?
I'm in Europe now making some connections, collaborating and performing. When I get back to the states in July, I'll be touring in Austin performing at Cheer Up Charlie's on July 19th, then with CAPYAC on July 20th. The following weekend I'm playing the festival UMS (Underground Music Showcase) in Denver on July 26th and July 28th. Several other tunes are in the oven with various producers in LA and beyond. I can't wait to announce some more releases and shows when I'm back in LA in August! 
For more from Annabelle Maginnis, follow her on Instagram.
Photography by Lance Williams. Wardrobe by Wisdom Fashion House.