There is a tremendous amount of charisma in the vibrant creations of artist Chris Uphues. The worlds and characters Uphues creates seem to be somewhat of a G-rated acid trip — they are dazzlingly colorful, playfully psychedelic, and all the while childlike, cartoonish, and lighthearted.
The Chicago native creates two dimensional creatures that are full of gleeful character. They have giant eyes, huge grins, and are always made up of one heavily saturated color — bright pinks, reds, yellows, and blues. The characters themselves are simple; they are often just a shape (typically a heart), made up of only one color, with a simple face. The simplicity of their design allows for some pretty incredible multimedia pieces. We see them tucked into beautiful mandala paintings of flowers (which are incredibly technically proficient), transformed into sculpture, and on pins or patches. But where his creations shine the strongest is on murals. Alongside the grimy city streets of places like Brooklyn, Chicago, or Los Angeles, his designs truly dazzle. In murals like his creation for LOFT in Times Square, Manhattan we see his playful world in full effect. In the mural we see his beloved heart characters vibrantly colored and strewn across the glass facade of the building's bottom floor. They are grinning, laughing, and winking at us. All of this is juxtaposed against the chaotic and grimy streets of Times Square, and anyone who's spent even a little time in Times Square knows it's not as glamorous as it may be made out to be.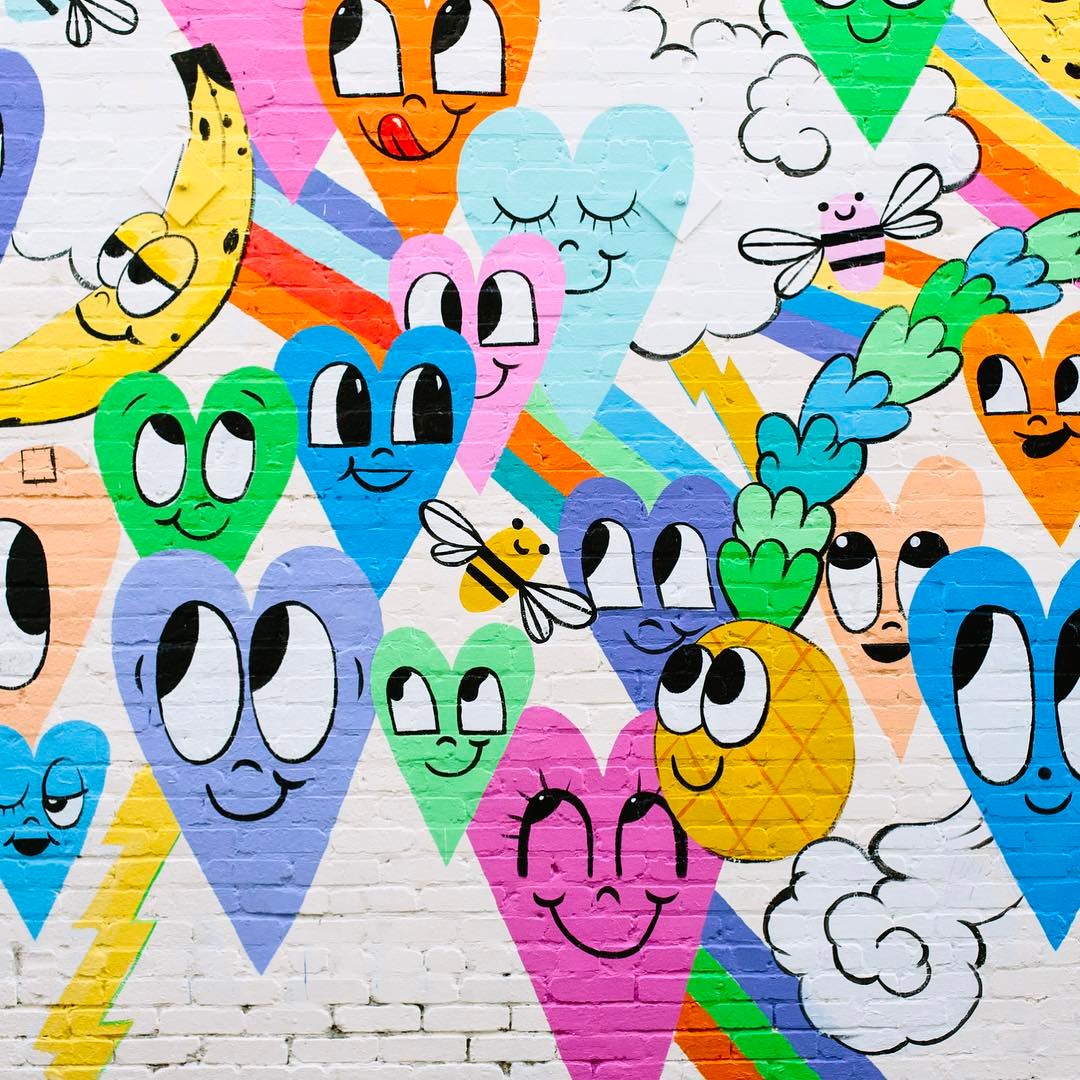 We see this again in a mural he made in Brooklyn. The work features the same heart shaped, vibrantly colored characters as the piece in Times Square, but instead of being paired against the chintzy, artificial aesthetic of Times Square we see it against the more muted, mellow palate of a residential neighborhood in North Brooklyn. What's so genius about the mural is that rather than painting the entire building a vibrant color (which he often does in his graphic design pieces and paintings), Uphues kept the dull, unexciting beige color of the building. The decision really personifies the characters; they are turned into seemingly real creatures rather than just a painting.
It's in these murals that we get the full ethos of Uphues' work. His designs are simple in design, but not in character, vibrance, playfulness, and fun. They are a pop of color in a world that is otherwise grimy and monotonous.
For more from Chris Uphues head to his website: https://shopbeautifuldays.com/.