To visually document Los Angeles is an intimidating and seemingly impossible task. The city has an incomparable sprawling landscape. Each block has its own story. Each neighborhood has its own culture and people. To sincerely capture the buildings, the familiar faces and businesses that built the community, the sounds and smells of the city's streets, takes an instinctual eye and inherent wherewithal of the LA urban landscape. Photographer and multidisciplinary artist, Felix Quintana, captures the Angeleno spirit with genuine honesty in his series of cyanotype prints entitled Los Angeles Blueprints — at the root of the series lies two of Quintana's creative practices, photography and drawing. 
Quintana employs the cyanotype photographic printing process to create poignant blueprints of the often-unseen working-class individuals simply inhabiting and navigating through LA's gritty, but beautiful streets. Embellished with instinctive, hand-scribed line work, each image boasts a visual vernacular that could only be spoken by an LA-native. Through the layers of mark-making, Quintana produces a stirring multidisciplinary image that explores black and brown communities to reveal conflict and struggle, place and identity, existence and resistance. 
Felix and I met over coffee one Sunday morning where we got to talking about growing up in Los Angeles, some of the city's cultural landmarks disappearing, and how his work and series is a love letter to the city.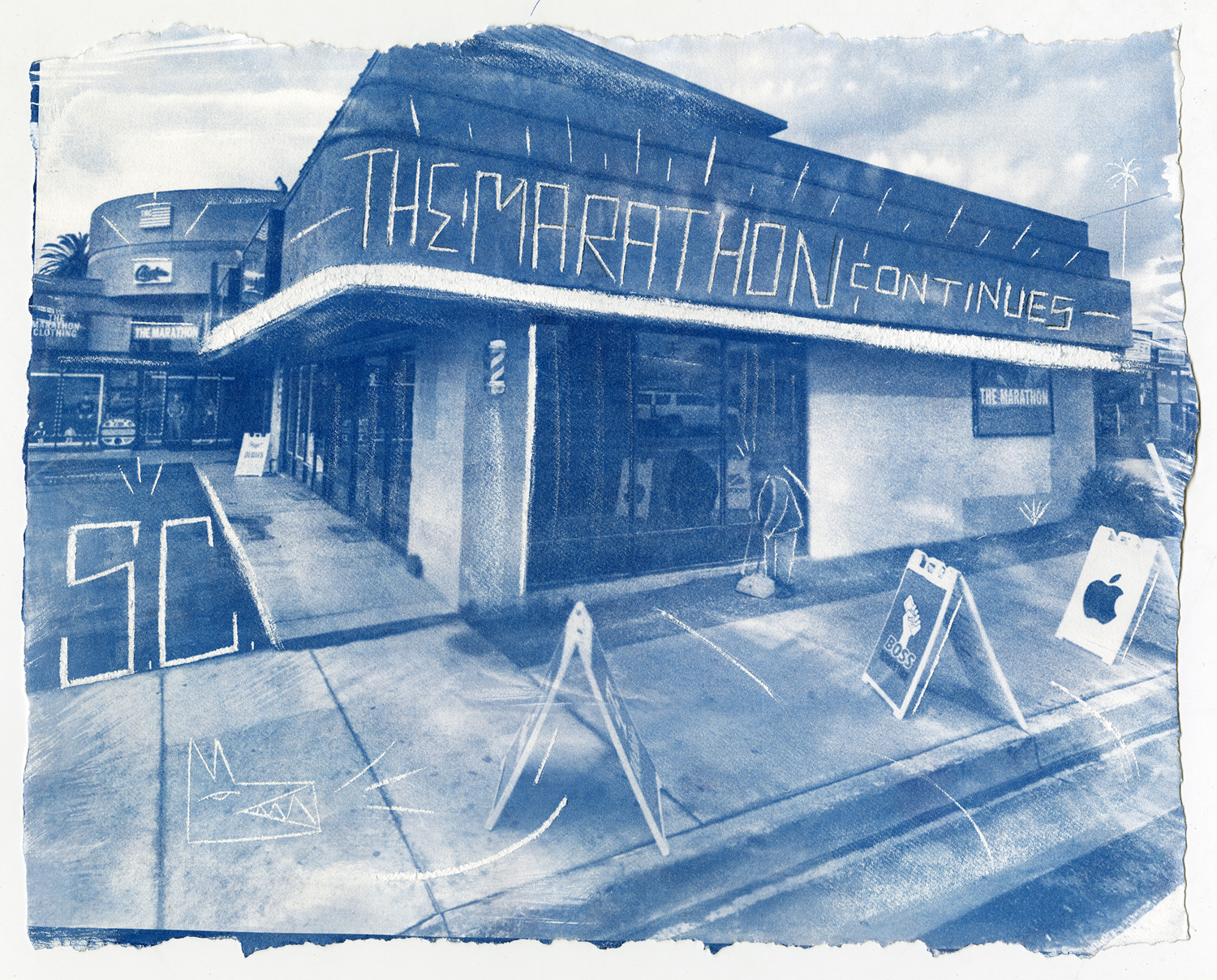 Tell me a little bit about yourself and your upbringing.
I was born in 1991 in Lynwood, California. I guess that's considered South East LA, and the area was predominantly Latino and Mexican American. My parents came here from El Salvador in the 80s, fleeing the war, and we landed in this area because of family. We did a lot of trips to El Salvador when I was a kid and those trips were definitely informative.
What was that experience like having been born in Los Angeles, and going back to Salvador?
It was amazing. It made me realize how privileged I was to be in the US. My parents were doing really well so we would go back and stay for a month. We would usually go to where my grandmothers are from, which is really close to Guatemala. It was a rural area like just a pueblo pretty much. It was really cool to have those experiences as a kid. 
Were there any experiences you had while visiting that really made you appreciate what you had in the States?
Yeah, there was this natural reservoir in my grandparents town where people would bathe and wash their clothes. There was this kid I knew who lived there and I thought we were just going to go swim and this one kid just gets butt naked. I was like, "What're you doing?" He said, "That's my only set of clothes so I can't afford to get them wet or else I'm screwed." I remember having that realization as a kid, thinking wait you don't have any other clothing?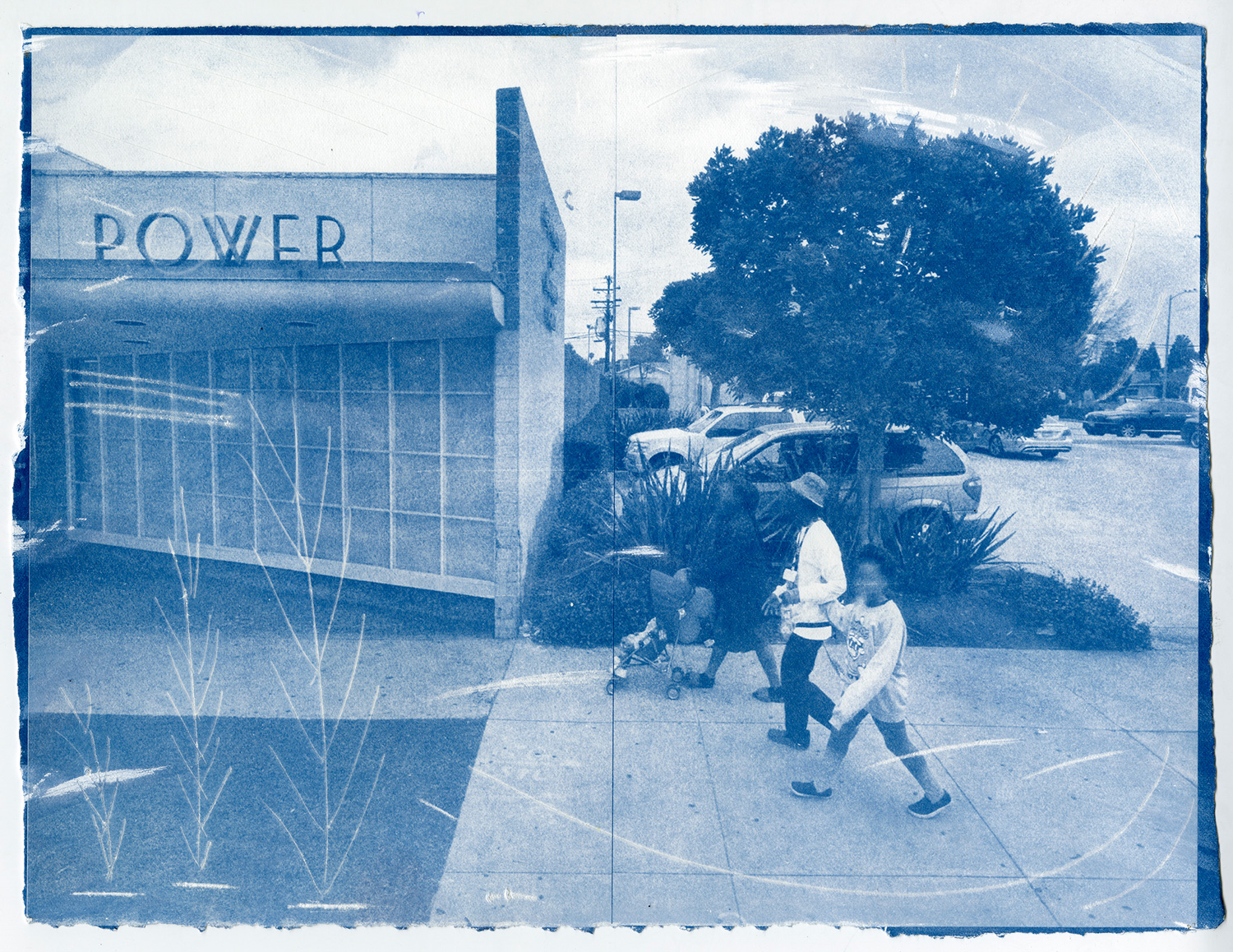 What did your parents do for a living?
When my parents came to Los Angeles, my mom was working at a warehouse gig, then she got a nanny job in Encino. She was working for this family full of musicians and they helped my mom get her papers. Then their family friend helped my dad get his first big gig. They had a family friend who was a painter and he would do commercial painting. He was really picky but he hit it off with my dad. So my dad went from making like $15 a day to $100 a day. Eventually this guy, Steve, retired and gave all of his clients to my dad. So my dad had his own business, which was also another big part of my childhood. I used to go with my dad as a teen all over LA, like Altadena, the West Side, all over to help him and watch him work. He's definitely an artist on his own. He did everything from sign painting, painting buildings, houses, and other handyman work. So that was my experience. Waking up early, tired, driving across the city.
Growing up my dad did a number of different things besides his main trade as a mechanic. He would paint houses or do other handyman type gigs with my grandfather, before he and my mother saved up to start their own business. From my personal experience, growing up and seeing my parents work so hard, instilled a type of work ethic in me, you know? Do you feel similarly given the way you were raised?
Yes. Essentially my parents have been self-employed their whole lives. I always sort of had that in my mind. To me it was like, "Oh maybe I'll get my dad's business someday." I've always just wanted to be individual and stand out. It was really important to see my parents do that and navigate. My parents didn't speak much English and my dad was over here making big deals, which has helped me navigate now as an artist with contracts and invoices. His biggest thing was always talking with people in-person. Making that drive and making these connections in-person.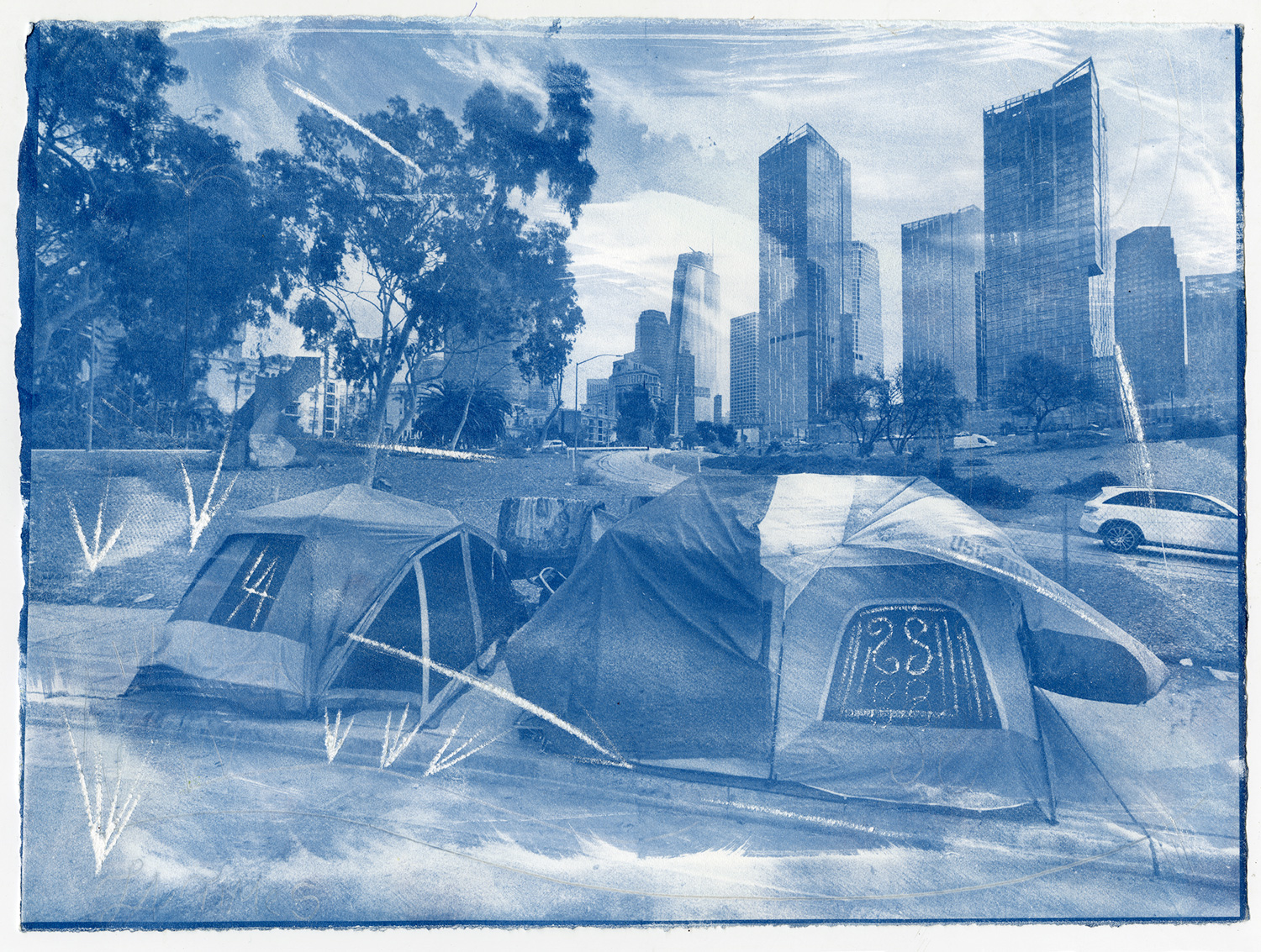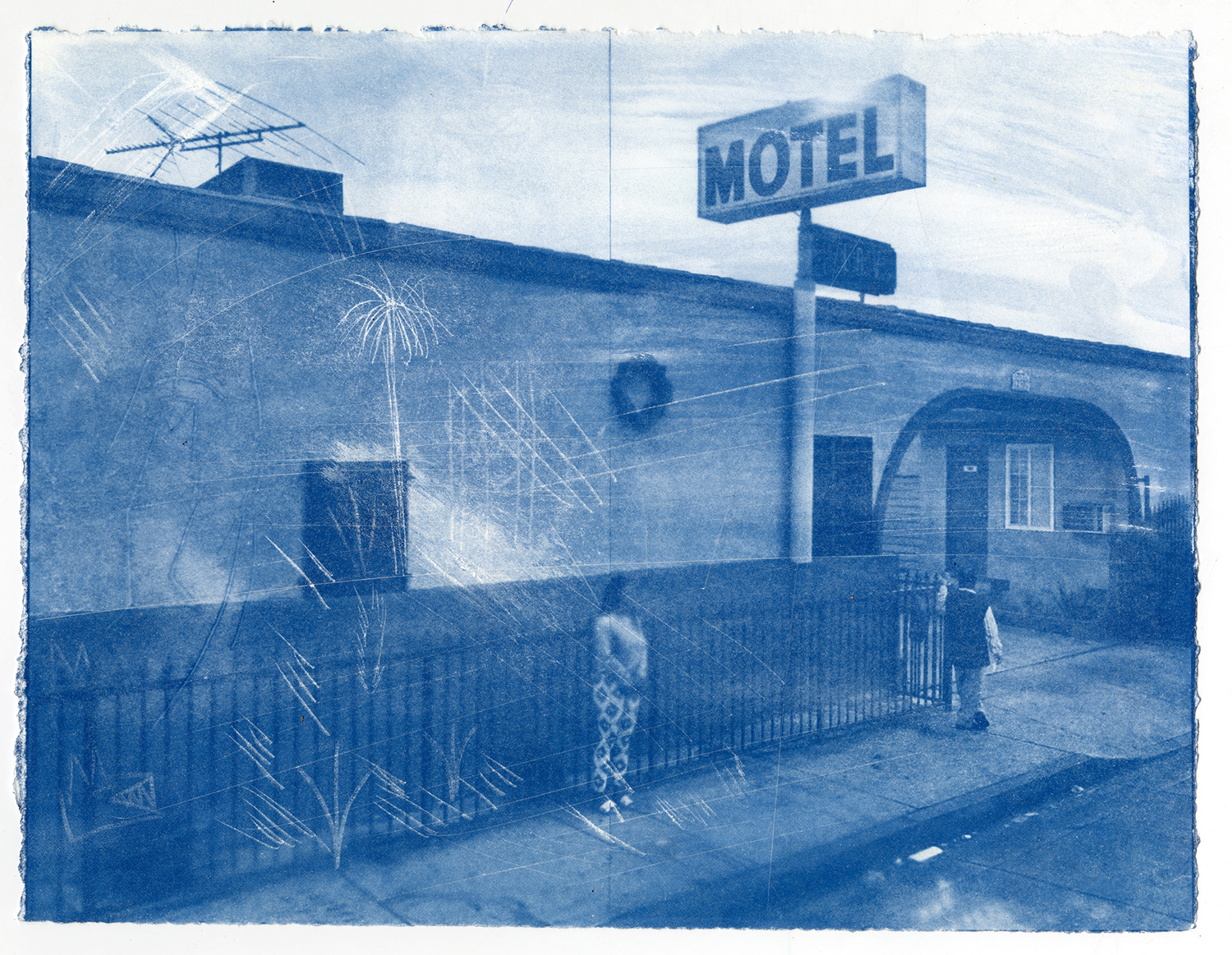 Tell me a little bit about your creative trajectory.
Growing up I was super interested in music because of my older brother, who was born in El Salvador and migrated as a kid. He totally integrated himself into LA life and its culture, influenced by car culture and hip hop music. I had three major influences, my brother, my dad listening to classic rock, and my cousins listening to more alternative rock like Pearl Jam. I had some older cousins who were really interested in art and always were drawing. I was always interested in art and music and eventually got really into graffiti and tagging, that whole culture. Gang graffiti, especially where I lived, was still really active. My first love was probably writing through hip hop and getting into sampling. That really informs my work to this day — the idea of remixing or reappropriating imagery. The way a lot of hip hop artists just use what they have.
I think that's a really great way of describing your work because I think about you firstly as a photographer, however your work transcends mediums. Tell me about your Blueprints photo series.
When I was doing graffiti, I was mostly just roaming the streets during high school and was mark-making, but never to the fullest extent. I was never hanging across bridges or anything, but through that I was able to get to photography. I would roam the Fairfax district and eventually bought a fisheye camera. My first image was in the fashion district, it was a sign for 99-cent shoes or something like that. I felt like with this Blueprints body of work came back full circle. I've always wanted to represent the city at large, how I see it. What a lot of people see is this urban gritty reality, but what I see is more beautiful and poetic moments of people existing and resisting. It's the struggle that I see and feel in the city.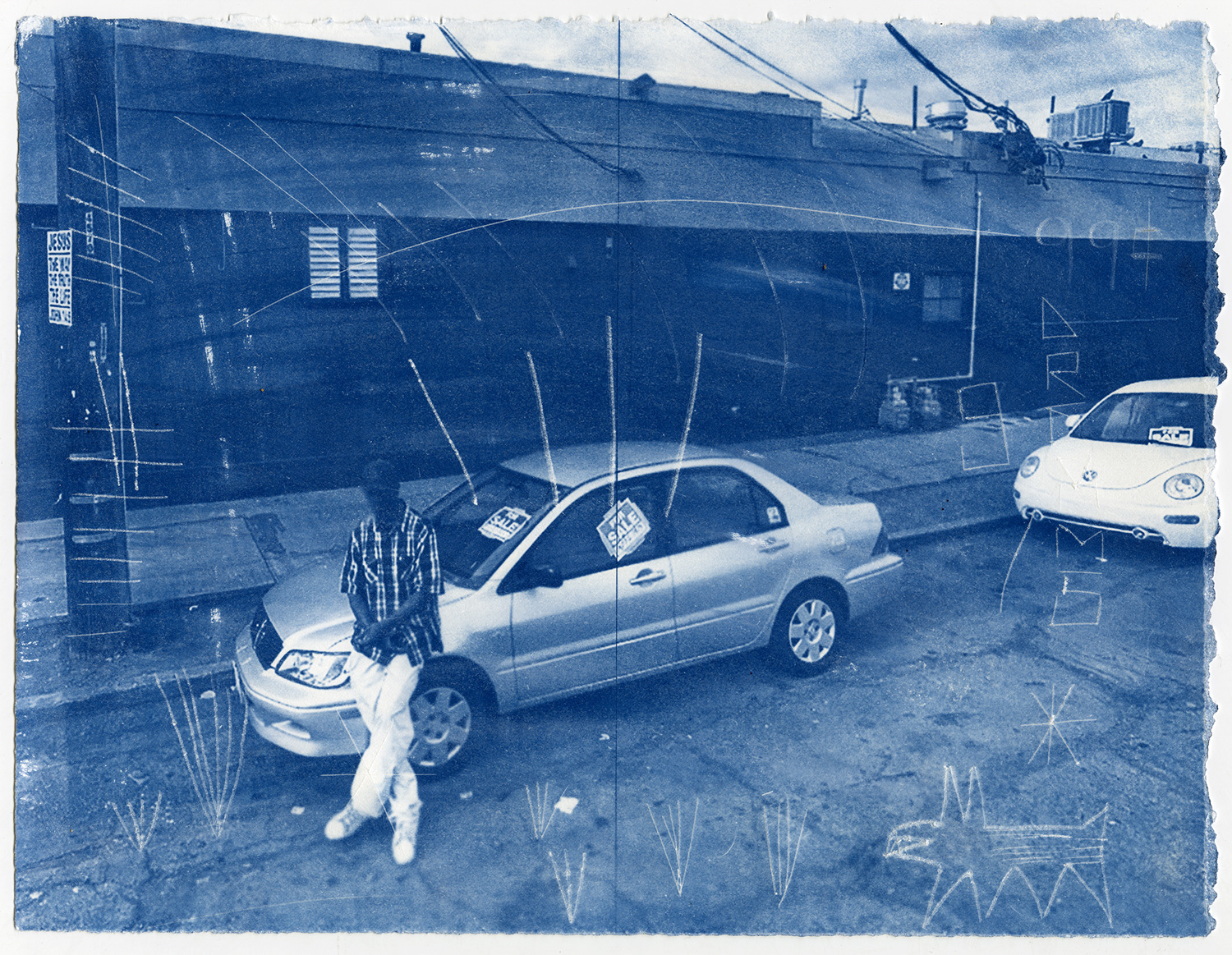 Tell me about how you produce and source the images for the Los Angeles Blueprints series.
A lot of the images in the blueprints series are actually reappropriated images from Google Street View. These essentially are shot on a 360-degree camera. I was always interested in distortion and changing perspective. I started this series about five years ago when I was still in undergrad. I saw this artist Doug Rickard using Google Street View imagery and I thought it was so interesting. I thought about how LA, in particular, has been very well surveyed since 2008 and some cities, not so much. There's this incredible archive that's available. It's the first time I can work as a photographer, in the past. I can take images from the past and mix them with the present. For me, a lot of that was going back to the root of my work and the foundation as a mark-maker, an artist, and photographer. It was very instinctive when I first started the blueprints. It's a very hands on process, it's a very painterly approach. One day, when I was working I started scratching the paper, instinctively. From there it evolved. I showed my mentors and they thought there might be something there. It's a street image appropriated, but still very much about Los Angeles and something outside of myself that I feel a connection to.
I feel like the drawing is where I bring in the idiosyncratic elements. I use a lot of palm trees that represent the idea of a transplant, coming from another place but still belonging. I use the symbol of the coyote too, you know, the trickster. It's sort of slang too for the person who brings you across the border. It's all embedded into the landscape. An image is very 2D but by adding more layers with my mark-making I'm able to talk more about how it feels to be on the street and describe the sounds through my line work.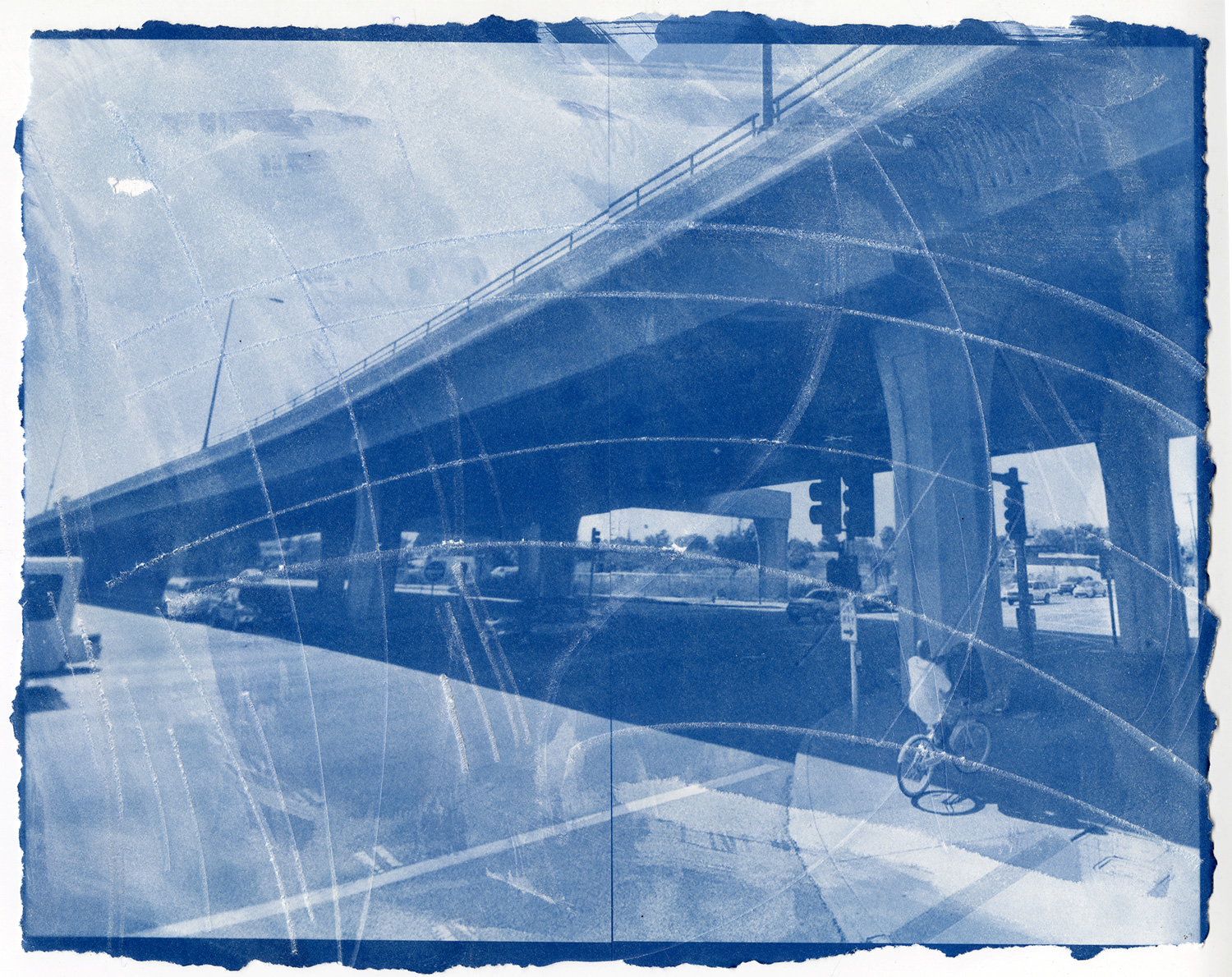 What do you love about Los Angeles? This is your home and I feel like so much of your work is centered around this love letter to Los Angeles.
I went to college outside of LA, not because I hated LA, but because I wanted to separate myself to create a stronger connection with the city by going to school in the Bay. Every time I come back I would hit the 5 and I see the skyline. My favorite thing is cruising around LA, especially from my neighborhood through South Central and Downtown. I love walking through the city, which is something we don't do that much. When you're walking you're able to see so much of the city and the people. There's a willingness to make it and survive. Artistically, I feel so connected. Whenever I go anywhere else, I try to do the same thing and try to think about where I am, but my work always comes back to LA because it's home.
It's endless inspiration for you, it's part of your personal narrative. 
The biggest thing for me lately is to be more engaged in the art community in places like Boyle Heights. It's a community of artists who are willing to put in work. They might not even have a job, they're just grinding every day with their art! That's really inspirational. I'm trying to get my MFA, and I feel excited for the possibilities, but I also have homies who have just graduated high school and who are able to pick things up along the way.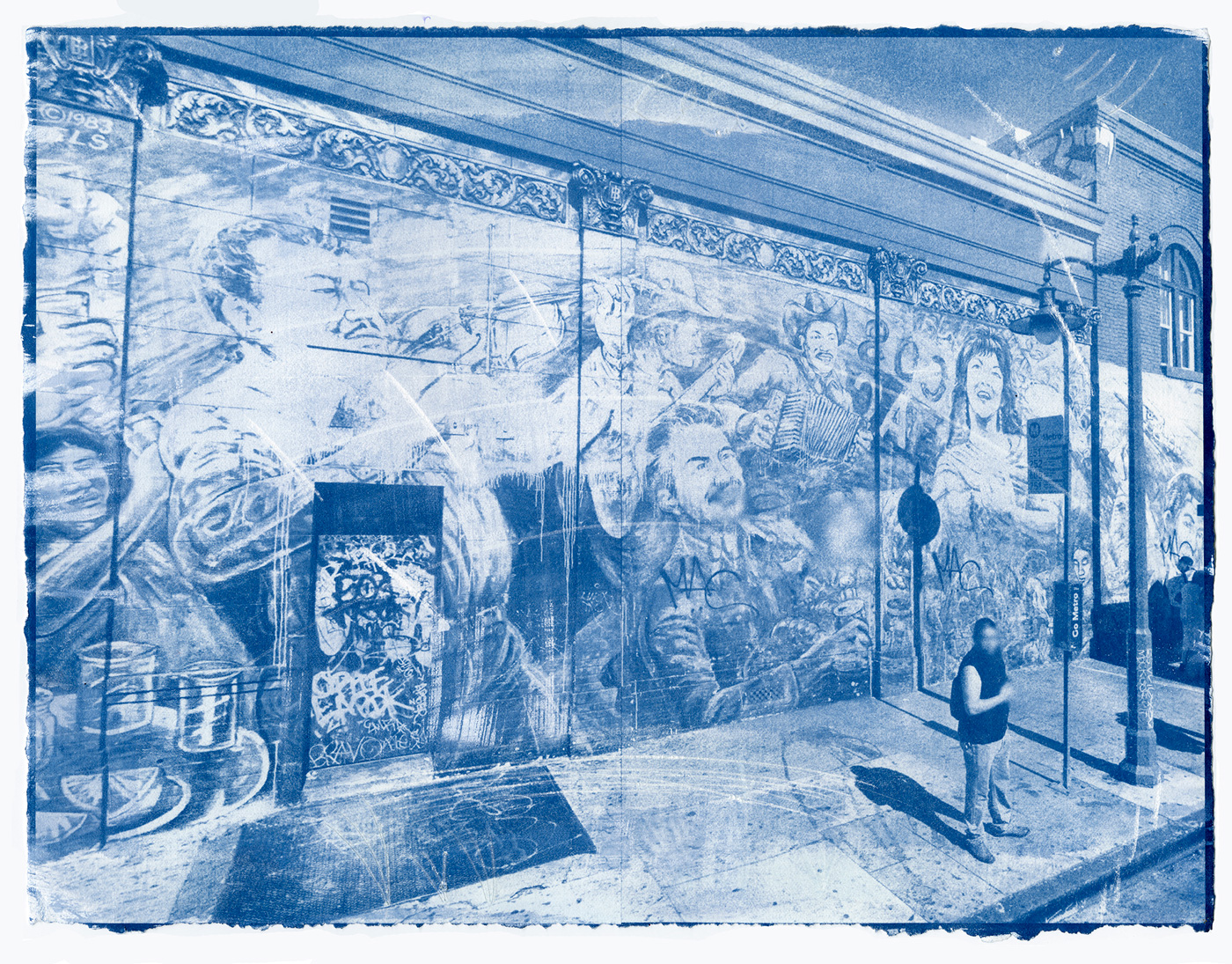 Tell me about the community you've found in Boyle Heights and East LA? Why is it so special?
For me, being in Lynwood, there wasn't really much going on in the art community. I decided to go to school up north. I came back in 2014, after having graduated with my BA in photography. I got a few grants and the school bought one of my pieces so I thought I should get a studio space. I was looking around through Facebook and this one woman I knew had recently moved to LA from San Jose, and who hooked me up with a studio space in Boyle Heights on Olympic. The space was an empty warehouse they cut up into studios. I met my good friend and mentor, Rafael Cardenas. Rafael was the one who hooked it up with Self Help Graphics. He was like, "I think you should really meet these people," and he'd give me some gigs to work. I'd do some event photography and eventually started meeting a lot of artists and showing them the work I was doing at the time. I was able to connect with so many artists through Self Help Graphics, but also through Slanguage Studios started by Mario Ybarra and Karla Diaz. I remember telling them I wanted to teach and they were like, "Ok you want to teach? We're gonna make it happen." They gave me my first teaching opportunity as an artist. I would do these workshops every month with younger artists from Wilmington. One of those artists is at CalArts right now doing photography and a lot of them are doing their own thing shooting on the street. 
Community building is an art. 
Yeah, I really learned that and the importance of giving back. I spent a lot of time teaching at nonprofit art spaces and was teaching at different continuation schools around LA. It really goes back to that studio in Boyle Heights, going in there when I was young and going in everyday. From there I was able to get the ball rolling and in 2016 I was able to have my first solo show.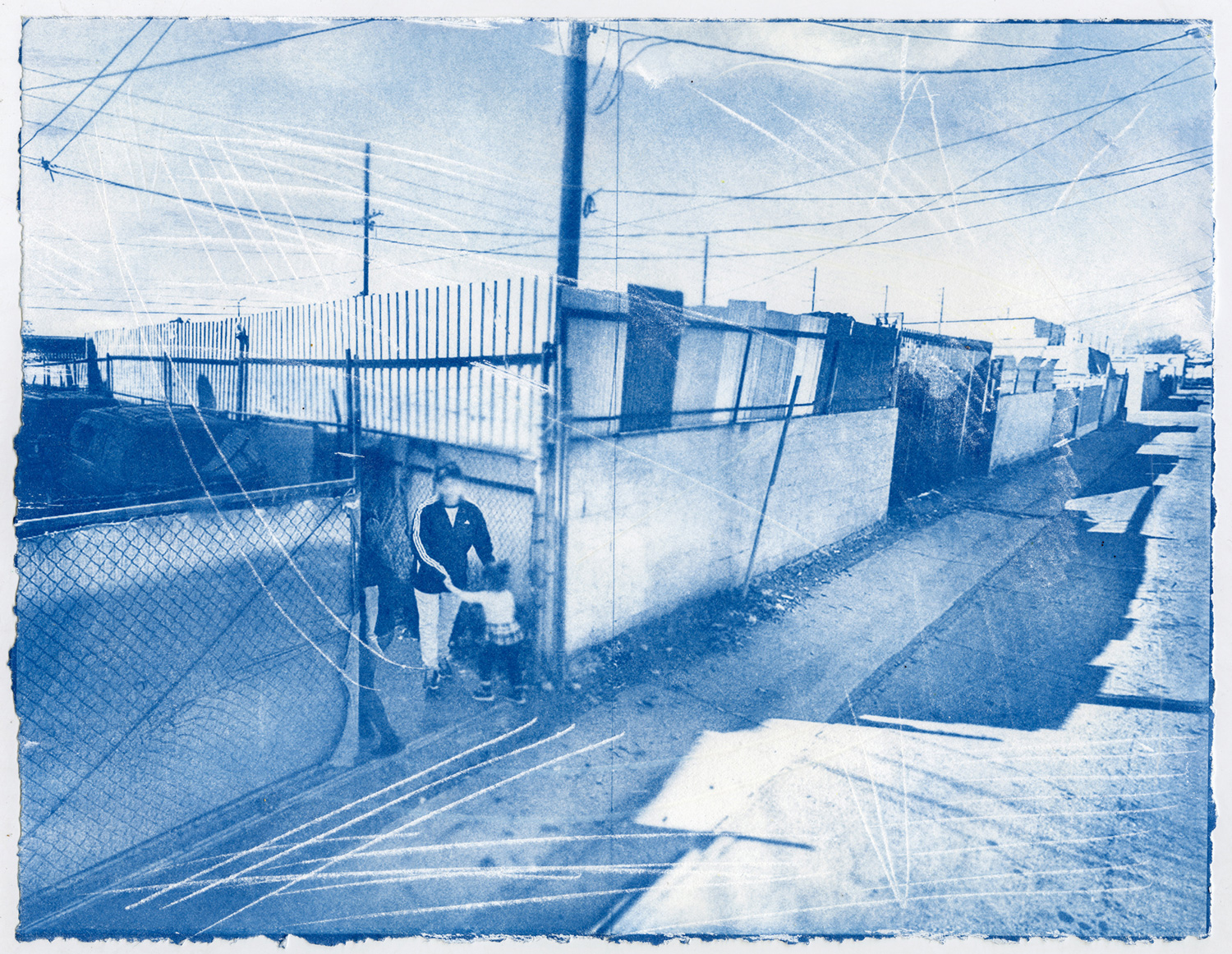 You said something earlier about how the Los Angeles Blueprints are about showing people 'existing and resisting.' Tell me what you mean by that. 
Well for me, working with a photographic eye, even though the images are just screenshots from Google Maps, I still find the process to be related. It's the idea of taking something gritty and transforming that. A lot of the moments I look for always include figurative elements — a person walking through the street or something more simple like a person riding their bike with the freeway in the background, or someone getting pulled over by the cops. I actually found a Google Maps image of my dad in his truck. It goes back to that memory of me and my father, may he rest in peace. I'm just really grateful for that image. This is how we were being represented and it's just exactly how it is. I wanted to find moments that depicted even more representation and kind of flip it. My brother pointed out how these pictures even examine the lack of food in certain areas of LA, the lack of green spaces, and the lack of good transportation. It's really hard to get around. As I sat on these images, I realized there's a lot there. The blueprint gives it a different feeling, it feels like it's set in the past even though it's very much the present. The blue gives it a bit of a somber feeling. I'm trying to find moments that represent the moments of blueness or melancholy, but also celebration. There's conflict, but resolution. Struggle but resistance. I feel a responsibility to the project now to archive these moments because the city is shifting so much.
I bet there are a bunch of images you have where the buildings aren't even there anymore. 
Yeah, there's this one I'm working on of the old Compton Fashion Center and now it's a Walmart. A lot of old hip hop videos were shot there, from Tupac to Dr. Dre. It was a space where people would convene and now it's gone. I'm working more on moments of places and people that don't exist anymore. The work really is a love letter to LA.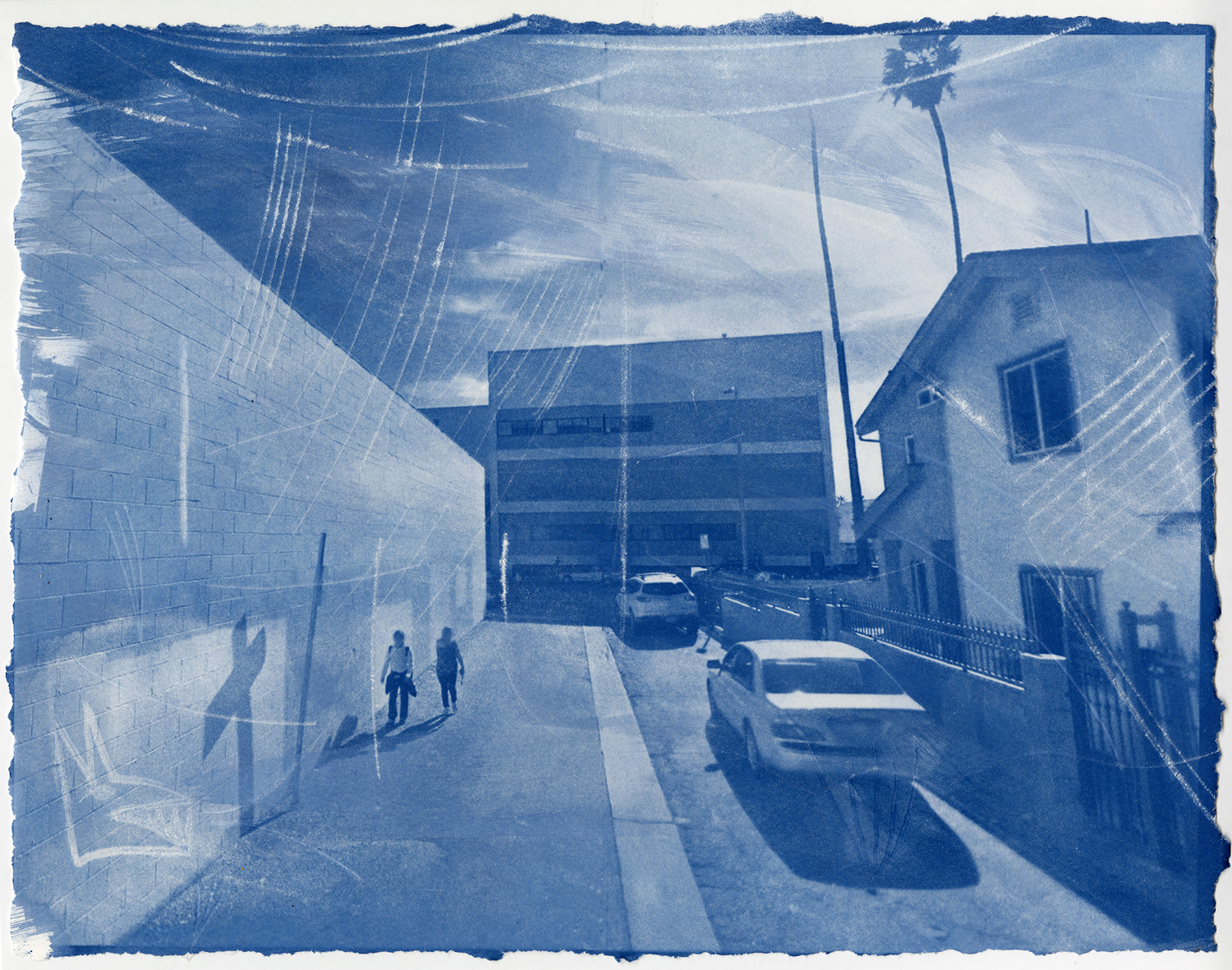 Tell me a little bit about school, do you have a final show connected to your MFA?
I just had a show that's an advancement to a candidacy show. It's like a check-in or pre-thesis. I have to complete my thesis a year from now. So next spring I'll be done. I have to do a public presentation, a defense of the work, and once you pass this milestone you're free to do your thesis. It's an opportunity to be very experimental. I did a photo installation incorporating my interests in painting and mark making. The way I presented them is more collage-oriented.
So you've been working on the Los Angeles Blueprints series since 2014?
I started working on the process then, but I really got into it in 2019.
How do you keep yourself inspired working in the same way over the last four years? Have you seen an evolution?
Yeah definitely. There are so many possibilities. In general as an artist, I get so excited about every new thing whether it's a new process or a new show. For me it's going to be an ongoing process until I feel I've gotten everything I need, but it might take a while. Right now I've been doing shots of the streets and people but I want to get more intimate. I want to see a really intimate moment of a person walking down the street. I also want to try out different scales so I feel like as soon as I start doing it, it'll be something else for me to explore. Everything about the process is exciting to me.
What does your mother think about your work?
She enjoys it. At first it was tough, she didn't understand why, or actually, was more worried about me being an artist. But I think now that I'm getting my MFA and there's more of a possibility to create a more stable existence or have the ability to teach, she feels better. I remember I was graduating, and in my senior year, I changed my major. I had to explain to her that I was just choosing another path. For her when I had my first museum show, when she saw my work, she got it. Even with my grandmother, it's important to make it accessible to people like my family or my grandma and make them feel something and to be able to connect to it. 
For more from Felix Quintana, follow him on Instagram.