Introducing independent graphic design studio Forth + Back. From a space in sunniest, brightest Los Angeles, the studio's founders Tanner Woodbury and Nikolos Killian – who met studying at Long Beach State – pioneer a simple but distinctive approach to design.
Having started Forth + Back while in college, the duo decided to take jobs at two well-known LA-based design studios upon graduating, National Forest and Italic. After spending nights and weekends cranking away on projects for their own practice, Tanner and Nikolos have finally decided to go full-time with F+B. The studio whose design practice runs to print publications, visual identities, branding, advertising, and environmental design, has proved its worth – and plans on continually pushing the boundaries of their creative output. Knowing that their practice is far from linear, Forth + Back champion the opportunities to learn, challenge, and capture spontaneity in their work, leading endeavors away from the mundane.
The multidisciplinary studio has a portfolio of strong design that's bold, communicative and thoughtfully composed. Past and current projects and clients show how Forth + Back have started to carve out a niche for itself in the arts and culture sector of Los Angeles. With the announcement of their full-time commitment, we talked with Forth + Back about their approach to design, their biggest influences, and what's currently fascinating them visually and sonically.
Give us a primer on Forth & Back Studio. What's the elevator pitch?
Nikolos: Okay…big elevator pitch. Forth + Back is a multidisciplinary design studio. Our roots lie in graphic design, however, our abilities branch out into all sorts of different areas, such as photography, motion, web, modeling, environmental design, concept development, etc. We are a small studio with the ability to take on large projects.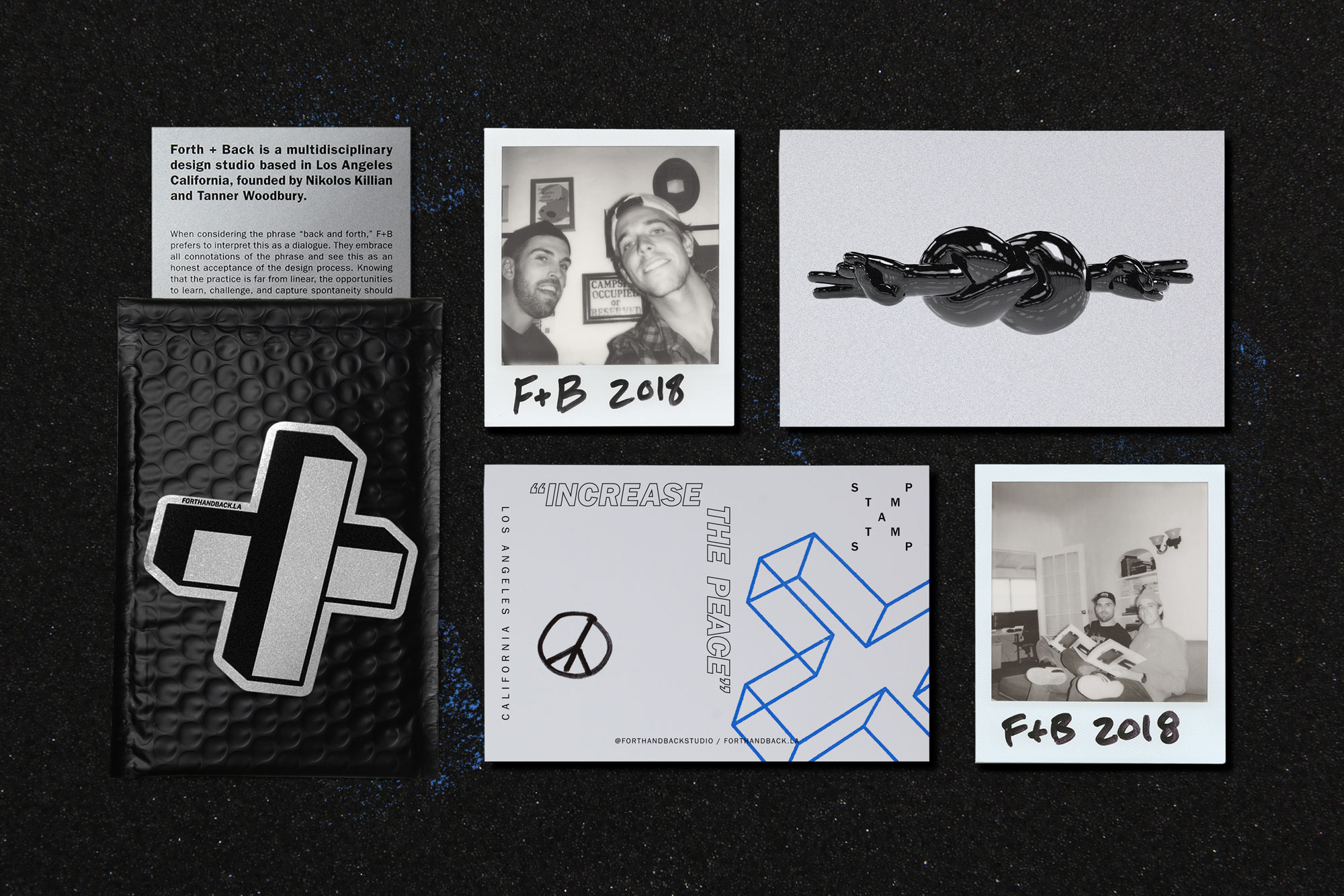 What made each of you want to become designers and how did you come to start working together?
Tanner: Looking back, my mom was always extremely artistic and creative, and my dad was a magician of a salesman. So I guess it makes sense that I ended up as a designer. I always had a love for drawing and painting as a kid, which eventually evolved into graphic design. By the time I was in high school, I knew I wanted to run my own studio someday. I, of course, went through the phase of making crummy t-shirts and stickers, thinking I could start my own clothing company. Although, (as most of us discover at that age) a lack of experience and no money whatsoever makes for a quick wake up call. I'd say it wasn't until college that I truly fell in love with design. I remember hearing about Stefan Sagmeister for the first time when I was probably 18, and at that moment I realized that "graphic design" could be so much more than what I had come to know of it growing up.
Nikolos: I think about this often, and there were most likely multiple seeds that were planted in my youth that lead to my discovery of graphic design in college. I think if I had to narrow it down to one influence that would eventually fan out into a lot of different inspirations, it would have had to be skateboarding. The graphics and company logos for sure, but more so the mentality. Though I don't nearly skate as often as I used to, I'm still afflicted by the perpetual search for the perfect skate spot. I think this attention to detail that spawned from skateboarding lead me to really see and sit with things in my environment. This lead to scrutinizing graffiti on walls and contemplating other signage, which was an early introduction to typography for me. I didn't realize this connection until I was introduced formally to typography and graphic design in college. I also have to mention the influence of music, and specifically hip-hop, at an early age. Both the rhythms and the wordplay taught me to not just hear, but to feel the energy of a well-crafted piece of work.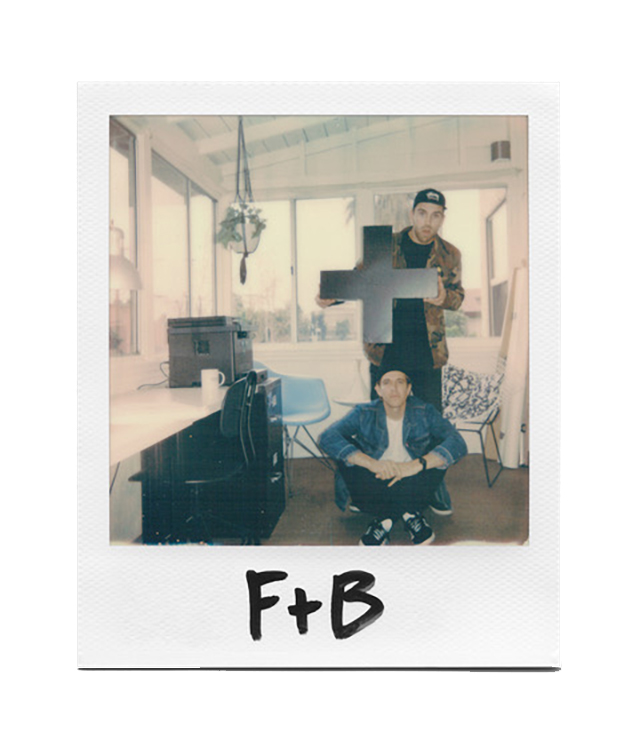 Tanner: As far as working together, we started back in college at Long Beach State. We constantly had the same classes and became friends over time. We both liked hip-hop, coffee, skating, the many phases of The Beatles, and had a similar sense of humor. Once we both made it into the BFA program for design, we found that we were with each other all the time and soon became attached at the hip (people used to give a hard time and call us "Nanner"). We discovered that we really enjoyed working together and really benefited from having each other around to push one another and vibe together. We have similar taste and aesthetic but can be very different at times, which always helps us see past our original ideas. It was in college that we decided to start our own studio, taking on any and all projects (most of them for free). After graduating, we both agreed to work for other studios we really admired to gain more experience. We both went on to work at two LA-based studios for a number of years. Nik worked for Italic, and I ended up working with National Forest. We ran F+B at night and on the weekends. Eventually, we got to the point where it was time to leave our jobs and start our studio full time.
Do you have any design heroes whose work has had an enduring influence on your own?
Nikolos: Too many really. However, an enduring influence over the years would have to be designers like Charles and Ray Eames, as well as the Blue Note creative duo of Francis Wolff and Reid Miles. These are influences that surrounded me before I started skateboarding and way before I practiced design. I grew up in a family that was inspired by the lifestyle of midcentury living. The furniture, the art, and the house I lived in all had elements that were greatly influenced by the Eames and their philosophies. The other influence was my pop's record collection, which I still have most of today. I'm not quite sure when I was introduced to Blue Note Records, but it was honestly the covers, the combination of type and photography, that sparked my interest even before the music really started to resonate with me. This was the genius combination of Francis Wolff's photographs of intimate recording sessions and the bold layout designs of Reid Miles. I constantly return to these covers for inspiration.


Tanner: My answer may seem odd and not quite fall under "design", but one of the first and longest lasting influencers for me would be Van Gogh. My house was full of framed re-print Van Gogh paintings as a kid, and I became obsessed. Book reports, drawing style…I even dressed up as him for Halloween. The more I studied his life and interacted with his work and writings, the more I connected with his intensity and overwhelming desire to create and share his work with the world, despite his unconventional style and lack of success while he was alive. This was a big reason I began painting and went on to study it in college, in addition to design. The craft really allowed me to visualize composition and understand relationships with color, which I feel has really fed into my design.
How would you guys describe your approach to design?
Nikolos: With enthusiasm and curiosity. We are always searching for ideas that excite us and push us to move past what is expected. We never want to resort to the same old tricks. We like to continually surprise ourselves (and hopefully others) and strive to challenge traditional ways of thinking.
Who or what has been the single biggest influence on your way of thinking?
Tanner: Thinking through life – all credit goes to our parents. When it comes to "design thinking", we'd both agree that it would be one of our past college professors, who happens to be a brilliant type designer, Andrew Byrom. He really rocked our young minds when it came to approaching design. He was the master of pushing ideas, constantly flipping things upside down, and seeing things from all angles. Andrew taught us to not be stifled by the real world legitimacy of a piece, but to focus on the merit of the idea and execution. He had this insatiable hunger to make even the simplest assignment "legendary". That always stuck with us.
What would you say is your strongest skill and how have you honed that skill over the years?
Nikolos: I'd say possibly the ability to trust our gut and infuse a bit of ourselves into each project we take on. It can be easy to fall victim to creating soul-less work when a difficult problem arises within a project. Of course, fulfilling the needs of the client is an absolute necessity. However, we always strive for the direction that not only pleases the client, but also makes us proud. We are continuously working on honing our abilities to trust ourselves, step back and listen, and make honest and meaningful decisions.
What are you currently fascinated by and how is it feeding into your work?
Nikolos: Oh man, again so much! I have always been very interested in film. More recently though, I've been very aware of how much I miss the handmade worlds of the films I grew up with, most notably the original Star Wars saga. I'm not sure where this fascination will lead to, but I do know it has been influencing our photo shoots and the way we've recently been documenting our work. Hopefully, it leads to creating film work and other screen-based projects.
Tanner: My answer feels a little abstract, but I've currently been consumed with the question of, "How do we make someone feel?" Thinking about music, there is such an intense connection that happens when you're favorite track comes on. You immediately feel electrified, nostalgic, relaxed, joyful… How do we visually capture this type of energy when someone views a piece of design? What's the most effective way to jolt a sense of emotion into the viewer? This is something that has recently gripped my attention and has been influencing a lot of my design choices.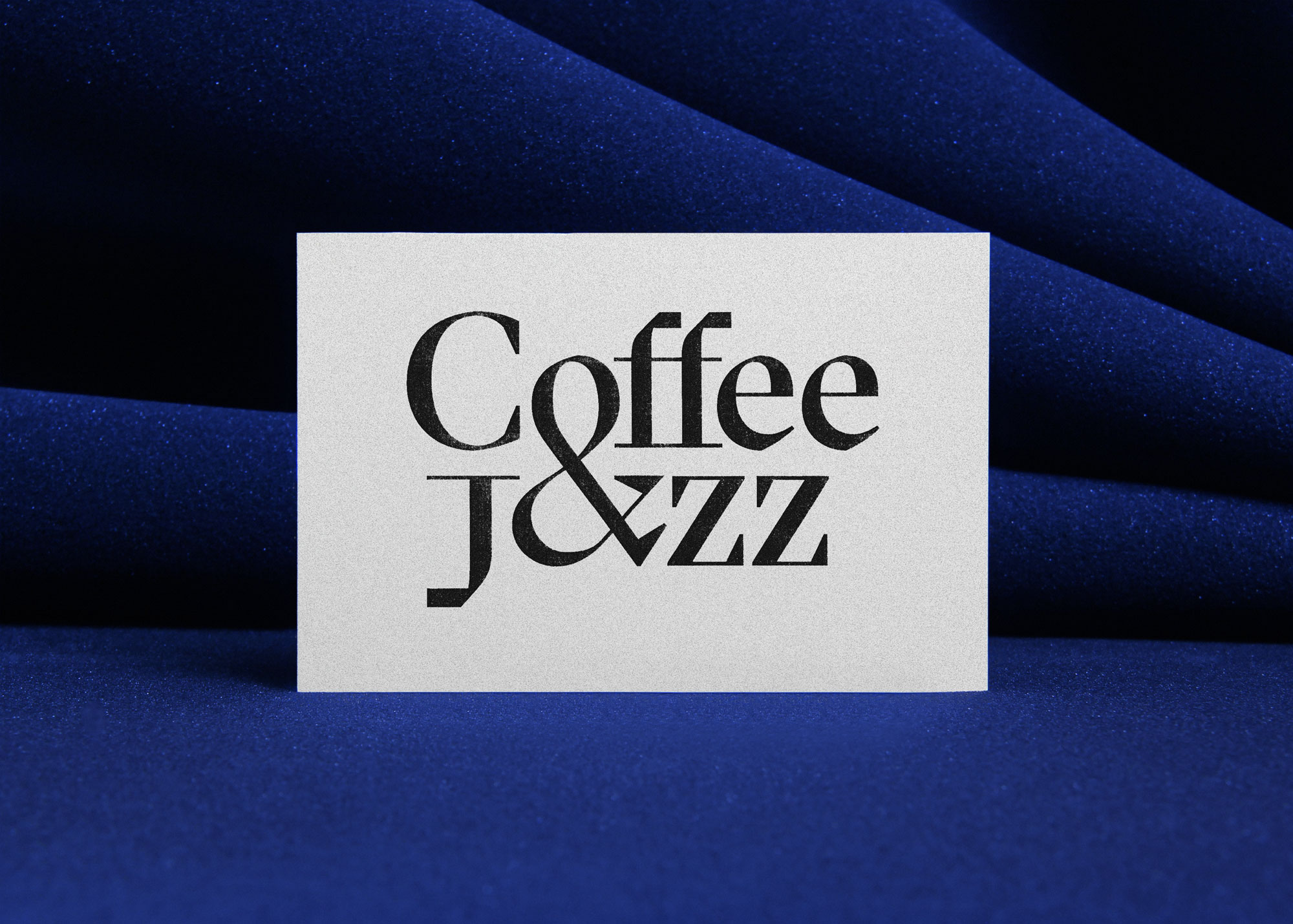 Any exciting work in the pipeline you'd like to share?
Nikolos: We are currently working on a full rebrand of an Arts Museum that is affiliated with the UC system. We can't say which one yet, but we are excited for it to finally come to life. Having the opportunity to be involved in the arts and to contribute to the campus community, has been a greatly rewarding experience.
For more from Forth + Back, head to their website to check out all of their projects.