To live in the Western World is to live under the eyes of the advertiser. Take, for instance, the clothes you wear, the genres of music you listen to, the bar you choose to hang out at, to the food and drinks you consume daily. Trivial and unassuming as these choices may seem, many of these decisions are made unconsciously through a set of images of who we believe we are and what we strive to become. Under this guise, we, the consumer, whether conscious or not, attribute everything from class and gender to values and desires seamlessly through the symbols that surround our everyday lives. Dr. Jack Solomon expands this thought further in Signs of Life in the U.S.A.: Readings on Popular Culture for Writers, "by substituting desirable images for concrete needs, modern advertising seeks to transform desire into necessity."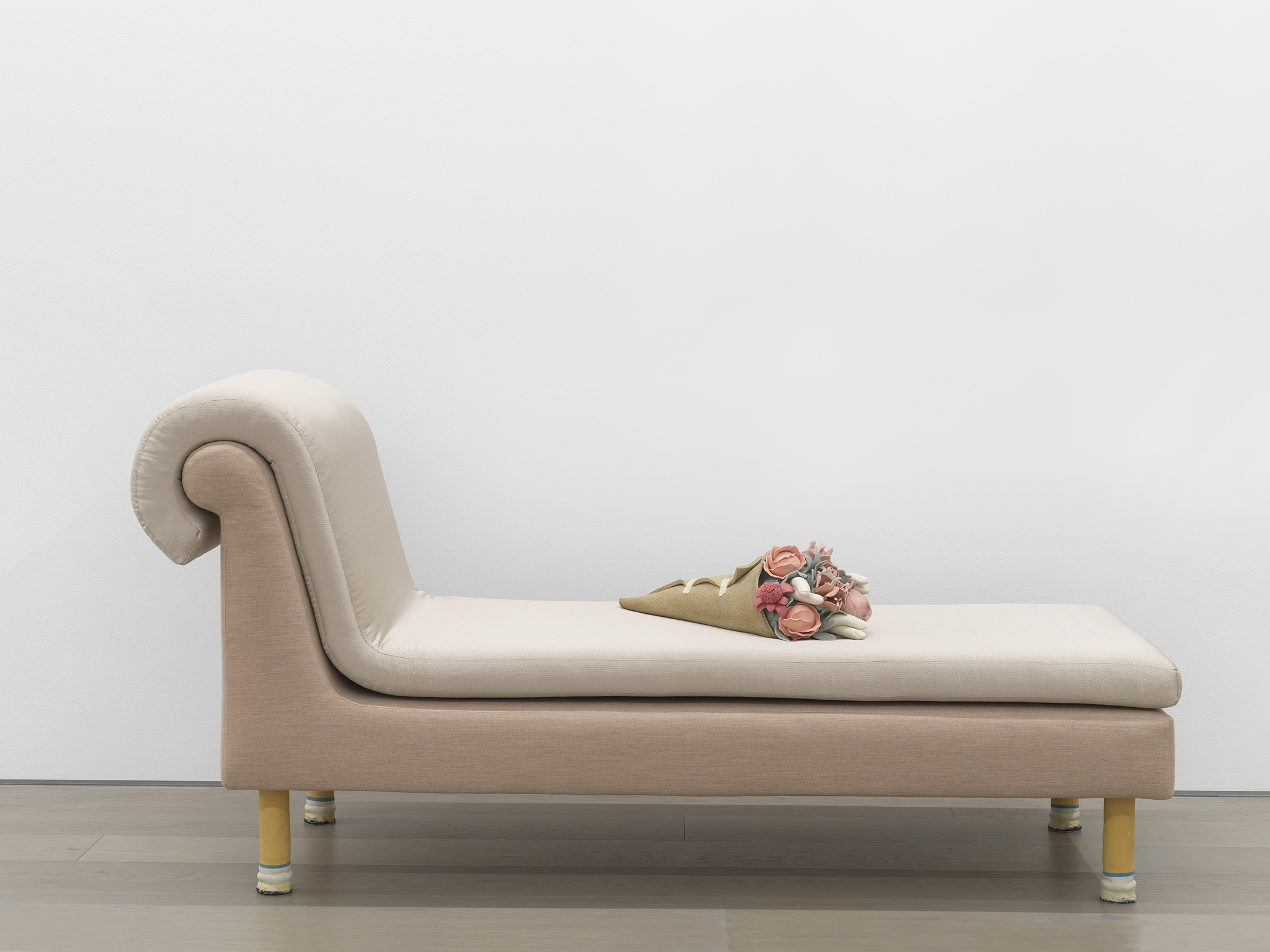 Having once worked in the world of ads, artist Genesis Belanger is all too familiar with the intricate play of symbols. Rather than exploit the opinions and pocketbooks of consumers, Belanger creates porcelain and stoneware ceramics that humorously awaken our deeply nestled emotions. A cartoonish cheeseburger, a hot dog in high heels to a cigarette bud that looks like it belonged in Toon Town. These beautiful pastel sculptures are initially warm on first glance, but take on new meaning through her grotesque juxtaposition of themes, such as "loss, grief and the process of mourning."
As a lover of history and a constant observer of life, the Brooklyn-based artist creates work that will evoke the nostalgia of your youth with new eyes. Having exhibited at a variety of spaces such as the New Museum and Francois Ghebaly Los Angeles, I hopped on a cross-country call with Belanger to discuss her work.
Surreal, cartoonish, grotesque — some of the words that may arise when describing your work. How would you describe your practice and what do you aim to achieve through your art?
I aim to make objects that are relatable. When there is something familiar and relatable but the recognition of that familiarity is uncomfortable, it may be uncomfortable because it reflects some part of our personal psychology. I am hoping this discomfort will lead to a conversation and maybe a better understanding of our commonality. Everyone is an individual, but we are all also human and share both good and bad qualities. I see a lot of room for empathy.

Your aesthetic certainly harks to great claymation films such as Wallace & Gromit or Fantastic Mr. Fox. Talk about your earliest influences and how you think they may tie into your art-making?
I grew up with the Simpsons and early MTV. At the time MTV aired some short promotional videos. The videos had a certain lo-fi aesthetic and mixed various types of animation. I loved them. I think my work is heavily influenced by this particular brand of animation.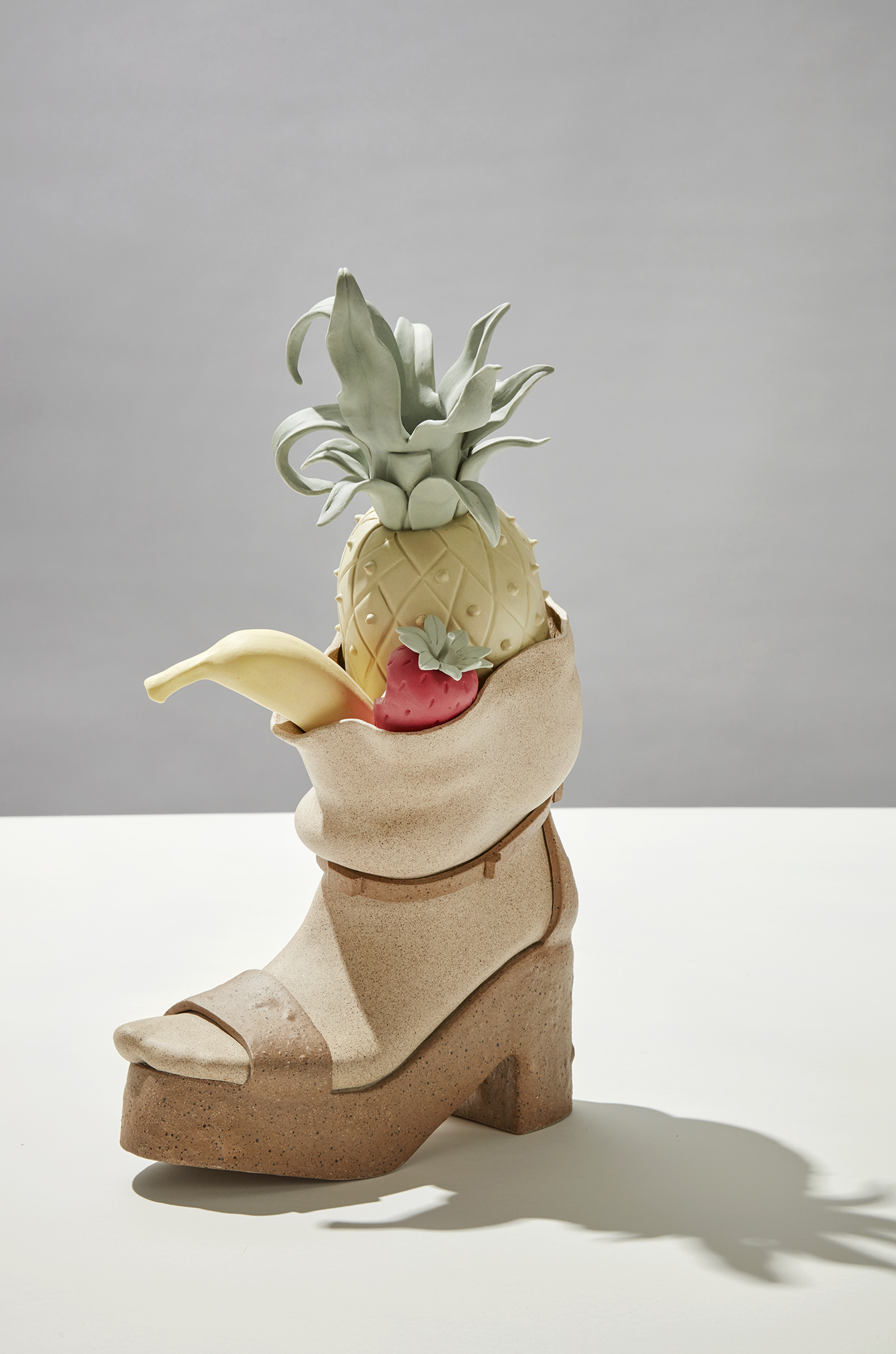 Run me through your childhood, from your upbringing to your hobbies to studying fashion at the School of the Art Institute of Chicago?
I did a lot of moving. Every year or two I was at a different school. This life on the drift continued into adulthood. I switched colleges four times, each time choosing a new major. Fashion was just the flavor of the month that happened to correspond to the moment in time when I had accumulated enough credits to graduate.
Your lexicon seems so inextricably American — hamburgers, sodas, office supplies — was there an initial experience you had that made you want to recreate these mundane objects into the fantastical?
I am looking for symbols we can all relate too. Objects that any person may have had personal experience with. However, I am making my work in response to my experiences and the things I personally see. As I am an American living and traveling for the most part in the US, I see the "inextricably American" aspect of my work as unavoidable.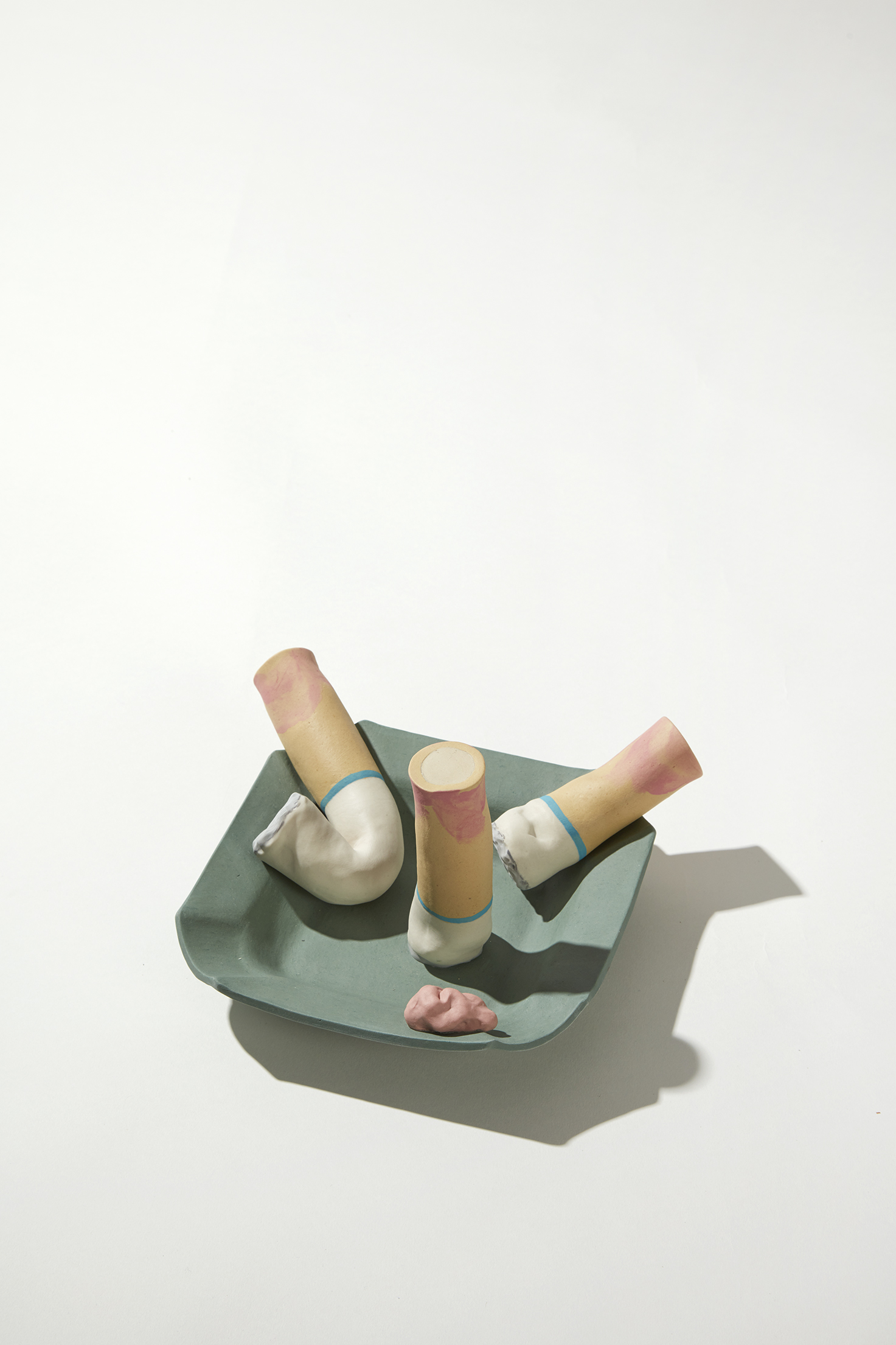 Your work lends itself to working well in advertisements. Have you done ad work in the past and are there any campaigns you would hypothetically like to accomplish?
I started working in advertising in my mid 20's. I stopped because I found myself struggling with the industry on a fundamental level. I was working with some of the most talented people I ever met but it was purely in the service of capitalism and consumption. I can't imagine wanting to work on any campaign.

What's your process, from the earliest idea to final execution?
I always start with a drawing, usually many. Then I mix my clay, roll out slabs and hand-build all my pieces. I never use glaze and I fire my work only once.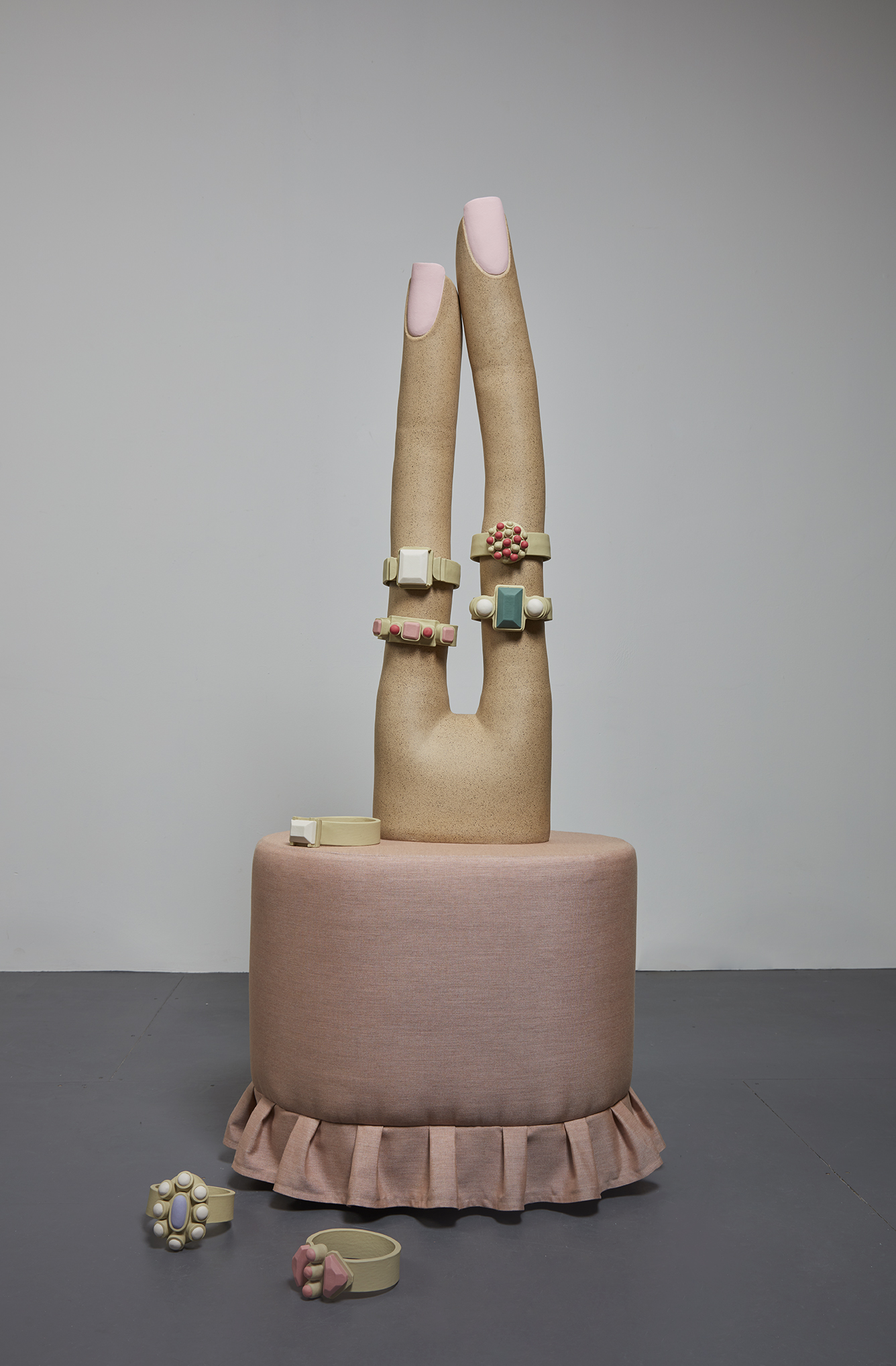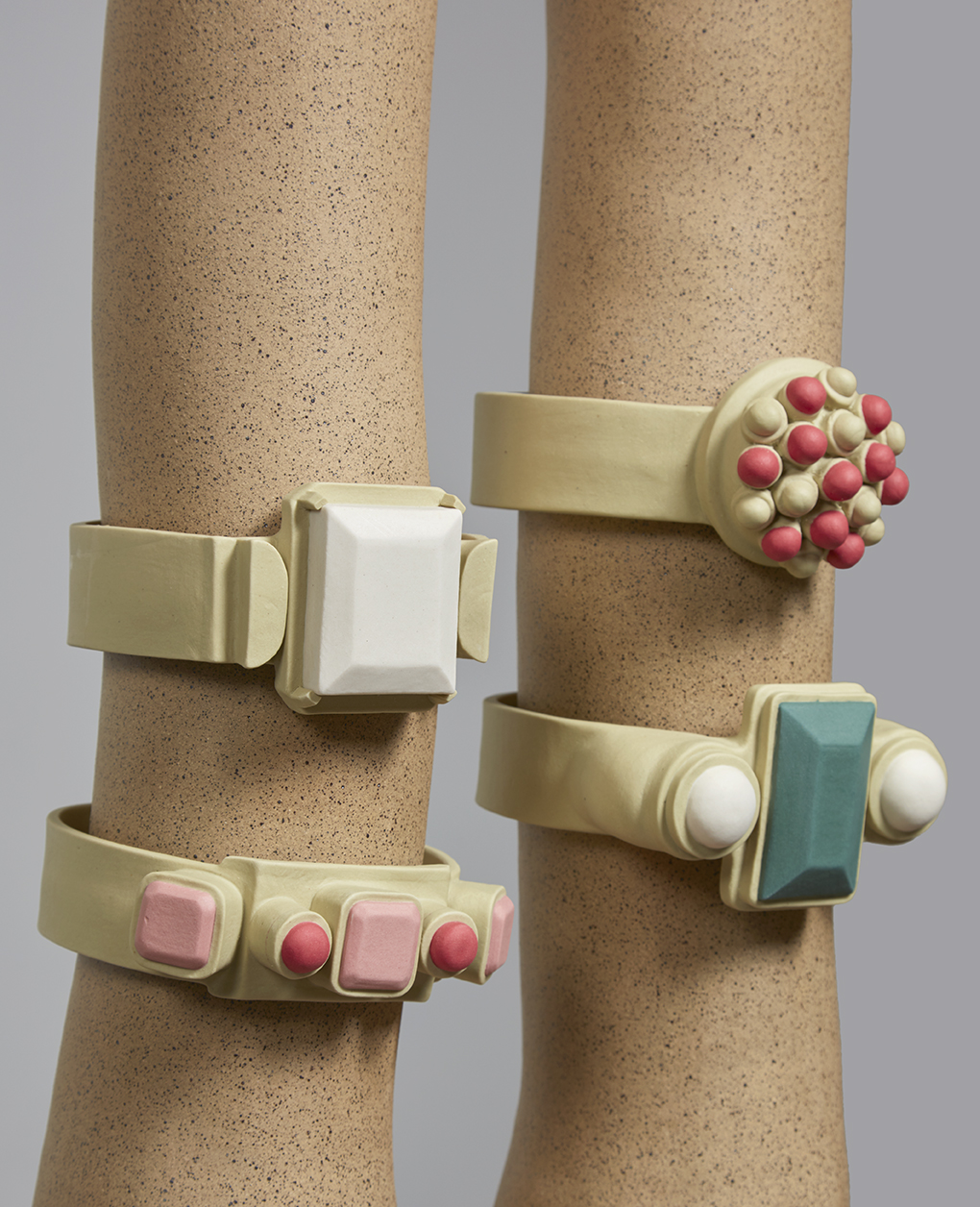 Do you dabble in other artistic mediums past ceramics and stoneware?
I also build a lot of furniture and cast some things in concrete.
What recurrently influences your work from day-to-day?
I am not sure I have anything reoccurring. Show to show I change the narrative of the work. Currently, I am thinking a lot about loss, grief and the process of mourning.  I am questioning the lack of support for those who mourn. We seem to want people to get over their losses quickly. To just move on. But I don't think this is possible. I think the pressure to be happy forces those grieving to suppress their feelings. This obviously doesn't work, and all that emotion gets expressed in unhealthy and even self-destructive ways. Instead of making space for loss we culturally make grief into something much worse. I want us to start talking about this. I think it's time to shut down the idea that we have to be happy all the time. That's just too simplistic.

What do you like to get into when you need to take your mind off the studio?
I like to do something active- bike, run, hike. I'm pretty much down for any activity. But no ball sports- I'm really bad with balls.

Are there any upcoming exhibitions you will be showing in?
I will have a solo show in May 2020 at the Aldrich Museum.

For more from Genesis Belanger, follow her on Instagram.