Last Friday, Haley Heynderickx graced the stage of The Sultan Room in Brooklyn for the final stop on a two-week tour with Tre Burt. "I feel a pinch discombobulated," she remarked as she tuned up her guitar, "but I'm going to try some new ones on you, and remember to breathe and just be with you." For any longtime fans, the prospect of new music alone was music to our ears. It's been nearly two years since the release of Heynderickx's debut LP I Need To Start A Garden, and though it's an album that never tires, we're definitely all eager to hear what's up next. 
Heynderickx opened with "The Bug Collector," standing in front of an eclectic multicolored background. "I feel like you're watching my famous news show from Southeast Asia," she said peering over her shoulder, "I've never played on such a beautiful weird area. Up next we're going to talk about the weather!" She then broke into two new songs, that were every bit as dreamy and romantic as her previous works. "Am I scared to be a rambling woman?" she ponders, "Well of course, of course, cause I'm trying to be a bit consistent." Something about her writing can fill you with a million indescribable emotions all at once; a cathartic experience despite the uncertainty of whether you want to laugh or cry.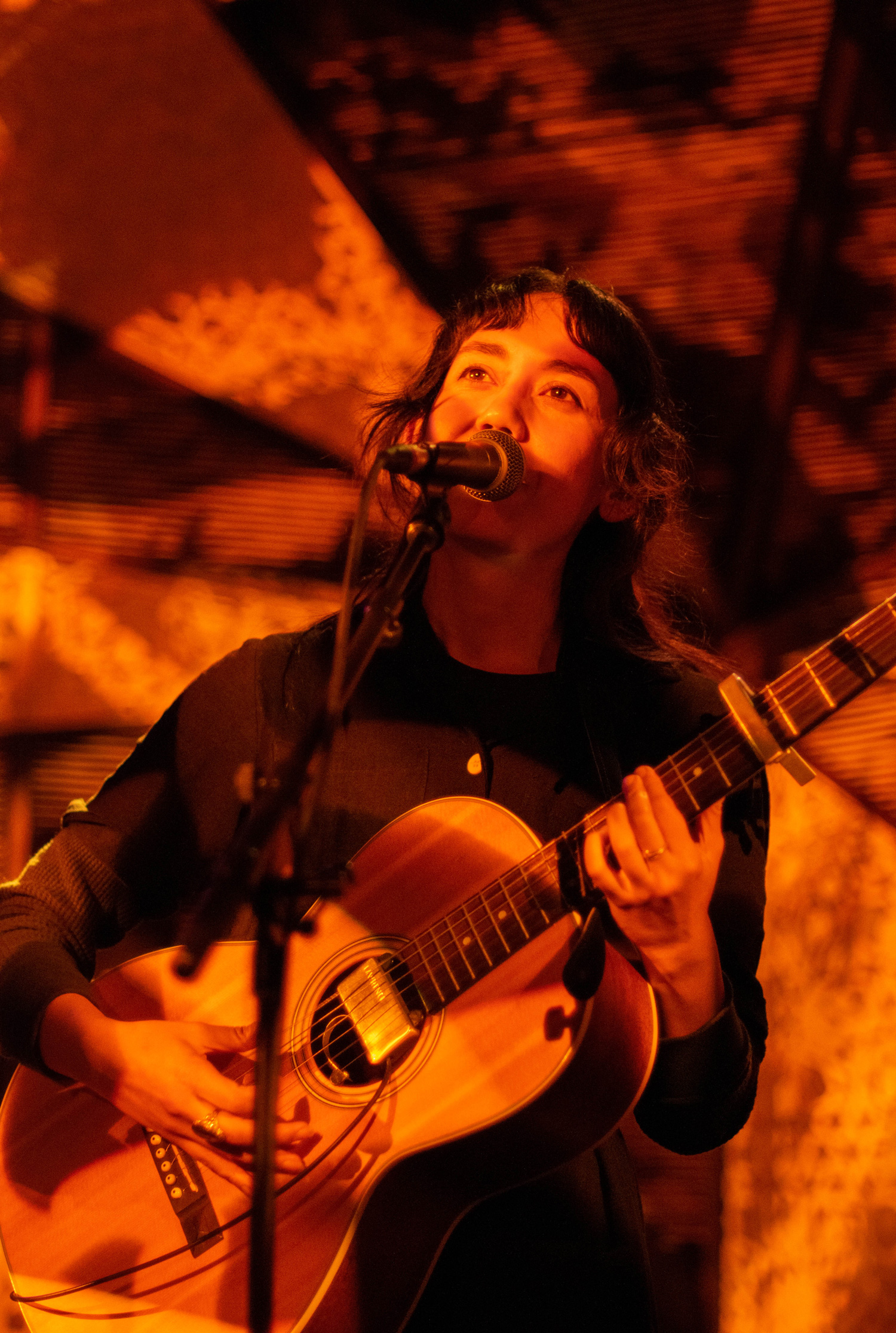 As the night progressed she worked through some fan favorites including "Jo," "No Face," and her self-proclaimed pop hit "Oom Sha La La," sprinkling a few covers in between. She then shared a partially finished song written in an attempt to cheer up a friend. "Sometimes when my friends are blue I don't know what to do. I just want to radiate love, so I'm going to do that" she explained, "Cause why not? It's worth it." Each song felt like it was written with the purest of intentions, filled to the brim with as much of her heart as she could squeeze in. 
To close out the night, Heynderickx invited Tre Burt back to the stage for a mesmerizing cover of Nico's "These Days." The twang of Burt's guitar meshed perfectly with their vocal harmonizations, giving a fresh and folky take on a simple classic. The affection that the two shared for each other was obvious, as they reminisced about their time on the road together throughout the night. "I learned that you can keep your spirit intact while traveling," Heynderickx said after sharing Tre's disdain for Best Western napkins, "He helps me appreciate the tiny details."
The attention Heynderickx gives to every line and every pluck of her guitar string serves as a good reminder to slow down and romanticize the moments that might usually seem mundane. I think we all left that night a little more in love; not just with her music but with life in general. 
For more from Haley Heynrerickx, follow her on Instagram.