Jihaari Terry lives in the sonic realm. A DJ, music producer, and lover of sound, Jihaari is submerged in the tenor, pitch, and rhythm of the here/now, which is also the sounds of was/then. That play on time and aural composition, the current and departed as entangled phantoms, is Jihaari's most rewarding and generous asset. Jihaari's sounds — be they DJ sets, samples, beats, or original compositions — are wavy chromatic gestures connecting black cultural productions across oceans, continents, and intervals. It is this both/and that figures Jihaari as one of my favorite players and creators in music.
So we're married, how's it going so far?
I enjoy it. I think that it's different than what I initially thought it was going to be, but it really is a lot of growing all the time.
What did you think it was going to be?
I imagined it would be easier, that the ease of dating would be the ease in being married but you know, hard things (in life) happen, and when you're married there's a real need to take up those "harder" things, to really work them out rather than assuming they will just settle or dissolve on their own.
For sure. You left your 9-5 gig at the end of last year and have been full-time DJing and producing music. What has that transition been like, especially in terms of having more time in your day for your creative practice?
It's pretty awesome! I would say first and foremost, I feel pretty blessed to be living in LA and doing my art 100%, and also be paid enough to continue to do that.
When I left Stumptown, I had a gut feeling that everything was going to be fine. But there was a moment right after the first two weeks where I realized I needed to make my own schedule, dedicating time and space for creative work, rather than fitting it into my "off time" which was all the time now.
At first, I thought to myself, "I'm going to make music and DJ, and I'll have enough things scheduled so that I will be busy." But after the first two weeks, I realized that this was my life; this was my job now. So I had to start scheduling appointments with people and creating a schedule for myself to stay on track.
It seems like the first two weeks were bliss, and then you realized this isn't vacation, this is my actual life, and I don't have to go anywhere four days a week anymore and squeeze in two other jobs on top of that. So now that you're six months in…
I think I'm still figuring it out. I guess because I'm a DJ and it's getting closer to summertime there's the anticipation of a packed schedule. I have my residencies at Tabula Rasa, Everson Royce Bar, The Standard, and Parachute already, along with gallery openings and random gigs all the time. But also, I haven't had this job (being a DJ) as my job job for a full year yet. I think it will take a full 12 months to get a sense of my schedule seasonally and build enough contacts as well.
With DJing in general, and playing vinyl in particular, there's a lot of research, reading, watching, and crate digging as well. I take that pretty seriously as part of my job.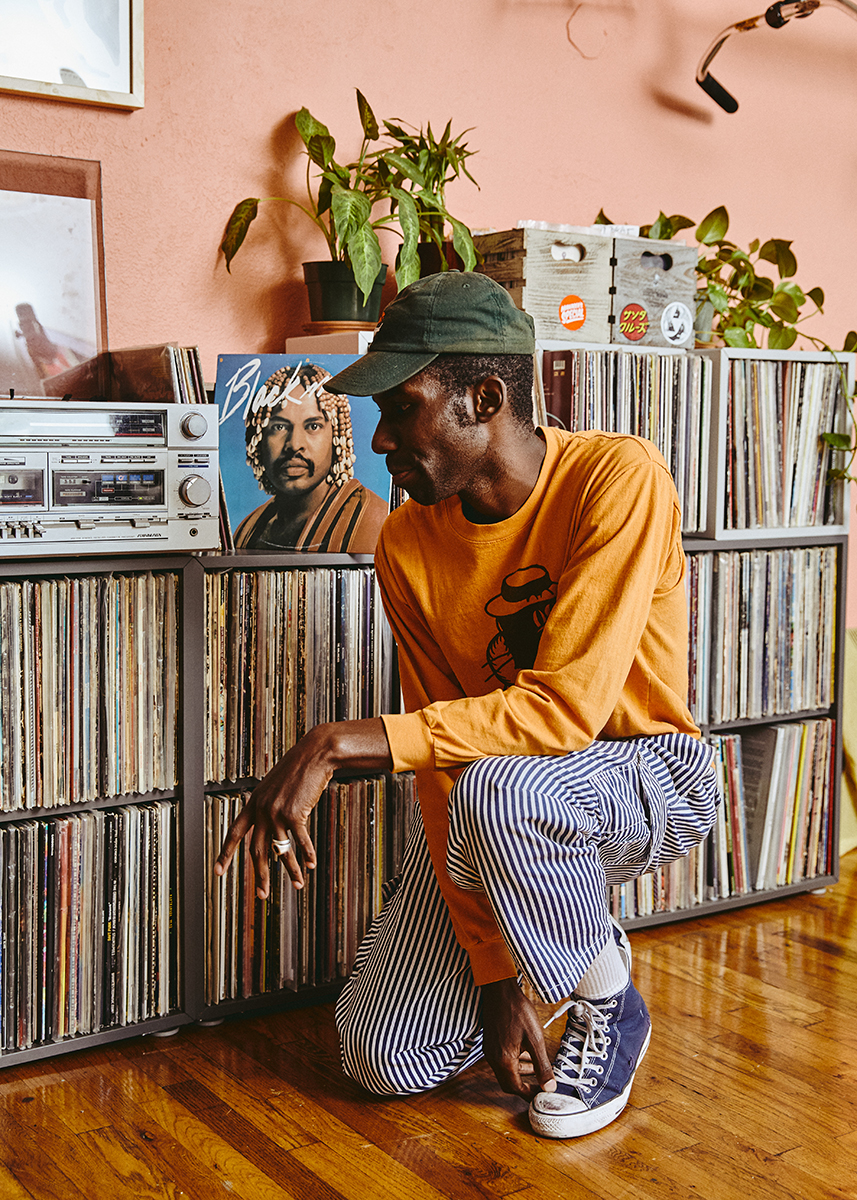 I think of how the market for artists is always in flux, and there's a real pull to make objects for sustained sources of income. Do you ever think about what it looks like to do this as a profession longer term? What does year two, three, and ten look like?
I've looked into my future and think DJing will absolutely be plausible for full-time work for the next three years (at least), and I'll have that real choice when it comes to saying yes and no to certain gigs and projects; that's something I already practice now. But I also look forward to transitioning more time into music production and DJing more intermittently.
The ups and downs of the art world…I don't know if they particularly bother me. I'm working within both the art (I DJ at galleries and museums) and music world, and they're both always moving and shaking. I have more than enough background to not only talk about music, but to make decisions on artists, genres, and styles for both film, TV, and ads. I can also produce scores, create sound sets and soundtracks too. I think there are a lot of ways I can go within music and sound that aren't just fixated on DJing, per se, as a career.
Totally, and perhaps music — in the ways you practice it — are less of a pawn of the marketplace.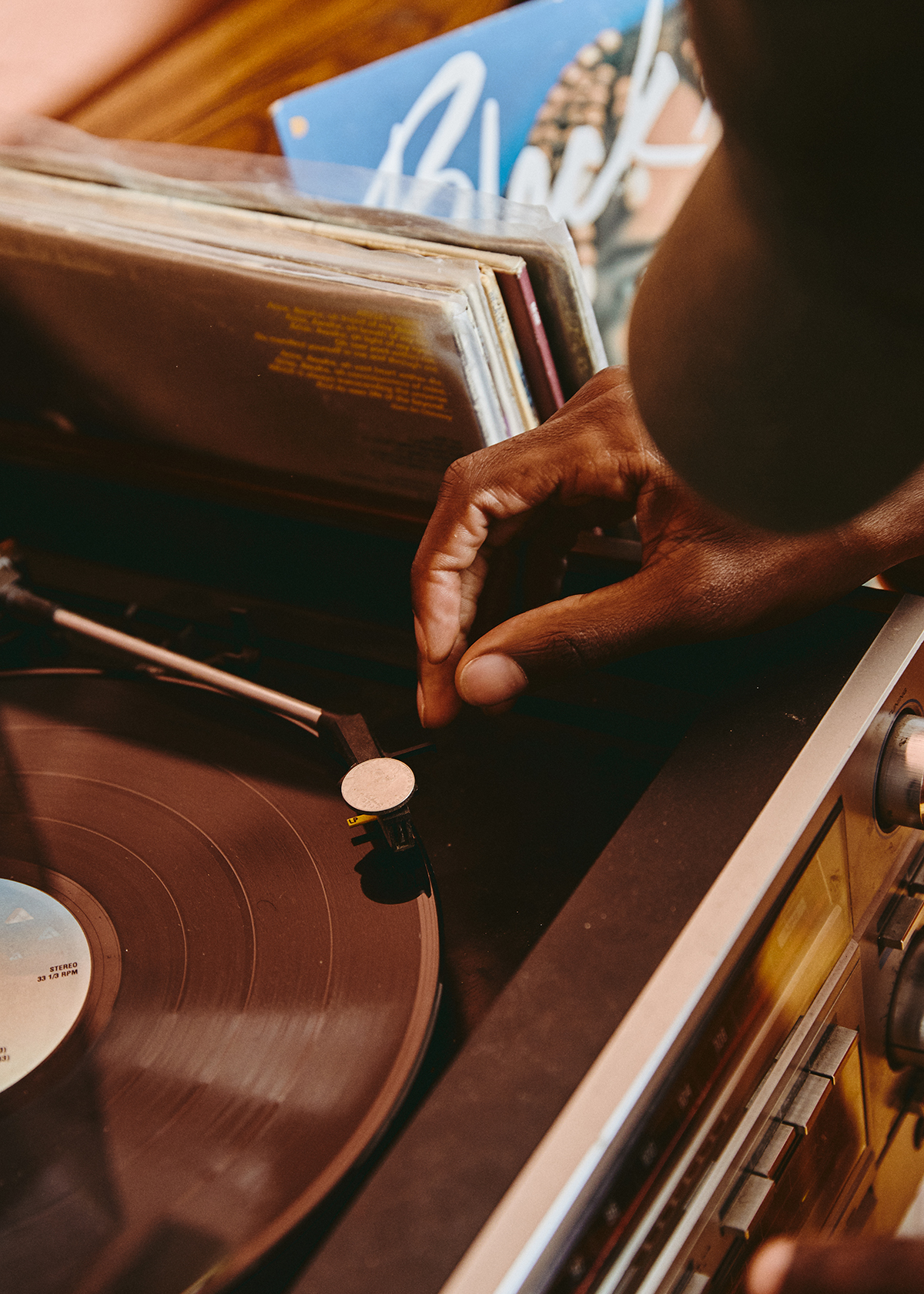 Currently, we don't have any babies, we have our little niece that we love dearly (shout out to Paloma), but it's just us in our cute little home. What do you look forward to the most when that becomes a part of our daily life?
Honestly, I look forward to teaching my kid about blackness, black people, and black life. I can't wait for them to be proud of themselves, that they have parents who love them, and that they have parents who have built a bomb community around them to be able to teach them about a host of things. I look forward to showing them how many pathways they can go on and how much support they have to take those paths. I'm jazzed to share music with them, but I'm genuinely interested in what they will want to do (or not do) with it. I look forward to teaching them how to treat people with respect and love, to be generous and not be selfish, and teaching them things that I've learned and taken up since being with you. I think the kid will be someone that we both will enjoy watching grow up.
Absolutely! I was thinking earlier about how black kids deserve to have black parents, black families, and black people in their lives who love them. That taking care of other black people, especially children, is vital in this world. I've been ruminating about that and also that we are coming up on four years here in LA in June and I wonder, what do you miss about Oakland? Not necessarily what's "wrong" with Oakland but a sentiment, person(s), or thing that our life here does not have.
The first thing that comes to my mind is riding my bike around. I really miss that. I was just at Virgil [Normal] and talking to Charlie about riding around and how it was the best there. I do ride here, but it's not long enough distance to feel anything. I really enjoyed having to use my bike as my mode of transportation and not a car.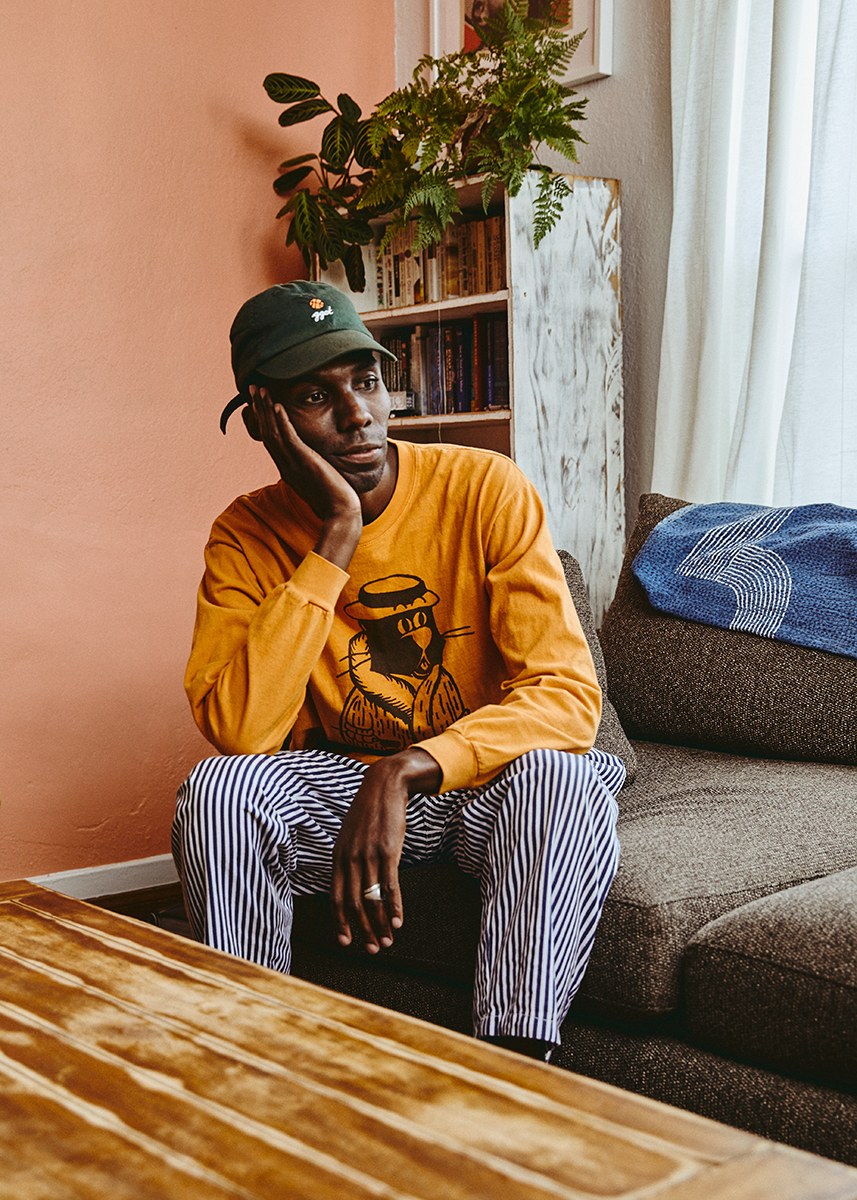 In four years, our neighborhood and stomping grounds are already very different from when we first got here. And because so many of these spots were (virtually) unchanged since the late '80s/'90s, I almost feel that sense of nostalgia sometimes with this place already. What do you think you'll miss, or already do miss about LA?
Talking to my neighbors. I think that is something that we both noticed has gone. We talk to the old school folks who have been here in our complex and on the block, but that's dwindling. Because of the way the building is set up (at the center is this open, lush, cactus garden) and because we all have stoops and keep our front door open most of the year, we would talk to most of the people who lived here and certainly with our neighbors directly across from us. But with people moving away, there are maybe five folks who are still chill and say hello in our particular area of the building. I miss talking on a Sunday afternoon; I miss neighborliness.
What is up with people who move into a spot and don't speak to the people that have been there before them? Especially with the most basic everyday discourse on gentrification, displacement, and inequity happening between mass and social media.
Yeah, it's pretty wack.
So we're going to Accra this summer for our residency with Osei Duro. What's the hope with Ghana for you?
It's my first time on the continent, so I hope to take it all in and realize I am blessed enough to go and have somewhere to stay in the first place. I'm excited to hear the sounds of somewhere else. Just taking in what Ghana has to offer and being around a majority of black people, that's never happened for me. That feeling of the sunrise and sunset in West Africa… it's probably going to evoke some intense feelings because I just haven't done that and I didn't know that going to Ghana would ever exist for me. I know it's going to be a fucking life-changing experience.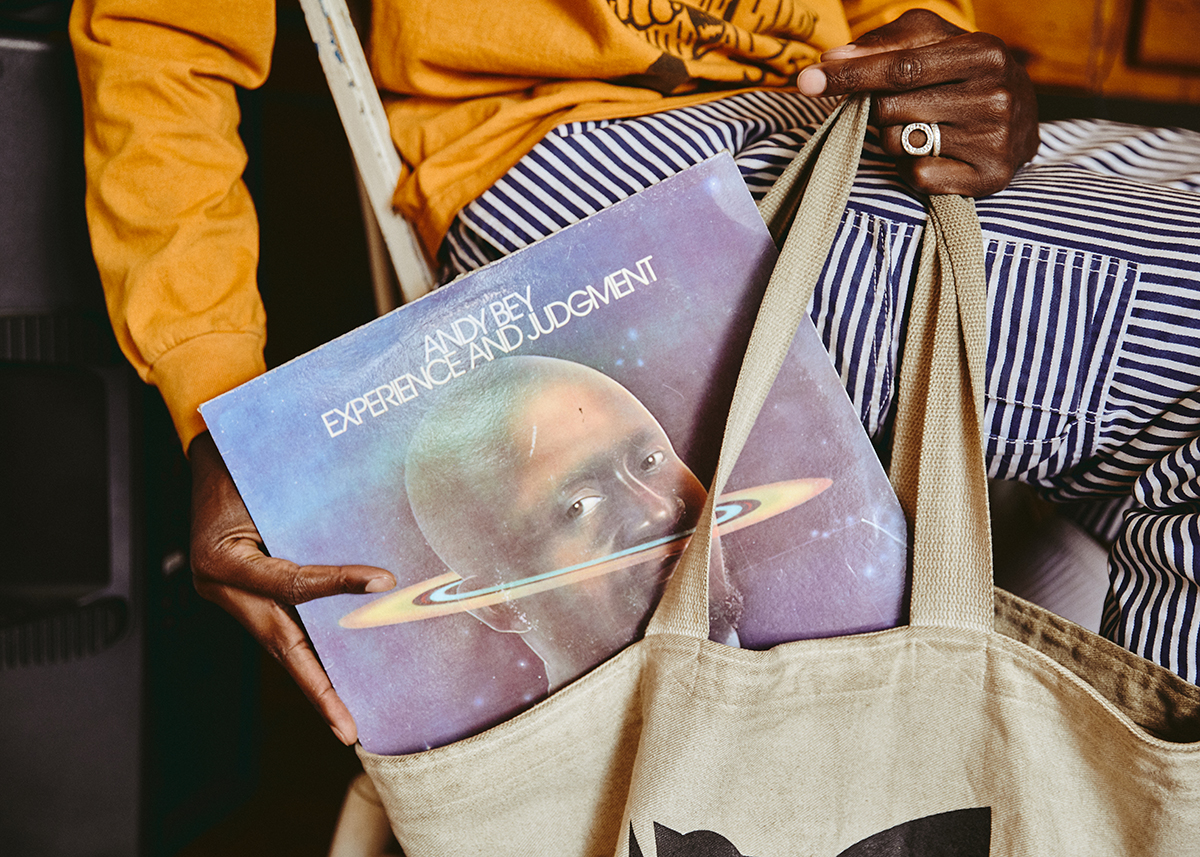 When you DJ, you start each set with Andy Bey. When did his album Experience and Judgment come into your life and what's the urge behind starting every vinyl set with the song "Celestial Blues"?
I first heard a snippet of that song on Quasimoto's The Unseen, and I very much enjoyed the interlude between that song and the next song. I listened to The Unseen a lot, it's my go-to album to remember why I love music and why I'm interested in sounds. With "Celestial Blues," the lyrics that Madlib samples are, "we must get closer to the essence of life / but be aware it takes courage and strife." I think of that as my mantra, something to kind of standby. It helps me build on a set and clears the room of any bad energy. Also, it lets me be at peace with whatever situation I'm in. It kind of turned into a personal interlude for me.
We've done a sweet job of surrounding ourselves with the best of people, and most of these folks work in the world of art making in some way. What kind of collaborations do you want to do with homies, and what have you done so far?
I would love to be in an art show with Adee Roberson. Not to just play music (I DJ at openings), but to create object-based work and have it in a show with them. I believe that she is on the path of creating her masterpiece, and I can't wait to see what it looks like. I would also like to work with Micah James on music.
Recently, I worked with Sadie Barnette and Rodney Barnette for Sadie's installation of Rodney's former bar "Eagle Creek Saloon" at The Lab in SF. I worked with you and our friend Meg Fransee to create a zine, "Chain Mail," which we are also pitching for a book-length project. We also made shoes with Everybody. World. That was fucking cool.
I think a lot more of that stuff is going to happen. I'm glad we make space for each other to be creative and push each other to do more than we think we know. I'm blessed and thankful to be in a relationship that allows me to be an artist like a full out 100% artist.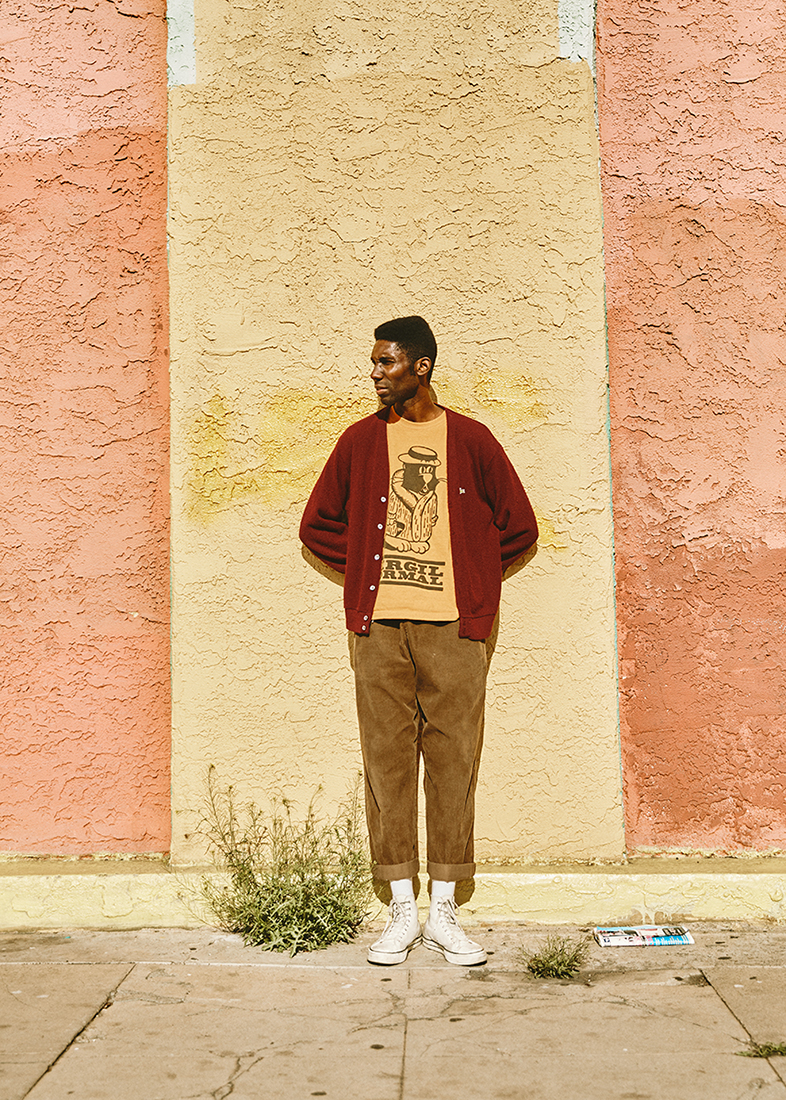 You were a painter for most of your life, and you've had a break for the last four years as you've dived headfirst into music as a collector, vinyl DJ, and as a producer of sound. What does a return to visual art look like for you? 
I'm interested in creating works that speak to my DJ and production practice, which prioritizes soul, jazz, house, funk, and hip hop. I'm interested in sculptural work, weight/heaviness, and black periodization. I want my visual art to do what the music does when you listen to a song by taking you on a journey.
One last question, I know you made a dope jam when I'm not paying attention and start groovin' on my own intuitively. How do you know when you have a hit on your hands?
How do I know? I mean, I know that I'm making good shit. I believe in myself. I think that's a big part of it. I believe in what I'm doing, and I don't know if all of it is amazing, but I know that there's a lot of shit that I'm working through and working in, sound-wise, that when you hear it, it clicks. I feel like it has to do with nostalgia and whatever sounds I'm using because, for the most part, this stuff I'm sampling isn't that crazy. But I think when you hear the little sounds in there, it does something to your brain to remember why you enjoyed that song in the first place. Even if you can't pick up on the song, you know it's in there.
So when I know it's good is when I hear the song and find the loop that I want. I know it's going to be good because the loop by itself is good. So when I sample that, I know the song's going to be dope. And when I don't use a loop, I know what I want to hear, and I'll create that sound because it's what I want to hear.
That's it! What's your little sendoff here?
My sendoff? Goodbye. Hello.
For more from Jihaari Terry, follow him on Instagram. 
Essence Harden is an Independent Curator and Ph.D. Candidate based in Los Angeles.
Photography by Brian Overend.