It's hard to tell if the artwork on clothing today is an original piece or just something ripped from the Internet. Yet despite the mass-production of stale graphics on t-shirts, there are a select class of clothing companies that are coming out with some pretty unique threads. RVCA is one of those brands. The California-based brand has been involved in working with artists, actual artists, since its inception. From Barry McGee to Sage Vaughn, RVCA works with artists to create distinct designs, patterns, and graphics. Australian artist Melissa Grisancich is one of the talented artists that RVCA has been working with for some time now. Her work, which is all handmade on recycled material — usually canvas or wood — evokes characteristics of old circus posters mixed with the aesthetics of traditional tattoo, but with a modern romantic twist to it. Her new show, "Moonflower," opening at the RVCA store located on Haight and Ashbury in San Francisco tonight, will showcase her dynamic style.
Melissa met me at a brewery down the street from where she is staying while in San Francisco, one block away from the very lively corner of Haight and Ashbury. After sitting down at a table, getting vibed for opening a tab at the bar instead of waiting for a waiter, and fries and drinks were ordered, Grisancich sipped her wine (since she doesn't drink beer) and started about her first show in the US.
"I'm so nervous," she says, "I don't like all the attention. I may just wear all black or something. I mean not that I don't already do that all the time. I think I'm nervous because I have never had a show in the States before."
Melissa originally had intended to have her show in Japan, but then had second thoughts and decided to showcase her work at the RVCA's San Francisco gallery, properly timing it with the release of a collection of clothes that feature her artwork. "The clothes sort of go with the exhibition, so it all makes sense," she explains. "RVCA really made it all worthwhile for me to be here, and I'll never forget that."
Grisancich has been working with RVCA and their Artist Network Program for about five years. She originally worked with the company when she provided one of her paintings for a shirt. It was an opportunity she got from a friends recommendation. Six separate clothing collections and a number of shows later with the brand, she now also managing their gallery in Melbourne where she is lives. Melissa has developed a good relationship with the brand over the years, which is in intent on giving her artistic freedom to create whatever she feels. "They don't actually ever say 'We want this, this and this on a t shirt,' they just want you to do your thing." she says. "They like my style of painting I guess."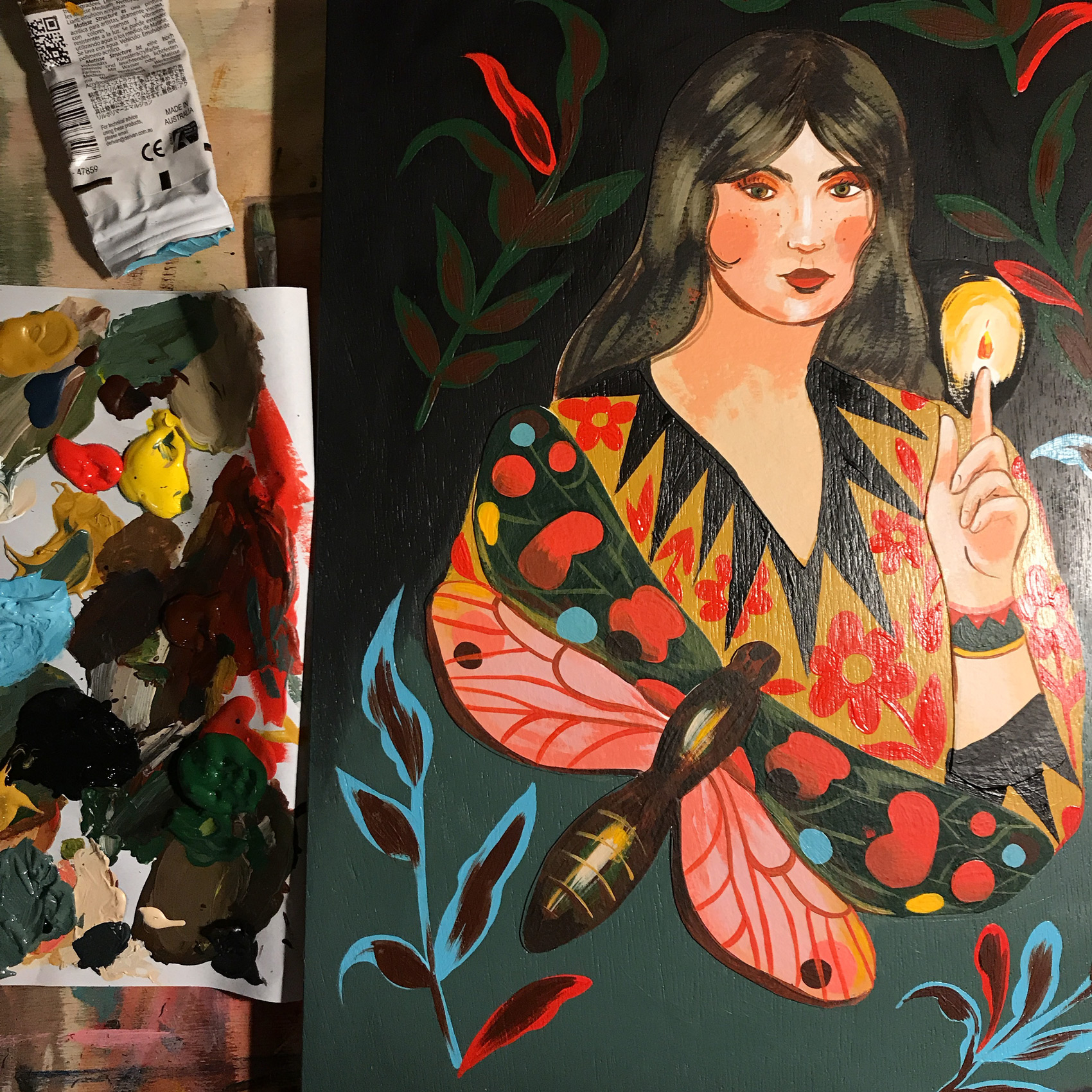 The name of her show Moonflower" is named after her favorite flower, the Australian native rose Blue Moon. "It's a light purple color and when you smell it, it's really hypnotic; it's got a really strong beautiful smell and looks pretty at night. I steal so many flowers at night on the street," she says laughing. "I think that's my mom's fault."
All of the work featured is new and created over the last five months. However it took some time to creatively get things really going. "I asked them last September 2016, if I could have a show. I just kept kind of pestering them and seeing if there was a time I could have a show there. They suggested maybe doing it at the same time as when the clothing collection would come out," she recalls. "I just kind of asked on a whim, I didn't think they'd say yes and I didn't think it was going to happen. After they said yes, I got artist's block, like writer's block, for a month and half."
Grisancich found herself stuck, trying to think about what her show would be about, what she would create, how many pieces, trying to come up with anything, until finally finding something that worked. "I forced myself to do stuff, there are actually a lot of paintings that didn't make it to the exhibition," she says. "I was painting for the sake of keeping things flowing creatively, not really knowing it was going to be in the show or not. I just had to keep working, because you can't really wait around to be inspired," she laughs.
The pieces that did make the show include a range of large paintings, sculptures — particularly resin sculptures of hands with Australian flowers painted on them — objects found that she painted, like a ceramic cat, which she had to wrap as a present to get it through customs, embroidery, printed fabrics, a limited amount of painted shirts, and screen prints.
Melissa's taste is a rare form of a unique nostalgia. "I'm really inspired by old tarot cards," she says. "All of those are painted really flat. I have so many books on vintage circuses and magic. I like old packaging, matchbox art is a big inspiration as well. But it's also a lot of simple stuff too, like flowers. I paint a lot of girls and they are always holding a flower or a box of something."
Grisancich is steady with her color choice, focusing on the lighter end of the spectrum, "I have a rule that I don't use black, but I make my own. So it will always be a dark brown," she explains. "Kind of like poster colors. I have to have yellow, red, a lot of cadmium pigments —  oranges and reds in the highest pigment — sky blue, green and pink."
She usually paints on canvas or wood that she has sealed with a satin finish. Laying flat, the paint grabs and hold on to the wood surface. "It lets me paint really fast and not have to do to many layers, canvas also does the same sort of thing," she says. "I like to use either, but most of what I use is recycled stuff, so it's just whatever I have around."
After the show opens Melissa plans to go to Palm Springs then head over to New York for the fourth of July, before heading back home to Melbourne. Once she is home she has a number of group shows lined including a show at the RVCA gallery called Springtime, which is an all-female exhibition of 19 artists that she's not only featured in, but also curated.
"Moonflower" opens on June, 20th at the RVCA gallery on the corner of Haight and Ashbury, there will be music and drinks, doors open at 6. "Moonflower" will be up until August 7th.