This article was originally published in issue 12.
"Tour is landing on a restaurant fifteen people find acceptable; becoming unintentionally intimate with complete strangers; learning how to sweet-talk authoritative figures who don't speak your language, and the most fun you can have with your pants on the majority of the time. If you're a bitch, it's gonna suck. But if you're doing it right, you're Butch Cassidy's Wild Bunch. It's rock and roll sleep-away camp for the ones that refuse to grow up but know how to love right."
Photographer Olivia Jaffe is rock and roll. Not the seemingly glamorous, groupie-love type of rock and roll, but the true guts and grit of rock and roll; the sweaty, bloody, ugly, and yes, at times, hairy, side of rock and roll. Complete with long jet black hair, tattoos, and a striking, big-eyed gaze, the LA-based photographer oozes realness, and it transpires through her photo work.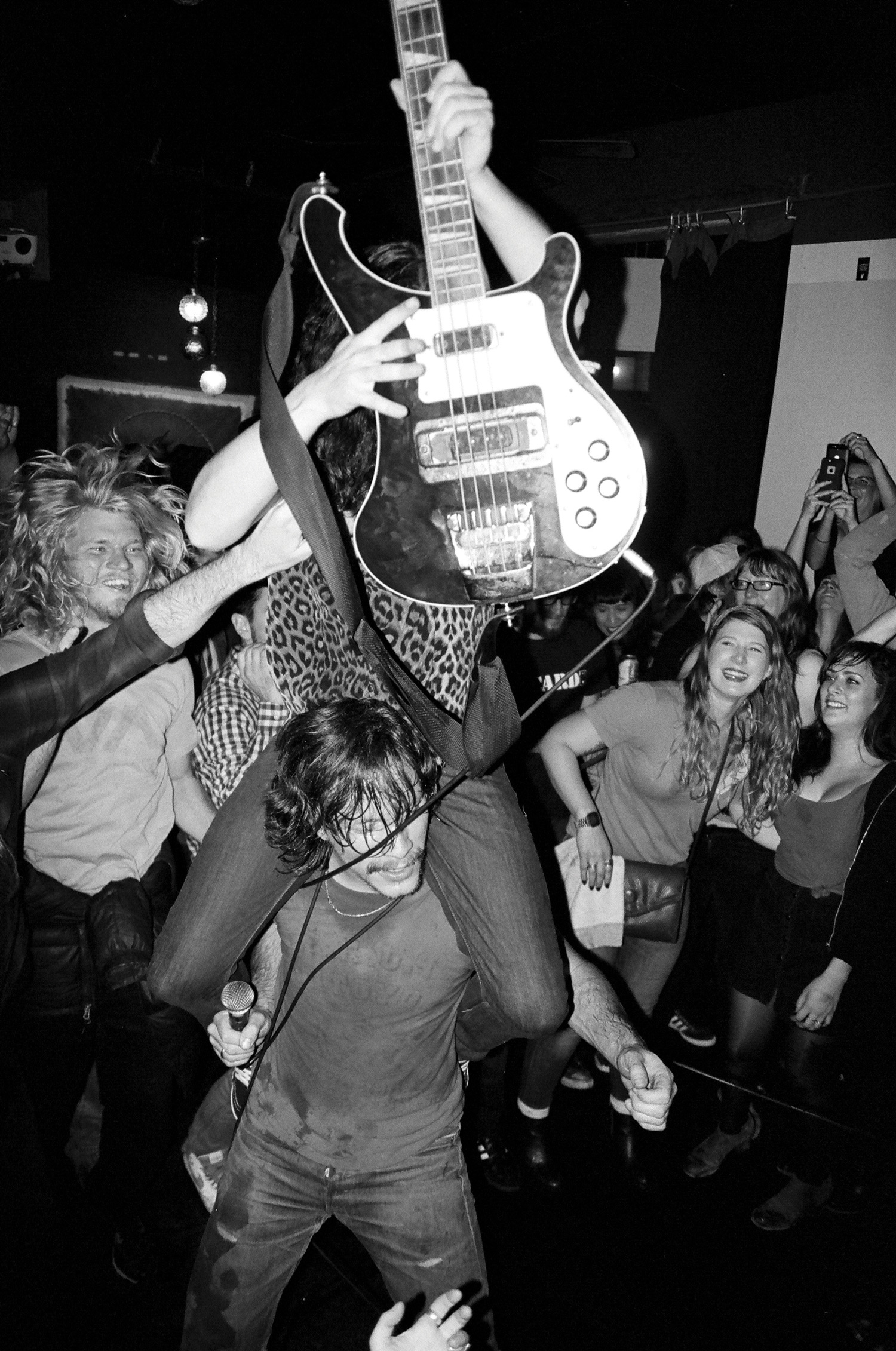 Although Jaffe has paved her own way into the photo world, she was born into true "badassery." With a mother working as a successful commercial and film stylist and a British-born dad, who owns and operates "The Chequered Flag" classic car dealership in Marina Del Rey, Jaffe was born a hustler with an unrelenting work ethic.
"I was always impressed and felt that if my dad could build what's become somewhat of a landmark in one of the hardest cities to crack, in a country he didn't come from, I've got no excuses," Jaffe says proudly.
Jaffe was also fortunate to have been surrounded by artists since birth. Having two aunts and an "ex-step-grandmother" who were all photographers, Jaffe spent a huge part of her childhood watching one of her aunts work in her Santa Monica studio, completely mesmerized by the technical aspects of film photography.
"I will always love the happy accidents and how film allows you to stay within that only moment," Jaffe shares. "Film grabs onto feeling, and it may sound insane, but it has the singular ability to effectively communicate human sentiment in a way digital never will. If that's not the point of the thing, I don't know what is."
Despite an early exposure to film, Jaffe traces her official start in photography just shy of her teen years, shooting her first roll of film by age twelve on a 35mm Kodak point-and-shoot camera given to her by her dad on a trip to England.
"I freaked the fuck out wandering between the overgrown headstones, directing my dad and stepmom to lie on graves and other disrespectful-to-the-dead things," Jaffe says. "It was the first time I had a tool to preserve the way I looked at people and their surroundings, and I don't mean that in a swollen-ego kind of way, I just always felt like the observer growing up. Finally having a camera in hand gave that part of me a purpose, made me feel like maybe I wasn't such a goddamn weirdo after all." 
Once Jaffe reached high school, she was hooked. Every semester Jaffe cleverly found ways to incorporate a photography class, and she now "safely says" that the hours she spent in that darkroom saved her life, probably on multiple occasions.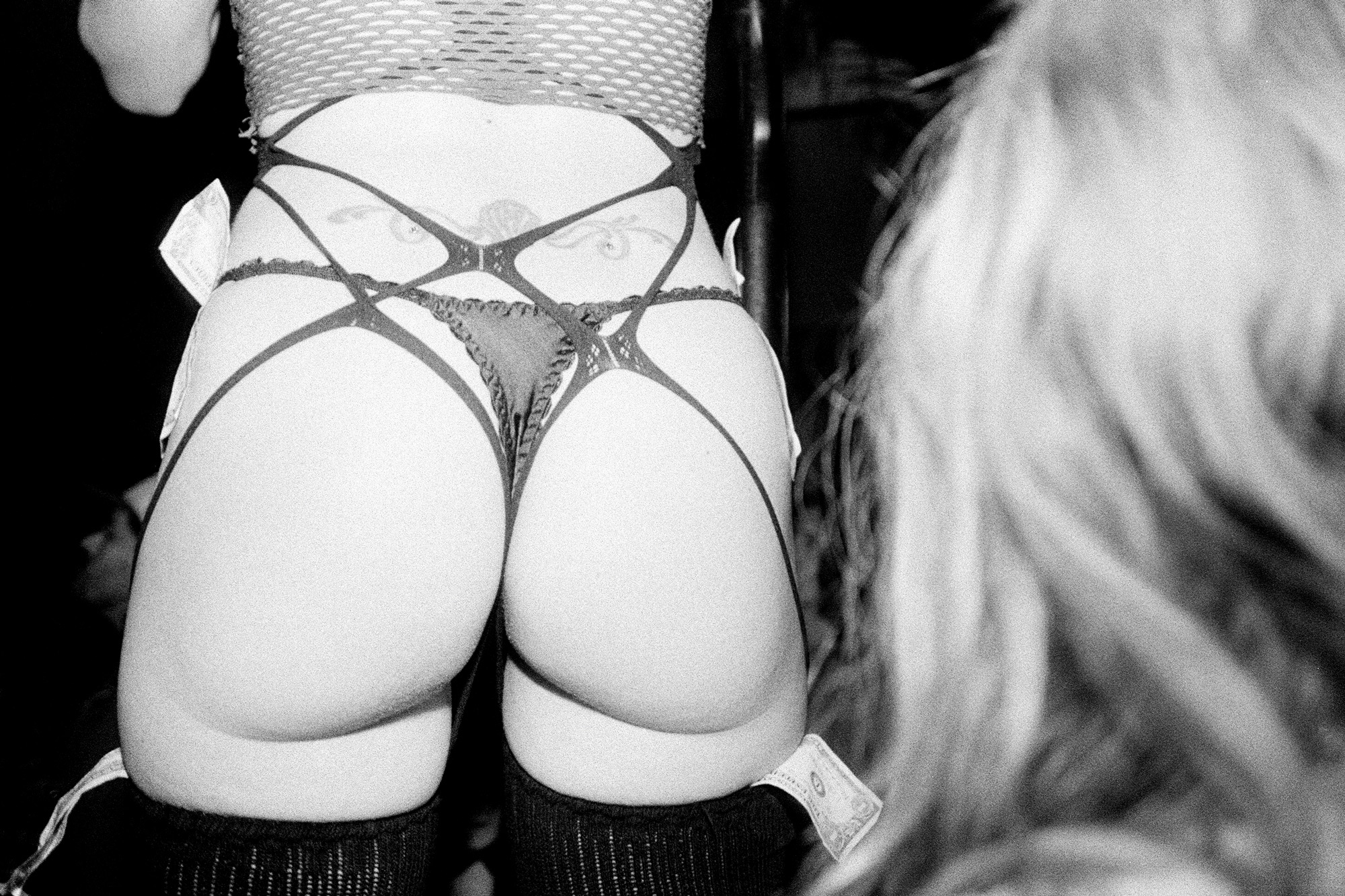 Through her formative high school years and beyond, Jaffe became even more entranced by print photography and the photo-development process, studying the work of her favorite photographers and harnessing her own craft.  At the age of nineteen, Jaffe found herself in San Francisco, attending an art show for one of her "forever-favorite photographers," Lauren Dukoff. After working up the stones to approach her photo idol, Jaffe scored a job working with Dukoff in LA.
"I had blue hair, was probably more shit-hammered than I remember, and I introduced myself to her. She was open-minded enough to let me start working with her back in LA, and kind of became my mentor after that," Jaffe says.
Jaffe worked alongside Dukoff while attending class at Santa Monica City College for a few months when she made the strategic decision to quit school and begin photo-assisting as much as possible. Jaffe continued assisting and working different production jobs for a few years, snagging any photo gig possible to gain the experience. Soon the weight began to shift, and Jaffe began booking jobs on her own. Once the momentum kicked in, she ran with it. With confidence, she says that it was the best decision she ever made.
Combining her photo-assisting experience with her deep-rooted love of music, Jaffe hopped on a US tour with a friend's band. After living out of tour bus for the first time, and documenting their cross-country travels, Jaffe quickly became a full-blown rock and roll photography addict.
"I started regularly touring with and photographing The Shrine about four years ago, and made it my mission to find and photograph the greatest living shit-heads the world over," Jaffe says.
Since then, Jaffe has shot for some of the biggest names in the industry, from moody campaigns with Fender and personal portraits of Nasty Gal founder Sophia Amoruso, to editorial pieces on the makings of a cartel wife for Playboy—she has truly made her mark, and it is raw and it is fierce.
Although born and bred in the City of Angels, you can find Jaffe still shooting film, living life on the road, cascading between backstage and center stage, on and off tour buses with her Pentax LX camera in tow, shooting "something she never has before."
"I get to wake up every day and do the thing that makes it all worthwhile for me, and I've gotten the blessing from some of my greatest heroes in life…that's what keeps me grounded, grateful and constantly striving, because it's something I can never allow myself to lose," Jaffe says.
For more from Olivia follow her on Instagram: @wicked_lady. Purchase issue 12 here.