Red Bull Music Festival made its annual return to Los Angeles showcasing a plethora of international and local artists in a variety of entertainment fields and paying meticulous attention to representing the city's diverse creative makeup and inclinations. Throughout the month of February, spaces significant to LA housed diverse performances, film screenings, panels, and collaborative experiences such as a mini-festival by Illegal Civilization and live-score by composer Woody Jackson for Rockstar Games' Red Dead Redemption 2. The landmark significance of many of these venues was a really enticing detail on Red Bull's part to demonstrate its respect to one of the most influential cities in entertainment history.
The West Coast metropolis has been responsible for breaking pop-culture ground by monopolizing the film and television industry as well as spearheading much of the sound styles and genres most heard today. Locals had the unique opportunity to explore these spaces from a music-driven perspective. Some standouts amongst these spaces include the Vibiana, what was once the City's first Archdiocese Catholic Cathedral, now has been transformed into a wedding and performing arts venue. The Ukrainian Culture Center continues to stand as one of LA's remaining punk rock venues and a reminder of the city's rich roots in music and DIY culture. The center, having housed shows by Black Flag, D.O.A, and Circle Jerks in the 1970s, this year welcomed the Center Channel, a film series celebrating the unique relationship between sound and film as well as a Producers Roundtable panel with three leading producers in current music from LA's Top Dawg Entertainment. Of the events that I was able to attend, it was undeniable that Red Bull Music Festival provided a month of opportunities for residents to exclusively experience the potent intersection of sound and entertainment, using dynamic venues as conduits to effectively reflect music and art unique to the city's diverse artistic makeup.
LA-based singer-songwriter San Cha kicked off the festival with a dynamic, telenovela-themed performance on the first Thursday of February. The powerhouse singer-songwriter filled the Vibiana with a stunning performance of La Luz de la Esperanza. White rose bushes adorned both sides of the stage with a window shaped screen centered on stage. It provided 3D visuals by Nick Navarro to further enhance the story of Delores (San Cha), "una mujer bella, simple y humilde," who worked on a wealthy elite man, Salvador's, estate. She entered in a vibrant yellow short-sleeve blouse with cutout ruffle trimmings, a pale blue floor length skirt, and a wide cowboy style straw gardening hat. Salvador, projected onto the screen, tall, handsome, and dressed in a sharp all black suit. He became immediately enraptured by Delores and they fall madly in love. Following a typical telenovela model, she and her tall, dark, and handsome love interest quickly eloped. During the "wedding ceremony," Delores's bridesmaids/vocalists led her down the aisle in a floor-length off the shoulder dress, with tiers of teal taffeta, and a delicate white veil draped over her face. The audience or should I say her guests, stood up in respect of the bride as she made her way towards the altar (stage).
San Cha performed 13-14 songs mostly in Spanish, however, it was almost unnecessary to understand the language to be able to follow the story told. In congruence with the theatrical performance, the vocalist had a rare ability to emote each note intensely, passionately, and clearly emulated the rollercoaster love between Delores and Salvador. Their fairytale love quickly turned sour and she became depressed in her dissatisfaction with their relationship. Amidst her depression, she found solace and eventually love in a divine being named Esperanza. Jealousy, lack of trust, and a quarrel ensued a messy love triangle in which she must to decide where her heart lies. Delores's emotional journey from excitement and passion to anguish and torment was aided by accompaniment from Afro-Latin band Yanga as well as members from her own bands Sister Mantos and F U Pay Us. They, along with mariachi trio, La Victoria, also serenaded the audience with mariachi, Afro-Latin and Latin slow disco tunes between each scene and transition which connected with the seemingly Latin-driven audience, evident by both how familiar the majority of the crowd was with the songs and how passionately they sang along. People got out of their seats, danced, yelped, and whooped vocal encouragement. During the scene of the wedding celebration, the backup vocalist brought out a bottle of tequila and poured out shots either into cups or directly into people's mouth to enhance the party feel. The excitement and elation of the audience boosted the entire telenovela experience, further immersing the audience into San Cha's imagined telenovela world.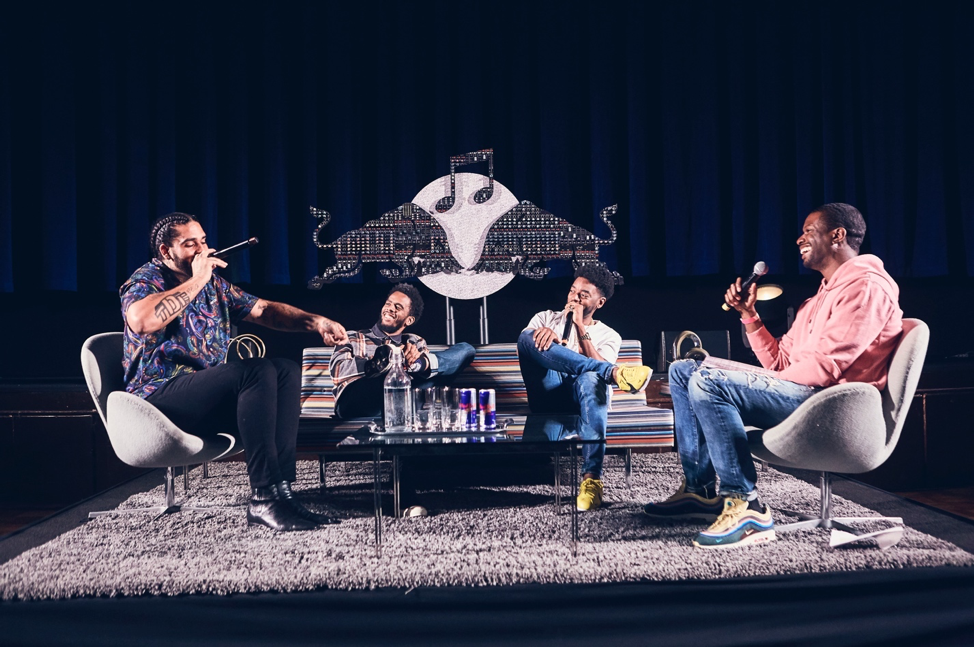 Week two of the February celebration consisted of captivating performances and screenings at the Ukrainian Culture Center. Culture Channel kicked off its first week by paying a fitting homage to punk with Beyond and Back: A Punk Rock Homecoming, an all-day marathon of quintessential California punk documentaries, compilations, and films. Following that included screenings like Wigstock: the Movie, led by the legendary founder, Lady Bunny, who revealed tales and archival footage from those groundbreaking days. Compose LA with Bapari, Alima Lee, and Patrisse Cullors was a collaborative performance event where composer Bapari, filmmaker Alima Lee, and artist Patrisse Cullors created a film score based of the night's conversation on intersectionality. A standout conversation and panel that I had the pleasure to attend was the Producers Roundtable with Top Dawg Entertainment's Mark "Sounwave" Spears, Derek "MixedByAli" Ali, and Donte "Tae Beast" Perkins. The stage of the historic theater had been fashioned with a striped couch and two cushioned grey chairs on either end atop a shaggy grey rug. A fixture of two Red Bull bulls placed behind the couch where Tae Beast and Sounwave sat with MixedbyAli leaned back comfortably into one of the grey chairs. A rectangular glass table positioned in the center, held refreshments of Red Bulls, a decanter of water, and a bottle of tequila. The set gave an impression of a living room space where longtime friends catch up and kick it at, relaying tales to each other. Although, all in all, the trio did not get a chance to elaborate much on the technicalities of their production process and technique, the three TDE producers reminisced their sound development journey, recounted hilarious anecdotes from their modest beginnings with TDE, and gave advice to young producers in the audience as best they could.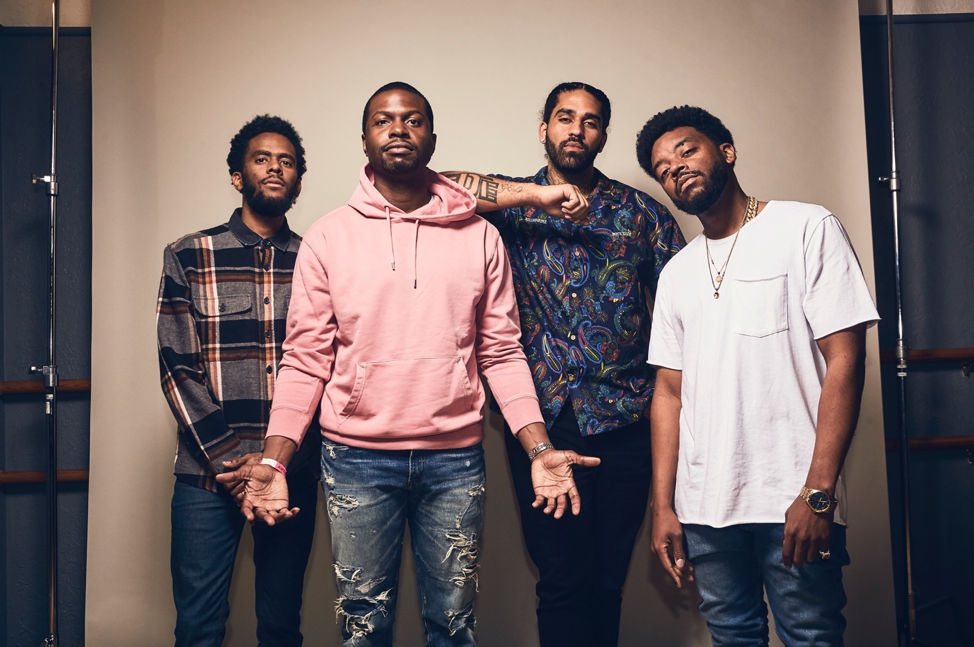 Hosted and conversation led by commentator B. Dot, the producer trio recalled an impressive roster of artists they have worked with such as the Pulitzer-prize winning Kendrick Lamar, SZA, Ab-Soul, and Jay Rock. Elements of Thursday's talk felt partly like a listening party as snippets from tracks the sound engineers and beat makers had worked on would play in the theater and then its origins analyzed subsequently. The tracks played carried qualities unique to their individualistic styles and/or held significant sentimental value. One of the tracks dissected for more background was "Small Worlds" by Mac Miller, which Tae Beast helped create. When discussing the effects of inventive hip hop artist's passing, the trio was able to speak about him from a place of resolve yet it was evident the scars from the grief remained. They all synonymously agreed, "He was family, like your favorite cousin." Ali recalled how he and Mac Miller's team squatted at Encore Recording Studio in Burbank for two to three weeks straight making the Dang album. The trio recollected stories of their relationship with Top Dawg Entertainment and how they met Anthony "Top Dawg" Tiffith. Tae Beast and Sounwave makeup one-half of Digi+Phonics, the in-house production team for TDE and were introduced to Top Dawg through Terrence "Punch" Henderson, co-president of the label. MixedbyAli was working as a computer technician at his high school in 2006 when Dave Free, also co-president, invited Ali down to the studio and the masterful engineer had been working with the label since. The beatmakers also reminisced jokes and pranks they would pull on each other and that Kendrick would pull on them, having started with Top Dawg around that time as well.
The panel ruminated on observations of upcoming producers and current trends in the music field. It seems that young producers are heading for. Sounwave, responsible for producing at least half of Kendrick Lamar's "Damn" album, pondered observations of upcoming beatmakers and producers who try to do whatever would quickly "get [their] face out there." Tae provided sage advice for young producers to not make beats for other people. The acclaimed producer explained creating beats for oneself and mastering one's style is more vital than creating music with the intention that a particular artist would want to hear. He also cautioned that producers sometimes had the habit of overproducing and that it is important to understand when to cut back or leave the music more minimal. Ali reinforced that point through his reflection on what he sees in the audio engineer community. The recent Grammy-winning engineer encouraged, "Hustle like you're broke." He expressed how creating a sound together with one's team is more important than attempting to cater a sound to what one may think an artist would like. He forewarned not to be exceedingly competitive over "fake shit. Some producers put face without [having] work to show for it." The trio contemplated on the elements that brought them to where they are today and wisely advised, "focus, work hard, and let the accolades happen." It is evident from their tales and observations that the trio maintain a grounded work ethic, unwavering passion for music, and humility that remain critical to driving their goals and inventiveness of their sound.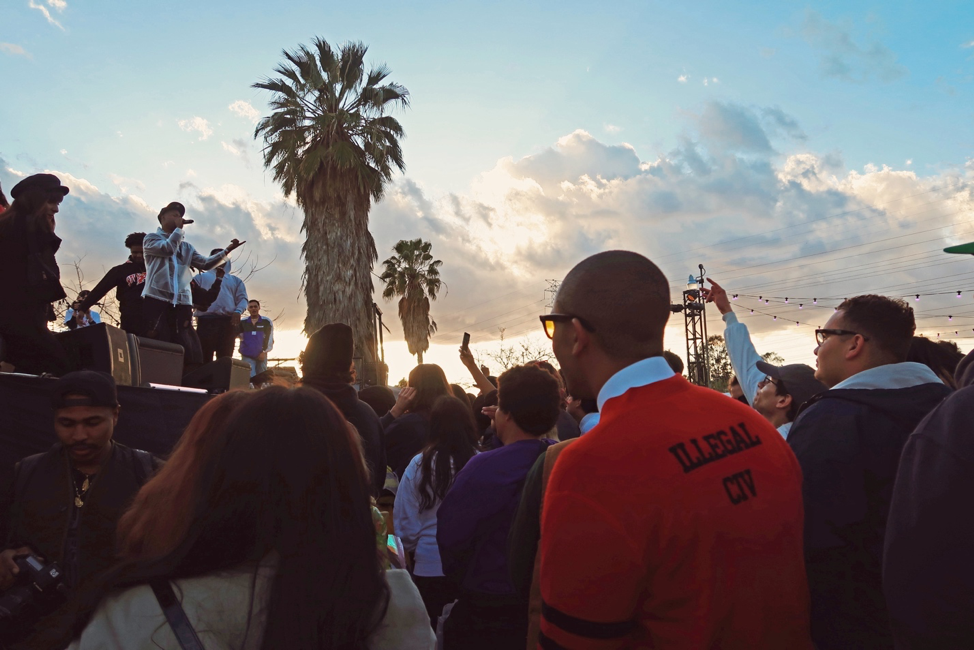 Not only did the month of Red Bull Music pack dozens of live shows and screenings into the shortest month of the year, but they also were able to explore more experimental and interactive concepts which included a one-day festival with a skate-friendly sensibility. Illegal Civ Movie Motel occupied the Pink Motel, a cool pink and bright blue 1950s style motel with attached Cadillac Jack's diner. Its iconic fluorescent marquee and midcentury aesthetics continue to serve as the archetypic period backdrop to film and television for decades; as well as a quintessential skating destination since the 1970s, according to Los Angeles Conservancy. It was rather kismet that the Americana roadside motor court had been repurposed as grounds for the eclectic Movie Motel festival for a single Saturday. For a brief background on Illegal Civilization, the brand was founded originally by Mikey Alfred as a skate crew that made video content and clothing. The brand has evolved into a multi-media production collective with skateboarding maintained as its backbone. Illegal Civ had most recently worked with Jonah Hill on the skateboard film Mid 90s (2018) which Mikey co-produced and some of his skate friends starred in, like Na'Kel Smith of hip-hop collective Odd Future who also performed a set on Saturday. It seemed rather fated that the skate collective was able to present a classic Los Angeles backdrop for fellow skateboard, music, and art enthusiasts to experience in congruence to the festival activities.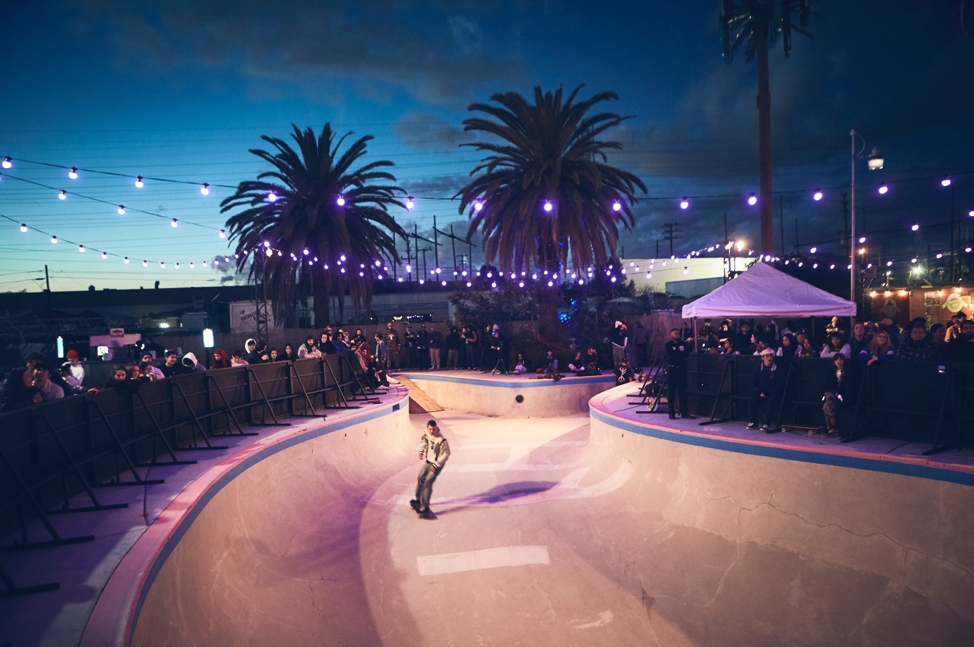 The multi-disciplined brand showcased its skate roots by transforming the motel's iconic fish-shaped swimming pool into skateboard rink for young skaters to demonstrate skills during each performance. The stage was positioned at the head of the pool where people would surround its perimeters to enjoy the performances and/or watch the skaters in the pool. The right side of the motel's courtyard was lined with vendors that complimented the event's style such as sunglasses by Crap Eyewear, graffiti style illustrations by local artists, and of course merchandise from Illegal Civilization. One of the motel rooms converted into a game room stocked with art supplies and classic board games. At one point, Mikey and another festival worker engaged in a tense chess game as other's created artwork from the abundance of supplies that covered the central work station. A line formed next door where a room was set up for photo shoots. Because of the motel's classic 50s architecture, people took breaks from the performances to take photos in front of the vibrant Pink Motel marquee, the fluorescent "Cadillac Jacks" diner exterior, and the back of the café where a flashing fluorescent "Drive-In" sign glowed more distinguished and picturesque as it slowly approached night. The Illegal Civilization mascot, a large orange figure with a pointed nose holding a hamburger on a plate, strolled the property and frequently paused to take pictures or dance with the attendees, even partaking in the mosh pit that formed with nearly every performance. Local food trucks lined up to the sides closest to the stage area. Red Bull and water booths/stations were easily accessible as well. Attention to details made to the festival programming provided a little something for everyone to do or explore.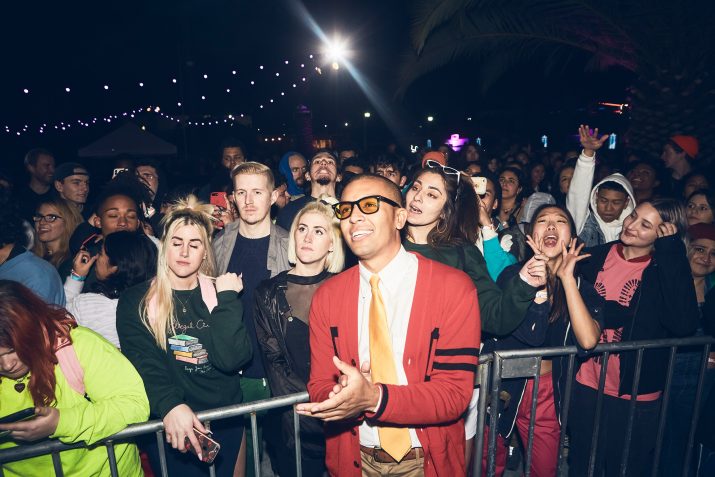 The care taken to include activities and content for festival goers was most evident in the curation of the music lineup which included Canadian rapper-singer Tommy Genesis accompanied by her DJ Amrit; neo-funk, ethereal soul from Sunni Colon; hard-core punk from Show Me the Body; hip-hop and trap from lively, high-powered artists like 1TakeJay, a surprise performance by Chief Keef and Tierra Whack; and synth-pop, funk, r&b from the 19-year-old angelic vocalist Diamond Café. Most festivals or events typically have clear divisions between audience and artist where interactions outside of the performance are rarely seen or even encouraged. The Movie Motel was more intimate and approachable so many of the artists such as Sunni Colon strolled the grounds chatting with fans or occasionally stopped to take pictures. It was refreshing to witness a comfortable and inviting atmosphere where genuine niceties, respectfulness, and comradery were exchanged amongst the festival attendees, performers, and the event crew.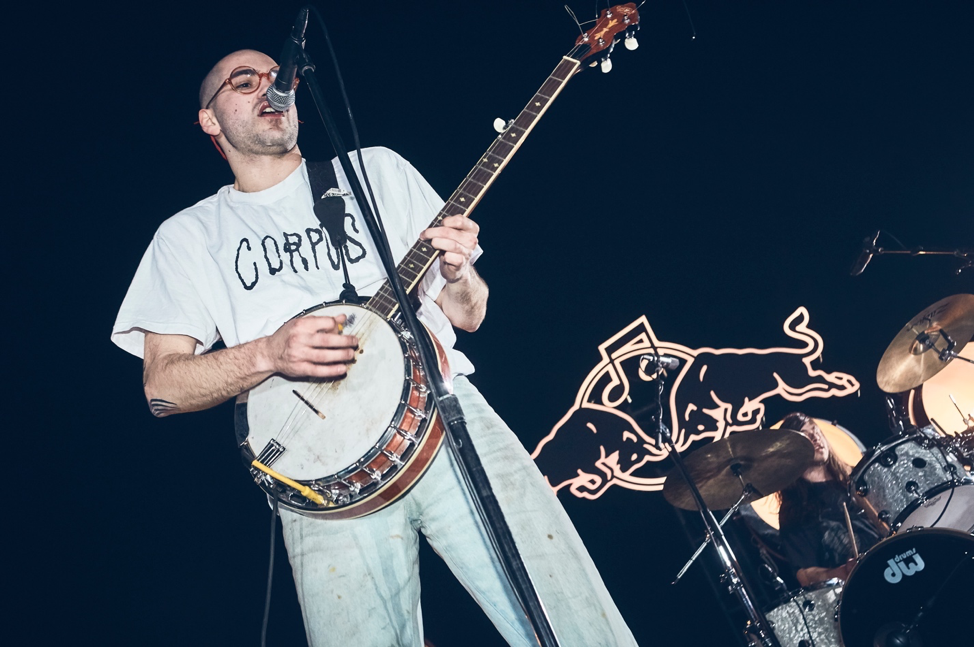 The vivacity and stamina of the audience continued to surge as the sunset and the weather became increasingly brisk and windy. Show Me the Body's frontman Julian Cashwan Pratt's electric banjo riffs and off-the-walls jumping and dancing from both ends of the stage amplified the raucous vivacious energy of the audience. The ground shook as the audience moshed and stage dived, conjuring tantalizing and cathartic energy that brought several members of the Illegal Civ team, including the mascot, to jump in as well. The incomparable Tierra Whack closed the night out in her utterly individualistic and contagiously positive style and sound. Her DJ and graphics designer, Zach!, responsible for several of her album or ep covers warmed up the crowd. About 10-15 minutes later, Whack emerged on stage, in a rainbow striped sweater, clear heart-shaped sunglasses, bright yellow kicks, and an equally bright yellow oversized fluffy jacket. The Whack World artist was holding a mirror which she announced she took from her green room so she could show the crowd good they looked that night. She checked that everyone was having a good time and dancing and I really do mean checked as she was sometimes cut the track if the energy wasn't up to Whack standards or jokingly call out certain audience members if she notices that they're not dancing, even holding out the mirror to their face to prove it. The rapper and singer-songwriter's positive energy was contagious and vibrated through the crowd, and was the perfect cap to an unforgettable one-day festival.
Red Bull pulled off a dynamic festival experience that experimented with different methods of experiential delivery and sound performance which would not have been possible if it was condensed into one week or weekend. The festival days spread out throughout the month which gave attendees freedom and flexibility to pick each event that fits their schedule accordingly. Arguably, providing a more extended, long-form festival left a longer lasting memorable effect because the more ambitious events were able to be executed like the day-long screening marathons, live scoring, and performances, to the mini-festival curated in collaboration with Illegal civ. Red Bull Music Festival unmistakably stepped up the festival game in Los Angeles and demonstrated its understanding of the city's predilections through its curation of the events. Fans will hopefully have another round to look forward to next year!