For those of us born and raised in Southern California, we know there is nothing quite like the magic of the desert. Even in the city, we understand how awe-inspiring a sunset can be, or how the sight of a coyote in our urban playground can suddenly make us still. This sort of mysticism is exactly what influences and inspires Encinitas-native Sophie Ruiz, who describes herself as a "student, artist, and everyday human."
At only 22-years-old, Sophie appears to have nearly mastered the craft of making ceramic utensils of many kinds. Her work is heavily influenced by the entrancing nature of the desert, and it shows. The beautiful terracotta and off-white palettes of her latest collection seamlessly relay the same sort of calm and peaceful sensation as this environment.
Sophie took the time to chat with us about her philosophies and craft upon her return from a road trip to the desert landscapes of New Mexico. Just as kind, warm, and inviting as her pieces, she shared with us her ideas concerning simplicity, authenticity, and the sheer importance of living and creating by your truth.  
Tell me a little bit about yourself, independent of your art.
My name is Sophie Ruiz. I grew up in Encinitas, California, which is a sleepy little coastal beach town in Southern California. I'm 22 years old, and I spent most of my childhood in the desert—camping, and playing outside. Now I'm a student, an artist, and an everyday human.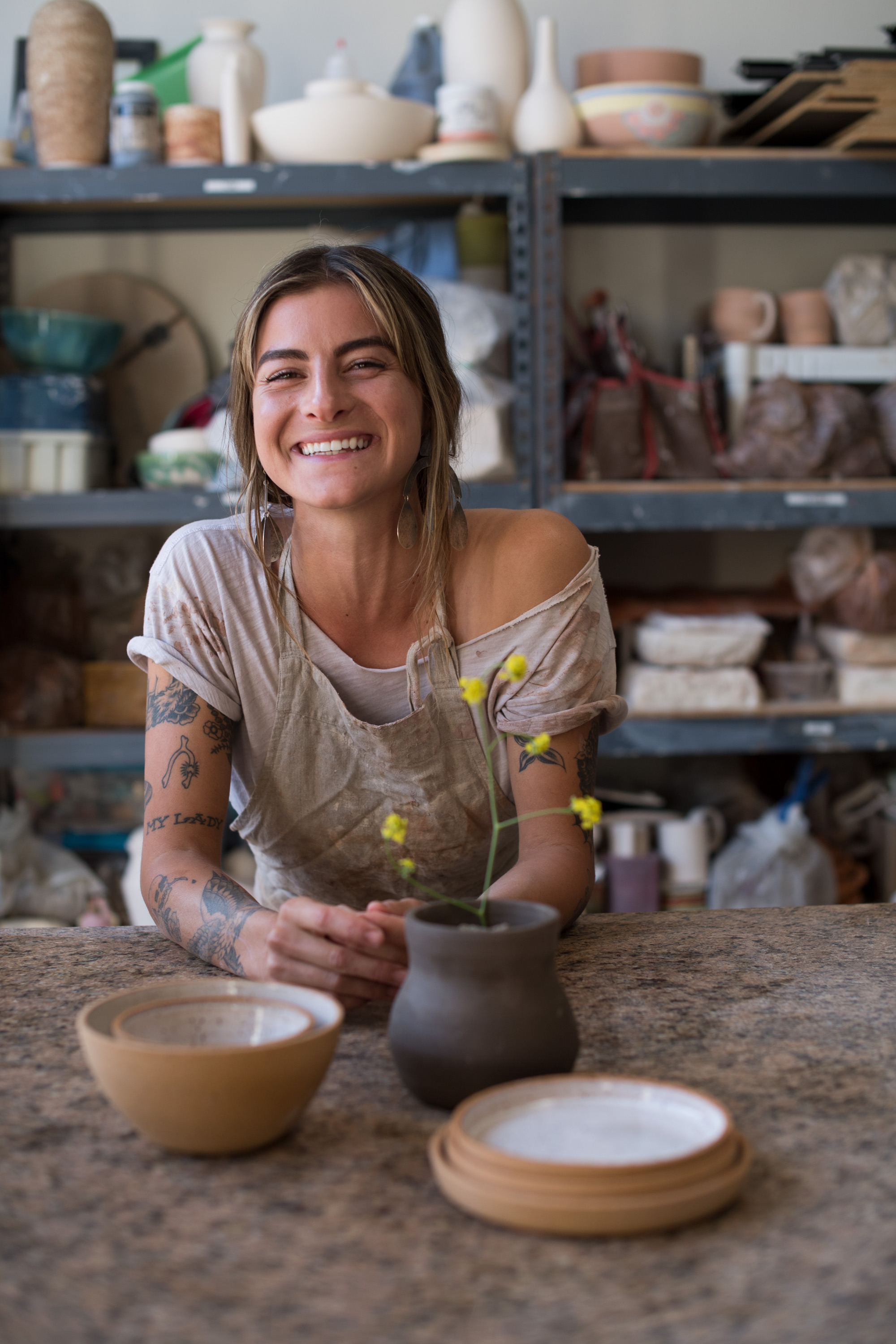 Where are you going to school?
I'm studying at California State University, San Marcos.
What are you studying?
Visual art.
What does that major generally consist of?
I wish that my school had a program for ceramics, but they don't. They do have a woodshop and a metal shop, but honestly I just really love school. I've always been that nerd that really loves learning. I'm just learning elements and concepts behind art, rather than physically doing ceramics because that's not available. So, I'm learning color theory and so many different aspects of art.
Are you graduating this year?
In the spring, yes.
When did you start doing ceramics?
I've been doing it steadily for about two years now.
Do you have a studio at home?
No, I work at a community studio. It's in town, and it's owned by a really wonderful woman. It's so awesome—I get to work with so many different artists. Some people go in there just to let steam off, and some people use it as their main outlet of expression. It's predominantly women, but there are a couple of guys that come in there. It's just a really beautiful community of people.
Did someone introduce you to ceramics, or did you just stumble upon it?
It was just that one medium that I had always dreamed about playing with. I had done a lot of different mediums for a while, but it always felt out-of-reach. As soon as I moved back to Encinitas from Portland, though, and I found the studio, I began playing with it. That was it, there was no other way afterward.
You just mentioned living in Portland, when did you live there, for how long, and why?
I lived there for two years. I was going to Portland State University. I had grown up in Southern California, so I really just wanted the change of environment. I really love the concept of paying attention to how your environment affects you, and I wanted to challenge myself to do something different. I really loved it up there, but I also like sunshine.
Speaking of changing up location and how it affects you, what was that trip you just went on? What were you up to?
So I went up to New Mexico about two months ago, and I just completely fell in love with the sky and the land and how powerful it is. All of the other states surrounding it that I've been through are really wonderful as well, but there's something very magical about New Mexico. So I went out there again. Mostly because I'm on this journey of listening to my heart, and just making space for myself to be able to evolve. I have some friends that I visited, but honestly, I was just by myself, and it was wonderful. I mean, I went out there exactly for what I needed. And just to be in the land and the Mesa and the cactuses—it's just so different because it's simple. The lack of people and the importance of the environment is just a little bit different than California.
The way you're describing it, existing seems more simple.
Everything is just simple, boiled down, and very beautiful. The people are so sweet. It's beautiful there.
Sometimes you don't have the physical vocabulary or actions to describe how you feel. That's why it's so beautiful to use colors and shapes and materials and textures to relate things that only the heart and the soul can really understand.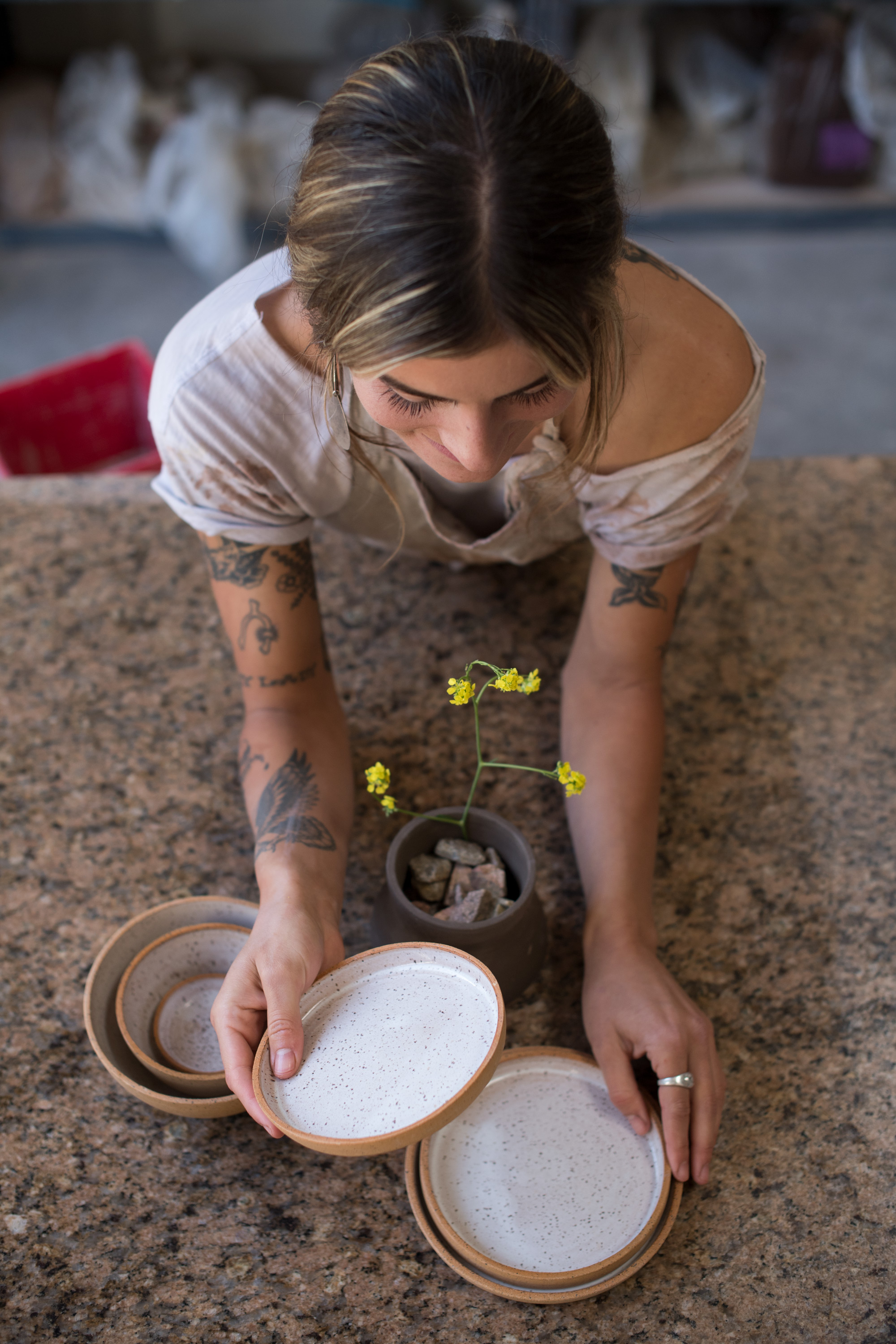 That energy sounds like something you might try and channel in your art.
Yeah, absolutely. Simplicity is my main motive in life, I think. I think that human existence is basically a journey to get back to your authentic truth. I think that society really forces us so heavily into boxes. It's hard, even though I research it and do a lot of self-work, to try and figure out how we've been programmed and blocked in our lives. So I place a lot of importance on trying to recognize cycles, patterns, and ways of our being that's not lined up with my truth.
Besides ceramics, are there other mediums that you use?
Sure. I recognized the power of working with my hands when I was really young. I was always outside playing in the dirt, and I played piano for about 10 years, so that was really important to me. It really taught me about patience and dedication. Then I moved into photography and the camera, which is my most important belonging. I still do a lot of photography, and I play with different mediums, but as soon as I played with clay I knew that was my calling. I just felt so excited, like literally when you fall in love with a human that's what it felt like. I was completely infatuated, so I have done it every day since.
That's amazing! Do you have any inspirations, besides your surroundings, such as any other artists?
Physical art is very inspiring to me, but I get more inspiration from artists' philosophies of life. I listen to a lot of artists' interviews. Or, for example, I have some really awesome professors who, when I listen to them talk about their process and the way that they view life—which is why they create— it's amazing. That's why I think it's so cool what you guys do, interviewing artists and having a conversation. I love learning about the artist's internal world, rather than their physical art.
Also, you had mentioned the quote by Georgia O'Keeffe. I'll read it because it's my favorite quote in existence: 'I found I could say things with color and shapes that I couldn't say any other way; things I have no words for.' I think that really boils down what being an artist is. Sometimes you don't have the physical vocabulary or actions to describe how you feel. That's why it's so beautiful to use colors and shapes and materials and textures to relate things that only the heart and the soul can really understand. I just feel like Georgia and I were best friends a long time ago. Every time I research her or watch videos about her—I've read every single book ever about her—it just feels like I'm reading about myself, or some type of past life. The colors, her philosophy, everything she's done aligns very well with me. Especially the way that she defied stereotypes of her gender and her age is mind-blowing. I mean, she lived in her authenticity and followed her truth, and she had a deep calling for simplicity and reconnection with the earth. She's also a nice reminder that people do get recognized for being in their authenticity.
You mentioned a big love of music. Who and what do you like, music-wise?
I pretty much love everything besides rap, but old-time country music is my absolute favorite.
Is there someone you're listening to right now?
Always Hank Williams. Also artists like Blake Foley, Leon Jennings, Marty Robbins. I think I feel aligned with it because their lyrics and instrumentals and everything is so simple, and it really hits home.
So I'm thinking we should talk a bit more about your ceramics themselves. Do you stick to more neutral pallets because they relate to nature?
Well, I'm extremely sensitive to color. I'm not quite sure why I've always been this way. It's not that bright colors disturb me, they just don't bring me peace. Neutral and muted colors make my heart warm, and they make me feel at home, and peaceful. That's why I use them in my art, and my home, and my wardrobe. Colors are so important, and when you create a life out of the colors that you like, you're so much more aligned.
Do you have anything you would like to add?
I really believe in the importance of simplifying life and deprogramming yourself from society. As well as really trying to find your authenticity, and then creating from that. It's easy to do a lot of bullshit, like go on Pinterest and take someone else's work, or pretend that you really like something but you're not sure why. I think a lot of self-analyzation and understanding as to why you like things is important. Creating a life that is meaningful is probably my entire drive.
Sounds like your art extends far outside of your actual piece, and that you try to make your whole life reflect your art.
Yeah, absolutely. Art is my love, but I definitely make my entire life a big work in progress.
For more from Sophie Ruiz, follow her on Instagram.