This feature on Tony was originally published in Issue 17. You can order here.
It was a bleary-eyed Wednesday morning in a sleepy Valley town, a bit overcast and dreary. Luckily, I would be quickly rejuvenated by the pleasure of holding court with young artist Tony Camaro. I was greeted at the side gate by the bushy-browed and bright-eyed artist. Camaro is a creative that I have admired from afar, so I was elated to find that the person is as generous and vibrant as the work. He beckoned me forward with alacrity and embraced me with the warmth of a long time friend. It's hard not to smile when you enter the world of Tony Camaro. His studio is covered wall to wall in vibrant paintings, sketches, and doodles all oozing with his signature youthful exuberance.
The morning of the interview was like most, Instagram's algorithms had decided that Tony's stories are an indelible part of my day. Today wasn't much different from the normal ritualistic aesthetic offerings found on his Instagram: beautiful pieces of cultural ephemera, design work, fashion, and all manners of photography. Within the flurry of the post, I found a flyer that Tony had designed for an upcoming collaboration. He began explaining to me that he had caught some heat for posting this promotion. Admittedly, he explained that he may have jumped the gun a tad, but Tony has a naïveté of spirit that is incredibly giving. Cultivated not as a means of gain, but as a way to connect and spread goodwill. Tony is truly a breath of fresh.
Talk a little bit about growing up in the Valley?
The Valley is super underrated. The way we grew up and the type of kids we were—we weren't bad kids, we just did hoodlum shit. It was an advantage to live in the Valley because we knew it like the back of our hands by the time we were teenagers. There was this energy, your alone in the suburb a lot of the time, but with that loneliness comes something weird that my friends and I can't explain.
Tell me about the 2K crew?
2K is me, Ellis, Ricky, and Cam. I was in school in New York at the time, for whatever reason Rick was like I want to manage Ellis, let's start a collective. So 2K became this artist management collective with Rick and Ellis, fast forward, things matured, Ellis' sound got crazier. Ricky just pushed the shit out of Ellis, so 2K ended up being this bond between us four boys working our asses off to get Ellis and myself off the ground.
2K is the story of brotherhood, and I think it also relates to the Valley because it seems like 2K has really inspired kids in the Valley. Our motto is "teamwork makes the dream work." I just want to teach other people without shoving shit down their throats.
Tell me about the importance of curating events and your online presence?
I love teaching people stuff. Let's say I end up being a big artist one day, it won't be about me being a famous artist, but rather it'll be about having a platform to teach other people. That to me is the greatest device you can have as a human being, it's creating for the purpose of bettering the world. It all starts with communicating with people. I've never been afraid to talk to people and I'm never afraid to show people work that's halfway done.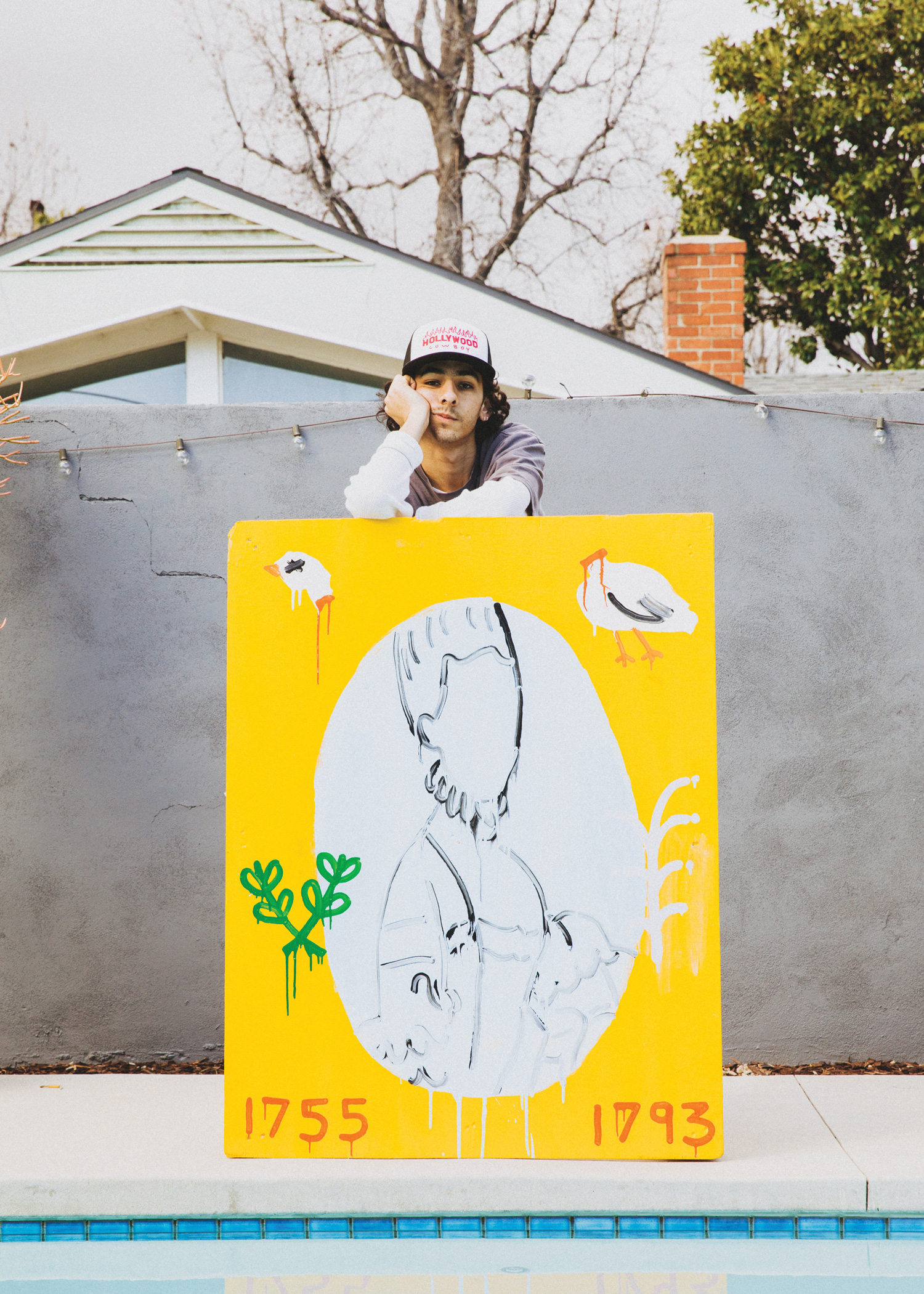 It feels like you have blurred the line between being an artist and designer. Is versatility significant?
Versatility is very important. It's so funny my dad used to get on my ass about doing so many things. What's the expression, "Jack of all trades, master of none?" I would rather be a jack of all trades because I like exploring options and learning a whole bunch of different things. I think I would go crazy if it was just drawing.
Tony Camaro, the name, is it your real name? How did the name come about and is it important to curate a persona?
The story is that [gestures to a mask] is Tony Camaro. So at the time, I was living in San Francisco; I wasn't even painting, I was making sculptures and doing performance stuff. I was digging in the dumpster one day—this was a few weeks before I was going to New York for this art residency—I found that fucking sculpture in the dumpster, which is insane, especially in San Francisco, a fucking dumpster, I couldn't even believe it. I guess I have a really funny tendency to name things off the bat, with plants and inanimate objects and shit. So, I was like, "Oh I'mma name you Tony Camaro."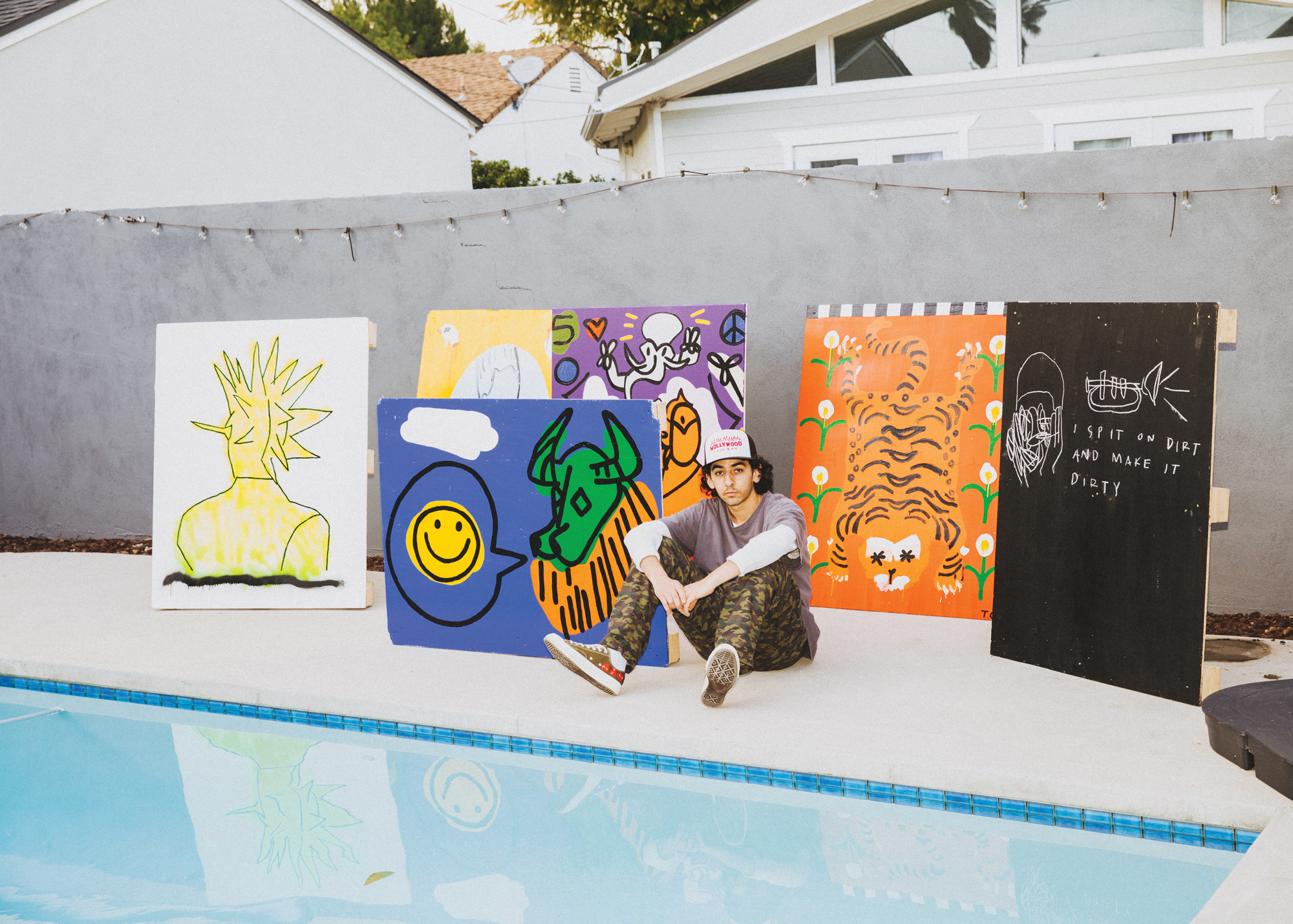 Is your first name Tony?
No, it's not. When the recorder is off we'll talk more, but I think a lot of that came from the lack of confidence I used to have. In my teens and stuff, I wasn't the person I am today; I didn't have the confidence. I really grew into the person that I am today. I used to have anxiety attacks; I used to lack confidence; I felt like I was a nobody. In my head, I felt like I was not a normal kid, and was just trapped in this average sort of body. I know that sounds superficial, but it doesn't come from that place. When I started making art and started taking it super seriously, all of that changed and it started with me coming up with a new name. When I went to New York, I was like, "You know what? I'm gonna stick to that name. I'm just gonna have people call me Tony Camaro, fuck it." I didn't even go to New York with a different personality or anything. I was still the same me, but then the art for some reason allowed me to have more confidence.
Do you think it's important to build a persona?
No. You see a lot of rappers nowadays and it seems like their personality has a lot more to do with their success rather than their music. You just need to have confidence rather than putting on a show for people. I don't think you need to jump through hoops to get people's attention. I was just trying to better myself. This is gonna be a little heavier, but I have a lot of issues with myself and have depression, so anything to help me get through that is helpful.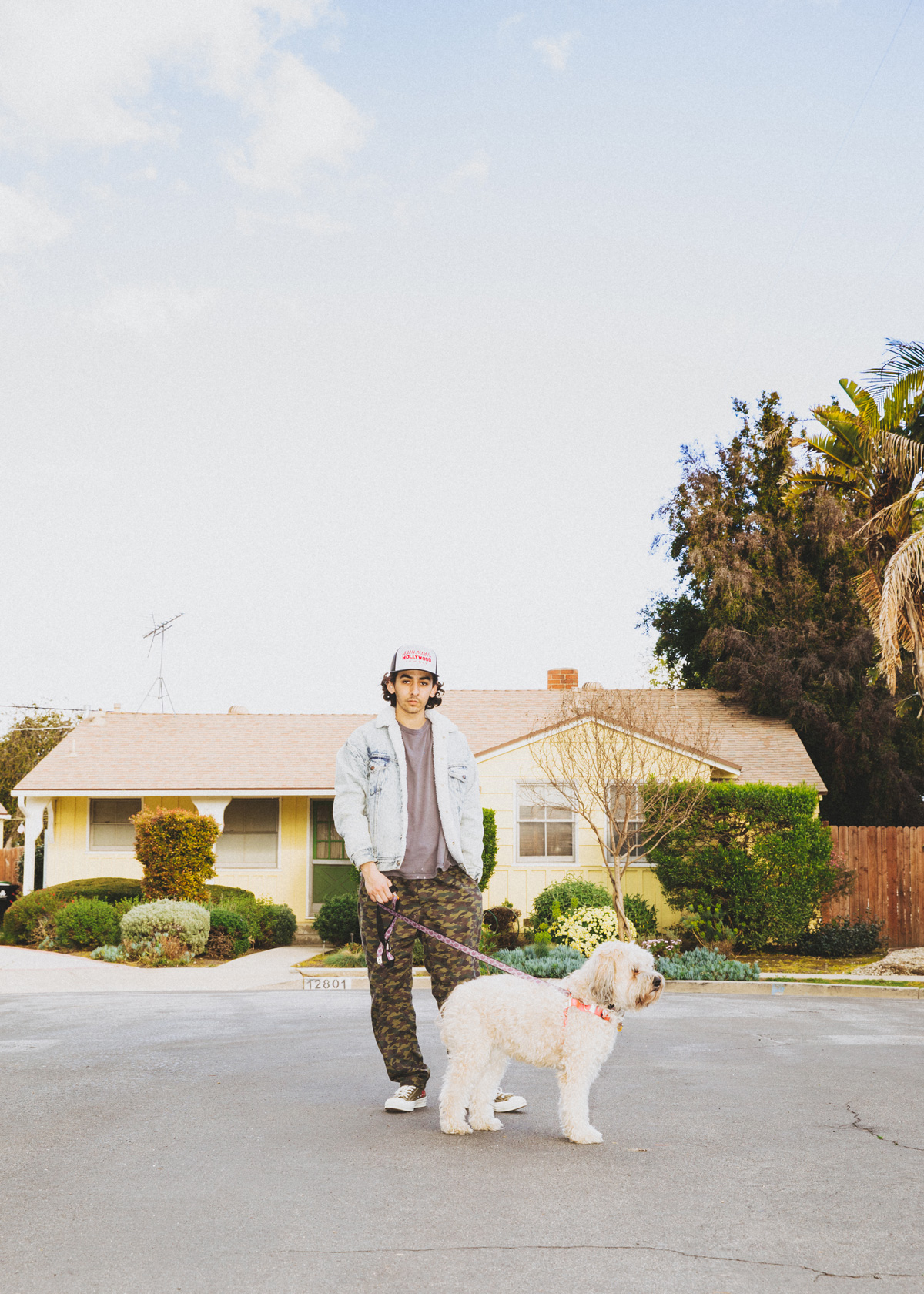 How did the Volume + – come together?
When I went to New York I fell in love with fashion and painting, those were the only two things I cared about. I would go to stores every day; I would get books of collections and keep asking questions constantly. Similar to my art practice, I didn't necessarily have the tools to create clothing. I don't know how to traditionally cut and sew. I made a first collection called "Visions" of repurposed clothing and I wanted to do these video photo lookbooks.
So as that progressed and the concepts became a lot more nailed down. "Volume" was the last collection I had; it was a photo video look book of womenswear, and it's all repurposed clothing. It's almost sculptural, I don't necessarily consider them clothing, almost wearable sculptural paintings. I don't like the idea of stepping on anyone's toes and saying that I'm a fashion designer because I know people work their asses off to get that title. This is something I definitely want to do in the future. I want to be a Creative Director working on editorial campaigns for bigger brands and do runway shows.
The intent with all of these things is not only to showcase the ideas that I have but also to show companies that this is the stuff I'm doing to help get my ideas across. I can do it for brands, it's almost like a resume. I've learned so much from those collections, just on how to direct people properly, how to talk to people, to keep my calm, and assert my creativity. It takes me about six months total to complete the whole process from mood board to posting the thing. I see it as a semester of school, study my ass off and take the final.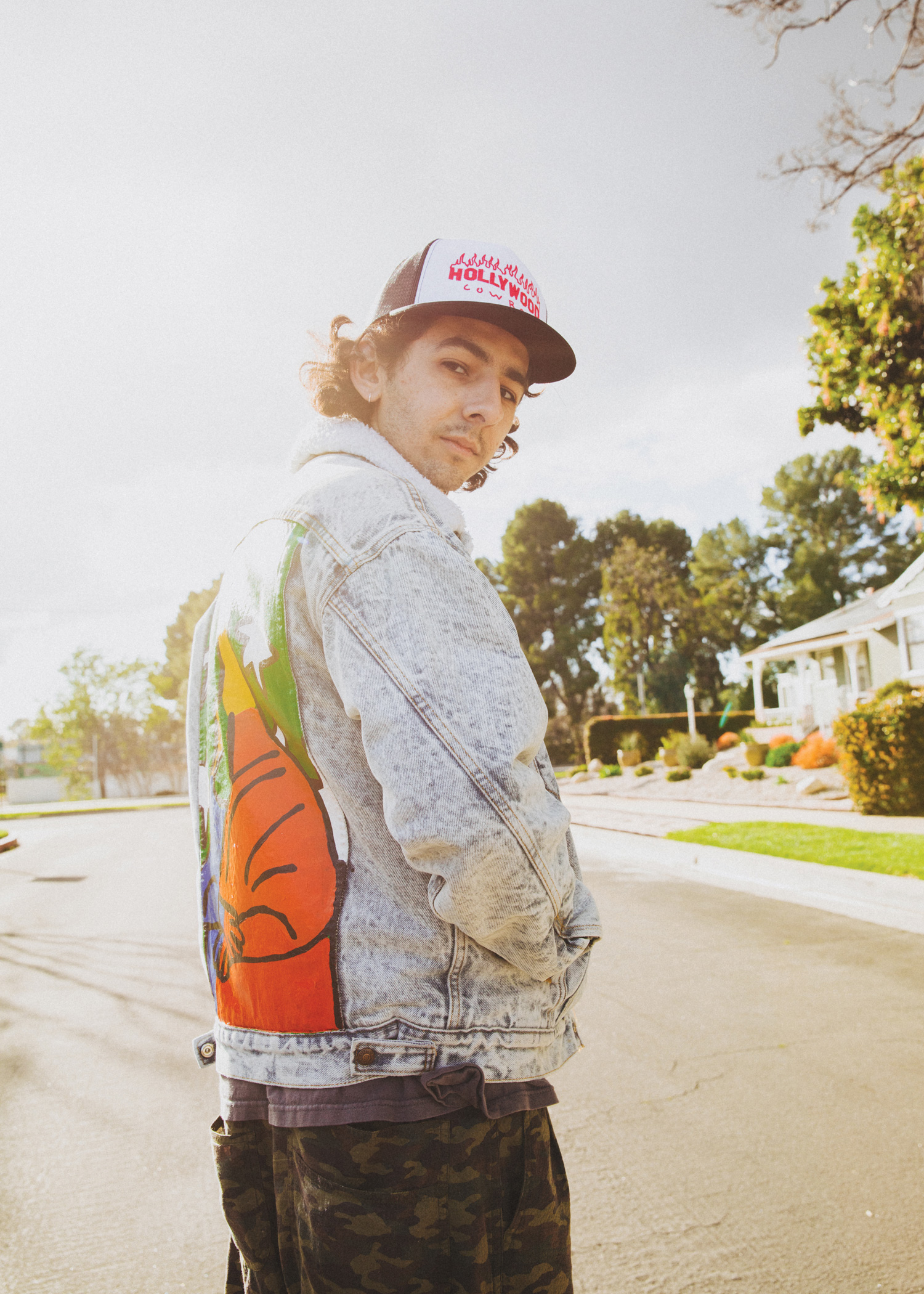 Tell me about the New Image show you recently had.
The story with them is this: a long time ago Chaz from Toro y Moi had a show at New Image. I went to the opening and DM'd him out of the blue, and was like, "Yo, we should do a show together." He was like, "Oh yeah man I'm down. I love your stuff." In 9th grade, I heard one of his songs in the GAP. One day I see that they are breaking down the Chaz show, so I hit him up and he told me to come by. I finally got to meet him. He's showed me all his pieces at New Image. That was an insane moment. Once I left I was so hungry to get a show at there. So when it happened, there was a feeling of, "Wow I can't believe I made this happen." The show at New Image helped me realize that I am now an established artist.
For more from Tony, follow him on Instagram.