Ashley Mary and her dog both appear as though they emerged from one of her paintings; she wears a vintage dress with an abstract black and white pattern and Ren sports a yellow bandana around his neck and some paint on his ear. Mary, 33, is petite with intense blue eyes, a mass of curly black hair and her exposed flesh is its own canvas of tattoos. Living in Minneapolis affords an artist a certain amount of square footage and affordability in a studio and Mary shares a giant space with high ceilings, lots of daylight and its own freight elevator and bathrooms with both a photographer and a small business that sells gift boxes of local goods.
Located in the North East Arts District, the Northrup King Building was originally a seed factory that was renovated into creative spaces for 200 artists. Mary and her studio mates have been in their space for a year and a half. It makes perfect sense that Mary counts Pee-Wee's Playhouse among her influences; her world is equally colorful, cheerful and her own and like her clothes, her studio is a seamless continuation of her aesthetic. Her paintings pop with bright pinks, peaches, blues and yellows interjected with black and white polka dots and stripes, the works appear graphic and amorphous, deliberate and organic.
What is your background and training and how did you get started as an artist?
My art and the business it's become has all happened organically and as a result of saying "yes" a lot and figuring it out as I go. I [only took] 4 studio-art classes in undergrad and prior to that I hadn't ever spent much time making art at all. I was as crafty as the next kid but don't have a strong memory of resonating with art more than with my Legos or Barbies. It was my printmaking class that got me hooked on collage as a medium, that class changed everything for me. Out of college, I started collaging using vintage ephemera and it all snowballed from there.
Soon I was making custom art for friends and family and their networks. I got a website right away and started doing group shows and art fairs. It wasn't until five years after graduation that I wanted to pursue a full-time creative career and I went back to school at [Minneapolis College of Art and Design] for a post-bach certificate in graphic design. While in that program, I started working freelance as a designer, art director, and prop-stylist… still in "yes" mode and learning what I loved, didn't love and what I was good and bad at doing.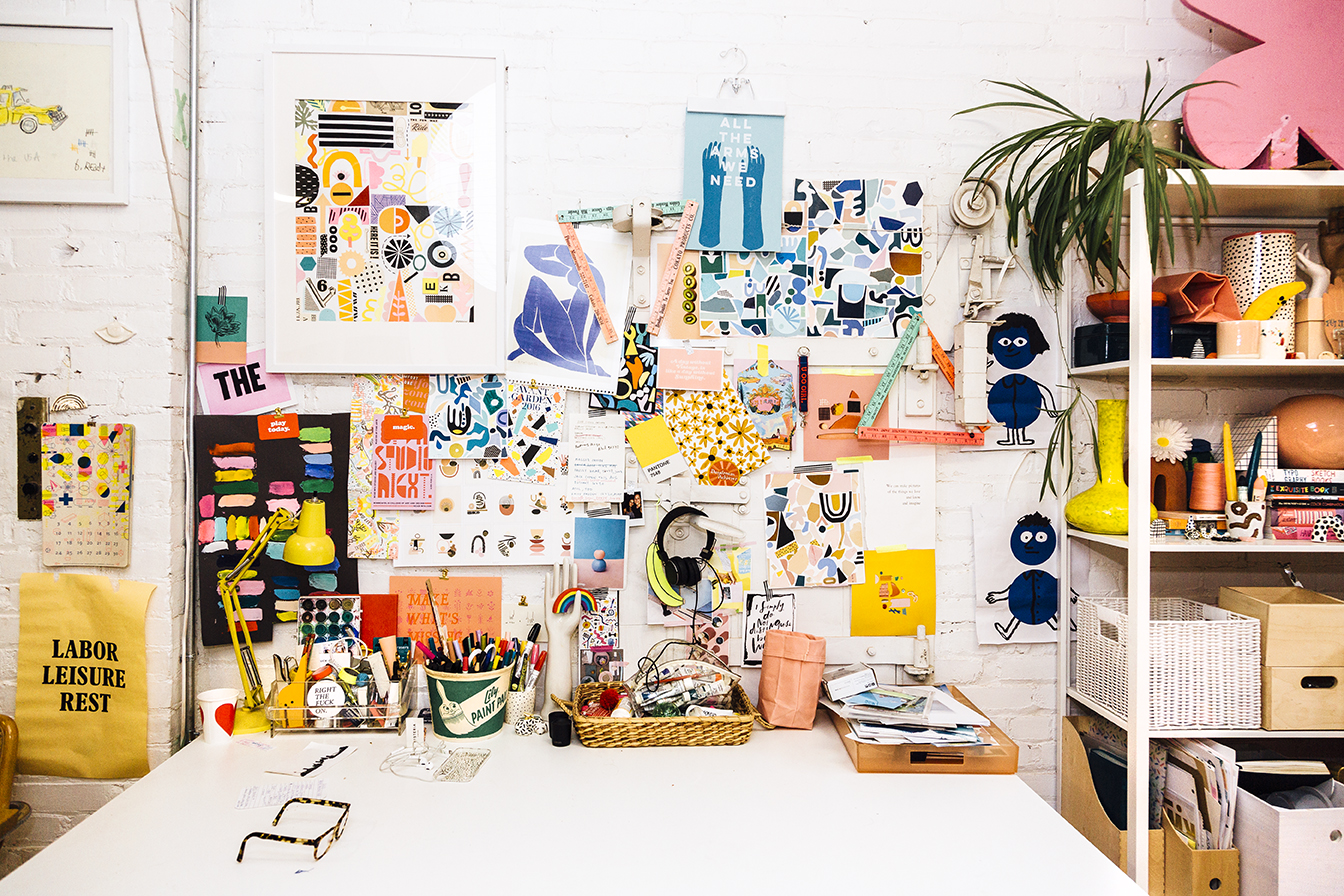 I started to invest more in my own brand and began getting some opportunities for product design and collaborations around 2015. While in [the graphic design] program, my studio-art started to shift slowly towards more abstract painting and less vintage collage. It was becoming more graphic in its own ways as well. Now everything has sort of come full circle, I incorporate more abstract collage into my current process and work and I do a sort of fusion of original art and graphic design for both my clients and my own "Ashley Mary" brand.
What is your process for making your art?
I don't believe in any sort of rules in my studio. What works once might only work that once. But currently, I have three sorts of methods to my madness. One direction I take is making a paper collage on a small scale and then executing it onto a canvas (sometimes this is even just a pencil sketch on paper). Another is to just come to the canvas freely and start making marks until a painting unfolds. And lastly, whenever I am making something, I wipe my leftover paint on a blank canvas or paper. These marks build up over time until I am ready to focus on them and make them into their own piece. There's a freedom in not being concerned with the palette or the composition, the layers determine that for me. Pretty much all of my favorite things that happen are not meant to happen.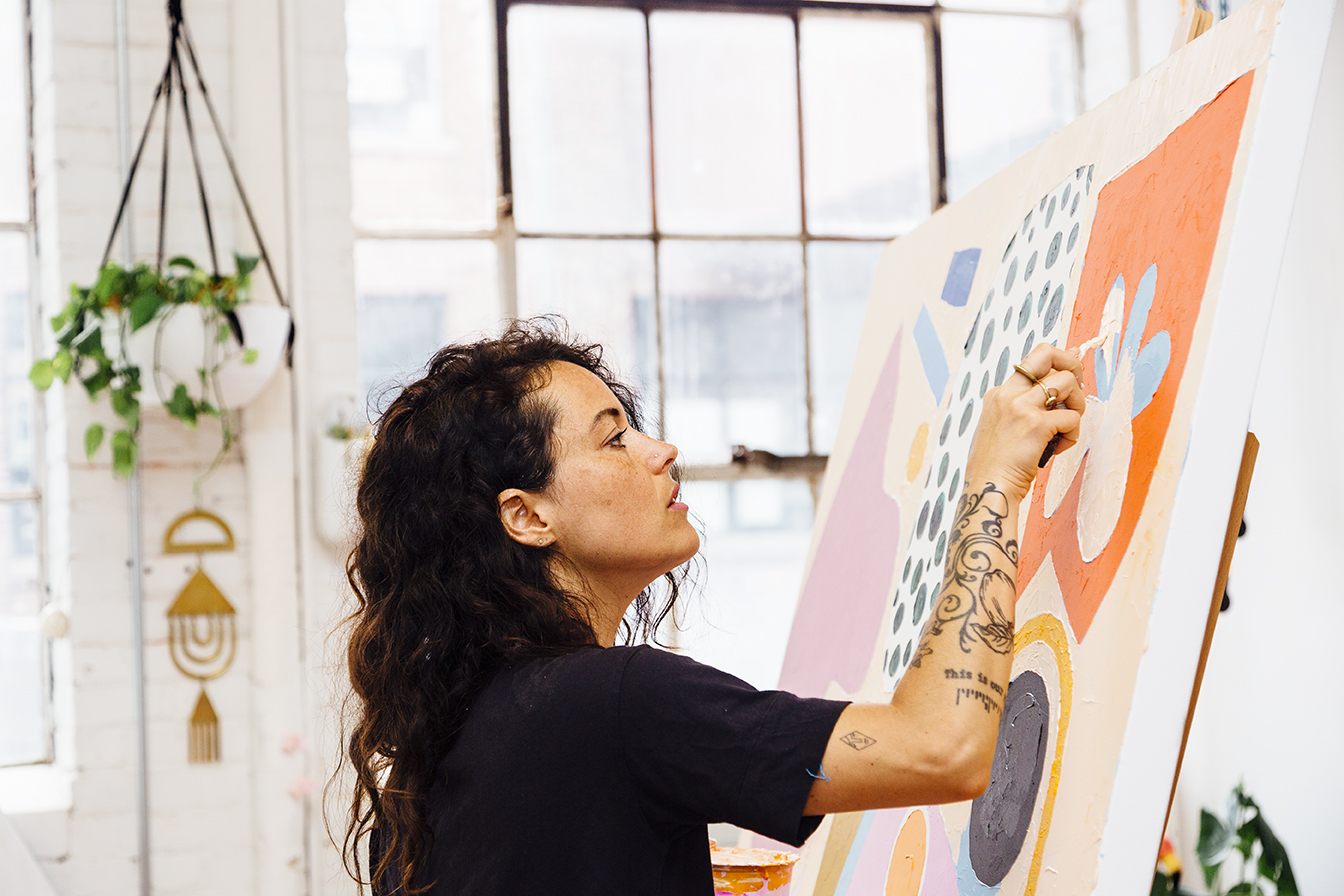 How do you describe your aesthetic?
My aesthetic is first and foremost about finding yummy color combinations that make my eyes light up and my heart beat, it's much like dating but less complicated and rarely stupid. Color, organic simple shapes; I love how universal shapes are, they're the first thing we come to understand as babies and there's a familiarity to the shape language I use. People of any age can come to it and feel connected to a detail, a pattern or a moment. I have not invented anything here, it's just a fresh arrangement perhaps. I would say my work is also more modern, graphic, minimal, and abstract and its got a youthfulness to its personality.
What are your influences?
My childhood is a huge influence on my work, I think about it quite a bit lately. Gak anyone? It all keeps coming back to me in waves of color. I was a child of the 80s and 90s: Nickelodeon, Pee-Wee's Playhouse, Sesame Street, Labyrinth and Clarissa Explains It All. I grew up with these vibrant characters who had such a strong sense of self and self-expression. It was an age of puppets, fantastical set-design, illustration, pattern, and extreme analog imagination. It was about characters who made entire environments for themselves and invited people in to explore and go on adventures with them. It was a time when I made physical things constantly, and I invented worlds. I think I've been chasing those palettes every since and that pure childlike energy that has yet to be weighed down by expectations, heartbreak, and responsibility. I'm trying to bottle that playful, boundless, uncomplicated, goodness.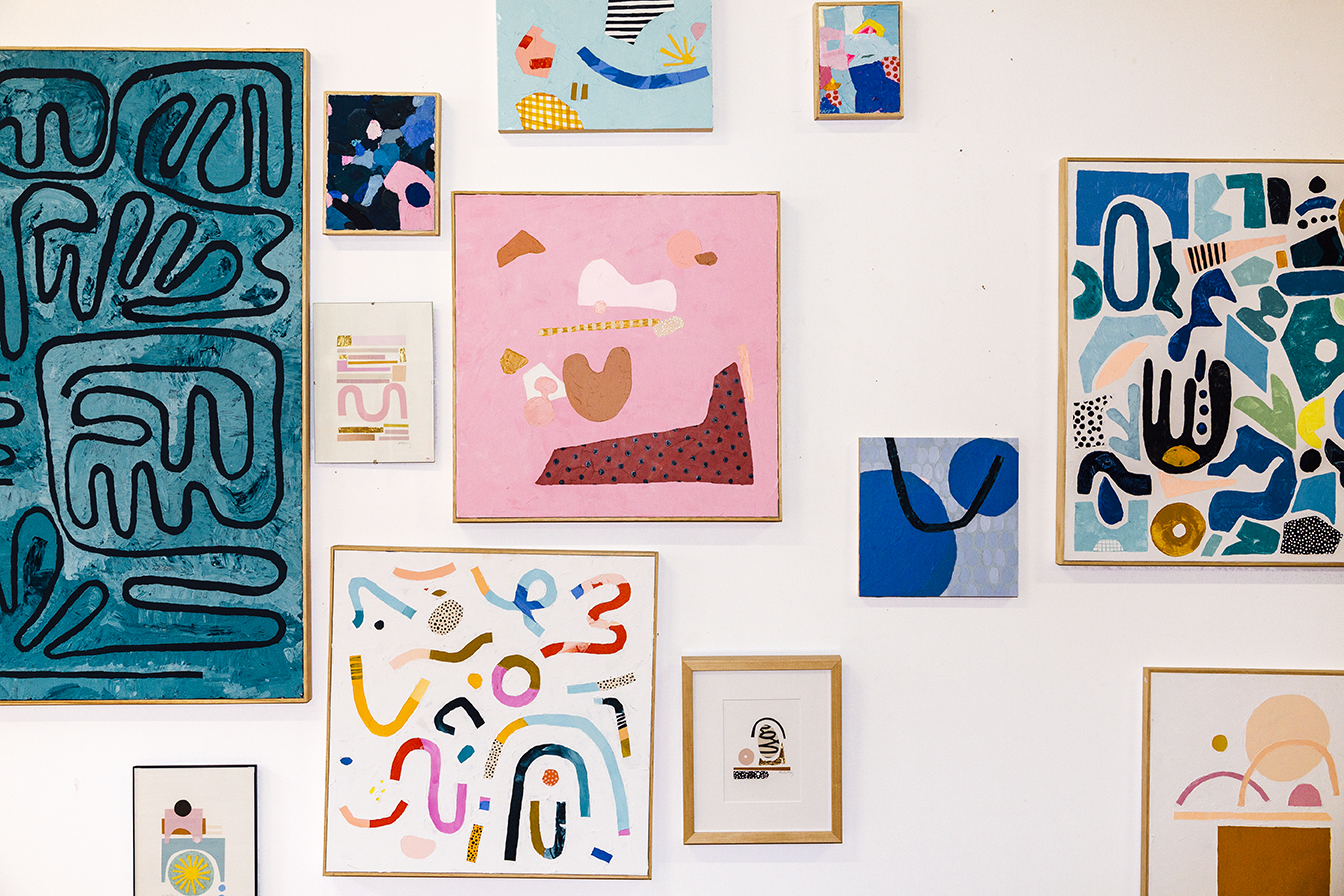 I'm also influenced by the graphic design world. I follow a lot of interior designers, illustrators, and graphic artists. I collect old magazine and am enamored with old fonts, hand-lettering, and ads. I love fusing the graphic world with a more analog painted world and seeing how they can dance together.
How do you balance your more commercial graphic design work with your painting? Do you find them at odds ever or do you feel like they compliment one another and your skills and allow your work to manifest in different forms and dimensions and to reach different audiences?
I always try to make my graphic work feel rooted in my painted work. I don't want the two to feel mutually exclusive. I think there's risk in putting your fine art on any surface or product that it can fit, it starts to feel diluted and then runs the risk of being more easily replicated. I don't take on a ton of classic graphic design work for clients. I really try to focus on work that can be married to my paintings because, at the end of the day, I want to paint more! That's my objective. So if the project allows me to paint, I'm more interested. I don't want to live on my computer, I like to use my hands. Graphic design has become this brilliant tool for me with my studio art though, allowing me to imagine my work in the form of product design, murals, print, and pattern, it's thrilling to watch it morph into other platforms after being born on a canvas. And to your question's point, it allows my art to be more accessible to a larger body of people. Not everyone can afford fine art, not because they're not interested in it, so bringing my work into a more commercial space allows more people access to it and potentially creates a bridge for them to have an original down the road. It's the gateway drug of original art. It's my job to make sure there are a consistent voice and story I'm telling between all my mediums.
What exciting projects are you working on now or do you have coming up?
I've been doing a lot more mural work in the last nine months and I feel really energized around that. I love seeing my work executed on a grand scale and love the physical nature of the work. I'm working with local illustrator/designer extraordinaire, Allegra Lockstadt on a mural for a Starbucks in Chicago. I'm also working on a few of my own murals around town for shops and cafes and have started to travel to install them in some other states, which I'm so excited about. Travel to paint, yes, please! My other biggest project has been a year in the making; the first stationery line I developed with Design Loop launches this late summer for wholesale and individual purchase. It's been a big labor of love and I'm really happy with how it all turned out: Lots of bananas, lots of color, lots of fun.
I also went back to MCAD recently to finish up a masters. I graduate this fall from with an MA in graphic design with hopes to teach at some point in the future.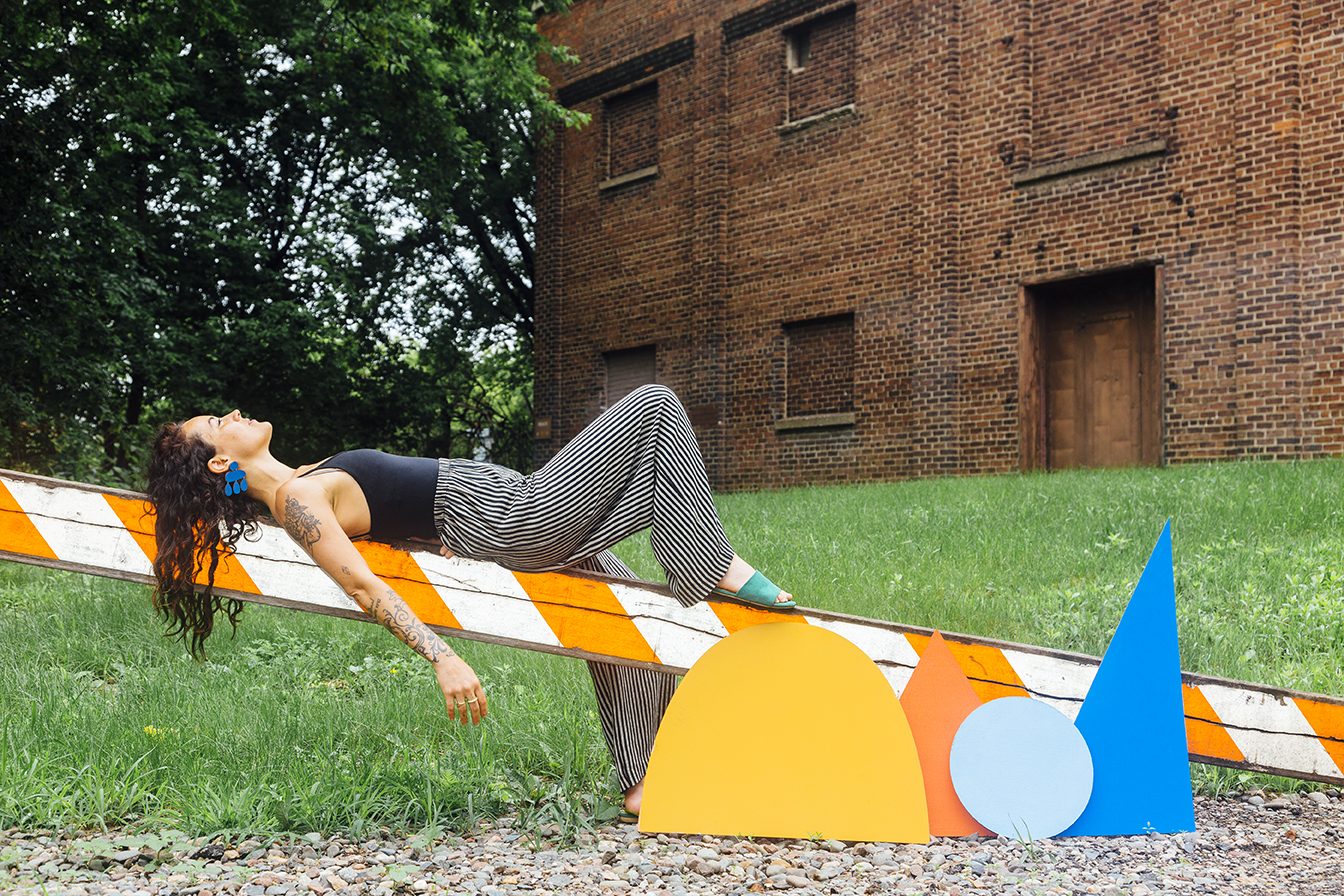 You mentioned that you studied religion in college, how does that play into your work and life now?
What a question! Where's my coffee?! I love talking about God and human connectedness and could until I'm blue in the face. I've always been spiritually curious and studying religion gave me some tools and a platform to have a conversation about something that deeply interested me, fueled me, and kept me asking questions. There are so many parallels to being a creative (in my instance, painting) and to spirituality or the way I think about God and the larger picture of life and it's purpose.  (Side note: read "Big Magic" by Elizabeth Gilbert, great connections between these two topics).
My ethos with my art is about feeling a lightness and capturing an energy that feels something like joy. Light is a strong theme in religion and spirituality. My objective in my art is the same one I have in life, the same way I think about the Universe: Pay attention to everything around you. Try to make something out of nothing. Try to leave a moment more beautiful than you found it. Share good energy and be open to things happening in ways unplanned, hold things loosely. Leave space for unexpected layers, textures, and colors to do what they need to do. Play, connect, imagine. Allow imperfections to happen and redefine them, celebrate them. I think everything is spiritual and that goodness and playfulness are sacred (Wayne White has great sentiments about this in the documentary "Beauty is Embarrassing". I hope when someone interacts with my art, if it makes them feel good if they feel that exchange of energy, that playful spirit, then perhaps we can call that exchange sacred, because it is good.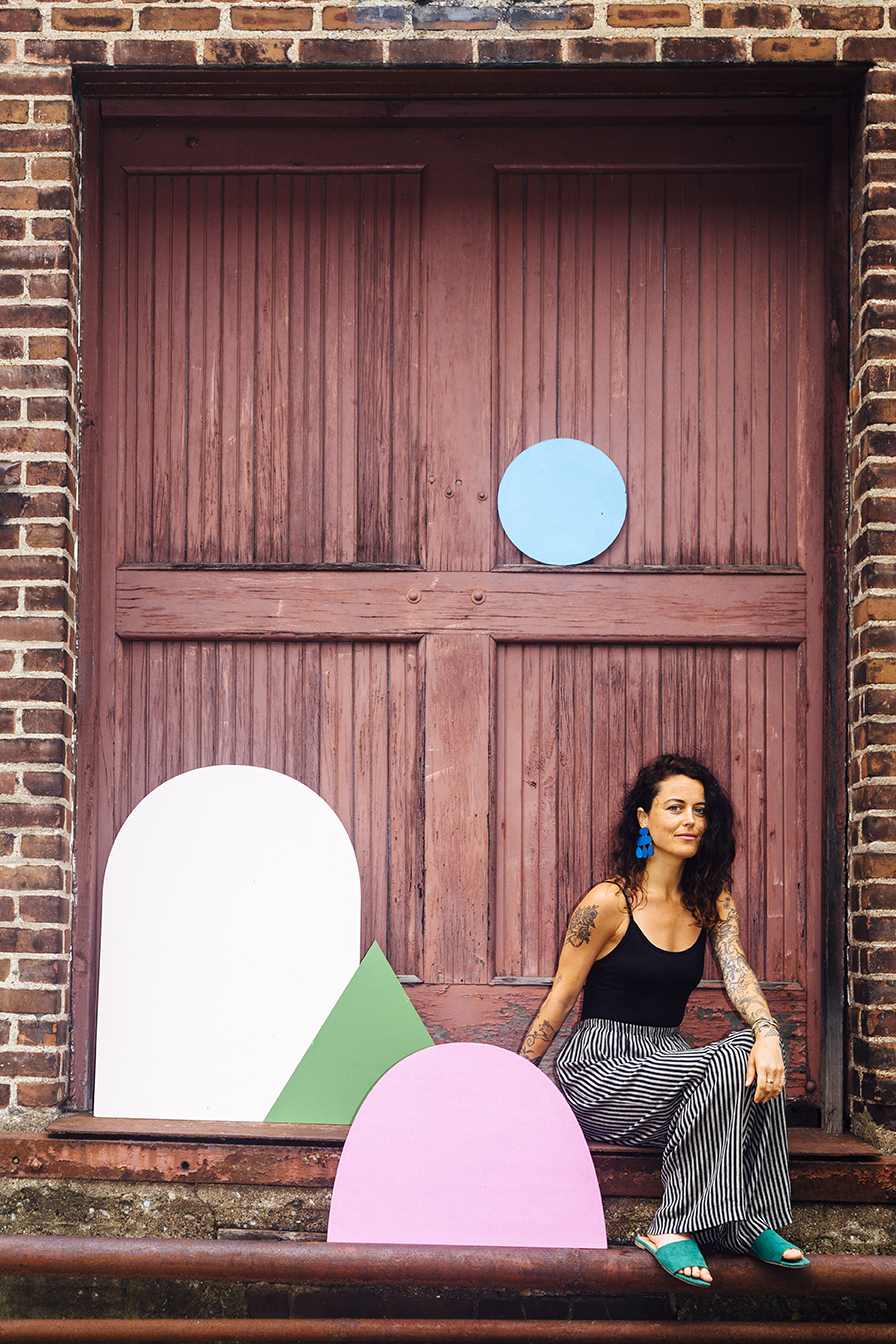 How do you think living, working, and being from Minneapolis effects you as an artist?
My community in Minneapolis is also my biggest advocates and clients. I sell the most work in Minnesota and work the most with other people here in town. The creative community is very tight-knit and I get to collaborate with a lot of amazingly talented friends all the time, especially in my studio's Northrup King Building. There are obvious limitations here, it's not as cosmopolitan or modern as bigger cities can be and the opportunities that can come with that are fewer, but the people keep me here, Minneapolis is down-to-earth AF and I love that vibe.
How are you selling most of your work and connecting with your patrons?
Most of my clients find me through Instagram or my website. I do a lot of custom pieces. There's definitely a domino effect I feel on Instagram, if I share a project, it inevitably turns into another one slightly similar to it and I'm grateful people pay attention to anything I'm making.
For more from Ashley Mary, follow her on Instagram.
Photography by Ashley Corbin-Teich.