For the last six years, Stephen Carballo has been travel tattooing all over the world. From Sweden and Norway, to Thailand, Bali, and Japan, Carballo cruised all over Europe and beyond, tattooing, making money, skating, snowboarding, partying, blowing all of his money, and then starting all over again. 
After deciding to do a year abroad while studying at Otis College of Art and Design, Carballo moved to Stockholm, Sweden, where he finished his Bachelor's degree, nailed down some sweet internships, and began cultivating a large clientele. Never spending too much time in one place, Carballo would stay in a city, tattoo for a week or two, then move onto his next destination. It was during these six wild years that Carballo largely developed and derived his style, infusing the aesthetics of artists around him and of those he looks up to, into his drawings and designs. However, Carballo's style now undoubtedly stands on its own. Sure, there are a lot of people that use bold lines just like him, and there are a lot of people that stipple just like him, but what differentiates his work from the next person is his choice of subject matter, and the way he innately interjects his personality in each piece he does. For Carballo, the method and execution, are just the mediums for the idea and the concept.
Carballo's undeniably authentic and minimalist style shines through in more than just his tattooing — including his surfboard shaping, his apparel designs, and his fine art — and his shop The Los Angeles River plays host to the wide variety of creative products that he imagines and then executes. Nestled on the corner of 6th and Spring St. in downtown Los Angeles, the shop demonstrates Carballo's impeccable taste, which is a striking balance of both originality and tradition. We caught up with Carballo, who told us about his first sketchy tattoo at 15, how he differentiates himself in an over-saturated art market, and why just being creative in general is integral to who he is. 
You wrote graffiti for a long time, who were some of the graffiti writers you looked up to and were inspired by?
This was back before the days of Facebook, Instagram, or even Myspace so most of the stuff I would see was either in real life, or in forums and blogs, like Bombing Science and 50mm. I think some of my biggest influences in my early days were Mike Giant and Norm. I saw both of them come from the graffiti background and transition into tattooing and do it big. I was always business oriented from day one so those dude really got me thinking, "Wow this might be a good opportunity for me to make some cash."
How did you make the transition from graffiti to illustration and tattooing?
Well since my drawing skills weren't too strong at the time I really just focused on tattooing what I felt comfortable with, and that was letters and words. So back then I tried to do my shitty rendition of cholo lettering and script and such. I was lucky enough, in my early days, to have tons of skateboard and punk rock friends that were more than willing to let me practice on them. I would trade bad kids tattoos for stolen GPS devices, iPods, or just small amounts of cash for ink and needles. Regardless of how shitty I was at tattooing, the good thing was I always had the mentality that I was on my way to be the best. Thinking back on it, the tattoos I did back then were terrible, but in my mind I really thought I was "the man" and that my work was the best. It wasn't until design school where I learned fundamental drawing skills, and composition, which really helped push me into other styles of tattooing, and years later brought me to where I am today.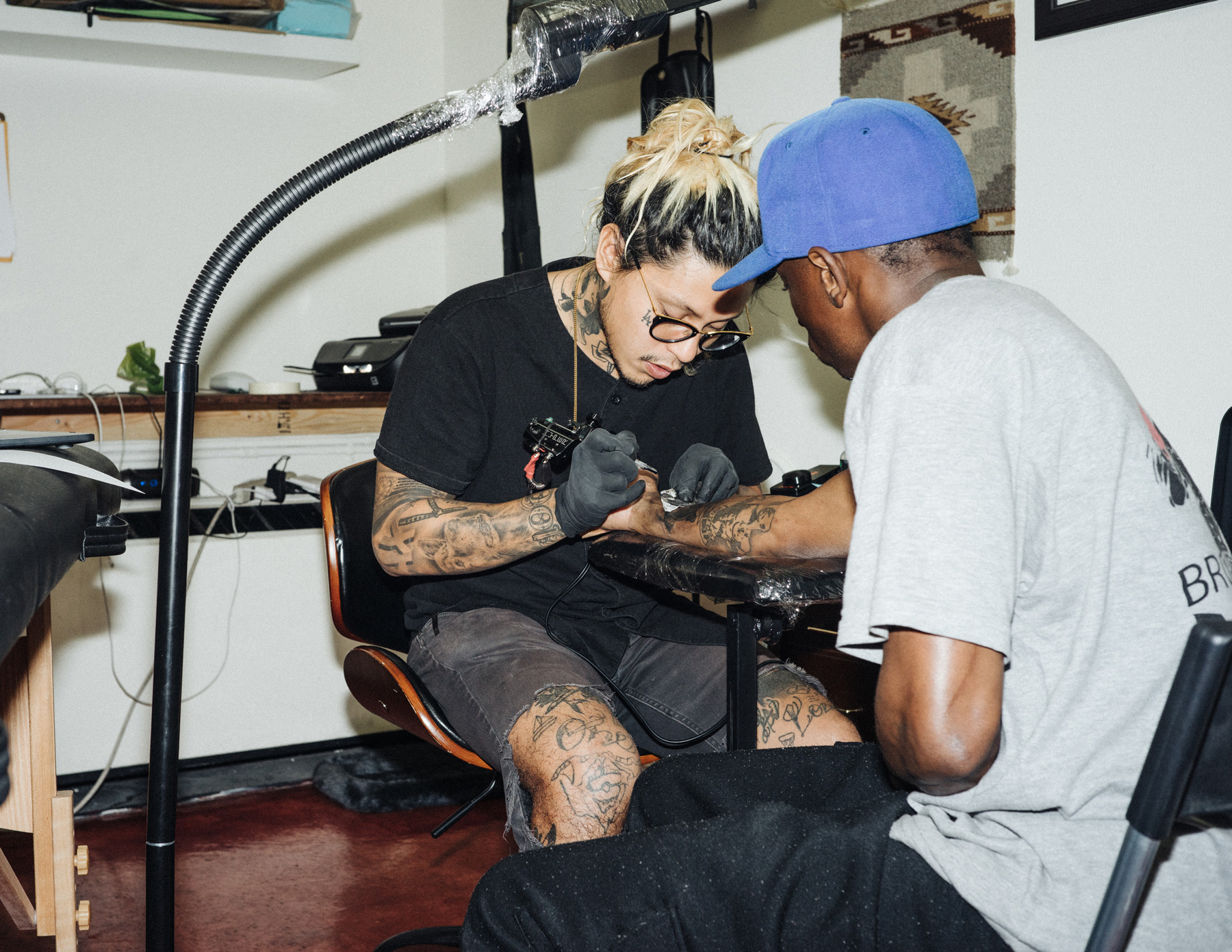 When did you get your first tattoo? Where was it at? Who did it? Set the scene for us.
Oh boy. It was pretty gnarly. First of all I was 15, and I was looking far and wide for anyone that had a tattoo machine and would be willing tattoo me. I ended up finding out that one of my graffiti buddies had an older brother that had just bought a machine off eBay and was tattooing people in the back of his ghetto-ass apartment building in Reseda. In my naive mind I thought if you had tattooed a few people you must be pretty good. I remember him pulling the needle and the metal tube out of a kitchen bowl full of alcohol, which I guess to him was sterilizing it, and setting it up to tattoo me. He freehanded a full Old English last name on the top of my back, all big, filled in black using a tiny 3 liner. It was terribly painful and took hours, but I assumed that was just the normal pain of getting tattooed. When I got my first professional tattoo I was so relieved to find that the pain wasn't as crazy as the first time. Now I look back and thank god I didn't get any fucked up diseases from that experience. But hey you live and you learn. Overall I'm pretty happy with the tattoo to this day, it's not perfect, but its got that old faded look haha.
The tattoo industry and art world are both pretty over-saturated industries. How do you differentiate your artwork, tattoos, and yourself so that you don't get lost in the crowd?
Oh yeah big time. Theres a million people tattooing in a million different ways. I feel like a big part of it is just finding your process and finding your style and what works for you. It's not something that happens overnight, and it's not something you just formulate, your style just happens over time. In your early stages its about learning technical ability and just being a competent tattooer; being able to follow a straight line, being able transition from color to color, and using proper contrast. From there it goes into absorbing styles and influences from those artists around you and those that you look up to. Once you've mastered mimicking other artists styles, you can then apply your own subject matter and do your own take on it, which eventually develops into your own original style. Theres a lot of people that use bold lines just like me, there is a lot of people that stipple just like me, but what differentiates me from the next man is my choice of subject matter, and my personality that comes out in my work. The method, and execution, is just the medium for the idea and the concept. Haha I could babble on for hours about my take on tattooing, fine art, and where the industry is going so for the sake of not boring you to death I will move on.
I read that for the last six years, you've been traveling and tattooing around the world. Tell me about these past six years. What spurred the decision to do this? What countries did you travel to? 
Yes, it was quite a wild ride. I studied at Otis College of Art and Design in Los Angeles, and I was pretty intent on doing a year abroad. I have been heavily involved in snowboarding since I was like 15 so I figured I would transfer to a college somewhere with snow. That led me to moving to Stockholm Sweden to finish up my bachelors. From there I was able to nail some sweet internships, and start to develop a big clientele, so I figured, "Shoot, I am staying out here." At the time the dollar was pretty low and the kroner was pretty high, so for a young tattooer being able to travel and make triple what I would've made at home, there was no turning back. I had a lot of strong connections through the snowboard scene, so I was able to stay in one city, tattoo for a week or two, then move on to the next. I cruised all over Europe for years, I spent a lot of time in Norway, Sweden, Denmark, Holland and many other spots, just tattooing, making money, skating, snowboarding, partying, blowing all my money, and starting over again. Eventually I started making my way out of Europe to places like Bali, Japan, Thailand, Costa Rica, Panama. Anywhere I could either skate, snowboard, or surf, and also tattoo, I was trying to go there.
How do European tattoo styles compare to that of the States?
I feel like these days because of Instagram, tattoo styles are pretty globalized. There are dudes in Sweden doing killer Japanese work, and there are dudes in Japan doing killer Chicano style. Everyone sees things on the internet and is able to then do their own take on it. As far as my preferred styles, I feel like Stockholm Sweden, and London are taking the cake with many "minimal" style artists. This style is not as common here in the states as it is in Europe, and my time spent there definitely influenced me big time.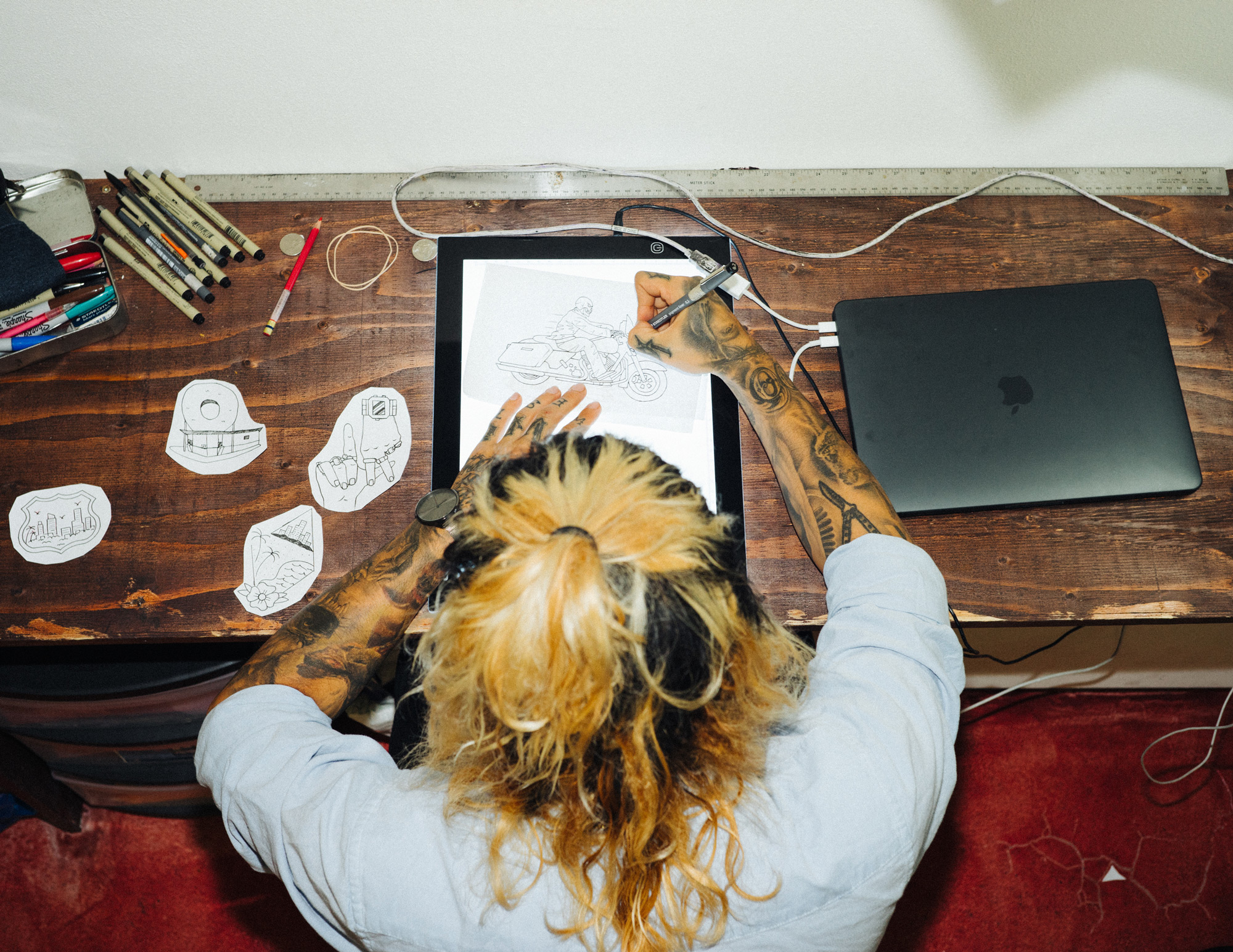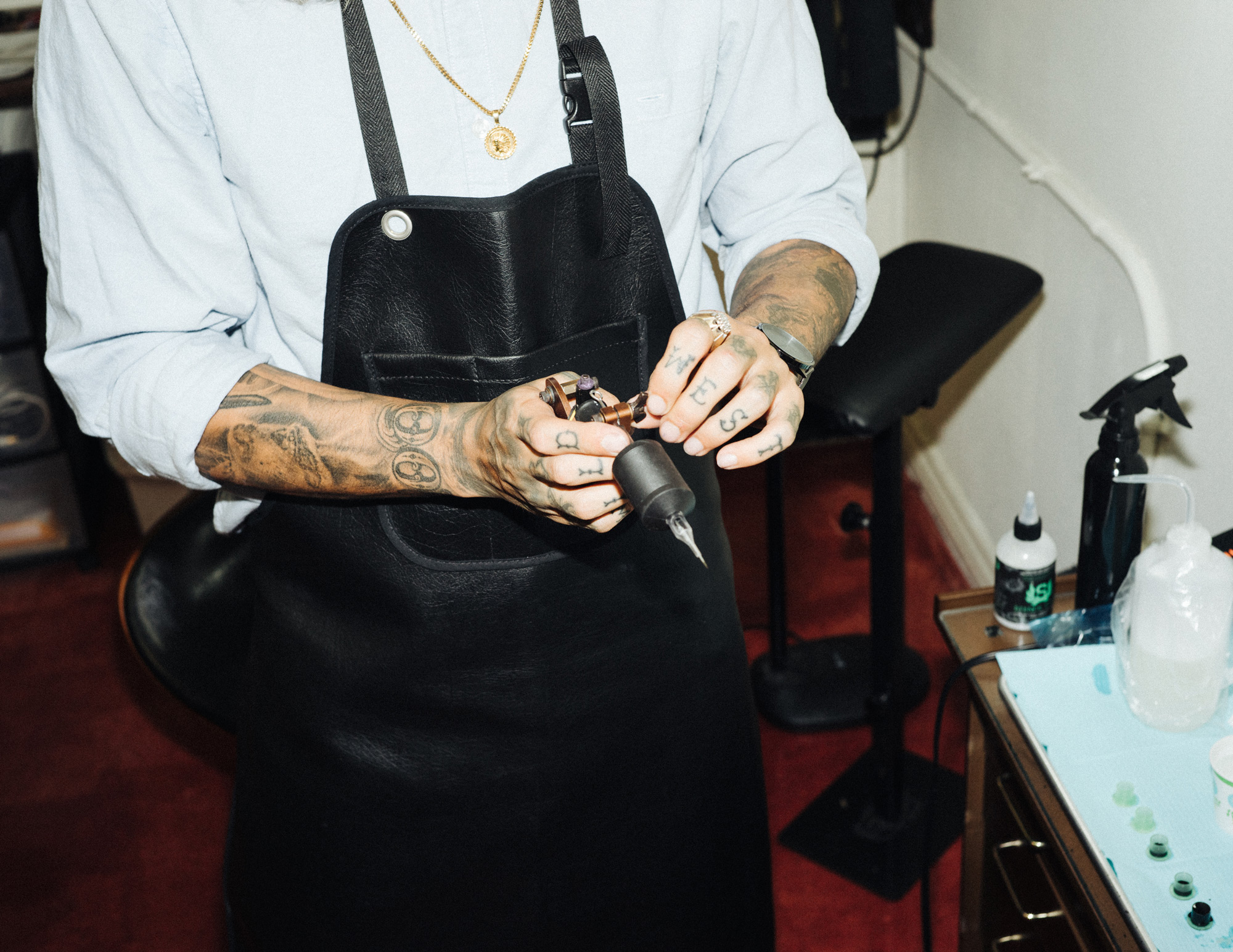 How did the idea for The Los Angeles River Tattoo Company come about? When was the idea for the shop conceived? 
I have always wanted to have my own tattoo shop since I started tattooing. I knew it was going to happen, I was just waiting for the right time. I feel like I finally absorbed enough information and experience that I needed, and was ready to move forward and make it happen. I felt that I had plateaued and that I was no longer progressing my skills with the constant travel, so I figured I needed to get myself stationary and open up my own studio in order to really push myself to that next level in my career and to further develop my style.
Tell me more about the shop; what's a typical day there for you?  
I am usually all over the place. I usually come in and take my first appointment at 2:00, then when I am done with my tattooing for the day I always have a million other projects to do. Whether its shipping out prints, building tattoo machines, or drawing new flash, my schedule is always pretty hectic.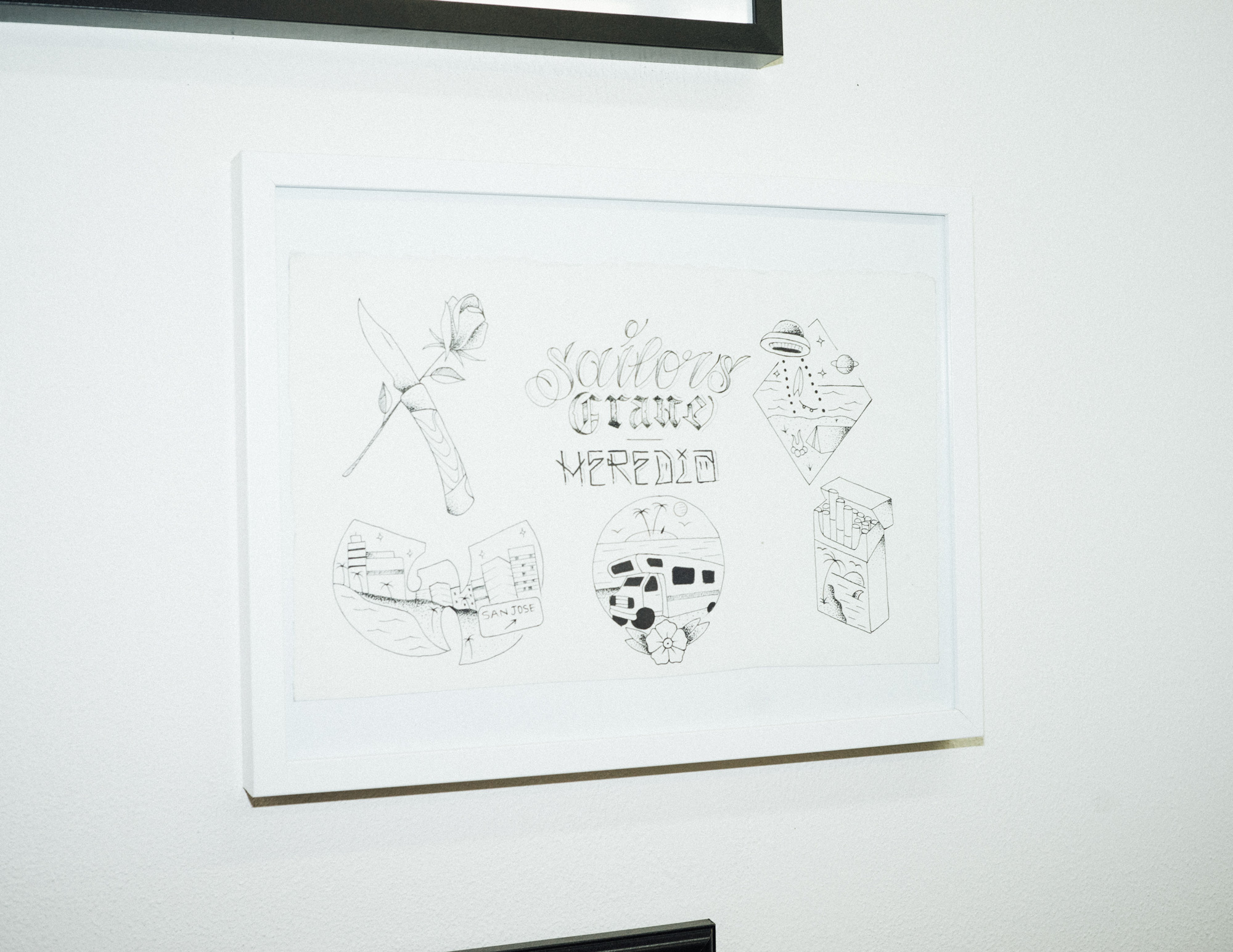 You also have clothing in the shop. Is that all Los Angeles River gear or other clothing as well?
Yes I make clothes with many of my designs on them. I have a few things from friends and collaborators, but it's primarily "LA River" gear. Surfboards, sweaters, shirts, hats, etc.
It seems like motorcycles, surfing, skating, and tattoos go hand in hand in Southern California. What similarities do you find between the four?
Yes all of these hobbies definitely go hand in hand with the California lifestyle. I find that they all relate to a sense of freedom and expression. The fact that California has some of the best weather in the world definitely gives us the liberty to be able to enjoy all of these great activities on a day to day basis.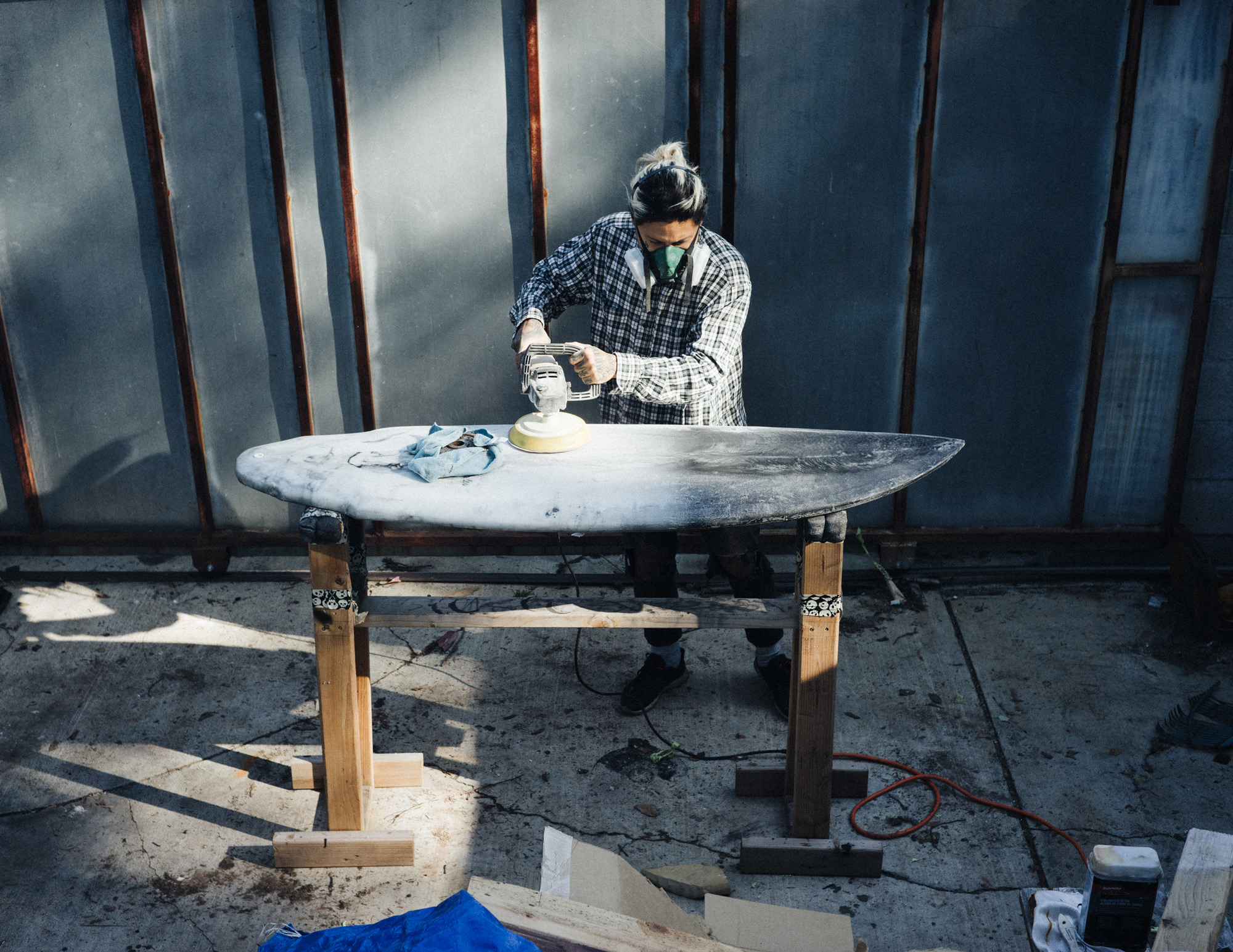 You express yourself through a range of creative outlets: graphic design, painting, tattooing, surfboard shaping, etc. is there one in particular you couldn't live without doing, or are they all integral to who you are?
As much as I love doing all of these activities, I do not find myself tied to any particular one. I think it is not the activity itself that I love, but I just love working on projects and being creative in general. One week I will be shaping surfboards non stop, the next week you can find me behind a band saw making chairs out of wood. I just love to work with my hands and get mixed up in all sorts of crafts or hands on projects. I don't try to keep myself confined to one hobby. If one day tattooing isn't fun to me anymore, I won't force myself to do it. I just won't tattoo. You should never feel obligated to keep doing something if it no longer brings joy to you. When I first started shaping surfboards I got so excited about it that I didn't tattoo for almost a month because I was too busy chopping up foam. When tattooing sounded fun again, then I went back to it. Life's all about getting that sense of accomplishment that you get when you finish a challenging project, so I intend to keep the rest of my life full of all sorts of fun challenges.
For more from Stephen Carballo head to his website, or follow him on Instagram.
Photos taken by Adam Amengual.