A new car smell fills either of my nostrils in a warehouse dedicated to preserving and remodeling those old Chevys and Fords surrounding most of the space on 26th Streets Classic Cars West for Wolfman Books' release party in celebration of the second issue of New Life Quarterly, the bookstore's new publication. A locally brewed Pilsner fueling my casual pedestrian flight to the merch table allowed my senses to properly absorb the majestic scene – and smell – before me: stacks of the new issue interspersed with new merchandise.
I'm overstating this smell of New because it was a contact-high-confirmation of the urgency behind this second issue – and the seams against which the collective efforts of the store, its staff and the communities they document and are a part of, push to make this thing happen – even the smell.
I buy two copies for the price of one from Jacob Kahn who, I'd learn later on the bus home, closes issue two with an Endnote describing a newfound perspective for this year – "2018 is my year of no BULLSHIT. I'm trying to not act like I know things I really don't" – before comparing this newfound sense of freedom to its namesake, New Life Quarterly.
After buying the new issue, I instinctually turn towards the bar and find Wolfman founder, Justin Carder. I quickly tell him about my relationship with the new smell of the new New Life and he tells me the truth behind my sixth, or at least sharply refined, fifth sense: that the magazines were delivered on pallets to the store just two hours prior to the release party's 7pm start time. So close that the group weighed tracking down the delivery man for enough boxes or single issues in hand to make the party happen.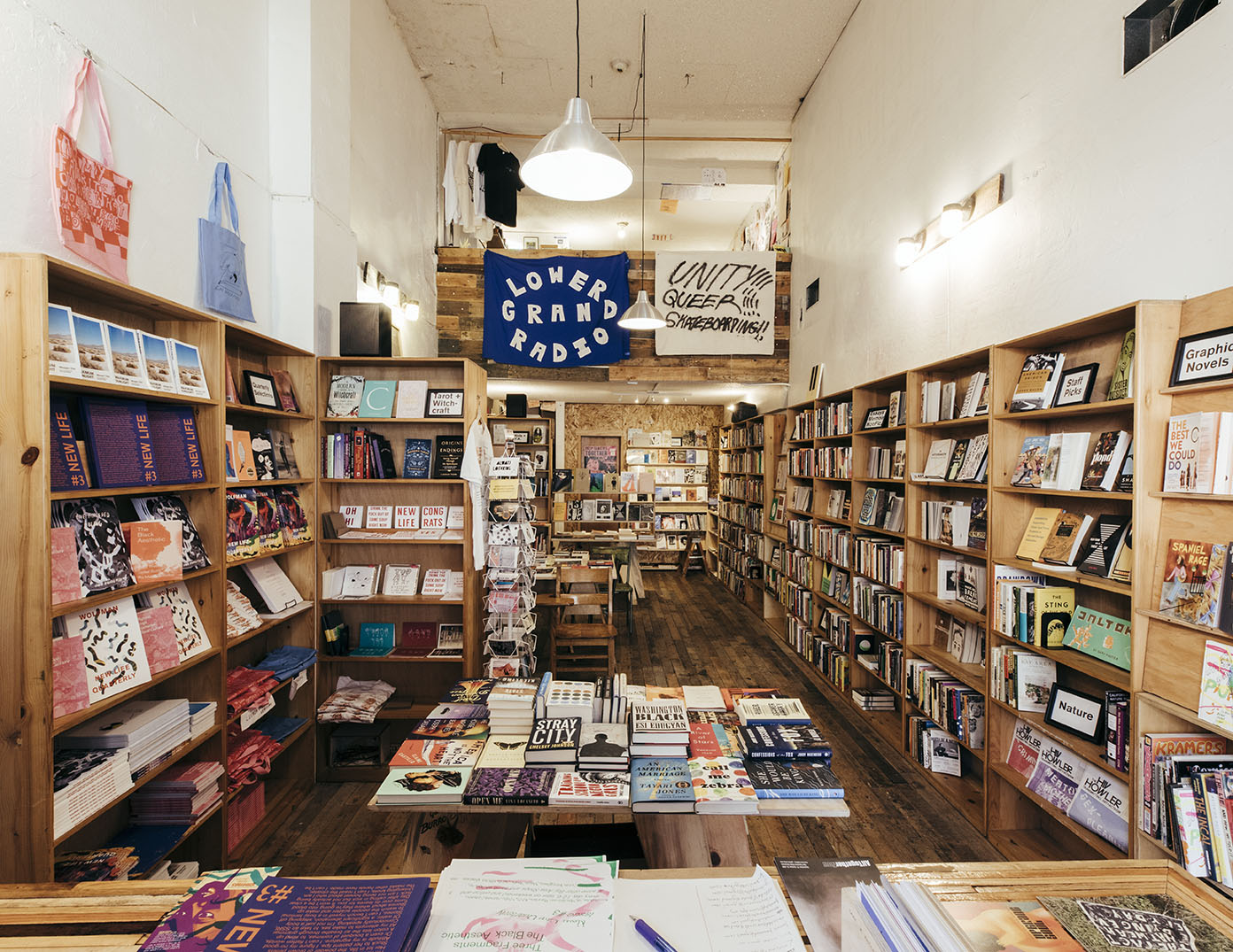 There's an obvious and inherent chance behind any creative idea, even small business, but living according to that cadence could prove tragic in its directionless. The cool thing about Wolfman is that, even if those quarterlies never showed, somebody in the crowd would've read something they're working on, a dance party could ensue, maybe even a film screening if folks are crafty enough. Wolfman has quickly come to represent both the physical space where new and used books are sold, where words are read and bodies perform, but also encompasses that sense of wonder and urgency to pursue the creative unknown reflected in so much of Wolfman's programming, the titles published under their formal press Wolfman Books, even the urgency of their email newsletters where exclamation points and YEAHs actually accurately describe the excitement Wolfman's created since its origins four years ago.
Wolfman Books has tall white ceilings that hover over a wooden ship flanked with books on all walls. The unique set of DIY crafts, multidisciplinary live shows, and the centralized downtown location lends itself to collaboration. Wolfman has directly produced tarot card seances turned holistic group readings; short documentaries; photography exhibitions; performance art series; stand up comedy; book releases; podcast presentations and more all within a corridor of a space turned bookstore. Even live radio transmissions in the upstairs loft from Lower Grand Radio and new residents, Unity Skateboards who, during our interview, are heard playing the Supremes and boxing skateboards to send to customers that feature Jeffrey Cheung's unique queer-centered and focused artwork, nearly transforming the gender landscape of skateboarding in just a handful of years.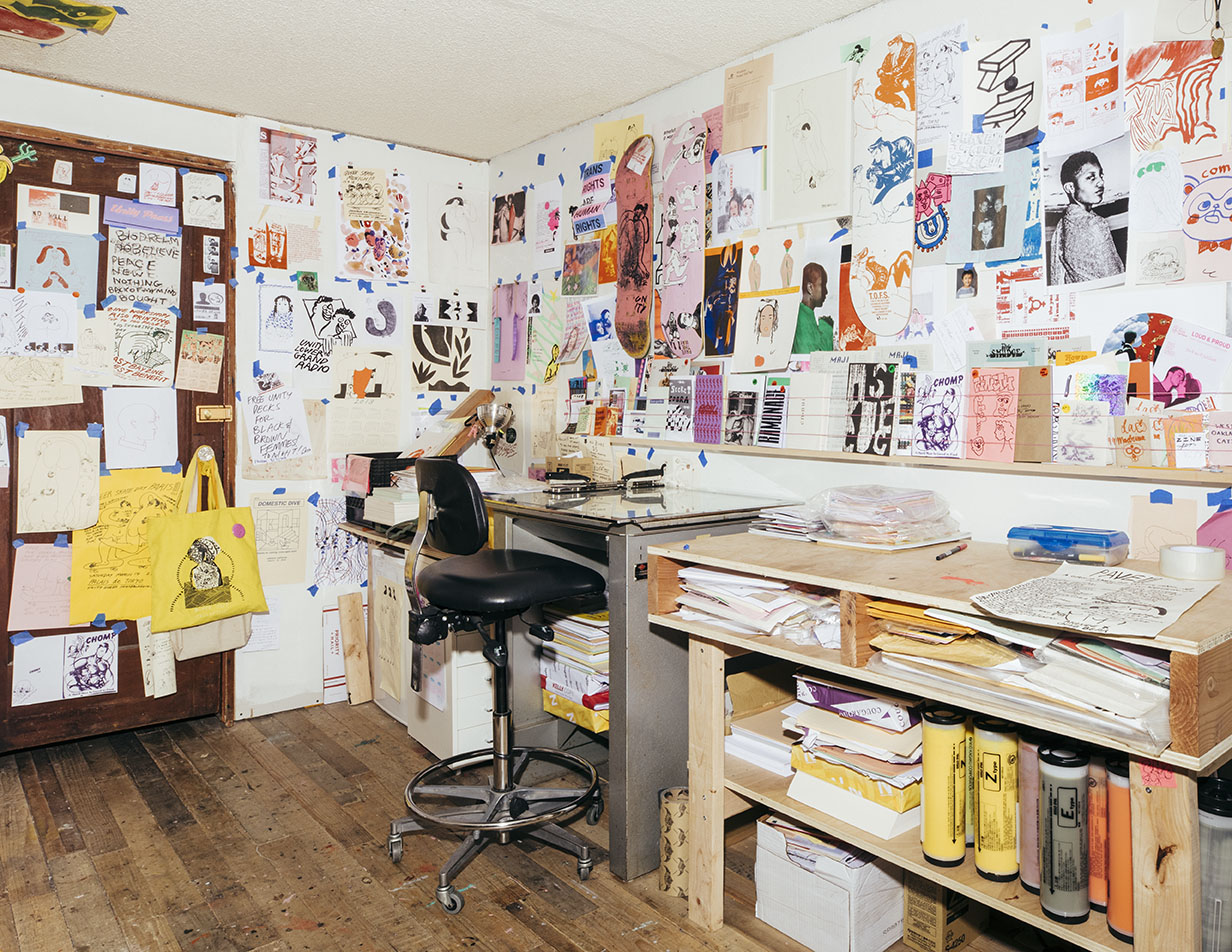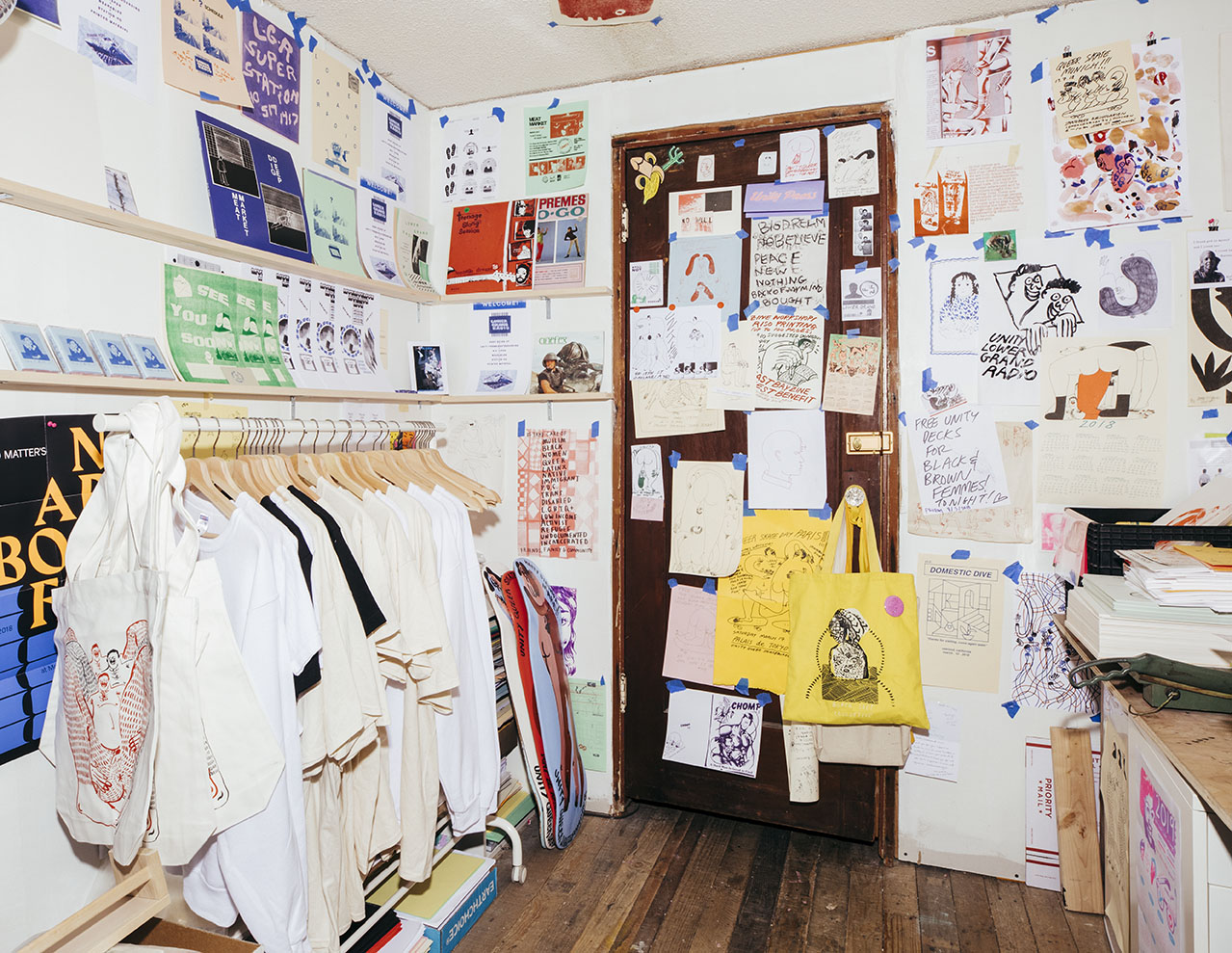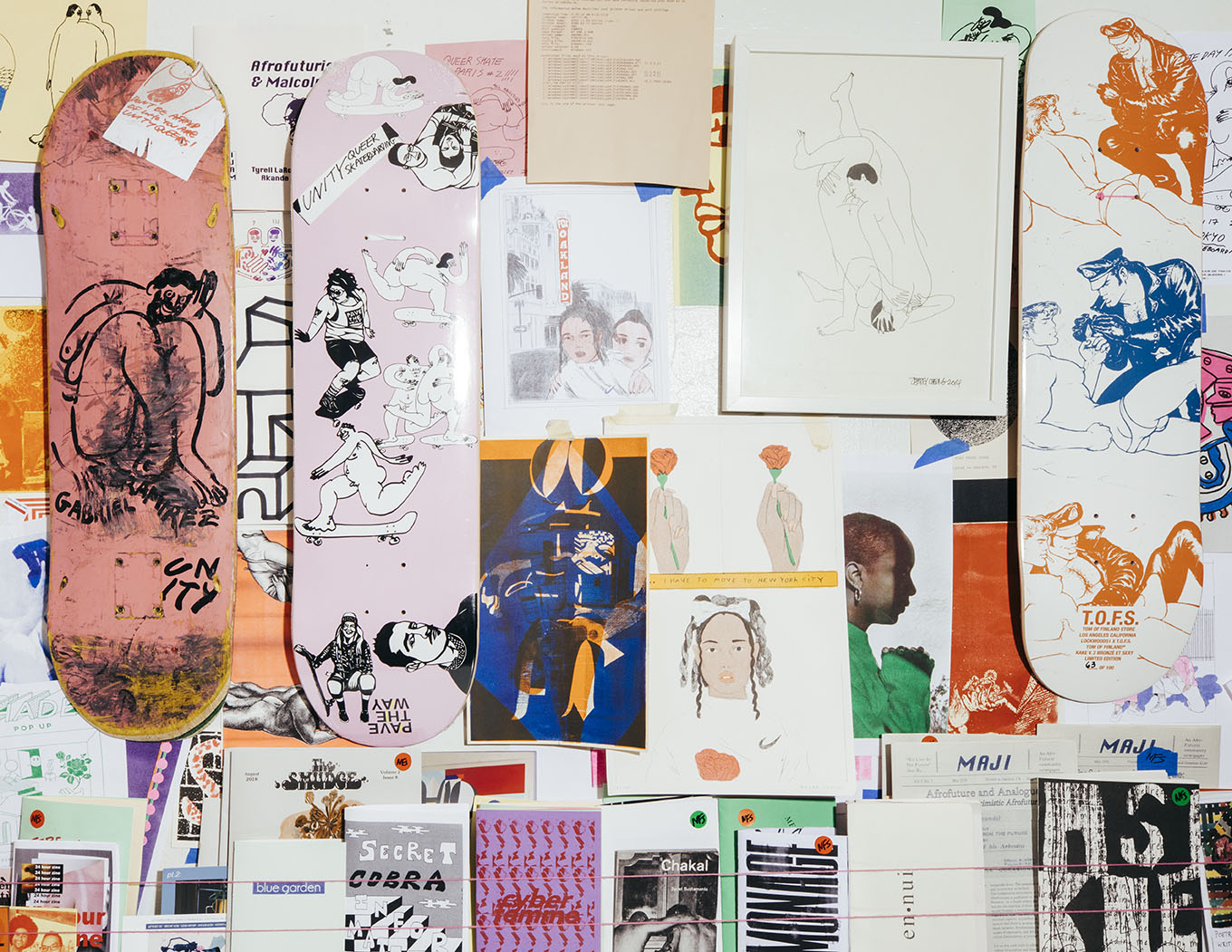 "There's this attitude of, I don't know but we're just gonna do it and we'll figure it out by doing it, but also because there's such a huge community now that's started through people coming through the space. It's this rolling ball that's collecting more and more people as it goes," notes Wolfman employee and New Life Quarterly editor, Tara Marsden. In an era of submission fees to literary publications, of venues being more prohibitive than inclusive, and of the ever-lurking economic-spatial concerns of gentrification, the East Bay Express gave the bookstore the award for 2015 Best Bookstore for Offbeat Events, serving as a platform for many artists first showings and resume line items.
But consider Carder's original idea for what would eventually become Wolfman: a storefront where, approximately five feet into the store itself, there would be an entryway wall and a mounted window where you, the customer, would ask for something – literally anything – and the concierge would go to the back inventory, inaccessible to the customer, and try and find that thing, or something close to it. It's like playing consumer Russian roulette to really see what happens after requesting, say, a broom, some coffee filters, a Snickers and the latest Cesar Aira novel from New Directions Press. The rest of the space would be a bit clearer: a multipurpose gallery, studio and classroom space, inspired by initiatives like Los Angeles' recently closed Machine Project.
"Wolfman has quickly come to represent both the physical space where new and used books are sold, where words are read and bodies perform, but also encompasses that sense of wonder and urgency to pursue the creative unknown."
Carder began collecting his first books in high school, digging through the zine section of City Lights Bookstore in San Francisco most weekends or the local stores in San Rafael that would ultimately shutter due to big box corporate bookstores and many of the forces still impacting small shops like Wolfman today. An internship opportunity with the literary non-profit 826 Valencia lead to Carder asking himself, "'How do I be here at 9am every day?'" For Carder, 826 was the "first time in my life where I felt like my energy was completely cared for."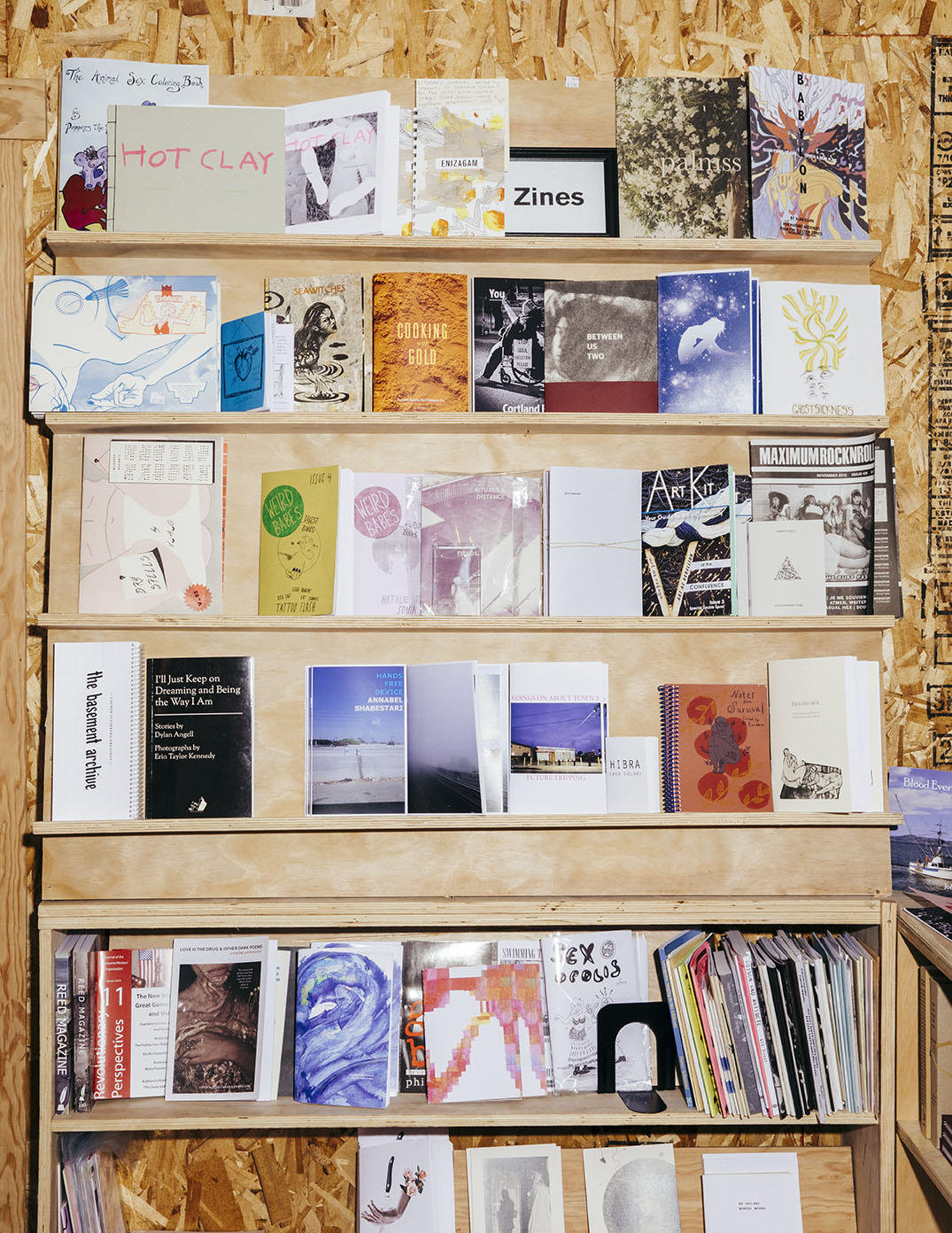 That spark quickly became a wildfire. He applied to every and any job in the building, eventually becoming the manager of the Pirate Store on Valencia Street – "What they do with people who won't leave," he says, somewhat jokingly – but from those responsibilities came that sense of wonder, scaling a growing staff, building an events calendar, and realizing "the power of the open door" for young kids and potential adult donors alike. Carder would become their Director of Publishing over his seven-year span working there, before leaving this position, painting for a year and living off savings, a catalytic job at Dog Eared Books ensued, learning from Kate Rosenberger who, across their three bookstores in the Bay Area, creates "super community focus, beautiful shops that are really welcoming, really open and representative of the city where they're from," and where Carder learned the power of "the particular wonders of being in a shop and what that can do."
Carder was then evicted from his apartment, briefly moving to Cazadero to fix a cabin and live for free, before heading back east to New York searching for work and ultimately returning to Cazadero via a job as a bartender on a cross-country train, returning with a growing sense of isolation, before quickly moving back to Oakland and higher rents – but also an idea for something physical, some type of strange interactive gallery with a retail facade. Carder's epiphany to start Wolfman took place while rummaging the now-defunct Community Thrift in San Francisco's Mission District, realizing his store could be more than the page.
"It just needs to be a bookshop and it can have all that other stuff inside of it. It needs to have an open door that's accessible and downtown."
That was the middle of January 2014.  Carder enrolled with the Oakland Small Business Development program, learning business planning and started looking for places. After an in-person landlord hail mary, a space was secured in February 2014 and presented to the public  April 1, 2014, Carder and friends tearing out the carpet and dropped ceiling structures by hand. Initial events and gallery showings were produced and quickly evolved "from immediate friends to immediate customers and community members coming in and out of the shop itself." After four years, the staff has grown to five, including Carder, Akande X, Jacob Kahn, Tara Marsden, and Lukaza Branfman-Verissimo.
Tara Marsden was previously working full-time in publishing for years without the opportunity to break into editorial, stuck in the marketing department. A friend told her one day, "The only way you get to be an editor at a small press is to wait for someone to die." New Life Quarterly posed all sorts of unforeseen challenges, delivery times included, but also the opportunity of creative and editorial direction.
"It was intense, none of us had ever done it before and we were all like pretty freaked out to be honest," when two palettes arrived on 13th Street. "When all of the boxes came I was here by myself and all of a sudden UPS was like we have two palettes for you."
New Life Quarterly itself is part of a larger initiative of Wolfman Books, the press and imprint launched with several unique releases: journalist Meagan Day's Maximum Sunlight, a first-person account of Tonopah, Nevada; The Bigness of Things, a collection of essays, art and film-stills centered "around New Narrative, SF's queer/punk-infused avant-garde and visual culture"; and The Black Aesthetic Season II – a collection of work derived from the film series of the same name, with the book speaking towards "a larger conversation that attempts to define and demarcate around "Black" aesthetics while also positioning the diasporic diversity of Black cultural production and aesthetics as a self-contained and self-referential global body of work."
The Black Aesthetic (TBA) was a project that literally walked through the door and presented Carder with their idea. Born in Oakland, raised in Ohio, Ryanaustin Dennis, former founder and member of TBA, created the collective to pose the question — What is the Black aesthetic sensibility and what does it look like to you? — in order to "curate and assemble both a collective and distinct understanding of Black visual culture."
When Dennis moved back to the Bay two years ago, his roommate invited him to a Wolfman reading, while another friend encouraged him to take the "spreadsheet of films I wanted to see" and crystallize it as a public film series. The what and the where of the idea aligned for Dennis at Wolfman — "I like that there's like this low barrier of entry" — with his first idea being a screening for his cousin and former TBA member Christian Johnson's new short film. They walked into the store and talked to Justin.
"And he was like 'Send me a link to like buy a projector screen.' And we did."
The collective — currently consisting of Leila Weefur, Jamal Batts, Malika Ra Imhotep and previously Dennis and Johnson — flipped a micro-grant of $250 into TBA's first season – eight weeks of film screenings – and the recent publication of The Black Aesthetic Season II, edited by Zoé Samudzi.  
"Justin was absolutely great at kinda building a foundation around [TBA], just saying yes to every possibility" Dennis explains, "It was very expansive in how he thinks about things, which is great."
For many local artists, Wolfman allows for the creativity they bring into the store to not only be housed but amplified. "Our responsibility also is to handle that energy as nicely as possible" Carder explains, "and to treat people well."
While collaborating, Dennis and Carder also analyzed the parts of small business and art that many fear: the analytics. They examined sales, attendance, with Dennis realizing, "I'm really into that, and he's into that, so like the tracking aspect of it I felt like I got really good at, just learning how to do a small business project."
Carder's curatorial approach to Wolfman was also in reaction to some of that post-collegiate time spent at house parties in the Oakland punk community of the mid-2000s and local poetry house readings where Carder noticed many implicit divisions along race, gender, and class that were at odds with his beliefs.
The punk scene "didn't feel reflective of the city, and my awareness of that grew and grew as I got to know the city more and more," while different scenes within the poetry community "don't really mix; it's segregated in this way that's awkward." For Wolfman, Carder feels, "If nothing else I'll house this stuff and by osmosis, people will see each other."
"I think we kinda changed the space a little bit," Dennis says. "We're introducing people that may not have gone to Wolfman, they come to Wolfman, or at least know about it – we bring something to all the spaces we bring [TBA] into."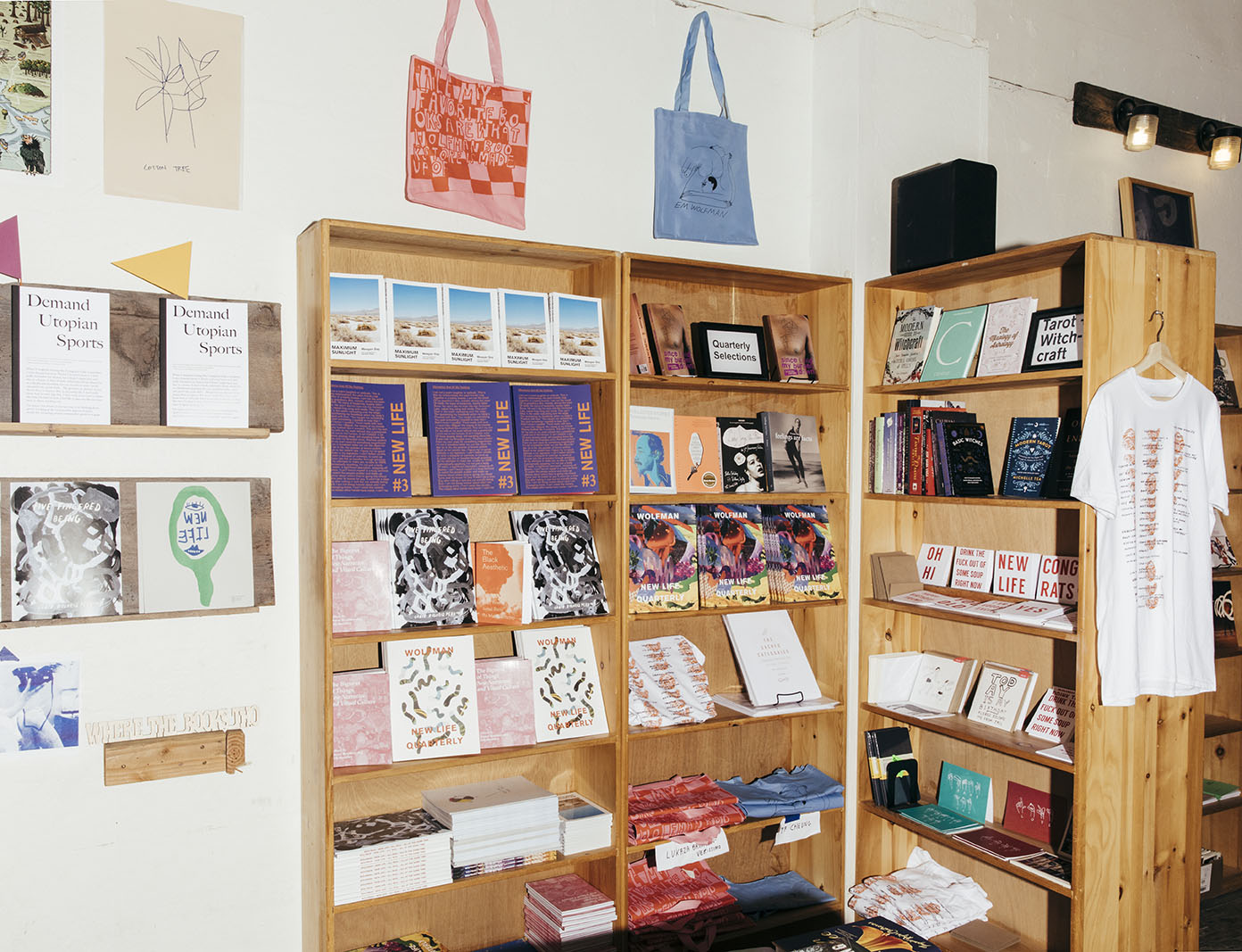 Reflecting on my interactions with Wolfman over the years, I'm reminded of an afternoon a few months ago when I found and quickly bought a rare gem from the store — Paul Beatty's 1994 poetry collection Joker, Joker, Deuce — and approached the counter to find, and meet, Akande X who, upon noticing the book, took a deep sigh.
"Damn…you found this here?"
It's that behind-the-counter disappointment of a missed opportunity before their eyes that makes me want to buy books there: the staff would rather be reading or writing their own anyway.
Oakland's future will dictate Wolfman's which will hopefully still be on 13th Street a year from this writing. The tallest condominium in Oakland is set to be built on Wolfman's cross street on Franklin, the site of the former Merchant's Parking garage, a landmark of downtown, which bore its own landmark to what was previously there before: the original University of California campus, pre-Berkeley. The plaque will be installed in the lobby of the new building, plans forthcoming. In the meantime, as evidenced by a double-sided print calendar-meets-broadside, printed by Irrelevant Press, if the headline is any evidence of Wolfman's plans, their mission for the future – figuratively or literally – is clear: "WOLFMAN BOOKS PRINT CALENDAR FOR EVERYONE TO GET TOGETHER AND HANG OUT."
For more from Wolfman Books, follow them on Instagram. 
Photography by Adam Amengual.