Certain colors and tones just don't make sense to artist David Cook.Despite his acute color blindness, the Los Angeles-based illustrator, skater, music lover, and compulsive collector of small trinkets, best known by his moniker, Bonethrower, has found that what most people would call a disadvantage is actually quite the opposite. Using the trusted color labels on paint cans, Cook knows enough about color theory to know what would happen when he puts certain colors next to each other. However, his offset perception of color tonality has called for countless hours of trial and error and experimentation that eventually spawned a color palette of his own. Bright yellows and hot pinks sit alongside beaming corals and cool mint greens, psychedelically drawing eyes to his geometric, pattern-driven paintings of smiling skulls, slithering snakes, and a ragtag cast of mystical creatures that don everything from radiant cloaks, to bondage and nipple piercings. Whether it's his subject matter or color scheme, it's all weird, it's all hilarious, and it's all uniquely his.
Originally from Kentucky, but easily passed off as a New Yorker—he spent 11 years in Brooklyn—Cook grew up embedded in the things that perpetuate DIY culture: art-making, playing in bands, and skateboarding. The ideas and artwork that came out of those surrounding subcultures have and continue to truly influence everything he does; from his large-scale woodcut sculpture paintings to his illustrations on paper, Cook's work is engrained in the self-taught, self-motivated candor he was raised on. From his shared studio space at Bill's Bar in Silverlake, David and I spoke about the twisted characters in his pieces, and how he continues to keep things interesting, not only for his audience, but for himself, after creating all of these years.
You've been here in Los Angeles for three years. What was that initial transition from New York like?
I found this great record store right down the street from my place called Vacation Vinyl, and quickly became friends with those guys. I then stumbled upon Kingswell in Los Feliz, and just talking to those guys it was like we had known each other forever. It was a pretty easy transition; within a month and a half of moving to Los Angeles I had a show at Kingswell and was introduced to a ton of people including Austin England, who also shares Bill's Bar with others and myself.
What was your work like when you first moved out here?
I was mostly drawing. I got lucky and as soon as we got here I got a bunch of commercial jobs, which kept me busy. As soon as that died down a bit, I started messing around with these woodcut paintings—this was the first time I lived somewhere that had an outdoor space and where the neighbors were gone all day. These woodcut paintings were something I was doing in Kentucky, but once I moved to New York where there was no space, I just let go of them. It's been really fun to start playing with the woodcuts again, because now I can look back at those first ones I did in comparison to what they are now; it's a completely different animal. It makes it exciting to see where they go next. I think that's the most fun part about making art: seeing improvement and the direction things go in even when you didn't intend them to go that way. It's been fun to go between my black and white drawings and these full-color paintings.
There's a lot of variety in work, yet also a lot of repetition; the line work and details, also subject matter and characters. How do you keep it fresh and interesting not only for your audience, but for yourself as well?
The shape is a starting point and then to be able to make it as different as possible is the fun part. Even if the piece starts out similar, it's the experimenting, doing different things to it each time, that's most fun for me. I learn a lot with each piece; I know what colors work together and can take those things I learn and apply it to something else.
Where did this desire to work with wood come from?
When I was living in Kentucky I had a studio and could make as much noise as I wanted, so I started cutting out shapes of bird heads and stuff. One of the jobs I had in Brooklyn was working for this guy who designed lighting so we had a full woodshop, and the rules were as long as I put everything back where it came from, I could do whatever I wanted. I worked with him for five years and learned a lot. It was just a lot of time to experiment with things. I have a good friend named Pete Hilton who builds bass guitars, and they're just the most beautiful things you've ever seen. His detail of woodworking is something I would like to get more into and apply it to what I'm do now; so, it's less paint, more wood stain, more inlay. I've been talking to him a lot lately about his work and his process, and he'll show me the things that he makes. I'm just totally baffled by his work.
The woodcut pieces give me this sort of folk art feeling.
You sit and you draw all day and it's exhausting—your eyes are tired, your brain is tired from thinking. But at the end of the day or after a week of making these wood paintings and you have this physical object that is in your hands, there's just something really rewarding about it. This feeling like, "I made this, it's physical, and now it exists." There's something really fulfilling about that.
Let's talk about your upbringing. Are you a skater?
Yes, I am. Well not so much anymore, it hurts too much to fall down, and I don't want to fall on my hands, but I still push around and have skateboards at home and watch skateboarding all the time and am friends with skaters, so it's very such a part of my life still.
How has skateboarding influenced and informed everything you do?
Well, you know, it was punk rock and skateboarding. I guess finding skateboarding was like finding something I was actually good at. Sports were never my thing, but I could get into skateboarding and see that as I continued to skate, I was getting better at it. Plus, it was all the people I was meeting; I was exposed to Goth kids and punk kids, and it was a culture where you could do whatever you wanted. Seeing pictures of Mark Gonzales drawing on his griptape, I realized, "Oh it's mine, I can draw on it if I want, there's no rules." Seeing all of my idols skateboard, make music and art, and not having to go to school to do so, really encouraged me to keep going with my own art. If they can do it, I can do it. That notion is still with me.
That DIY spirit doesn't fade.
No, not at all. Even the bigger companies that I get to work with now, the working relationships all seem built on the same love for the same things.
It's all about aligning yourself with the right brand.
A good way to look at it is that with most of these collaborations or projects these people aren't giving me any art direction. They may have some suggestions, but usually it's just, "Do what you do." There's no art director breathing down my neck asking for rounds and rounds of changes. I always try and deliver work that supersedes their expectations.
I feel like you don't stop working; you're always hustling and cranking out work.
Well, this is my job now. Until I moved to Los Angeles, I had a job since I was 15-years-old, so I just treat my artwork like that. I actually clock more hours here in the studio and as a full-time artist than I ever did on a normal job. I'm here six days a week, ten to twelve hours a day.
Tell me about this space. What is Bill's Bar to you and why did you want to create a space like this?
It wasn't my initial intention to create this space. I had been working out of my house for two years and was losing my mind. I wasn't socializing with anyone. I'd leave to get coffee in the morning and then until my girlfriend came home, the only other "person" I talked to was our Chihuahua. I met up with a buddy of mine who tattoos at the tattoo shop directly upstairs and told him I needed to rent out a studio. He said that the spot below the tattoo shop was available and that Bill Buckingham, who was the owner of the building, was in the hallway. He was the kind of guy that you don't ever think you're going to meet in Los Angeles. There was no lease; we just shook hands. He said, "Give me the rent whenever you see me. Do whatever the fuck you want to it, and you have access to the parking lot." You just don't expect to meet someone like that here. He passed away a few months ago, but he was able to see the space turn into Bill's Bar. He loved what was happening here and that it was a creative space. He loved that it wasn't just going to turn into some boring bullshit retail store. Our motto now is, "Bill's Bar Forever."
I know you've done artwork for bands and that you've also been in a few bands yourself. What was one of your favorite music projects?
The projects I get to do with bands are really my favorite. All of the stuff I've done with Mastadon because I was always dealing with the drummer, Brann Dailor, who would just hit me up via text and be like, "Hey I'm thinking of this…" They were always the wildest ideas, and every time he printed the shirts I designed, they were on a baby blue shirt or a pink shirt. They would have nothing but black heavy metal shirts at the merch table and then this weird shit that I did. I would ask him if they were selling and he said he didn't even care, because it was stuff he wanted. The new Iron Reagan record cover I did has received a lot of traction as well. They're touring with that record now and my illustration is the huge banner that hangs behind them every night; it blew my mind.
Do you think that has contributed to your monstrous Instagram following?
I don't have any idea how that happened. I got an iPhone, I hate Facebook, and Instagram just started, and I realized I could post pictures and not read everyone's bullshit. I was working everyday and drawing, so I would post pictures of that stuff. Never used a hashtag, never used anything, and it just kept growing. I'm sure it's from having done Mastadon and things like that, but I think I keep it interesting enough that people think it's a good account to follow and they pass it on to their friends.
Let's talk characters. You have that infamous Mickey Mouse character…
I think that's where a lot of the traction on Instagram came from. That thing took on a life of it's own. It ended up in Rolling Stone. That character really hit it off, and then people were introduced to the rest of my work. I remember just sitting there messing with some ideas and was thinking, "How stupid can I make this." I started to play with it and gave it the stigmata, a devil tail, and one eye. I combined a bunch of stuff until I thought I had one that worked and thought, "That's ridiculous." That's how most of my stuff comes about, if I've entertained myself, I've done something good.
It seems like you're always entertaining yourself with your illustrations.
If I'm not giggling at some of the stuff that I'm putting down, then I know it's no good.
Some of the skulls that actually have bodies are totally hilarious.
Yeah, they are hilarious. They're in bondage gear and have pierced nipples. I'm sure people wonder what the hell is wrong with me all the time. But I love making subtle jokes in those pieces that people will get. It's a technique that I got from tattoo artists, where you're hiding stuff within the illustration. It just makes me laugh so hard; maybe they will see, maybe they won't. Tattoo artists always see it, they'll be like, "I saw that vagina you snuck in there."
Read our full interview with Bonethrower in issue 11 out June 24th. For more from David Cook follow him on Instagram.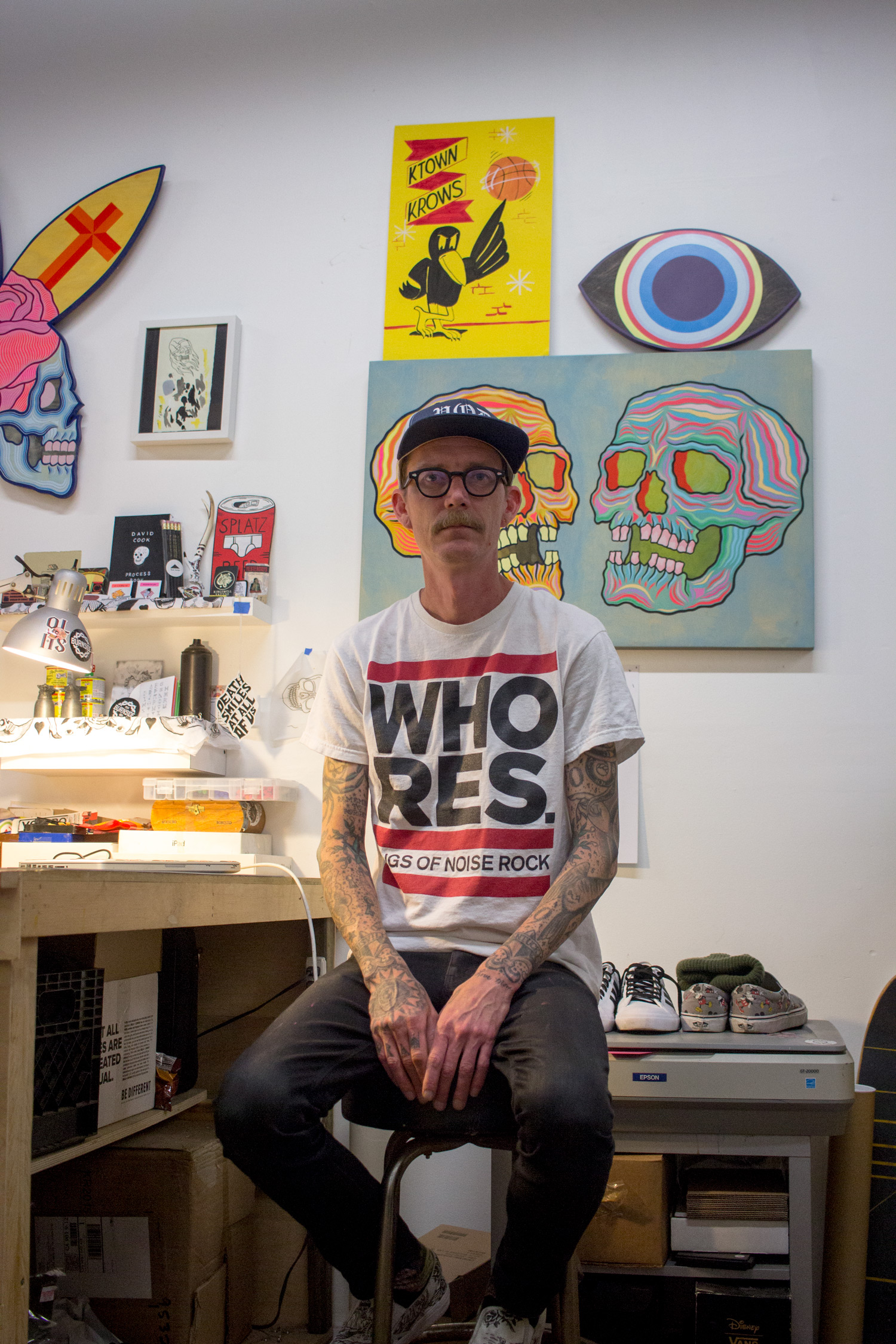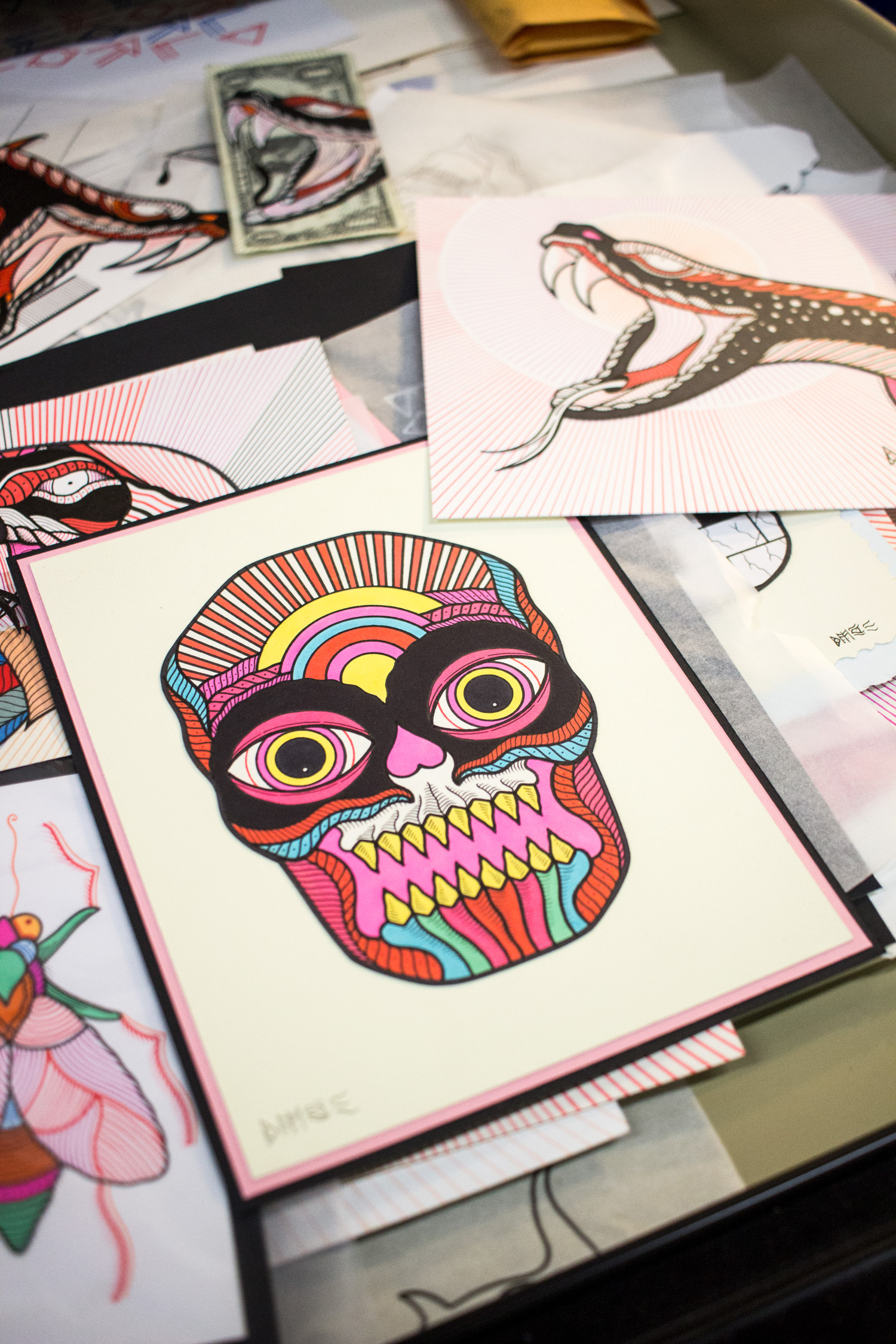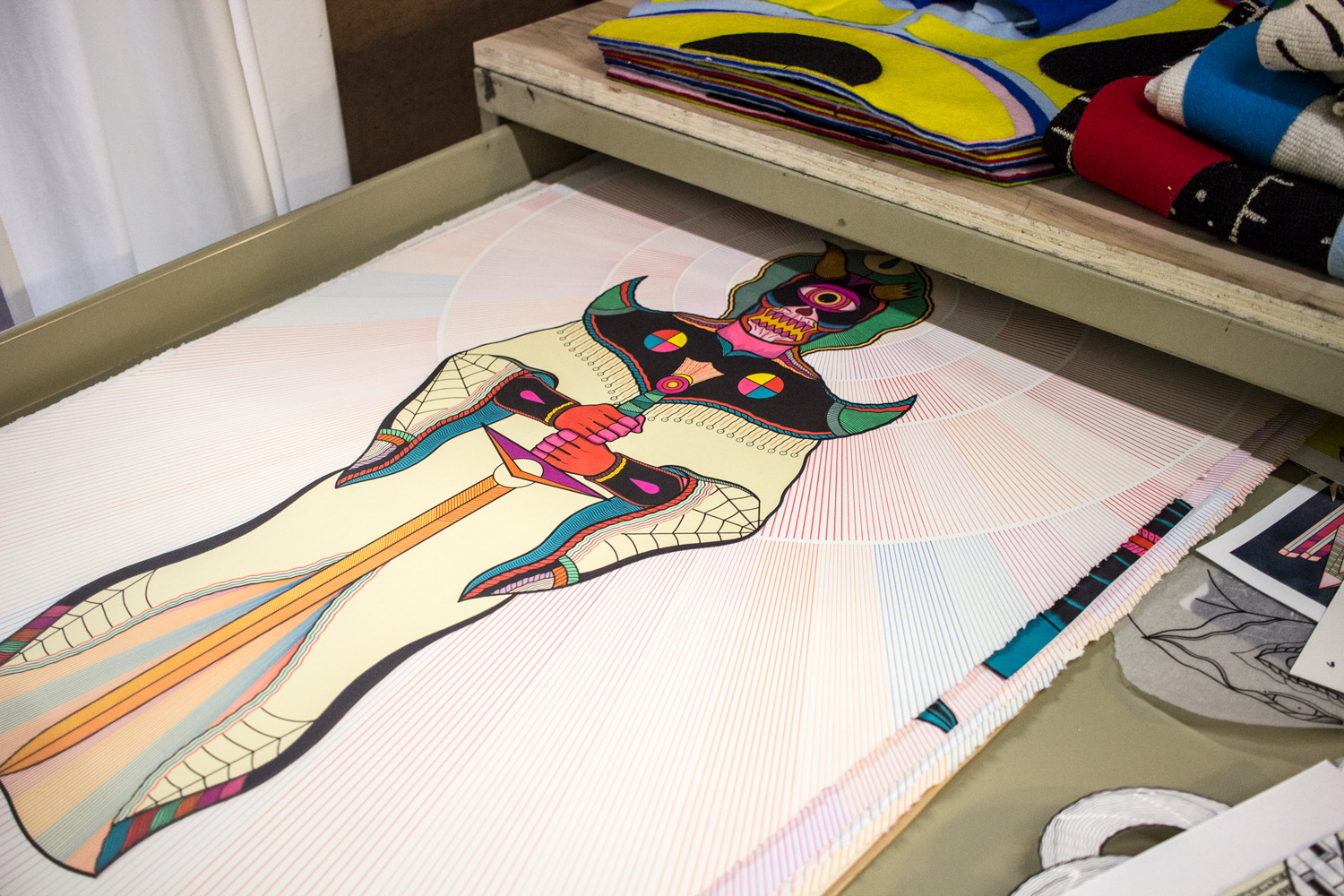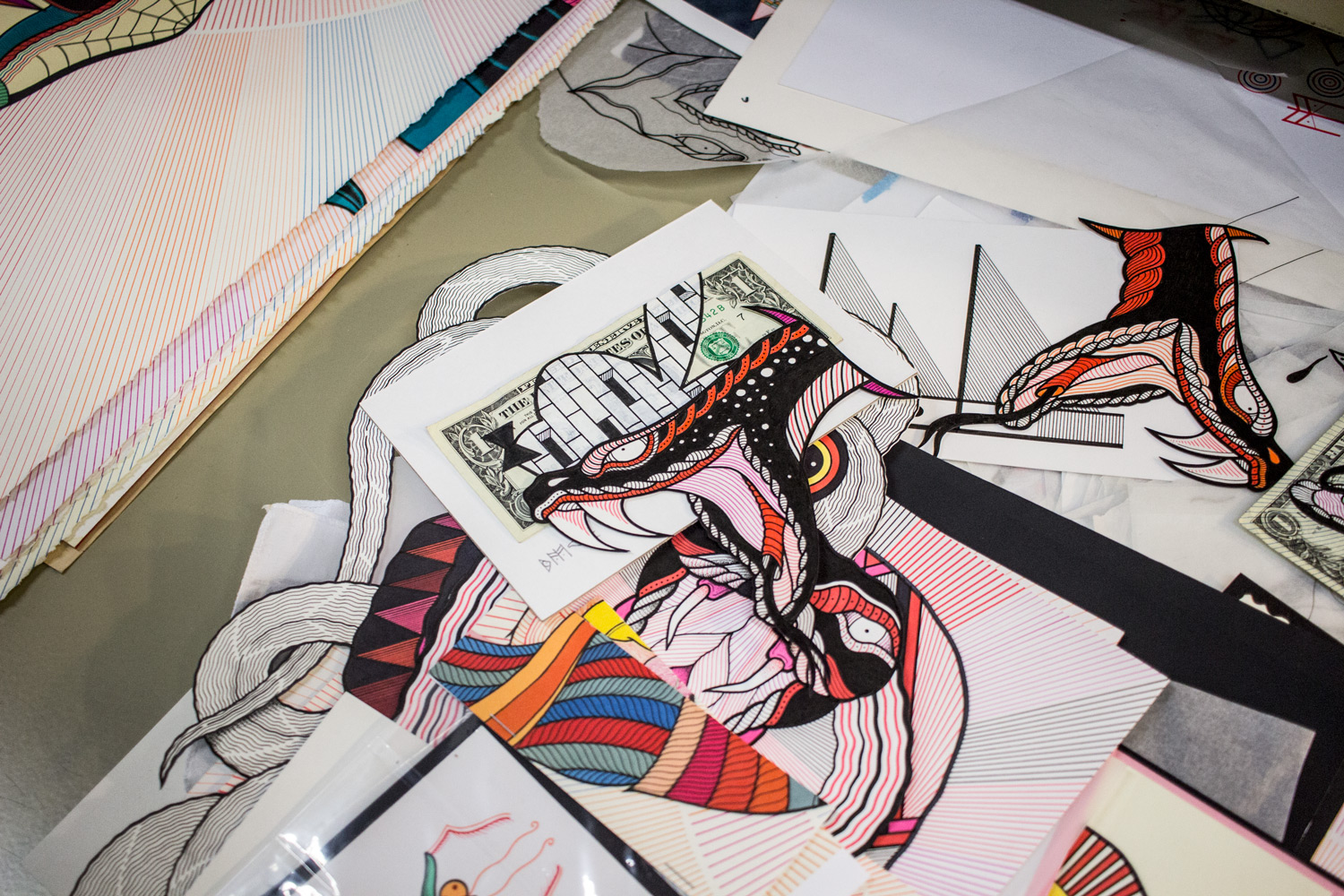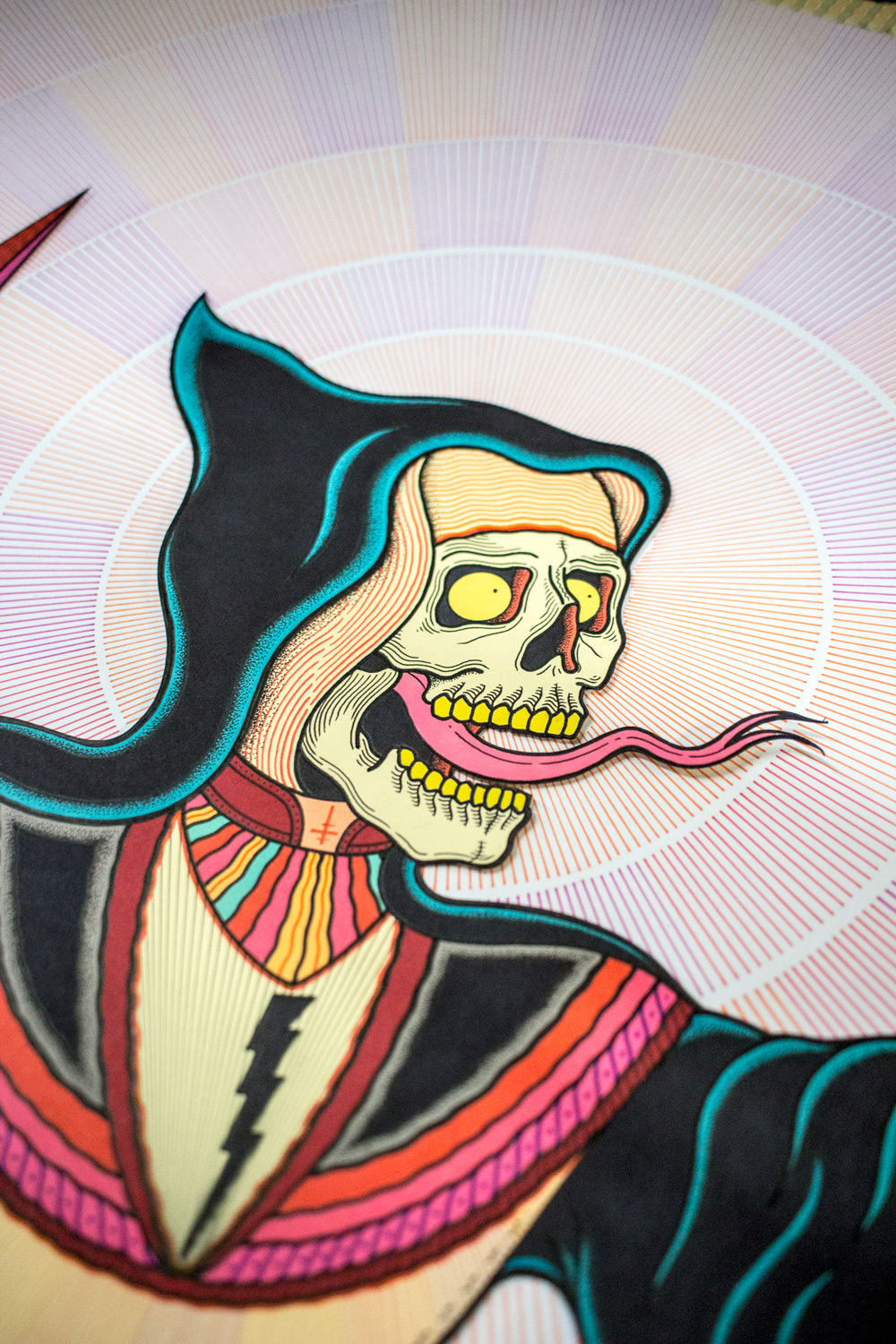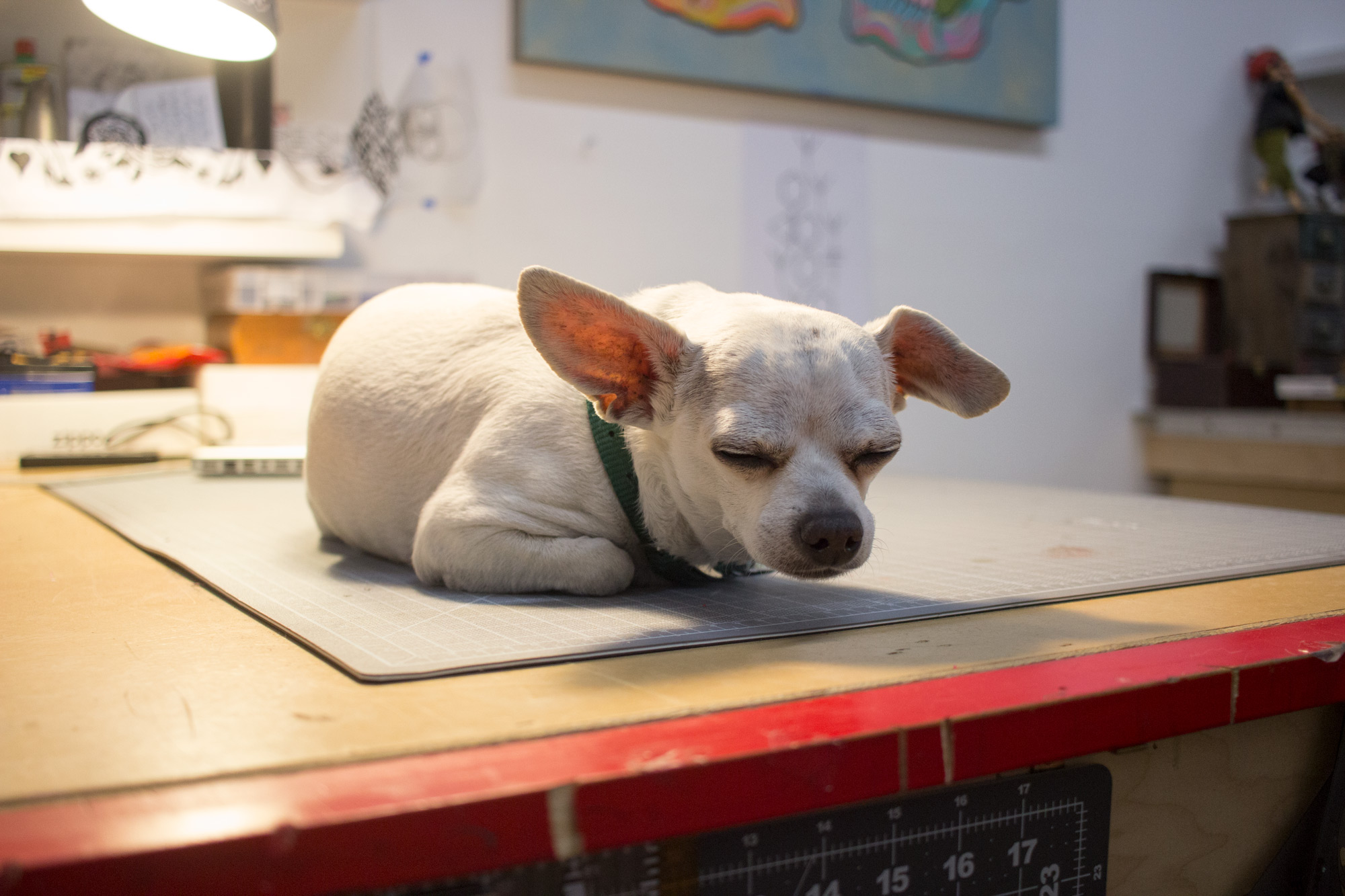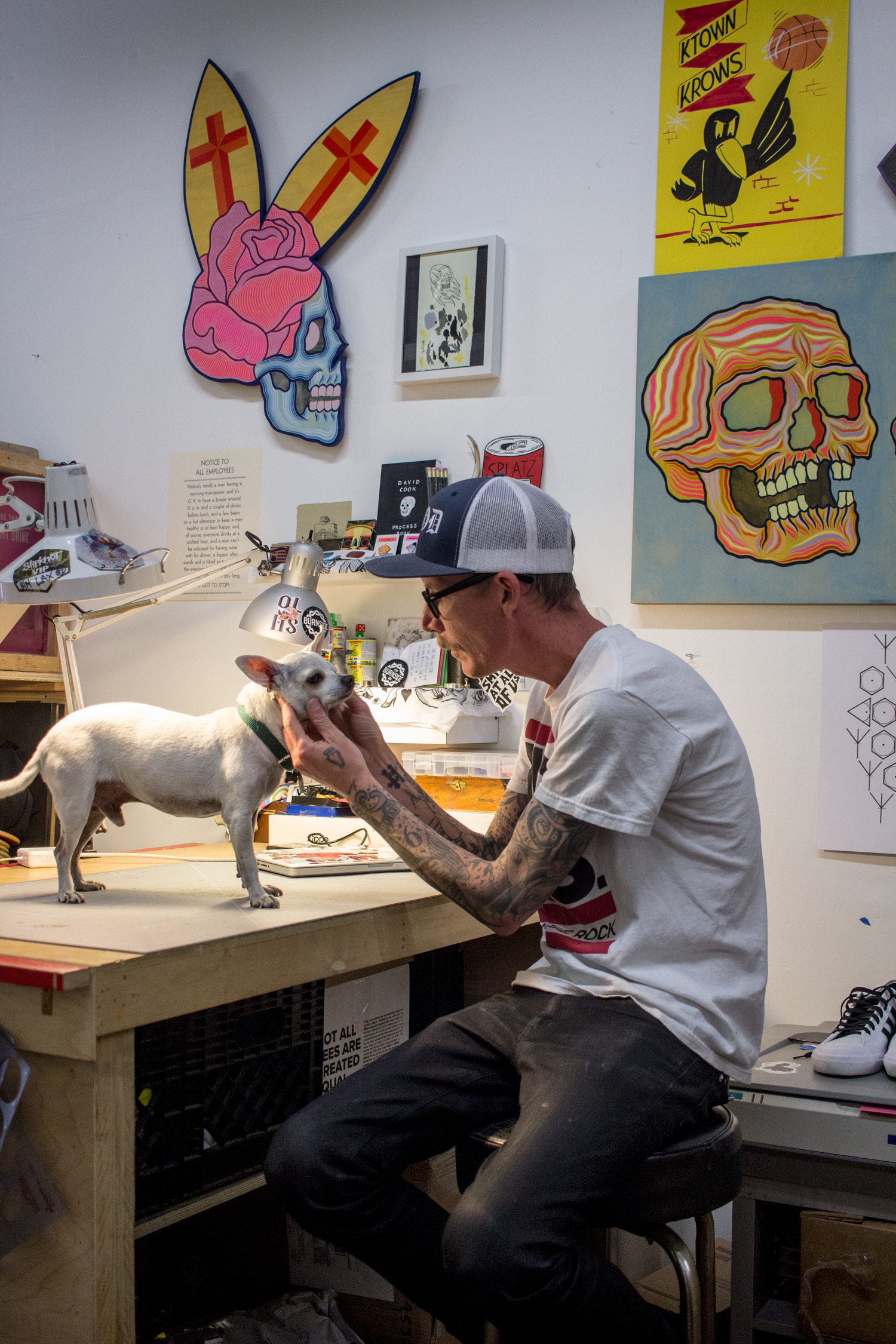 Photos by Alex Khatchadourian