Brendan Donnelly is an interdisciplinary trickster – an artist working at the nexus of being both an appreciator and interpreter of subculture, and an angry old man shouting from a soapbox plunked at the corner of fine art and bullshit. Through writing, painting, illustration, and performance, Donnelly churns the cosmology of his obsessions through the gears of his tireless work ethic, producing work that plays against disparate contexts: from fine art galleries to sweaty dance nights. Comedy scripts show up as minimalist paintings, illustrations turn into narrative conceits, boundaries throw up their hands in defeat.
For over a decade, Donnelly has been developing a body of work around the mythology of a character named Nos, a Criss-Angel-loving, bedroom-dancing goth vampire with big Hollywood dreams, often played by the artist himself. His willingness to implicate himself in the work keeps even the most biting commentary just shy of cynicism. I met Brendan in the early aughts, both of us floundering in the trenches of the ironic t-shirt industry (if you've bought anything clever from Urban Outfitters in the past decade, or from McQ under Alexander McQueen, there's a good chance Brendan designed it). I became an art critic and comedian, Brendan became more himself. We talked over chicken fingers and salad at the Bright Spot in Echo Park.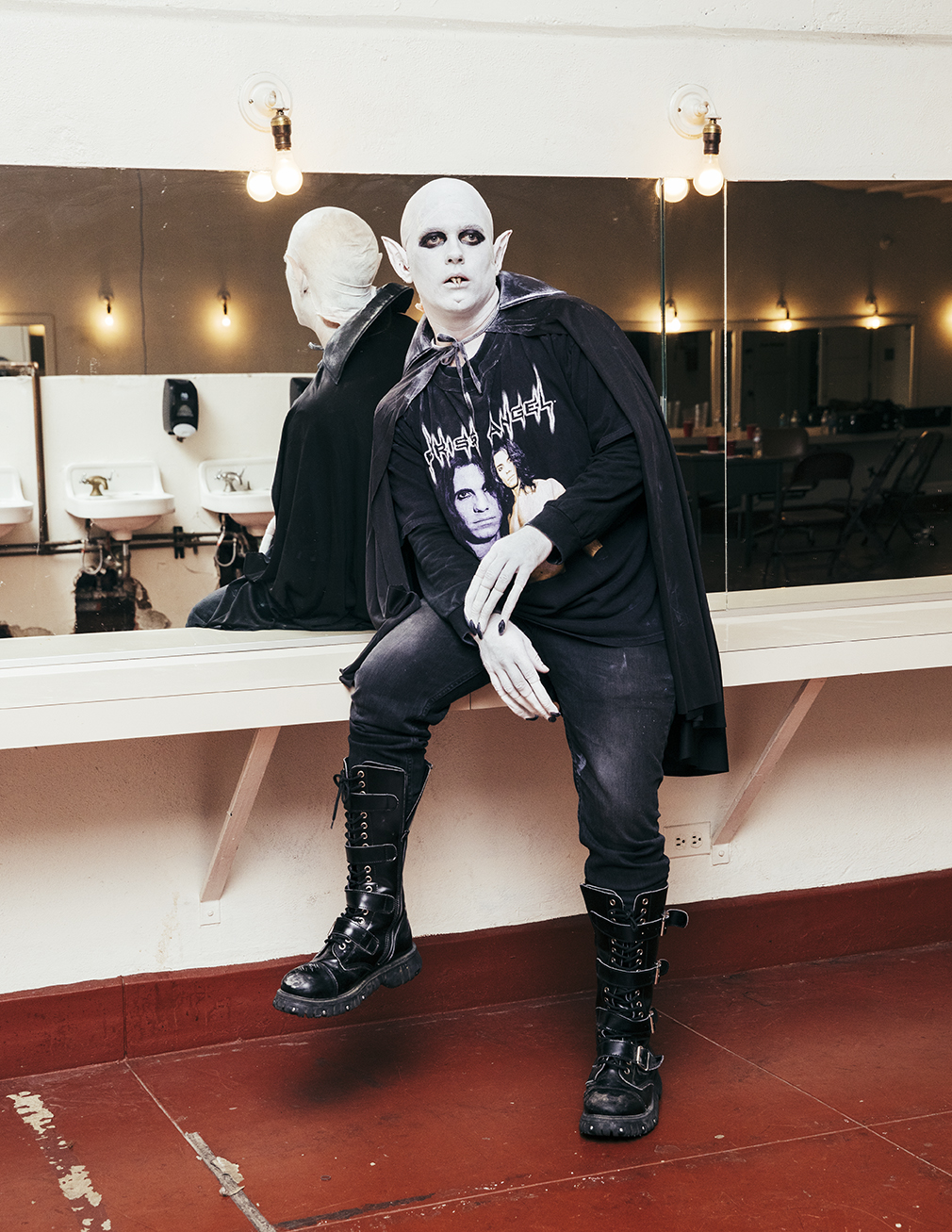 A lot of this new body of work seems to spiral out from this mythology of the Nosferatu character… what do you call him? Just Nosferatu? I want to say Goth Nosferatu but maybe that's redundant.
I should check to see if Nosferatu is trademarked or copyrighted, shit. But I just call him Nosferatu, or Nos.
How did he come about?
It goes back to 2005, way before the YouTube video that went viral a few years later. I was crashing at filmmaker and collaborator Hak Lonh's place in LA, and going on auditions between freelance illustration jobs. It was the first time I saw those character actors on Hollywood Blvd, the ones that charge you like ten bucks to take a photo with them in their knockoff costumes. I wasn't landing any gigs, so I thought about how funny it would be if I went as Nosferatu, baking in the sun and doing James Dean monologues. My friend David Black helped come up with some funny ideas to shoot and Hak and I started to shoot a pilot about Nosferatu moving to LA, but all that footage got lost. It was such a bizarre show. Then YouTube came out a few years later when I was living in New York and I'd go to Dave's apartment and film when I got done printing shirts. I was just bored one day at my place and made a fake audition tape as Nosferatu for Dancing With the Stars, and now I can't escape this guy.
Yeah well, I bet all those character actors on Hollywood Blvd started it as a joke too.
They're super aggressive. We shot there a few weeks ago and I got yelled at.
Were you really interested in acting or writing or comedy back then? Or was it just a way to maybe make some money while pursuing art?
I've had an interest in all of the above, but never took it seriously and was making money as an illustrator.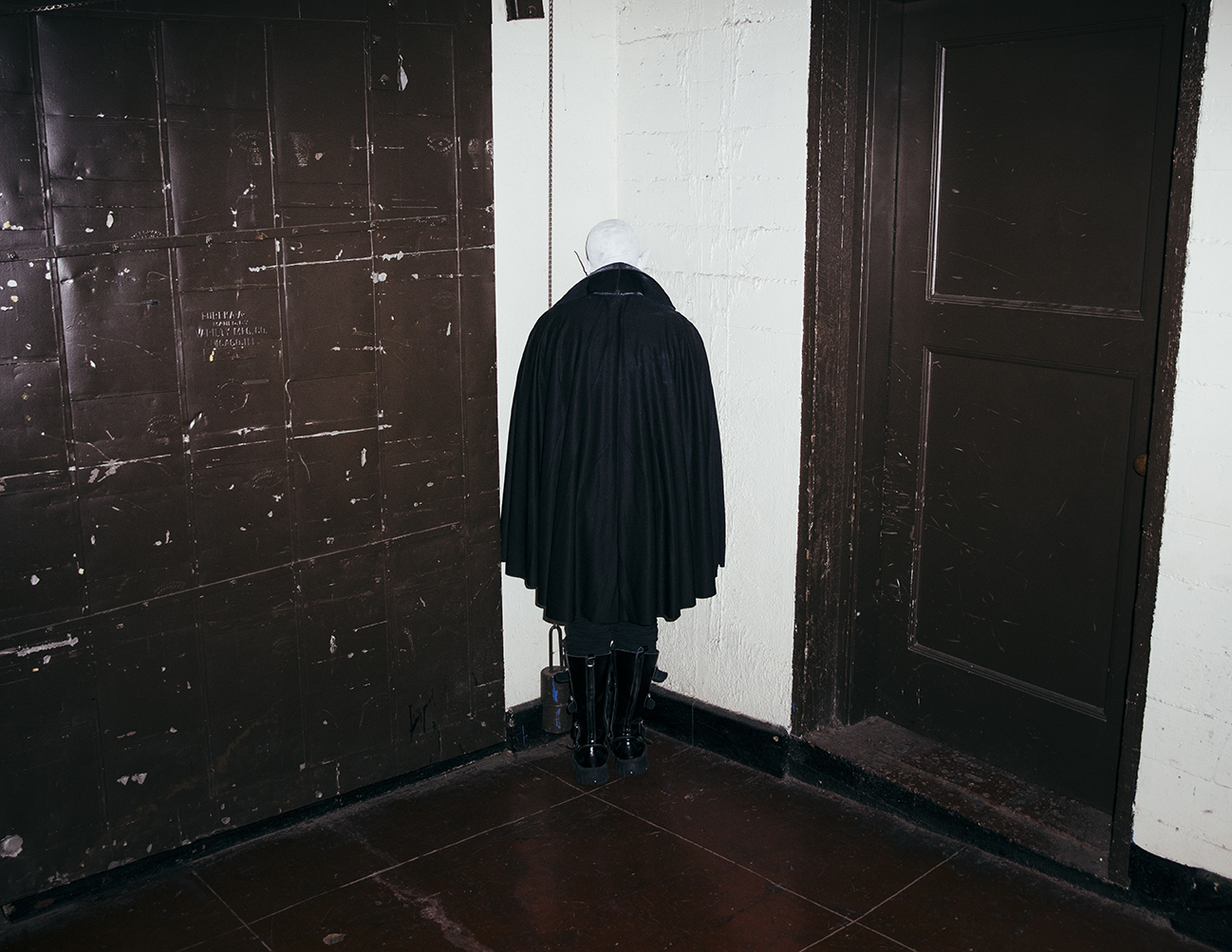 Now it's kind of bleeding together. I had a friend tell me recently "contemporary alt comedy is just 1970s performance art".
I sure hope so. Comedy is tricky these days. I'm sure you see both first hand.
Can you talk about what happened with the Nosferatu character after the YouTube video went viral?
He ended up on a lot of blogs and websites and web content based TV shows. This was before YouTube TV or professional influencers. I had no clue what to do with the thing, so like all things on YouTube it went into obscurity, but it popped up every few years online or on Instagram. Then my friends who organize the dance party Emo Nite asked if they could remix the original one, which put it out there for a whole new generation. Ha! That was two years ago. I'm a lot older and fatter now than I was in 2009. I think it adds to the comedy. I don't think the youth can tell, but when the make-up comes off, the reaction is usually confusion.
What's Nosferatu's place in this new body of work? He kind of went from this viral character to a cartoon character which in turn seems to inform these script paintings
Well, when Nos came back it was for a cartoon we were doing called Later Days. The Emo Nite guys loved him so much they asked me to perform on stage at one of the dance nights. Then we shot some videos, all silent film style and he became kind of an unofficial mascot for them. While all this was happening Hak and I began filming a different project based around Nosferatu. Now I'm writing the script for that show, and working it into my artwork. There are 3 different Nosferatu things in the works, all with very different tones. But the newest body of work is more based around making films and then extracting art objects or inspiration from that process. The other project is a TV Show that has dialogue and imagines this figure as a character actor.
It's funny how these influences can come together though.
Yeah, it's been fun writing both! I really want Johnny Depp to be the actor in it. I'm gonna meditate on Depp playing Nosferatu in the Château Marmont. Some of the drawings I'm working on are of the Orava Castle in Slovakia, where Nosferatu "lives". The original Nosferatu film was shot there. But I redrew it as the Château Marmont, as is appears on their hotel room stationery. So the Depp as Nosferatu character lives in what I call "Château Orava".
How did Nosferatu's voice develop?
I've always heard his voice in my head as slightly effeminate, with a very broken German accent. For the art film, I wanted to keep it silent, paying homage to silent film stars of old Hollywood, like Buster Keaton, Charlie Chaplin, and other slapstick comedians of the past. I was on Netflix the other day and there are a million comedians with standup specials I couldn't name one off the top of my head right now. Do they just hand out specials now?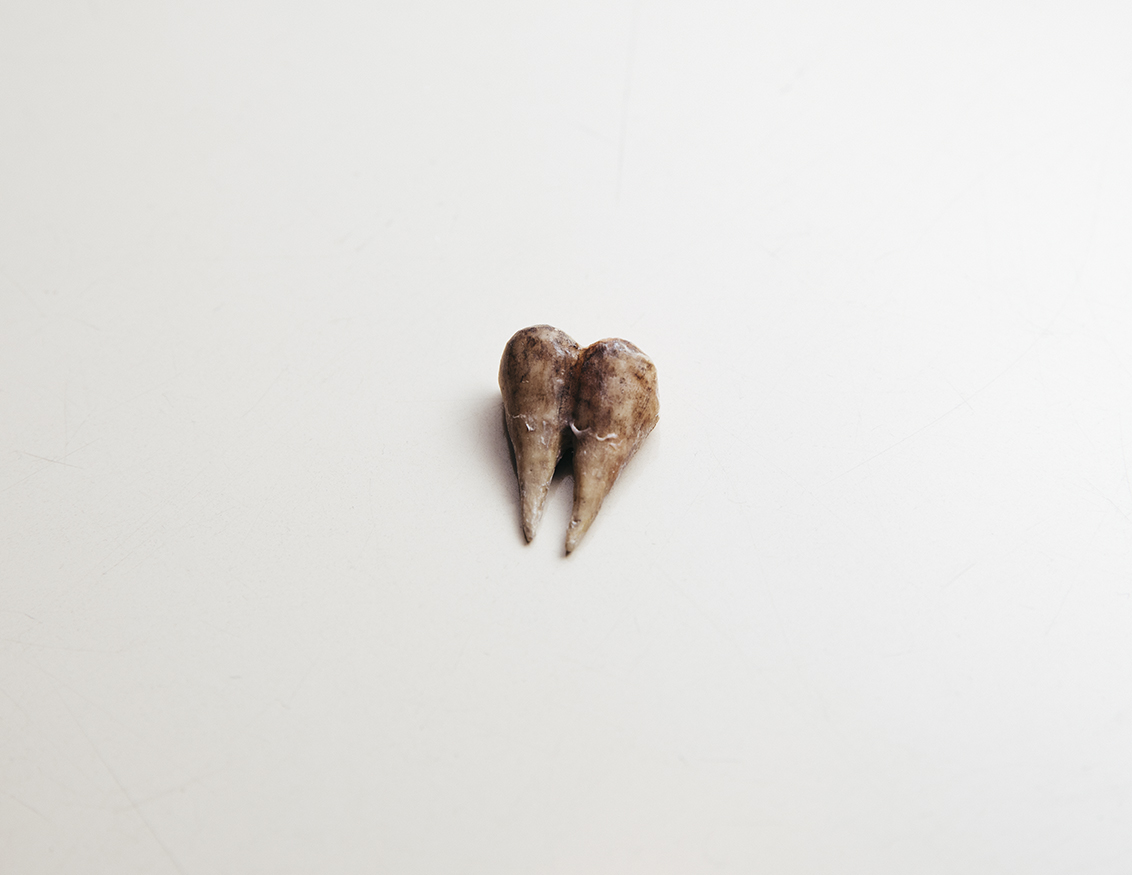 Kind of. It's harder for these things to matter these days. A special or a late night set doesn't necessarily rocket your career like it used to.
The Dave Attel / Jeff Ross one is great. I like angry old men roasting each other.
You're so ready to be an angry old man.
I was born an angry old man.
What is it about silent era/slapstick comics you love? 
It's physical. A joke about something in pop culture is of the moment. Stepping on a rake and having it hit your head will never not be a fun gag. But I do love standup. It's really an art. I could never do that so I have a lot of respect for you, and standup comedians in general, even if they're awful.
Have you ever tried? Gone to an open mic or something?
I did standup in my early 20's at a house party. Ironically, I have terrible stage fright so I just remember a few laughs or boos. I took an acting class over the summer to become a better writer, and to help with timing for my stuff. Theatre is tough work! I have so much respect for performers
Stand up is hard, and there's something to be said about the "purity" of it but there are a million ways to be a comedian today.
Right, whether its stage acting, stand up, improv, music, etc..
Though I do get in my head about it. If I sing or dance or incorporate props and characters into my act there's this voice in the back my head saying yeah but this isn't really stand up. So there are times when I force myself to have nothing.
I mean being up on stage stripped down and raw is the purest form of art. Watching the brain function in the moment, solo, as a spectator is fascinating. I can't imagine being on the mic end.
It's the best.
I tried going to an improv show a year ago and walked out. Too many thespians… but even that is such an art.
It's funny because to me your mind really operates like a comedian. It just goes into other things. You know what it means for an object or a video to be funny.
Maybe I should try stand up.
No, you'll hate it. You'd die.
Hahahahaha!
The humiliation, there's just no way around it. I've been so goddamned humiliated and embarrassed on stage. I feel like you'd get angry at the audience if they didn't laugh
I've always wanted to be a comedy writer, now I'm figuring out a way to incorporate my writing into my artwork and performance.
That's why your comedy thinking goes into art and writing, things you have more control over. Like, I'm not funny at all in writing. I don't know how that happens.
Right. And visually I know what's funny. I pay close attention to detail and I study people and environments all day long. 
Did you go to art school?
Yeah, I bounced around. I just wanted to learn everything! Painting, film, screen printing, screenwriting, fashion, writing, video art, cartooning.
I took a comedy writing class in college and loved it. After class, I would go and screen print clothing and canvas in the lab for hours, then I'd go home and make videos and write and draw or screen print into the night. I wanted to learn everything and anything about how to make art and how to be an artist, and New York was a great place to do and see it all. I worked for artists and fashion designers and it opened my eyes up to the business side of it all.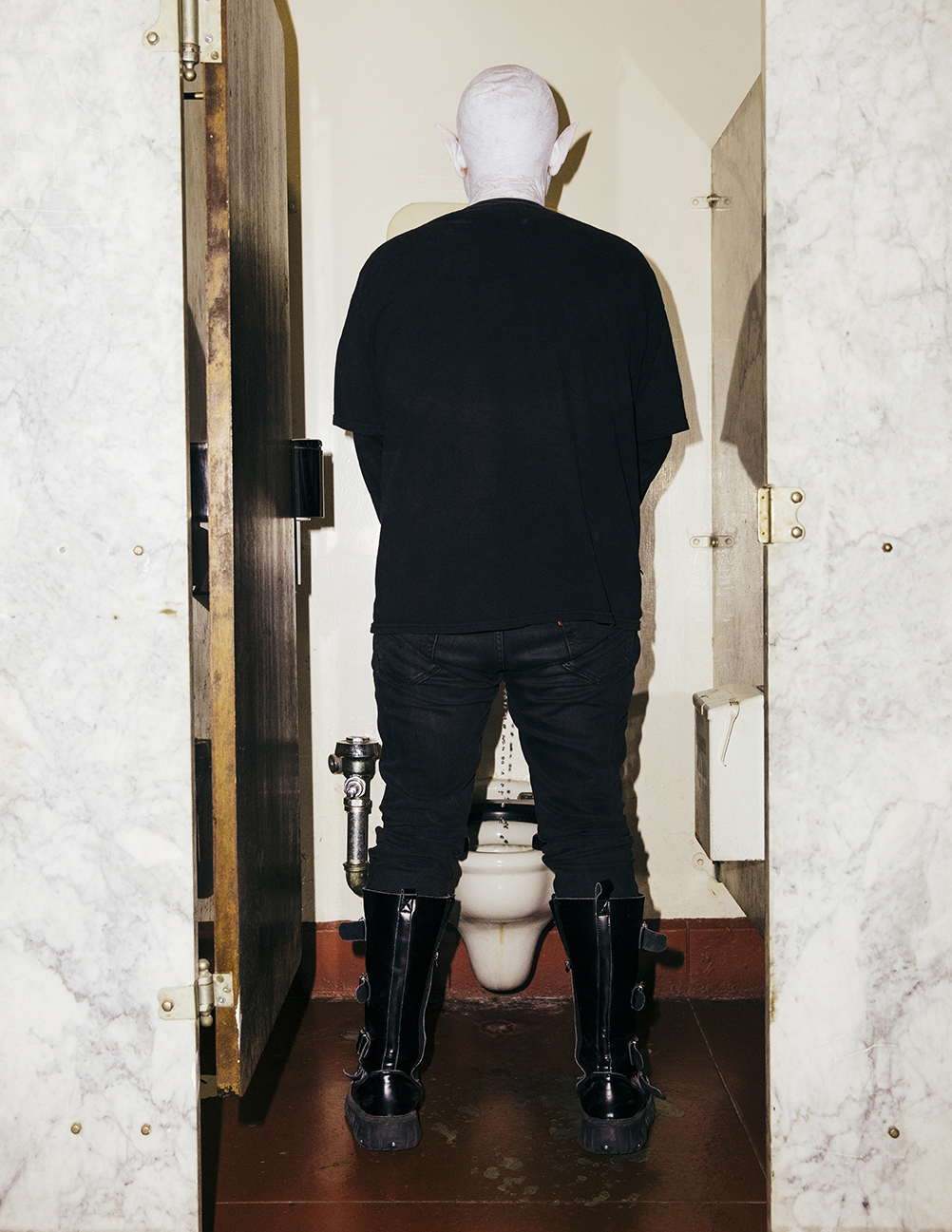 I think that's where culture at large is moving…. before it was about being a specialist, now it's about being able to create a world. Or a brand, if you want to be cynical about it.
I hope so. Why be pigeonholed into one thing? No fun in that. This morning I woke up at 5:30 am like I do every morning, worked on a script for a dark comedy TV show that I've been writing for a while. After lunch, I began painting and printing in the studio. I like to the freedom of doing whatever I want. Just keeping the mind active, moving like a shark. I don't really post what I'm doing on Instagram anymore and want to delete social media altogether. There's no mystery anymore.
This body of work that's emerging now, it seems like the first time all of your interests and mediums are really coming together.
I know! Finally. I wish I had more money to produce all these ideas, hope that comes soon.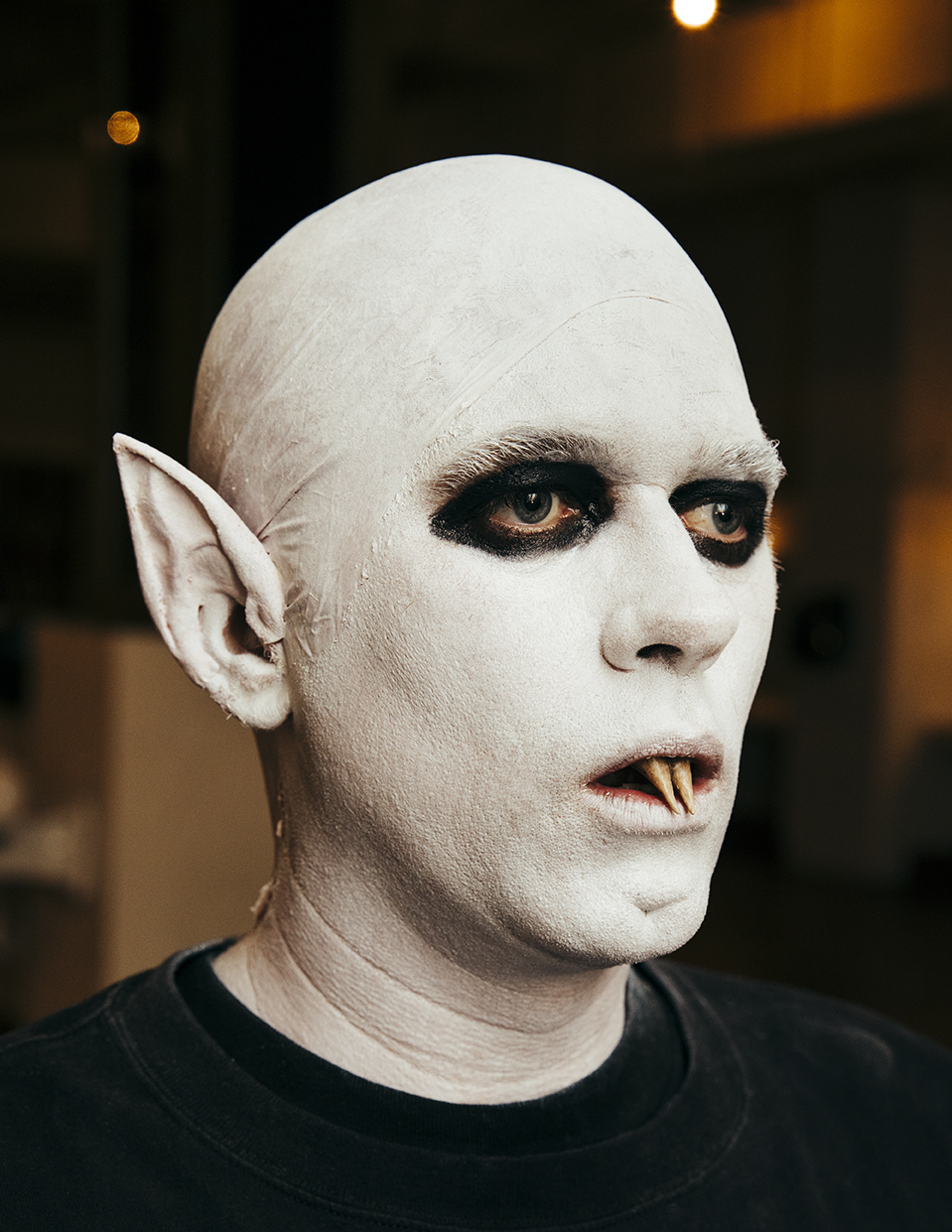 Is there a name for this body of work?
I don't know yet. I had one, but it sounded too pretentious.
Come on, what is it.
I Went to the Orava Castle and All I Got Was This Lousy Neck Pain.
Perfect.
Done. I gotta head over to Hollywood Blvd now.
For more from Brendan Donnelly, follow him on Instagram.
Photography by Adam Amengual.