Laura Berger is an innately curious and determined person. They're two characteristics that have not only furthered her growth as an artist, but also her ability to keep learning.
"Travel has probably been my biggest source of inspiration – I think all of the new experiences you have and sights you see get combined in your brain and filtered through your personal belief systems, your personality, your life history, and out of that comes something completely new."
Laura will open a brand new solo show, "The Sun Is Between Us," at Andenken Gallery in Amsterdam tomorrow, June 23rd. Artist and Andenken Gallery owner Hyland Mather, sat down with Laura prior to her show to tap into her creative process and motivations. 
You're a small town girl who now lives in Chicago. Have you been back to where you grew up in Wisconsin recently?  What's the vibe? Are you city all the way now?
Ha! Yes, I grew up in a town of about 50,000 people. It was decently liberal for a small town though, and I had a lot of good outdoor time growing up. My parents actually moved away from there after I graduated high school, and then my dad passed away and my mom and sister are now on the east coast so I haven't really had many opportunities to go back, unfortunately. I definitely feel like I'm someone who probably needs to live in a bigger city as I find it inspiring in so many ways, but the goal would be to also have some kind of escape option that's totally off the grid where my phone doesn't work and there are stars and friendly animals that aren't rats.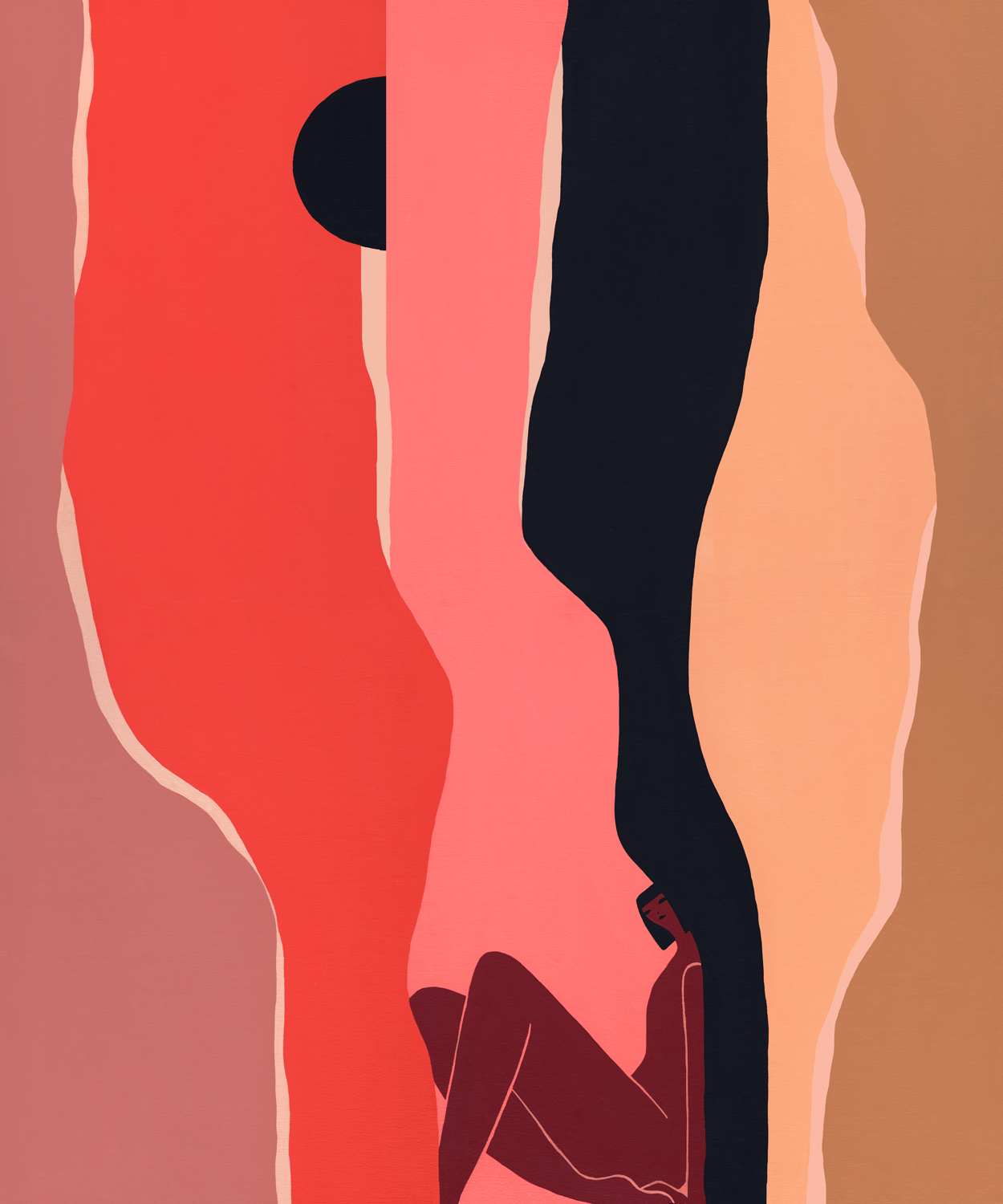 I've been doing my homework, reading other interviews with you, articles about you…etc. Stalking. You started your career painting theater sets after graduating. I'm sure these were pretty much straight up 'assignments' … paint a rough and tumble alley for Cats, or some island huts for South Pacific, hoards of proletariat for Evita, etc. Was it lame, or did you find some fun in it? Kidding; I'm sure it was fun actually. Have you retained anything you learned from stage painting in your current work?
Haha, you are hilarious, I'm laughing aloud. It was absolutely all of these things. Some lame, some interesting – like anything. At that point, I had no other professional painting experience and I was actually a performance major,  so being a visual artist for a living wasn't on my radar at all. So I'd say I still got a lot out of it.  My first real assignment was to paint this enormous replica of a French Renaissance painting that was going to be the backdrop of a production. I was in way over my head and had no clue what I was doing, but in some ways, it came kind of naturally. I fought my way through it and learned a ton – particularly about matching – being able to mix from scratch to get to the same color again if you run out of paint.  And about how long paintings take and how sometimes you might cry a little here and there.
You studied design at the University of Wisconsin-La Crosse also.  I think this is really clear with your stellar command of color in your work.  More on that in a sec. What about the illustrative components of your work, were you doing a lot of illustration when you were studying design? How does a strong education in design aide in your work?
Yes, my minor was in design, but also within the theatre department. So I was learning about costume design, lighting — that kind of thing.  But I'm sure I learned lots of things there that help me with my work now, too. I can see how the costume design thing links up with illustration, for example, with the figurative renderings we would do. But honestly, I'm mostly just self-taught. It's been a long, slow, weird process that has actually felt completely organic but has also been very uncomfortable in a lot of ways just because I was so often wading through the unknown or feeling so very inexperienced. I feel a lot more at ease in my process and work now, but it's been a long road. I'm a curious and determined person, so I think that has helped my growth as an artist and my ability to keep learning. Travel has probably been my biggest source of inspiration – I think all of the new experiences you have and sights you see get combined in your brain and filtered through your personal belief systems, your personality, your life history, and out of that comes something completely new.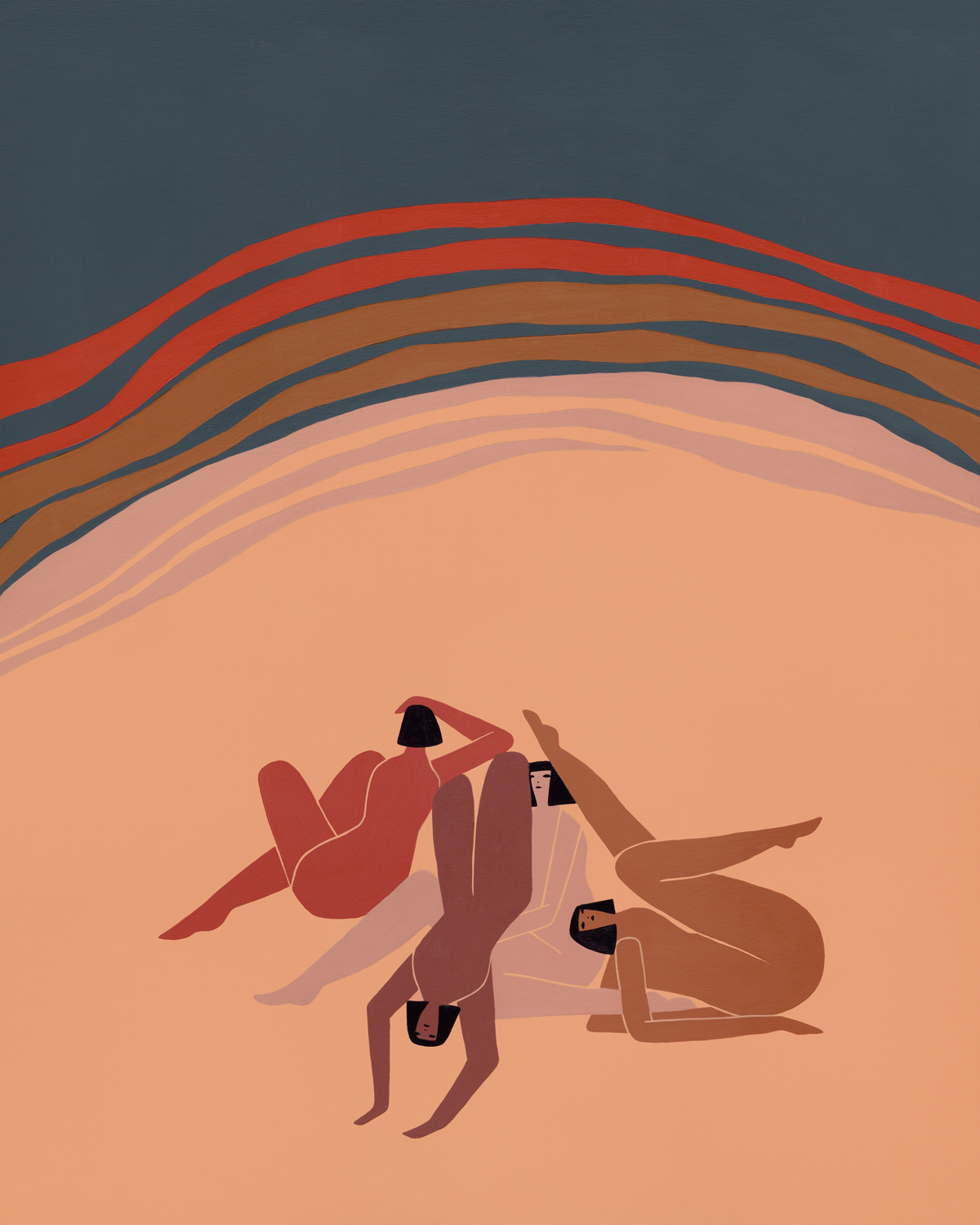 Speaking of illustration, your character style is so distinct and identifiable as yours. A very clear voice. That can be super tough for artists to develop. Have you always drawn this way, or did this develop over a long time and lots of practice?   Do you ever flub it and draw a character out of character? And why is everyone naked all the time? Why only women?
Oh man, no way, it's been a looong process, for sure. I think finding a style is just an extremely awkward process that happens naturally from several things: making a ton of work, much of it very bad; continuing to strive to learn and improve as an artist and also continuing to strive to learn and grow as a person. I think knowing who you are and having integrity is also important. And the most important thing to me is to express yourself honestly from a place inside. I can't really say where it is, but when I think about it I can actually physically feel it. Mine is in the middle of my chest/belly.  That's where the real stuff comes from haha. I guess I paint women because I'm a woman. To me, the figures represent myself and every woman, but they can also totally represent anyone at all. I'm honestly not really thinking about gender and mostly thinking of them as figures in the world. As to the nudity, I initially stopped painting clothing on the figures just because I wanted to be able to place my focus more on creating clean shapes and color fields; to make the work more minimal and the interactions more visually clear.  I don't really consciously think of the characters as being naked because there's not a focus on body parts and they're often really vibrant colors. That being said, I like how the idea of being free of clothing connects with these ideas of personal liberation and comfort that I'm working with a lot.
Back to the color thing. As anyone who has perused your instagram is well aware, you get a lot of compliments on your use of color. Deserved accolades I think. Talk to me about the development of palette choices for you. How do you arrive at color combinations? Is it a eureka moment? When you stumble onto a hot color combo does your mouth water? Do you do simple palette sketches before you begin work on the paintings?
Thank you!  Color has always been a really intuitive thing for me.  It's maybe the least planned, most flowy part of painting for me.  Also maybe the most therapeutic. I love color and it definitely makes me feel excited and inspired when I see cool combinations.  I use a few different ways of working, just depending on how clear I'm feeling on a painting. Sometimes I'll make a color mock-up on a sketch before I start to paint, and sometimes I just kind of go for it.  But that's not to say that I get it right immediately. I'll often change the color of something several times when I'm painting.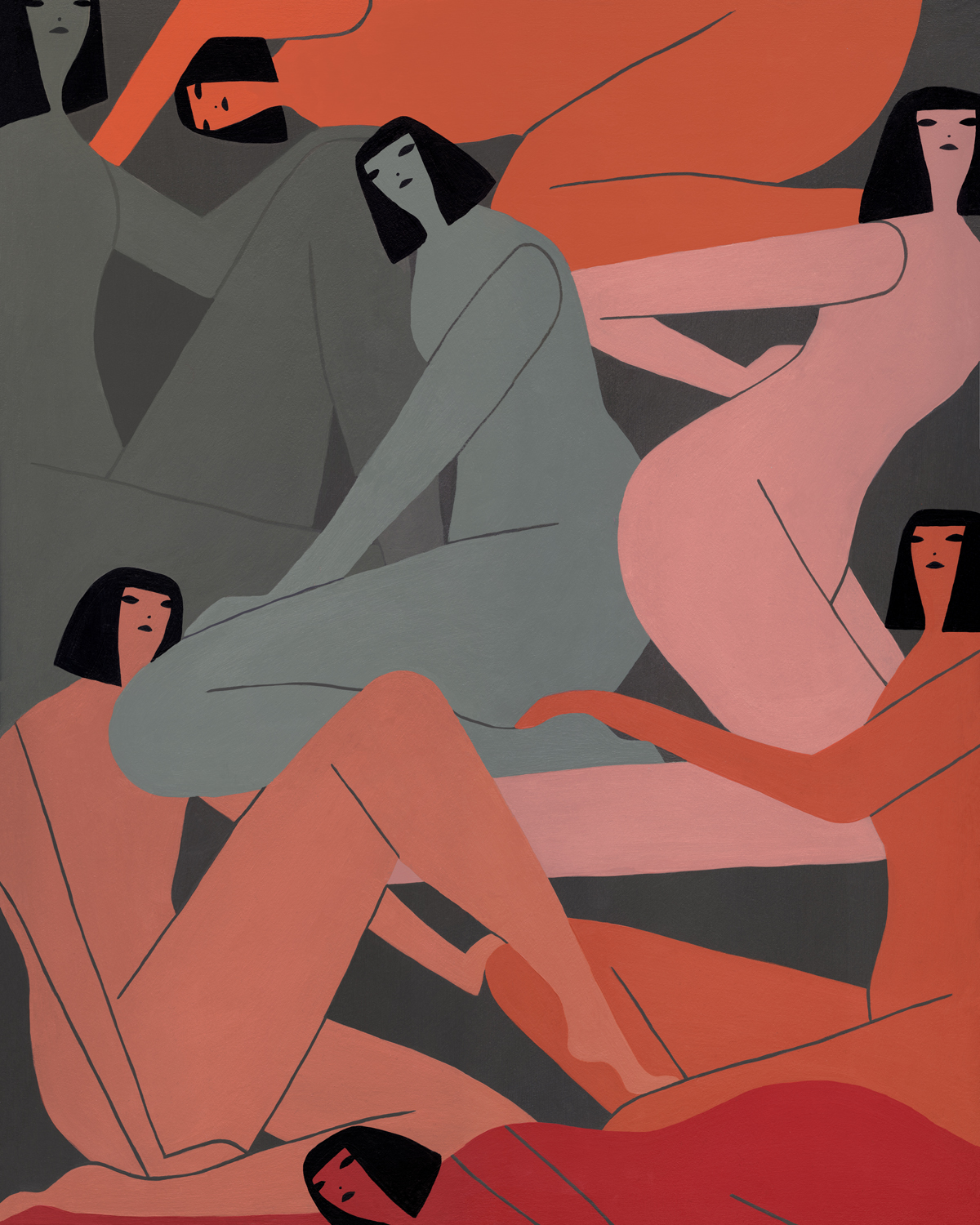 Let's talk about scale, recently I saw you made a mega mural for the Ace Hotel in Palm Springs. Nice job, BTW. Is this the largest mural you've made? Are you hungry for more murals now?
Yes, I think that was the largest one!  It was such an all-around positive experience.  I'd had a super rough month before that project came up, and it was exactly what I needed in many ways but especially creatively, so I'm really grateful for that universe gift.  And yes! I am indeed now also very hungry for more murals. If anyone reading this needs me to make them a mural, please let me know.
There is an ongoing theme of connectivity in your work; how people connect with each other, how people connect to themselves, how people connect to ritual and play and adventure. The characters being naked, for me, they do a cool bit of balancing act in my brain, they seem both vulnerable and confident. Certainly one of the real powers of painting is that the viewer gets to interpret what a piece means to her or him. But for you, what purposeful messages are you sending to society through your paintings?
I think to me the paintings are often about personal freedom and the ability to feel ease and a sense of belonging – with oneself, with their community, with their surroundings.  I have a tendency to get way too wrapped up in existential thinking and I struggle with the thought that we are all humans here on earth at this moment together having this insane mysterious life experience and we're all going to die… why do we waste time and energy hurting each other and being mean to ourselves?  I want to paint things that are an antithesis to this, at least in the feeling. I feel good painting things that feel sort of gentle or calming; it feels almost necessary, especially now.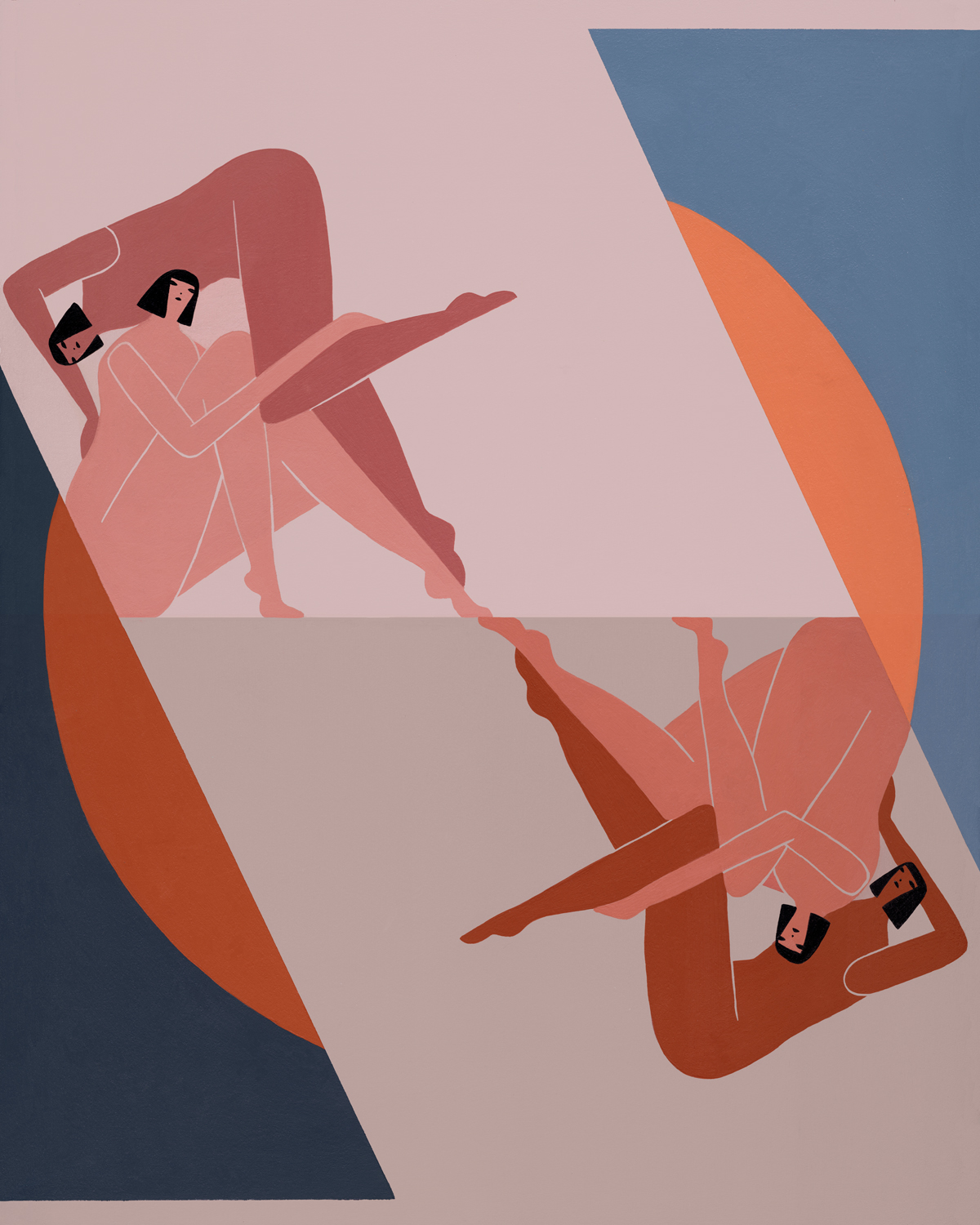 There's no 'tech' in your work, for the most part, no phones, no computers, no skyscrapers. This is a visual relief in a lot of ways from a culture obsessed with this stuff. Do you though, see some future, where 'tech' imagery plays a more upfront and important role in your work?  
Hm, that's an interesting question.  I think maybe my work is almost anti-tech?  It's more about the connections we feel on the subtle planes without any of that getting in the way.  I personally tend to feel pretty drained by our tech-infused lives and the type of contact we are focused on so I'm more interested (at least right now) in painting about the quieter, more energetic or internal things that seem to end up taking a back seat these days.  
Last question, let's say money was no hurdle, and time was no worry either…what is an ultimate dream art project for you?
To have an art studio that overlooks a beautiful nature place – let's go with the ocean – and to calmly paint a big new body of work at a leisurely pace interspersed with beach walks.  And I'd have my partner and a nice community of friends in close reach. I guess that's not really a project, but it's what I dream about a lot. Some international travel combined with mural work would also be really rewarding and inspiring, too.
For more from Laura Berger,  follow her on Instagram.