If there's anyone in this world whose future I worry the least about, it's my friend Emily Elizabeth Thomas'. She's one of the most motivated, driven, and ambitious women I know and considers her ever-evolving creative practice a limitless arena to share stories that promote female-positivity and challenge the gender binary.
Emily and I met the first day of freshman year at the School of the Art Institute of Chicago (SAIC) and instantly fell in love over fashion, filmmaking, and a shared desire to hustle hard and party hard. Throughout the course of our academic career, our classmates probably thought we were power hungry, overzealous, and slightly judgmental, but we saw our education as an opportunity to master our distinguished disciplines and weren't going to let anyone stand in the way of our creative development. Although our artistic interests didn't always run parallel, I always knew that her fevered and passionate attitude would give her the ability to make all her dreams happen, and they did.
Emily Elizabeth Thomas runs Jane Street Productions, an independent production company based in New York City that writes, directs, and produces original content that promotes inclusivity, diversity, and dedication to authentic, female-focused storytelling. Her first short film, Lola: Girl Got a Gun, premieres Thursday, October 26, at Ludlow House in New York City. I had the chance to chat with Emily about growing up in Texas, her directorial debut, and dreams for Jane Street Productions. Read my conversation with Emily below and watch the exclusive premiere of the trailer above.
Tell me about Lola: Girl Got a Gun and its conception? 
I think every writer has stories that haunt them at night. I have a lot of them, and sometimes they get too loud to ignore. Lola is a story that I have wanted to tell for a long time, I just didn't know how to tell it until now. At the center of Lola's narrative is a gun, and a young girl. This story is about what the girl does with the gun, the power that it gives, the innocence that it takes away, and ultimately, the pain that it inflicts. Shocking – when I was a kid growing up in Texas, I wanted a gun. I wanted it to be bubble gum pink, with roses painted on the side. I think I thought it would give me power that I didn't have, and I didn't yet know the trauma that guns cause. I became a woman, and I figured out that my power lies elsewhere. Not in violence or in mechanisms, but in intelligence and grit. I'll never own a gun now because it doesn't fit my politics or who I am as a human. The gun I wanted as a kid is the Lola gun, and I developed a narrative around it. It's heavy, but also incredibly vulnerable. It was a long time coming, but I had to be the exact woman I am today to tell this story, which took time, study, and courage.
How did growing up in Austin, Texas inspire the look, feel, and tone of your film? 
I'm very proud of my Southern roots, and I wear it like a badge of honor. I've got a lot of New York City polish on the outside, but it doesn't conceal the rowdy Texas girl. Lola was created in true cowgirl style. Not the kind of cowgirl that rides a horse or swings a lasso, but the kind that will never be a damsel in distress, takes her life into her own hands, and is very used to being underestimated. I wanted that power to ooze out of everything. We shot Lola on location in La Grange, Texas in a tiny yellow farm house. We initially tried to avoid shooting in Texas because of the expenses. But eventually my producers were like "we have to put her in Texas!" They knew that if they got me there, I would just light on fire in the best way. My accent came back in exactly 5 minutes, and I would only wear cowboy boots on set.
The look of Lola was a collaboration between myself, director of photography Nadia Gilbert, and production designer Laura Gordon. I gave them the script, color palette and said "we're going to Texas, we're shooting scenes at dusk, and let's go!" and they couldn't contain themselves. Lola came to life very quickly, because they really understood what I was trying to do emotionally and creatively. They see me in a way that most people don't, and they supported the vision without doubt. That's when magic happens.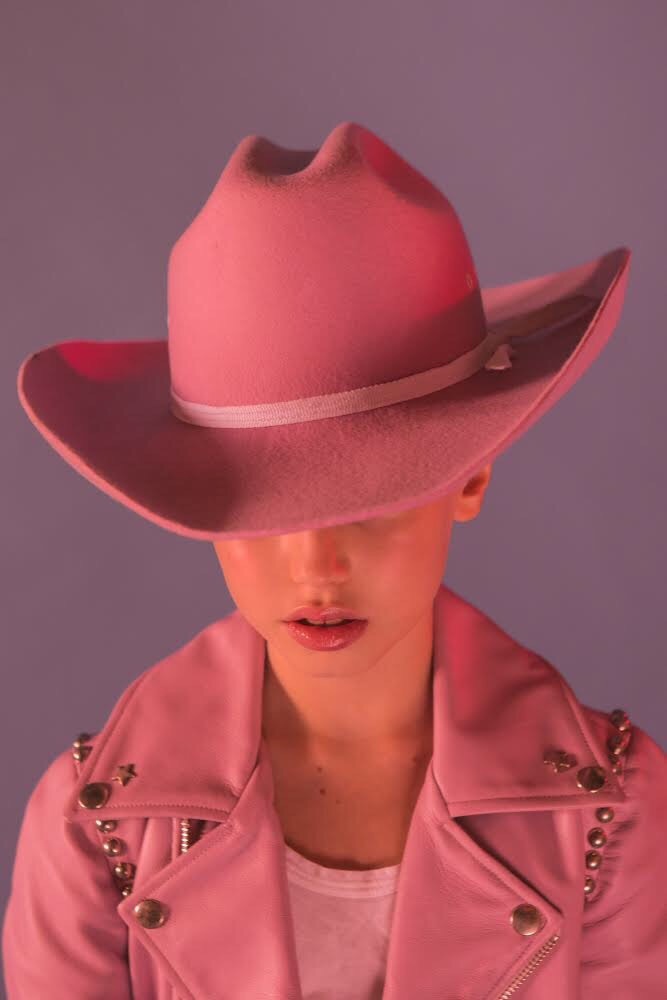 How did your role as a writer differ from your role as a director? 
I approach the roles of writer and director very differently. My creative self began with writing. I think I'll always feel more like a writer than a director, even though the role of director carries a heavier stick. But the writing, man, that's where the soul of the thing is. It's an extremely personal process for me, and it's always difficult to let people into it. It feels very solitary to me, and I don't always know exactly how I do it. I was put on this Earth to write; I know that much. But I've definitely caught the directing bug in a major way. I love it, and I definitely can't stop. It's much more wild than writing – like you're just jumping off a cliff. It requires me to be ballsy as hell, but at the same time concise and focused. Working with actors is a huge part of it. I'm responsible for wrenching these characters out of them, but it's also my responsibility to take care of them as humans. Lola is very dark, and we casted a 9-year-old actress named Edie Yvonne. She's a wonderful kid, so smart, intuitive and brave. But, you know, I put a fake yet very convincing gun in her hands and asked her to shoot it. That's terrifying, and she had to trust me completely. I built really special relationships with all my actors, and we crafted the characters together. Justin Arnold, an amazing talent who we casted as the Dad character, plays a very dark role. He's one of the kindest men I've ever met in my life, and we had to figure out, together, how to get him into a very dark place. We sequestered ourselves into a room with the script and just gutted ourselves. We were very honest and vulnerable. I had to show him that I was willing to go dark with him, and that he wasn't alone. That's directing. Jeez, it sounds like masochism. It probably is.
Tell me about Jane Street Productions! How and why did you establish your own production company and why is it important for you to write, direct, and own your own content? 
Jane Street Productions is both my biggest dream, and the scariest thing I've ever done in my life. My producer Anna Bjerke and I make up Jane Street, and we are an indie production company that makes content by and for women. We hire equal male/female crews, and we care about story and craft above all. We believe very strongly in the power of film, and we want to offer audiences female-driven narratives to believe in. I'm the CEO, but I'm not the producer. I leave that job to my other half (which she does brilliantly). I'm the artist, and I have a say in what's done with my art. I get to have a hand in creative directing my own brand, which is extremely empowering, and very abnormal. Let me be very transparent. I'm in my 20s. I'm young. But at the same time, I've lived a really big life. I've given myself very little rules, and if I want something, I go and get it. And I get the "Oh but you're so young! What do you know?" thing a lot. But I'm out here fighting really hard to do what I love, and just because my age starts with a 2 doesn't mean I don't have something to say. Anna and I were both raised by entrepreneurs; it's in our blood. I write, direct and own my work because I deserve to, and I'm not afraid to take risks. Anna produces the work that she believes in because she deserves to, and she's bold. We're very unapologetic about it. We have a really long way to go, but we're getting there come hell or high water.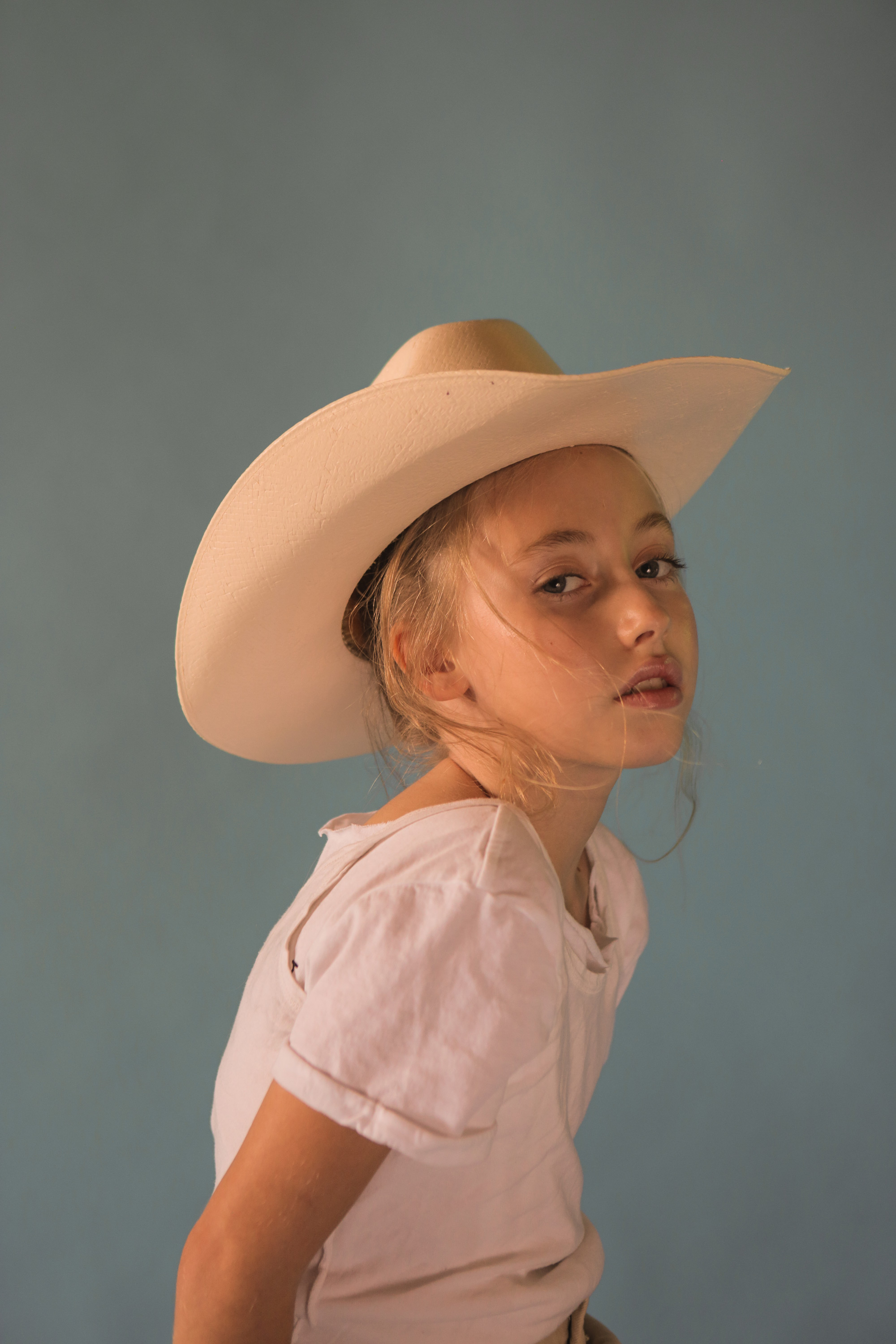 Tell me about your collaborators and working style on and off set? 
Total honesty about this set – it was absolutely insane. It was hectic, we were in 100-degree heat with no air conditioning and so many things went wrong that were totally out of our control. But every single person pushed themselves harder than I've ever seen a team push, and we made something really beautiful. My biggest thing is always just to show the team how much I care, show them that I'm there for the work, not for my ego. Show them that I'm willing to get in the dirt, carry equipment, and be their ally. Which I am. I set the tone for this set in a very intentional way. We were going to work hard as hell and it was going to be magic, and nothing else. Every single person rose to the occasion. I am very grateful. When we wrapped I literally collapsed into the arms of my producers. It was one of the most validating and humbling experiences of my life – that a group of talented people would work this hard and push this much for a vision that came out of me. I admire, respect and love every single person that worked on this film. Which, to me, is the most important part of being a leader. If my team feels heard and respected by me, then they're going to bring their best selves into the room, on and off set. Making art is hard. It's not for the meek and nobody can do it alone. So I suppose our working style is just… ride until the wheels fall off. And then put the wheels back on with gaffer tape.
As a young female director, is it important for you to create female-centered films? 
My work represents my perspective and my worldview. I believe in equality, inclusion, and that all aspects and facets of the human condition should be explored through art. And that's it. If you're looking for an artist that will be part of continuing the same narratives that we've been seeing over and over again for decades, I'm not your girl. I won't participate in that. Which is a hard line to draw in the sand in this industry because it's so competitive and cutthroat. It's hard because it matters. I want to see interesting, complex and multidimensional women on screen. We deserve for our life experiences to be reflected truthfully in culture, and it's up to us to make the work that we want to see. Nobody is going to do it for us. I'm just working towards being a part of the next wave of female artists that do just that.
What's next for you and Jane Street Productions? 
I've been writing a lot. I just finished another short script that we're hustling pretty hard to get into pre-production. I'm starting to develop a feature script, and planning some smaller projects on 16mm film. We're grinding very hard to get Lola launched, and out into the world. We're working on getting into the festival circuit. Fingers crossed!
We have a lot of grand plans for Jane Street, and we're definitely playing a long game. We put everything we have into what we're doing, and we get a little weary sometimes because we're human. But never enough to stop. We gave ourselves a chance when nobody else would. Sometimes you just have to bet on yourself, and put blinders on.
Lola: Girl Got a Gun, premieres Thursday, October 26, at Ludlow House in New York City.