Boston-based artist TJ Kelley III is learning to roll with the punches. We've all agonized over things that are out of our control, but sometimes it can be hard to accept life's curveballs. Over the years, Kelley has come to realize that being flexible and accepting the chaos can, in fact, be quite freeing and often leads to a more present existence. 
In his latest work titled PARADICE, Kelley explores these themes of balance, challenge, and chance with a collection of vibrant paintings and sculptures. Each piece is made up of multiple panels grouped together, featuring everything from a cheeky banana peel to a flaming house of cards. The playful pieces draw the eye with their vivid colors and provocative images, but it's the relationship between the panels that will really get you thinking. 
PARADICE is currently on display at Distillery Gallery in South Boston. We chatted with TJ Kelley about the show, his organizational process, and how a serendipitous day in Costa Rica inspired this work.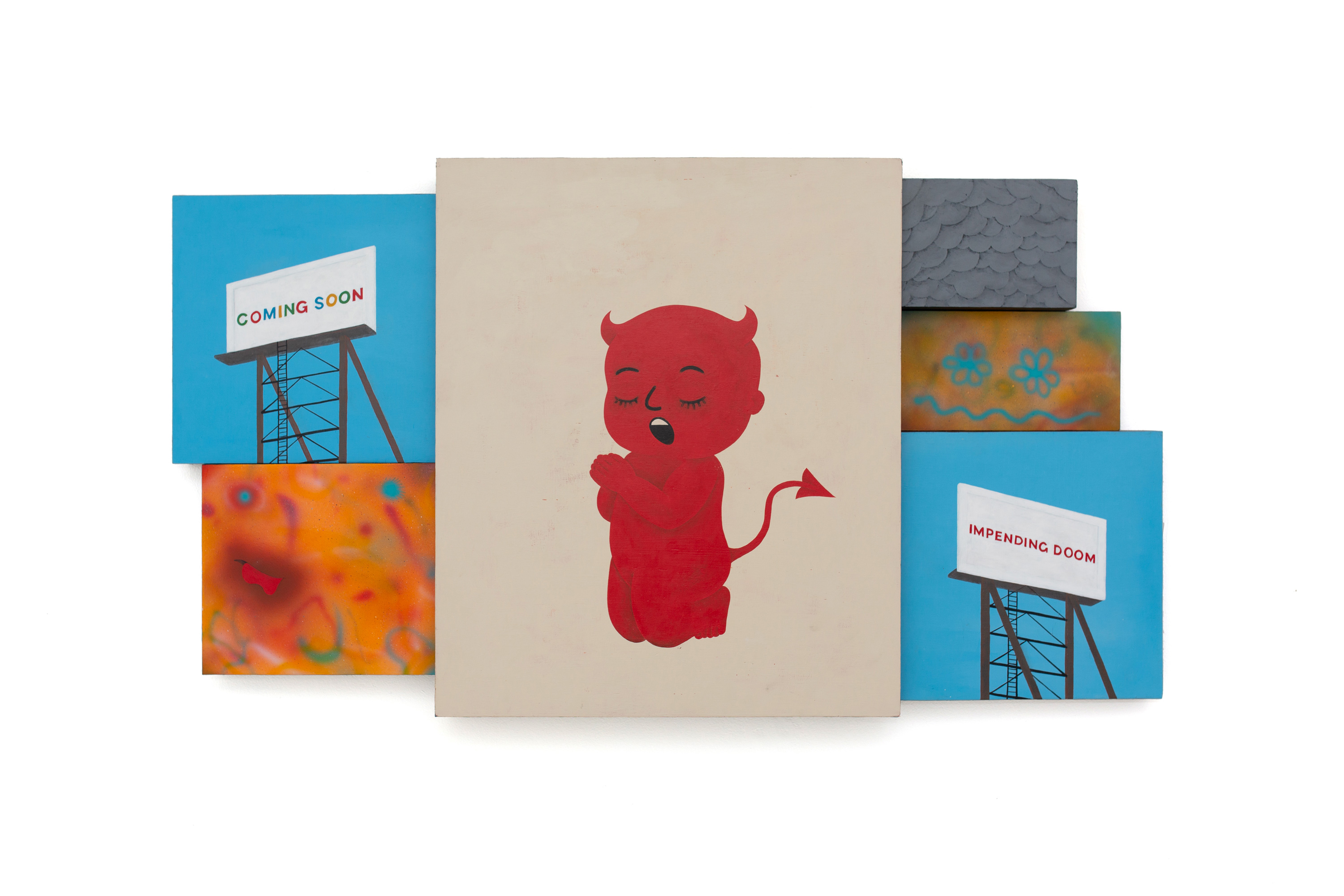 PARADICE is centered on themes of balance, challenge, and chance. What drew you to these themes?
It's just life to me, finding some balance in all of the challenge and chance. I think these themes closely relate to my own battles in the studio lately. My work can be so laborious to plan and prepare sometimes that it feels daunting to even begin. For this show, I really had to find a way to organize all my ideas and dozens of cradled painting panels floating all around the studio, but also give myself plenty of room to make split-second decisions about colors and imagery. The result is organized chaos, which is something I'm becoming more comfortable with.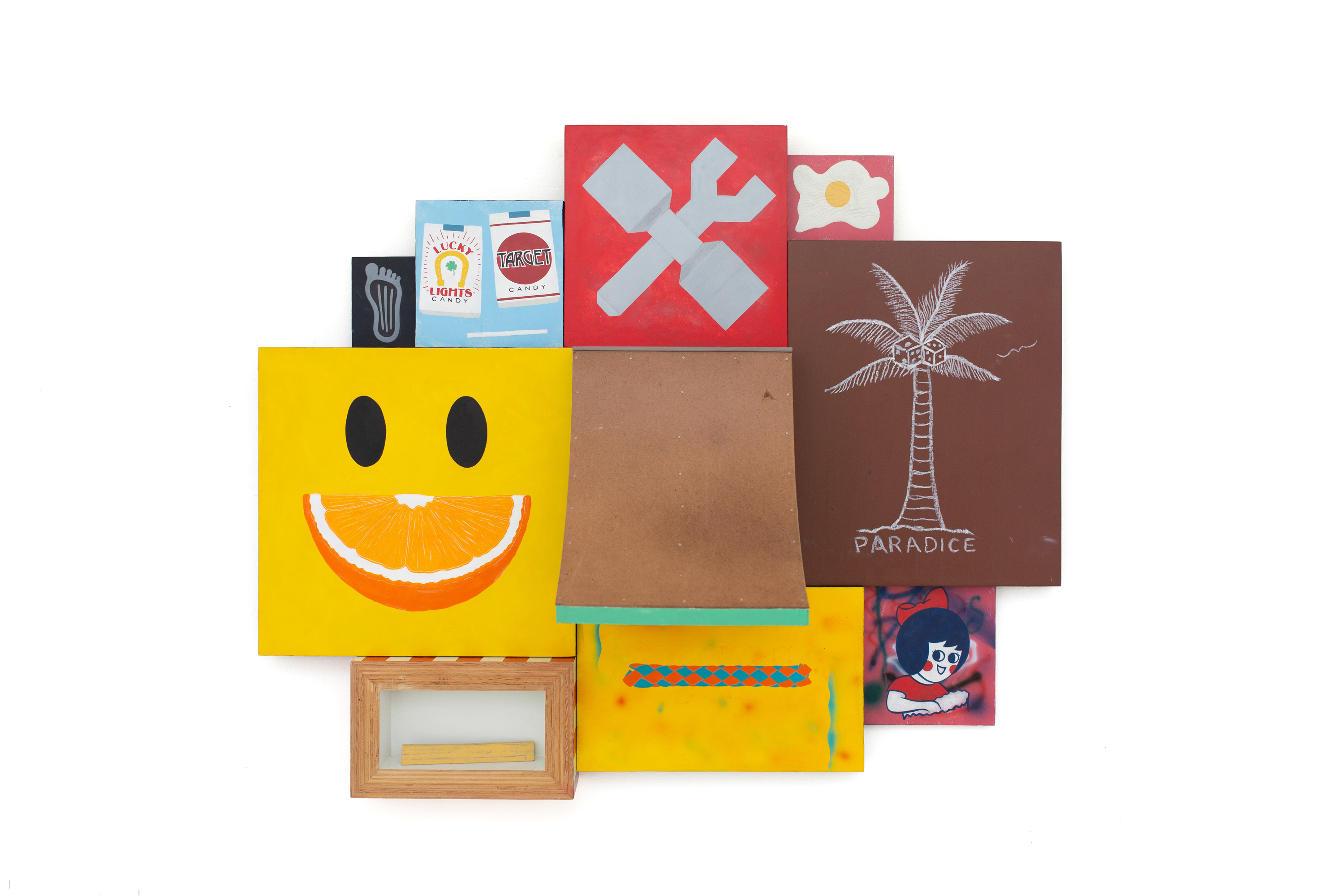 How did you choose the name of this show?
It was a little idea that I had drawn in my notebook, the palm tree with dice instead of coconuts. I went to Costa Rica to surf with friends and spent a few days at the end of the trip by myself. The day my friends left I was so bummed for some reason. I went into town and ate breakfast, and then went to the beach to have a coconut and stare at the water for a while. Divine intervention came in the form of a stranger walking up to me holding a freshly lit joint. We smoked and stared at the water and talked about our lives and the surf and whatever. He told me this horror story about a lady who broke her leg and had to spend a fortune to get airlifted to San Jose for medical treatment. We parted ways and as I was walking away I stepped on this 4-inch long tree thorn that was buried in the sand. It went straight through my flip flop and just poked the bottom of my leathery foot. Close one! Whether you're on a beach in Santa Teresa or a crosswalk in Boston, your path can be changed in an instant, and it's totally random and out of our control. Fuck it! That day I realized that I had to make another show. I started drawing in my sketchbook on a lonely stretch of beach where I came across that palm tree sketch and wrote PARADICE underneath and it totally clicked.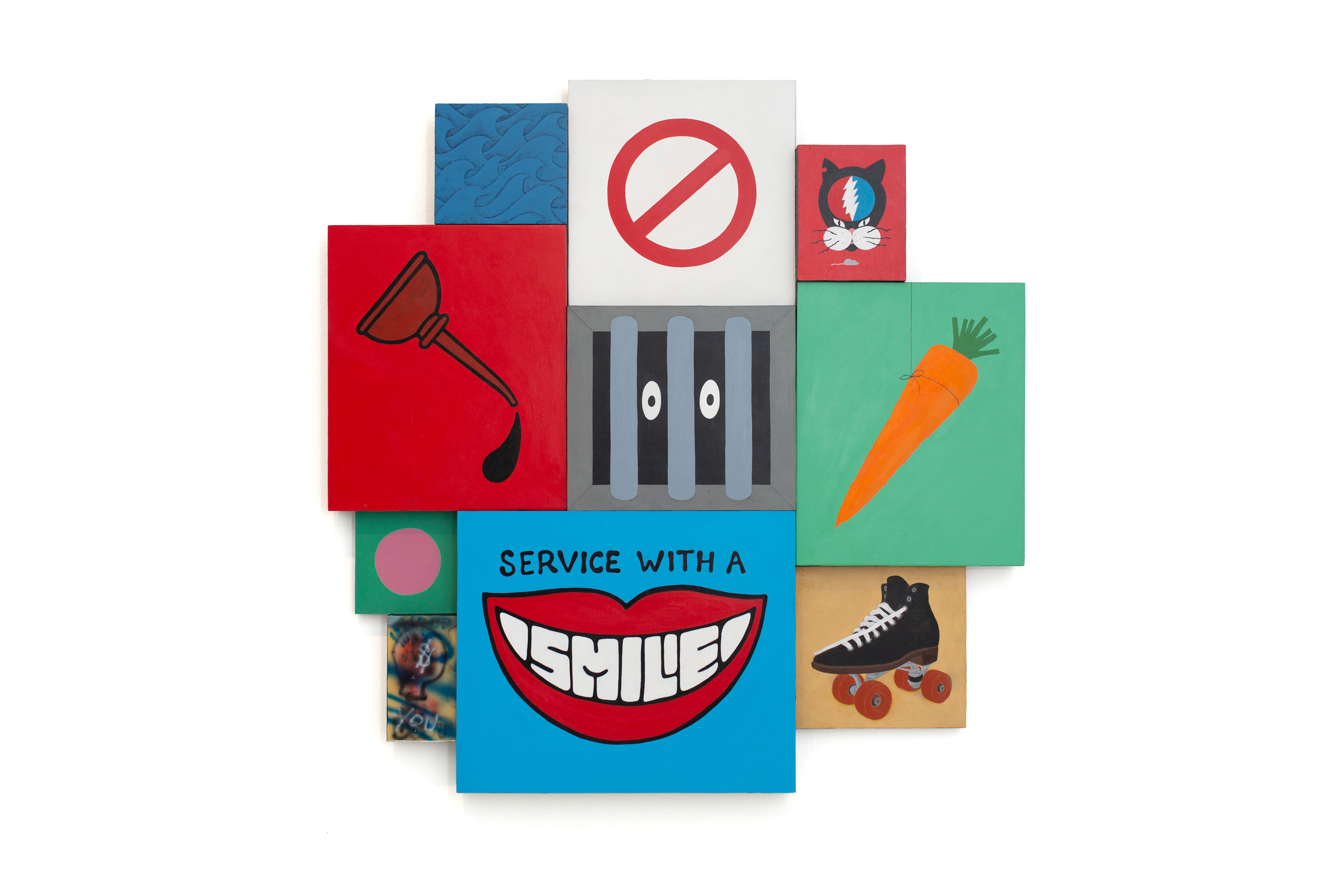 In your artist statement – and even in the title of the show – you talk about accepting and embracing that many things are out of your control. What was learning to let go like for you, and where would you suggest others start?
It's an ongoing process. I have a tendency to over-plan things in my life and in the studio. When I'm really busy I try and maximize all my time and get as much done as possible every day, but I always burn out so fast. When it stops feeling creative I end up wasting all this time expecting myself to be productive, but really I'll just sit there and stew. Then if something comes up and my calendar goes into disarray, I freak out! I had to learn to loosen up, to be more present and involved with the people around me. A lot of it was learning ways to ease my own anxieties, but also setting reachable goals, managing my workload and having my grand dreams but with realistic expectations.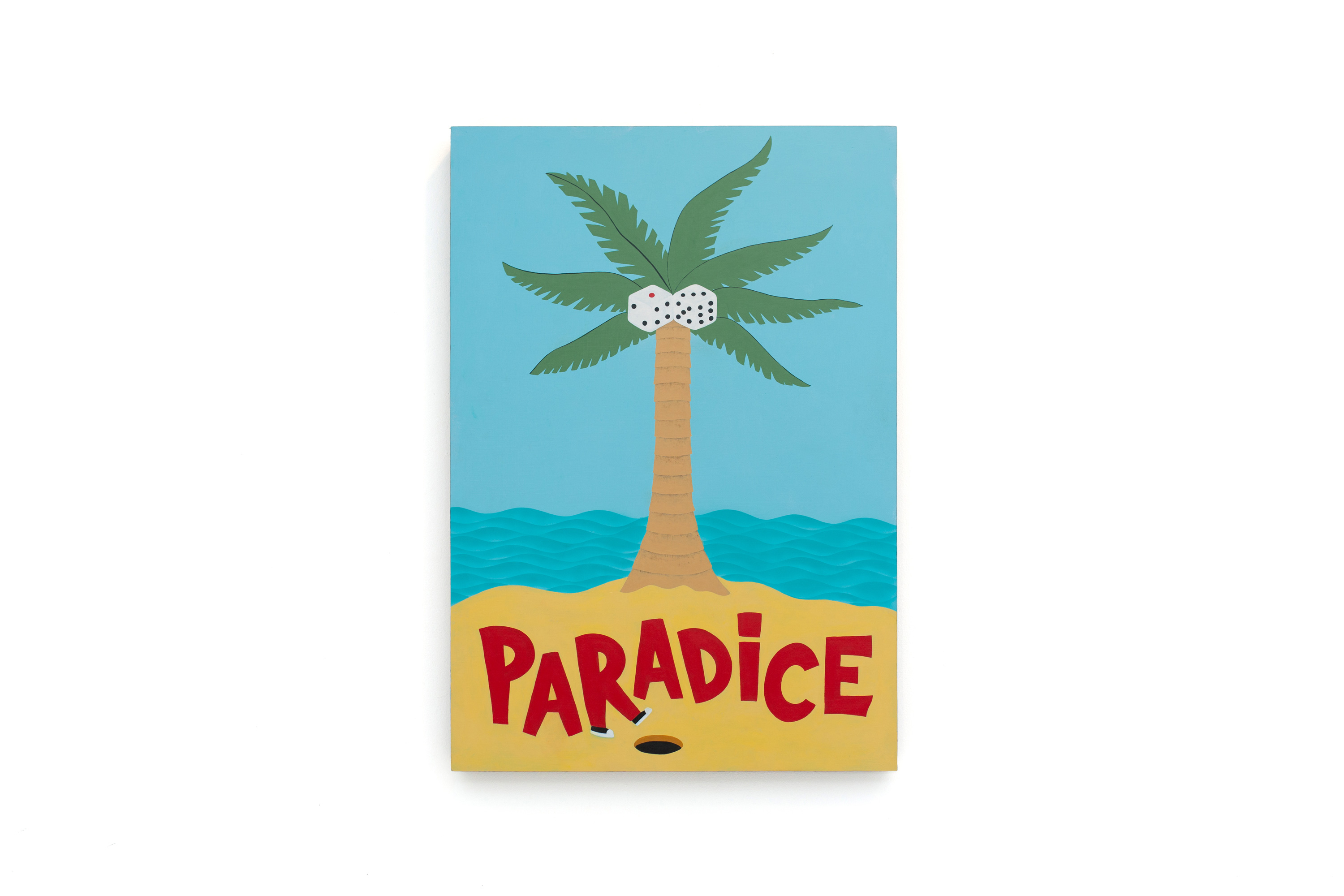 Your pieces are assembled into formations that viewers can formulate their own stories about. How do you decide which pieces will be grouped together? 
Usually, I'll have a panel that I'm really excited about and I'll try to find another that bounces off of it in an interesting way. When I think of an idea there are usually a few related ideas that follow. What I'm interested in most is painting objects that have multiple meanings or objects that are seemingly meaningless until they are placed next to another object. I like to find charged relationships and ways to let meaning bounce back and forth in the viewer's mind. Usually, there's a story that forms with the first few panels and I'll find others that inform it, or I'll come up with a few more ideas from those first few and I'll assign them to blank panels that fit with the assemblage. It's a bit of madness, but it leaves lots of moments for me to make really exciting connections with the panels. It takes quite a bit of work to get to that point, but it's a process I enjoy and it's at a point now where there are so many panels kicking around in the studio and a lot of exciting connections to be made.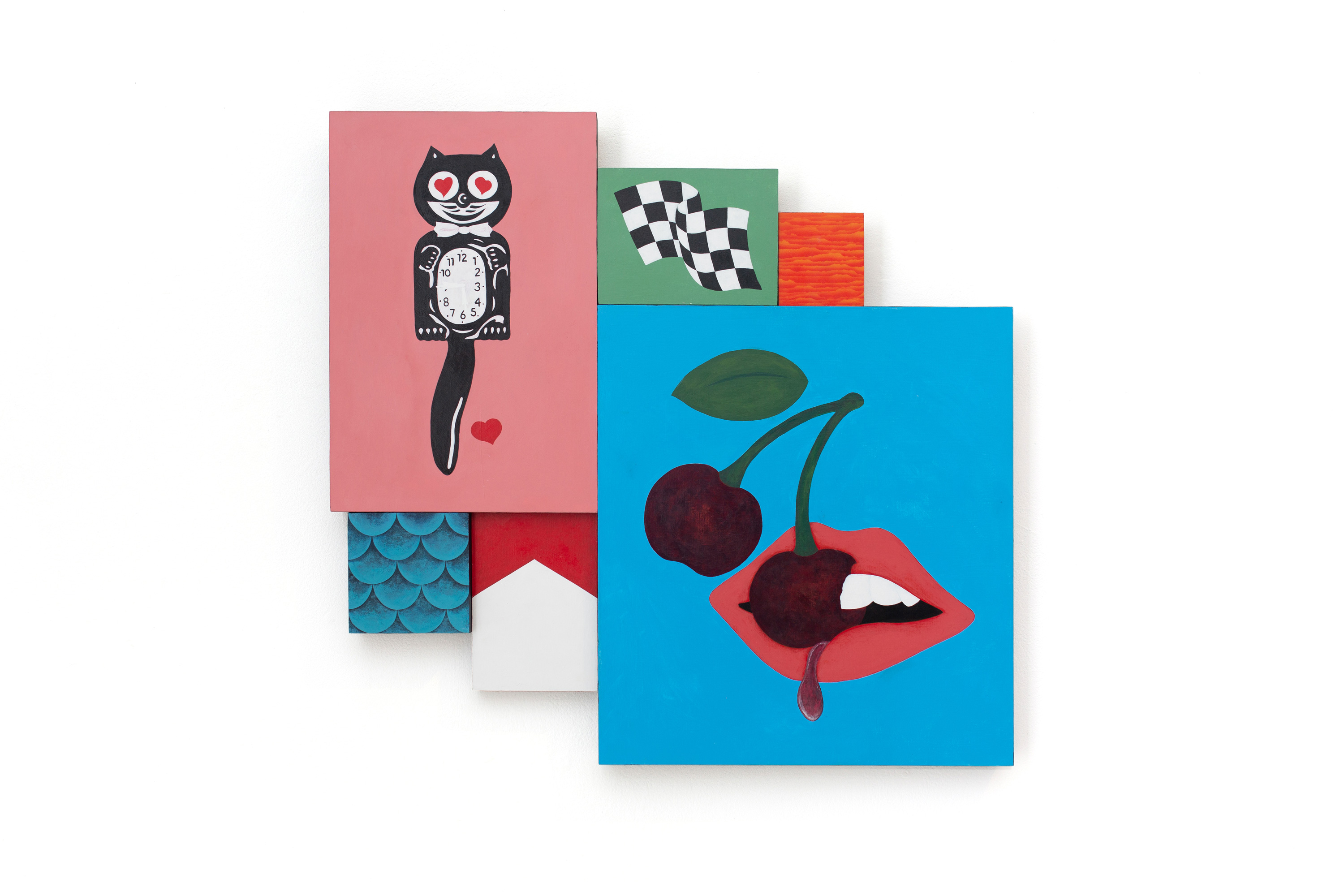 You utilize a bright yet limited palette, and many of the paintings have an element of humor and playfulness. What influences these stylistic choices?
I am fascinated with color layering in silkscreen and color lithograph printing and how those methods have been utilized to disseminate ideas, advertise various offerings, and to make fine art. Printers find such clever ways to use color economically through layering and transparency and strong color relationships. Sister Corita Kent made such great use of silkscreen in her work.
Humor and play are so inviting to people. Art can be inaccessible to those not well versed in the language, so I enjoy seeing work that isn't so intentionally challenging towards the viewer. I had this great experience in Kansas City at the Nelson-Atkins Museum. They've got a bunch of Claes Oldenburg shuttlecocks for badminton on their sprawling lawn and it was covered with fresh snow. It was dusk and the sky was beautiful and I just waltzed around the show with these giant shuttlecocks and it made me feel like a kid that had been shrunk. 
One of my main influences was growing up in a beach community. Salisbury Beach, Massachusetts in the summer is a melting pot for so many different kinds of people, all sharing the strip on Broadway in search of play, indulgence, and/or debauchery under the pylons of the oceanfront venue where Sugar Ray plays every summer. The gnarliest bikers eating cotton candy on the boardwalk, kids begging parents for quarters to play games in the arcades, carnies yelling obscenities, everybody eating beach pizza and fried dough and ice cream and just strutting their stuff. It's just so great to watch people share that public space.
The food stands all have this amazing variety of signage and architecture. A bizarre mix of low-res computer graphics and hand-painted, plastic formed, vinyl and electric signs take up all of the available space on the facades of the stores, and Happy's Fried Dough looks like a stone castle with Happy himself living on the 2nd and 3rd floor. I watched Pirate's Fun Park transform from a derelict theme park into an abandoned lot with dangerous, old structures to explore with tons of old toys and posters and other leftovers to raid and now to row upon row of beach condos. I worked in a little shack squeezed between Joe's Playland and Willey's Candy where I painted faces and gave temporary tattoos during the summer. I really think that's where I got good at wielding a brush. Mrs. Helen the palm reader had like 17 kids living in her house and they would spend all day hanging out with me getting free face-paint and tattoos and trying to steal my tips and watching Willey make saltwater taffy. It's a really beautiful place.
Do you have a favorite piece in the show? 
Right now it's "No War for Crude Oil". The colors really work in this one for me, and the story keeps jumping back and forth in my head. My cousin Ben gave me the idea for the skull in the beach chair, which I thought was perfect since we spent so much time hanging out and growing up on the beach together. The character tipping his hat is named Stan Hatoff, and he has a gas station in Boston where I fuel up and buy scratchers, almost exclusively to see him. '"Gas is gas!" Says Stan' is painted on the edge of the canopy above the pumps. It was July when I painted this and I was eating a lot of strawberries.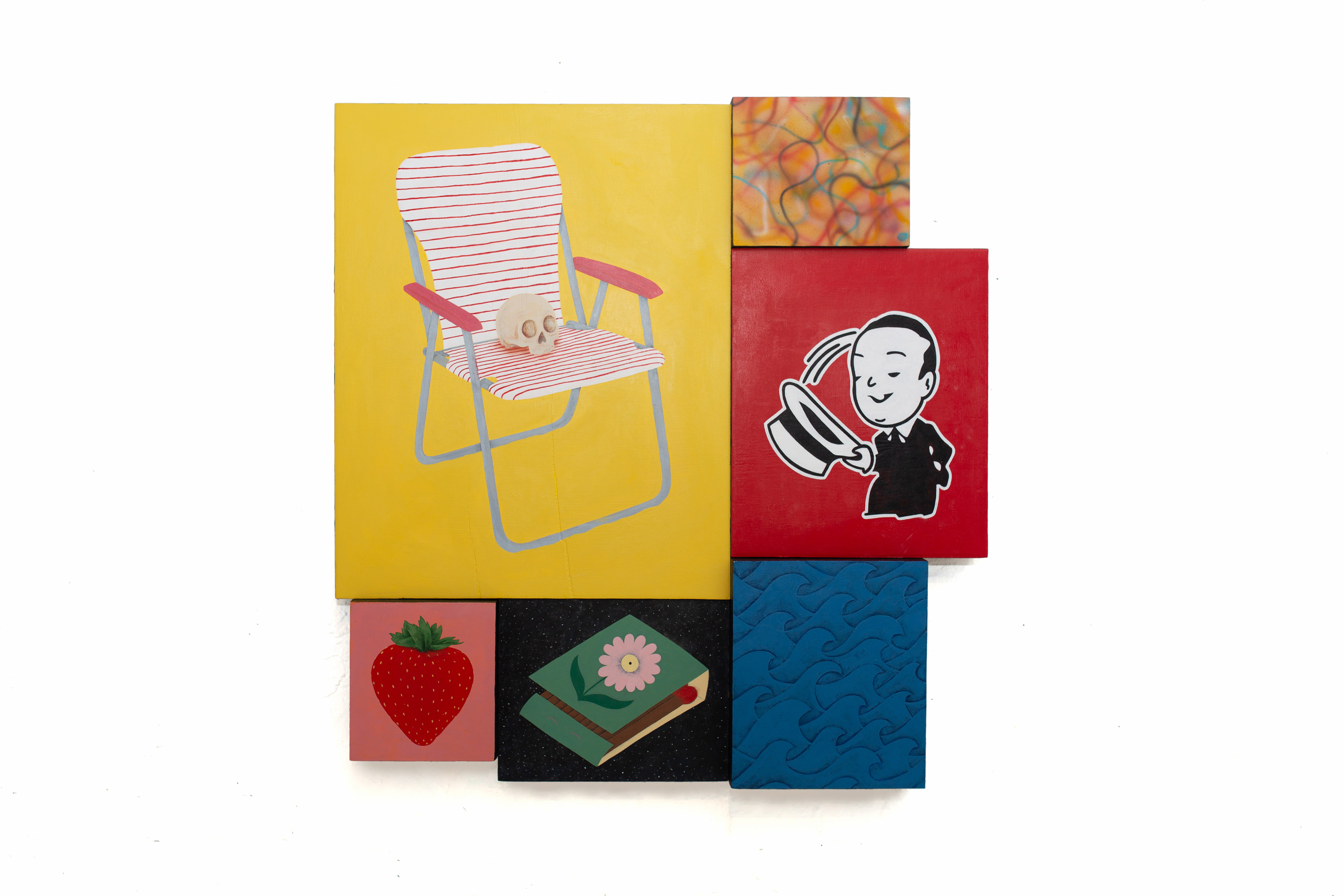 I feel that Stan has really a charming pose here and reminds me of all the great graphic design that gas companies can afford. The skull in the beach chair makes me laugh but also makes me nervous because this person is very much dead. Maybe they died from chilling too hard, which is funny but also reminds me of burning out. The matchbook feels ominous. The waves and the squiggly lines are both chaotic, but one in a playful way and the other in an atomic way. There's something about a snake oil salesman and a person trying to enjoy this world and the systems we live in before our inevitable oblivion.
Don't miss the PARADICE closing reception on Friday, September 20th from 7-10 pm. Armin Bachman of Orchard Skateshop will be spinning records all night, and the Gavin Foundation will be providing information about substance abuse treatment services and NARCAN training.