The line between what is beautiful and what is sinister seems to be where artist Lucas David feels most comfortable. The 24-year-old, Los Angeles-based multimedia artist creates stunning portraits of young and beautiful models and musicians including Lana Del Rey, Ali Michael, Sky Ferreira, and Taylor Momsen to name a few. Behind these beautiful portraits is a layer of wickedness and gore — their faces often strewn with blood, eyes red, mascara streaming down their face. It's a controlled chaos, one that remains beautiful.
David, who has been creating and sharing art on his Instagram for years, didn't expect the serious traction his creations would get — raking in over 100,000 followers, and getting reposted by some of his muses like Momsen and Ferreira. Since then, Lucas has been commissioned by artists including Courtney Love, Frances Bean Cobain, and Miley Cyrus.
I sat down with David to talk about all things, art, music, and his collaboration with The Ramones.
Hey Lucas – you just collaborated with The Ramones! How did that all come about, and how was the experience of creating art for such a legendary band?
Linda Ramone herself commissioned a couple artworks from me for the Johnny Ramone tribute, and for the Ramones Exhibit which was fun.The Ramones have always been one of my favorite band, so it was a big deal to relate to them with this event – I am looking forward to doing more stuff with them.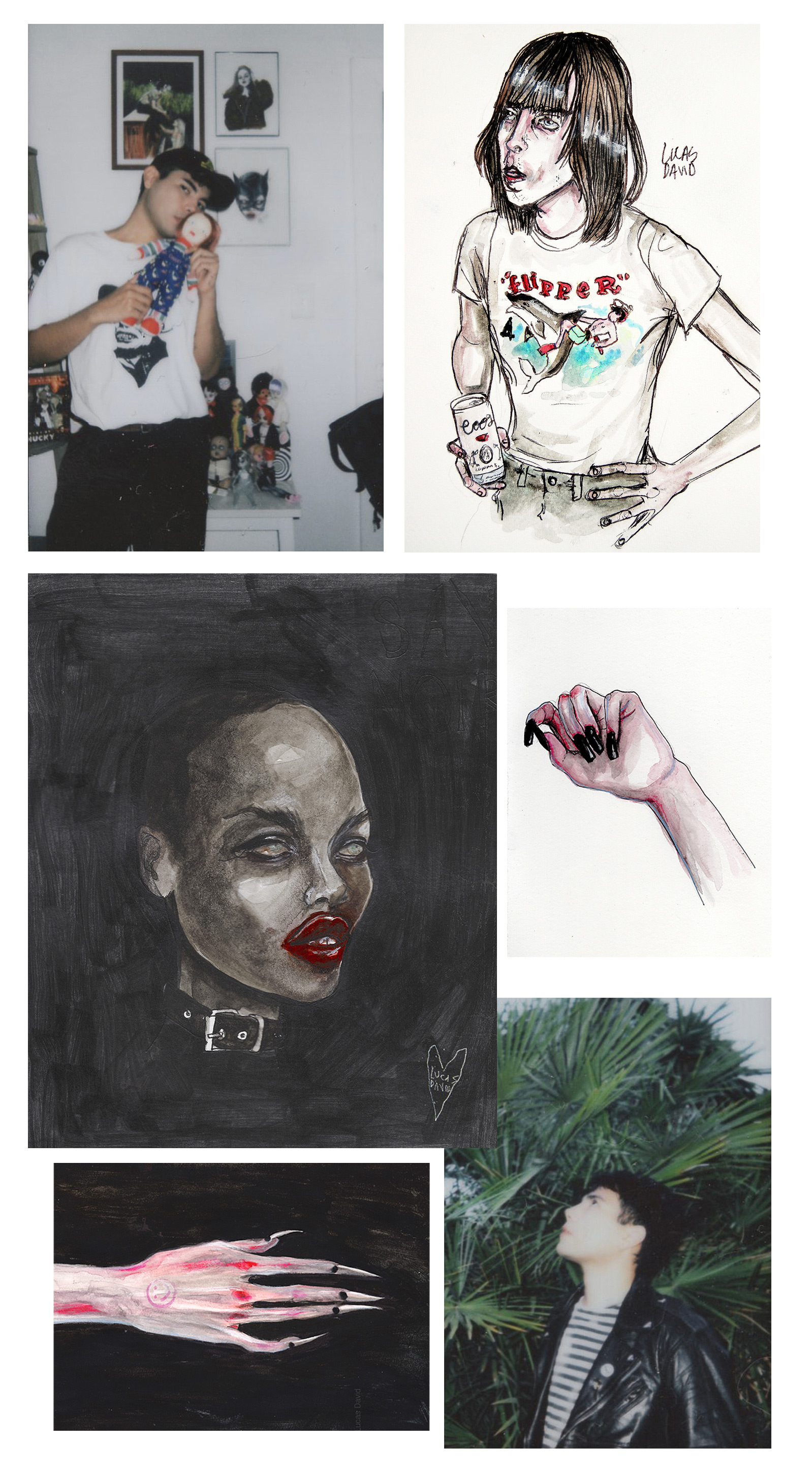 Your art seems to be very influenced by music — have you always gravitated towards drawing and painting musicians?
I guess I could say that music saved my life, and that it inspires me in many aspects. I guess things just happened that way but I never really planned to be working with such amazing musicians.
How do you go about choosing which musicians you want to make art of?
I am a lyrics person — so I always have to feel identified with everything I listen to. If I relate to their voice and message I would draw them.
You also had the crazy experience of meeting Blondie and giving her a piece you made of her — what was she like, and what did she have to say about your painting?
That was a crazy experience. I'm a huge Blondie fan and that made my year — Debbie and Chris are amazing. Debbie was so happy with the drawing — she said she had heard about me before and she declared herself a big fan (which I'm not bragging about — those were literally her words). I also had no idea — I'm still shaking! But it was nice to kinda hang out for two days straight. I also did an art trade with Chris Stein.
Many of your pieces seem to have dark and sometimes gory elements — what ideas influence that?
This is always a difficult question, and I have a different answer each time. I'm a horror movie enthusiast, so I guess visuals really stick with me. I like the kind of horror movies that glamorize horror in a fantasy, fashion, and sarcastic way more than movies of killing people — which I'm really not that into. But I like the drama and fantasy of spooky, more surreal – like monsters or dolls. Also red is my favorite color and it's probably just an excuse to use it.
As someone who is so drawn to music, have you ever played?
I had a band when I was in high school and I was the singer. I still wanna make a comeback but there's just not enough time. Hopefully soon
Who are some artists who have been some of the biggest influences on you?
Kurt Cobain's art and life have always resonated with me since I was a kid, from his lyrics to his drawings etc. After him there are also artists like Egon Schiele, photographers like Steven Klein, Steven Meisel.
Some artists appear many times in your work – namely Lana Del Rey, Sky Ferreira, Ali Michael, and Taylor Momsen. What makes them worthy subjects?
They're muses who are my age and I admire.
Can you tell us a bit about the process of making one of your artworks?
There's not really a process, it's very unexpected. I use mixed media for the same reason — I enjoy the spontaneity in art — it's more fun.
Favorite album of the year so far?
I don't know man, music in general has been disappointing in the last couple of years, or longer. But I have faith there will be a resurgence of rock and roll – we need it. I've be getting a lot into old trends so maybe it's just hard to reach that level of epic. Of course – Lana Del Rey never disappoints – her albums are so good but there's nothing new about it. OHH, also Blondie – they put out an awesome album with an awesome lead single. I am so excited to see what Liam Gallagher is working on.
Thanks so much again for sitting down to do this interview — and what can we expect from you down the road?
Thank you for having me! I'm working on a mini zine that will be out soon and I'm really looking forward to everyone seeing the sculptures I've been working on. I wanna put on an art show in LA with them next year.
For more from Lucas David head to his website or follow him on Instagram: @lucasdavid.