This is a preview of our feature on Matt McCormick in Issue 17, out May 11. 
Growing up, Matt McCormick used to dress up as a cowboy: bandana, six-shooter, gun holster, the whole nine. The second he put on that outfit it'd be like he had escaped and entered another world. It was one of Matt's earliest escapes, and to this day, the idea of the cowboy and what the figure represents continues to be a driving force in his work. In the most natural ways, Matt takes his personal stories and transcribes them onto the canvas through imagery—whether it be metaphorical or representational—that the viewer can attach their own personal experience to. The most common theme in the Los Angeles-based artist's work surrounds the emotional trials and tribulations within his personal experiences, most commonly employing Western Americana motifs to express these sentiments. 
Let's talk about the work, your creative process, and the cowboy as a figure. What does the cowboy represent and symbolize to you?
The cowboy is a tricky one. A lot of my work comes from this place, this free-flowing other consciousness, not to sound so out there. I started doing the Western stuff for a bevy of reasons. For me, it's so symbolic of this country. We all live in America. The freedom, the individuality, the doing things your own way, the hard work, the roughness. There are so many aspects of a cowboy. My mom has been sending me all these photos of me dressed as a cowboy as a little kid. I would listen to, The Lone Ranger on these old radio tapes, and my dad was really into John Wayne movies and the Alamo, and we would watch those. It's like that stereotypical question: What do you want to be when you grow up? Some people are like, "I want to be an astronaut," "I want to be a doctor." Cowboy was mine.
Growing up as a young male, you're constantly inundated with needing to feel macho and tough. My brother digitized all of these family home videos and I was able to watch all this footage of myself when I was a little kid in my cowboy outfit and I was like, "God, I was such a gentle child. Like a nice, happy little kid." Now, I'm covered in tattoos and I've done all this stuff my whole life to look tough and act hard. That's how I was raised and if you didn't act tough you got bullied, and I realize that the cowboy outfit was the earliest instance of this socialization. It was like, "Wow, I can put on this cowboy costume and I can be a tough guy," or "No one's going to mess with me."
What captivates you about the American landscape and open range?
I had this whole idea of what the middle of the country looked like, Texas, and all these places that I'd never been. I created this image in my mind of all the space between the San Francisco Bay Area and New York. Then I started touring with all these musicians and I started driving back and forth across this country, a lot. I finally got to see it for myself. I had done a little bit of landscapes before then, but during this time was when I really started getting into them. It was very eye-opening. There was a series I did a couple of years ago where I referenced all of these Stephen Shore and Robert Adams photographs, and a couple of other photographers from that group. I'd seen their work before and I had created this image based on that dream interpretation of what the middle of the country looked like. There's something about the openness and the flatness that I enjoy. I have so much clutter in my head all the time—inner monologues and dialogues—that this landscape is very calming, freeing, and gives me that feeling like you're all alone. I'm chasing that feeling.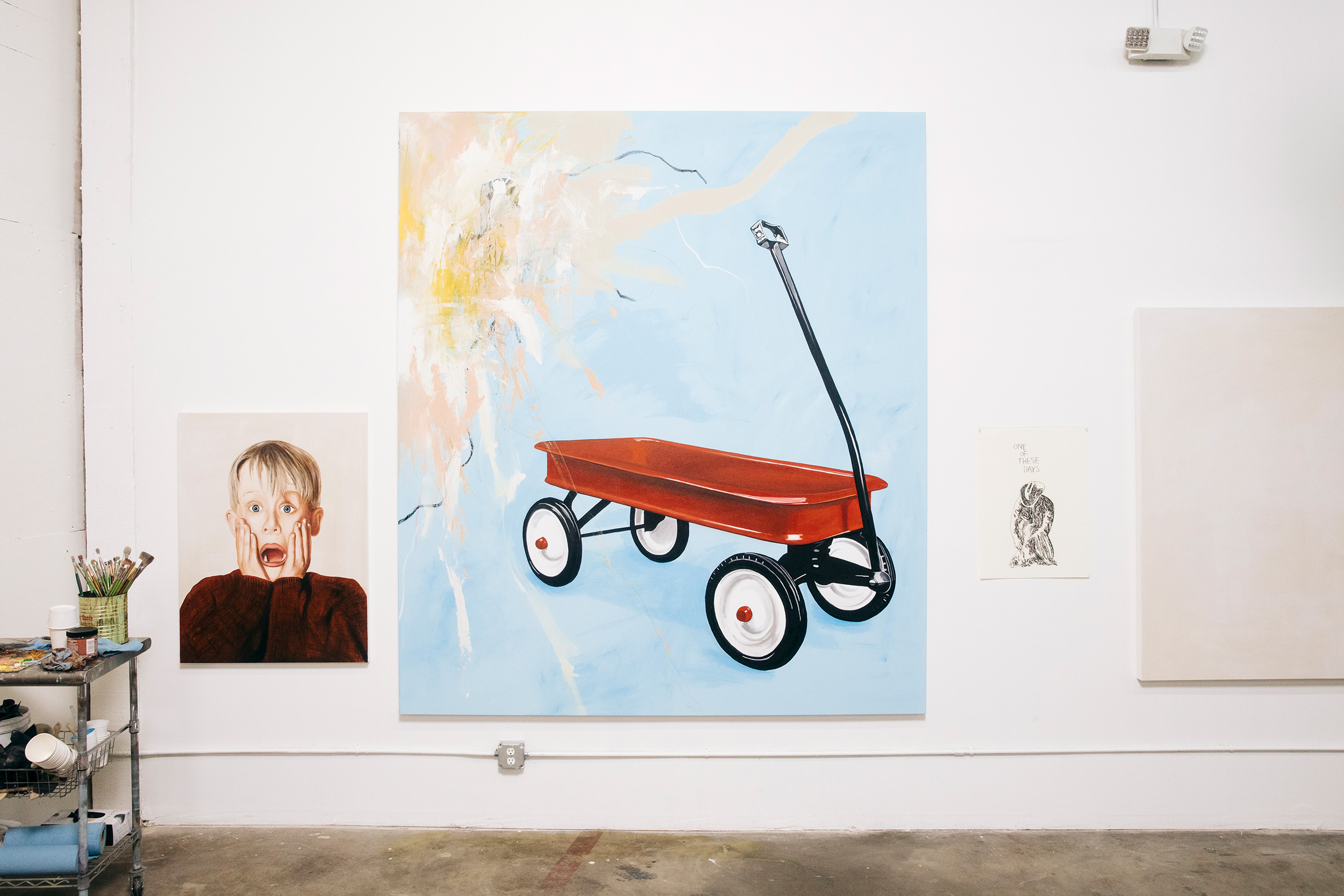 Can you tell me a little bit about the autobiographical nature of your work?
I thought about this the other day. I was thinking about the autobiographical narrative that I run through a lot of the work and how that relates to the reasons why other people make work and the concepts, theories, and ideas that fuels other artists' work. This autobiographical narrative is the glue of all my work. Whether it be the cowboy or the landscape or the collage paintings, that's what is behind it all in some way or another. I had this moment where I was questioning whether that was the right way to do it or whether or not I need to have these larger concepts or ideas that I'm exploring with my work. Right now, the answer is no, because it would be forced and then it wouldn't be good because it would be forced. I don't have this larger, higher, bigger thing. I have my life and my experience to work from. For example, a collage painting where I have all these different images, objects, or places that mean something to me, the goal, hopefully, is that someone else looks at it and doesn't get my story out of it, but they get their story out of it. It's my narrative why and how it gets made, but it's supposed to be anyone's autobiographical narrative.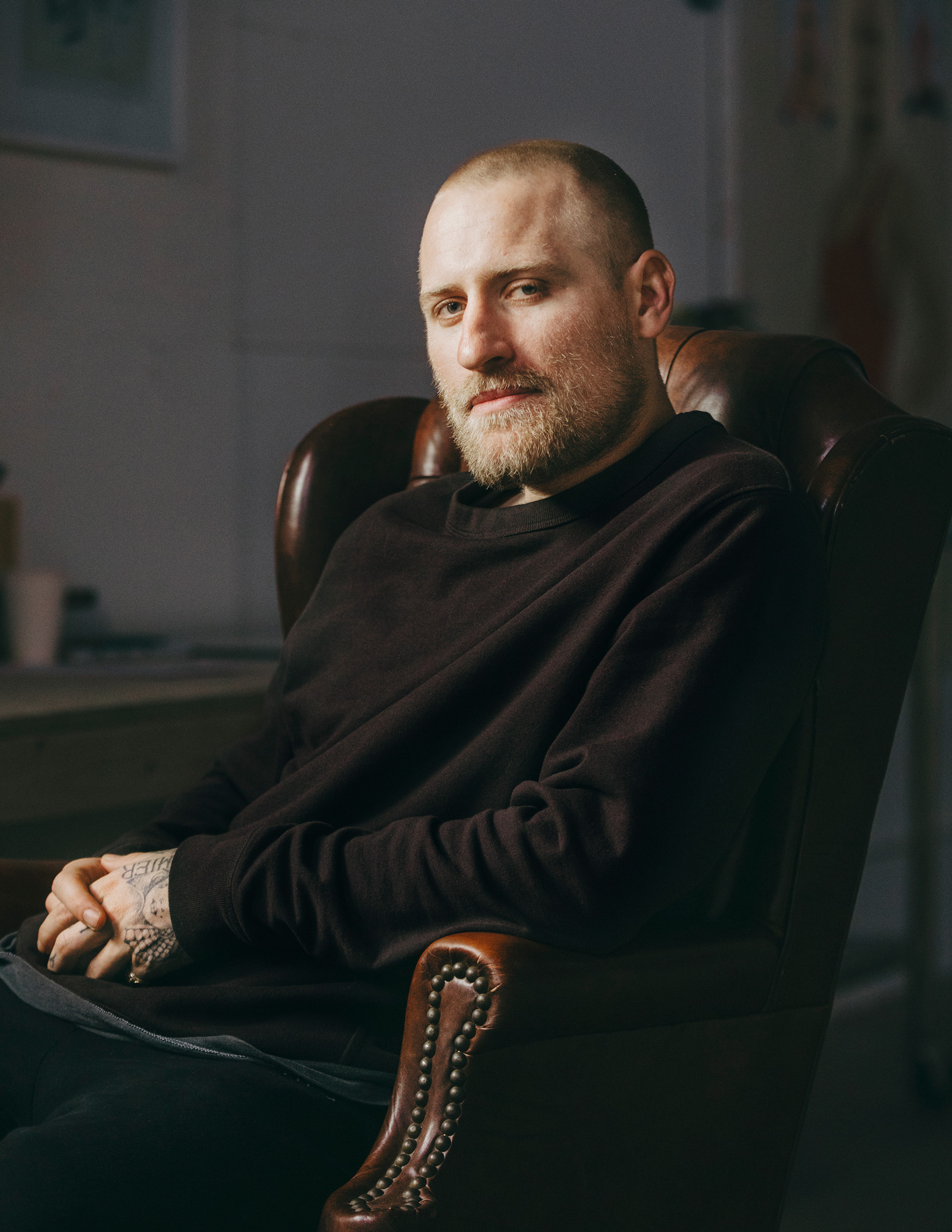 When do words become part of the equation?
I started putting the words into my pieces when I started making those collage paintings. I would add them around in the negative space to kind of further the story. My girlfriend who was making fun of me the other day said they're always sad and morose. I wear my heart and emotions on my sleeve and that's my way of getting it out. They're all lyrics from songs. I have a general place that a lot of them come from. There was a time, in the beginning, when it was all Neil Young lyrics. There was a time when it was all Grateful Dead lyrics. I was listening to strictly Grateful Dead. I never run the same lyrics or quotes twice. They work separately from each other. The quote is basically what is going on in my head at the moment. And then, the drawing is kind of like this action and this energy. The combination of the two is basically me projecting my emotions and thought process into the work while I'm making it.
For more from Matt McCormick, follow him on Instagram.