Visual aesthetic meets musical function in the Prisma Guitar workshop. Skateboards and guitars. The two have always been close to one another, but Nick Pourfard has smoothly taken the relationship a little further, handcrafting one of a kind guitars out of skateboard decks. It started from agitation. When he was 18-years-old Pourfard got injured skating. While stuck inside for months, the antsy teen began to find ways to tame the madness of boredom. He started watching YouTube videos to learn woodworking tips and finagled his second-hand flea market tools to make his first guitar. Skateboarding runs deep through Nick's veins, so naturally, he started using old decks as materials for his projects.
"I knew I didn't want to build anything that I could buy somewhere else and somehow the skateboard thing became the main goal," says Pourfard. "I spent a solid three months working on the first skateboard guitar, but as soon as I saw the basic shape I knew I had to build more."
After professional skater and musician Justin Figueroa purchased of one Pourfard's guitars, he went to work, with the goal of turning his hobby into a sustainable lifestyle. Now, his beautiful guitars are available for order online, in select music stores across the nation, and are increasingly being bought and played by musicians like The Mattson 2, Steve Harris from Iron Maiden, and used on the latest Minus the Bear album. If you look closely you can even see one being played on the show 'Empire' every now and then. Each guitar Nick builds is as pleasant on the eyes as it is on the ears. Using the colors of each deck to produce an entrancing spectrum of colors, one can easily get lost. Superb craftsmanship must be paralleled by knowledge and understanding of music when building a guitar. Nick Pourfard is a master of both. We got the chance to catch up with Nick recently before he made his move from New York back out west.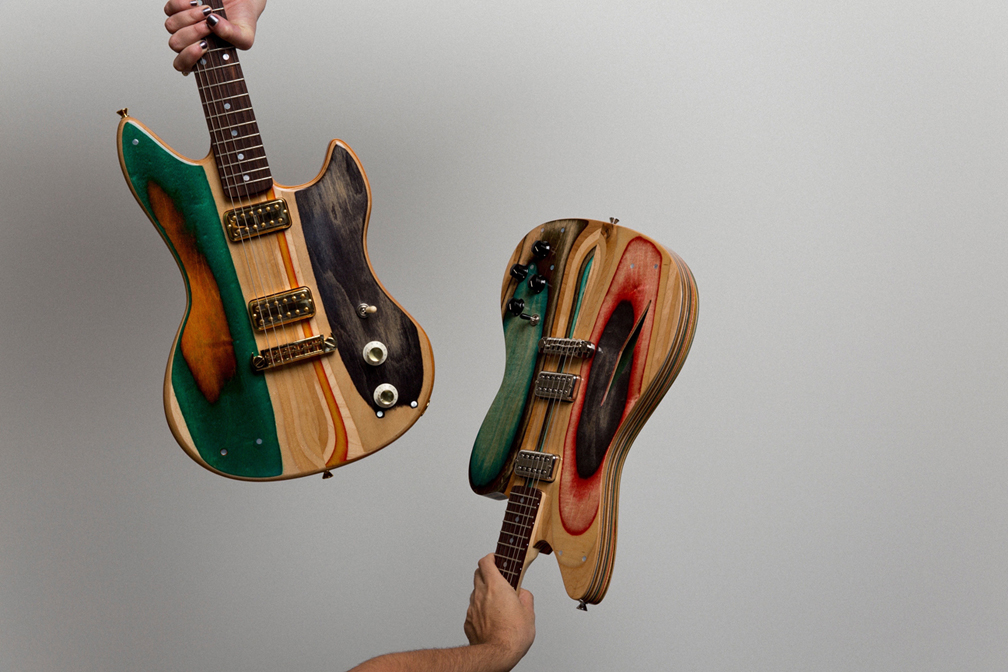 Touching on you being a skater and musician, is it more, you are building guitars out of skateboards, or you are using skateboards to build guitars?
I think I am using skateboards to build guitars. I think the effect of the wood is so cool and although I like the fact that these boards at one point had a second life, I like to think I am creating a material.
In terms of craft and sound, does using small pieces of wood pressed together have unique effects on the tone, as opposed to the standard one or two piece body? A certain uniqueness in the sound?
The craziest part of all of this process is that although it seems completely foreign, it has been done in variation by companies like Martin in the past. For example, they are not using skateboards, but they are taking veneer and pressing them into a neck. This is pretty much the same for me except these are reclaimed past objects.
As for sound, the boards give the bodies a solid sustain, and I can feel the resonance with the neck and body transferring that energy. That along with top-notch parts and they sound pretty damn good!
You were injured at the end of last year, messed up your hand pretty bad and couldn't work, how was/is the recovery, back to business as usual?
Yea, to put into perspective, I cut a couple of my fingers off and mangled up my entire hand. This happened in November and I am now building again. There are many things that are more complicated but nothing I can't do. I think the worst thing is that my pointer finger does not move at all so doing any sort of fine movement with small parts is very difficult for me.
What's next for Prisma, I know you have been building guitars for some big named skaters and musicians, where do you see or want to see yourself going from here?
I am hoping to build twice as many guitars next year as I did this year and open a new style custom shop for our customers, where they can pick there blank specifically to make sure they get the colors they love every time!
Aside from that, I plan on opening an appointment-only showroom in Los Angeles in the next year. Here I will have all the guitars and amps people need to try them out and they can buy them on the spot rather than the internet.
While this is all happening, I have been simultaneously building out a new company building custom lighting for people. These are not lights from skateboards, but they are all handmade by me and will be branded as a high-end contemporary option for your home. I am a designer and I think that I will never be limiting my mind or my skills to one thing.
For more from Prisma Guitars, follow them on Instagram.
Photography by Matthew Wright.