Nestled alongside the locally-owned restaurants and shops that line the small stretch of 4th Street in Long Beach known as Retro Row, sits the neighborhood's newest brick-and-mortar addition, Relics. At the helm is Drake Woodson — an analog camera collector and aficionado, photographer, and the owner of Long Beach's first Black-owned camera shop. 
From the street, the building boasts a similar mid-century vibe as most of the buildings that surround it, with the word relics in white lowercase letters, and simply printed on the glass of the mostly all-window storefront. It's unassuming, and might be easily missed for those that are not attune, but over the last few months since opening, Relics has quickly become a must-visit destination for first-time and seasoned film photographers alike.
I've felt the stress of walking into different camera shops — getting that unwelcome or dismissive feeling from the shop owner the second you ask a question, while they assume you can't afford anything or aren't a serious photographer. Relics beautifully provides the complete opposite experience — unpretentious, accessible, and welcoming. It's a space where people can exist comfortably as creatives of color and as creatives of all levels, to not only encounter their own journey with photography, but also each other. With a meticulously curated selection and stock of everything from vintage and used cameras and lenses to rangefinders and other accessories, film, and choice photography books to browse, Woodson understands the importance of owning and running a camera store that represents his community's needs. He's intentional in the way he does things, particularly when deciding which cameras and pieces he brings in-store from his massive collection, in order to satiate the demand of the folks that walk through his doors.
Relics stands for much more than just a camera shop. It is a way for Woodson to continue to push for more diversity in photography, and provide a hub for community to flourish. Stop by. Chat with Drake. Pick up a camera. Start telling your story.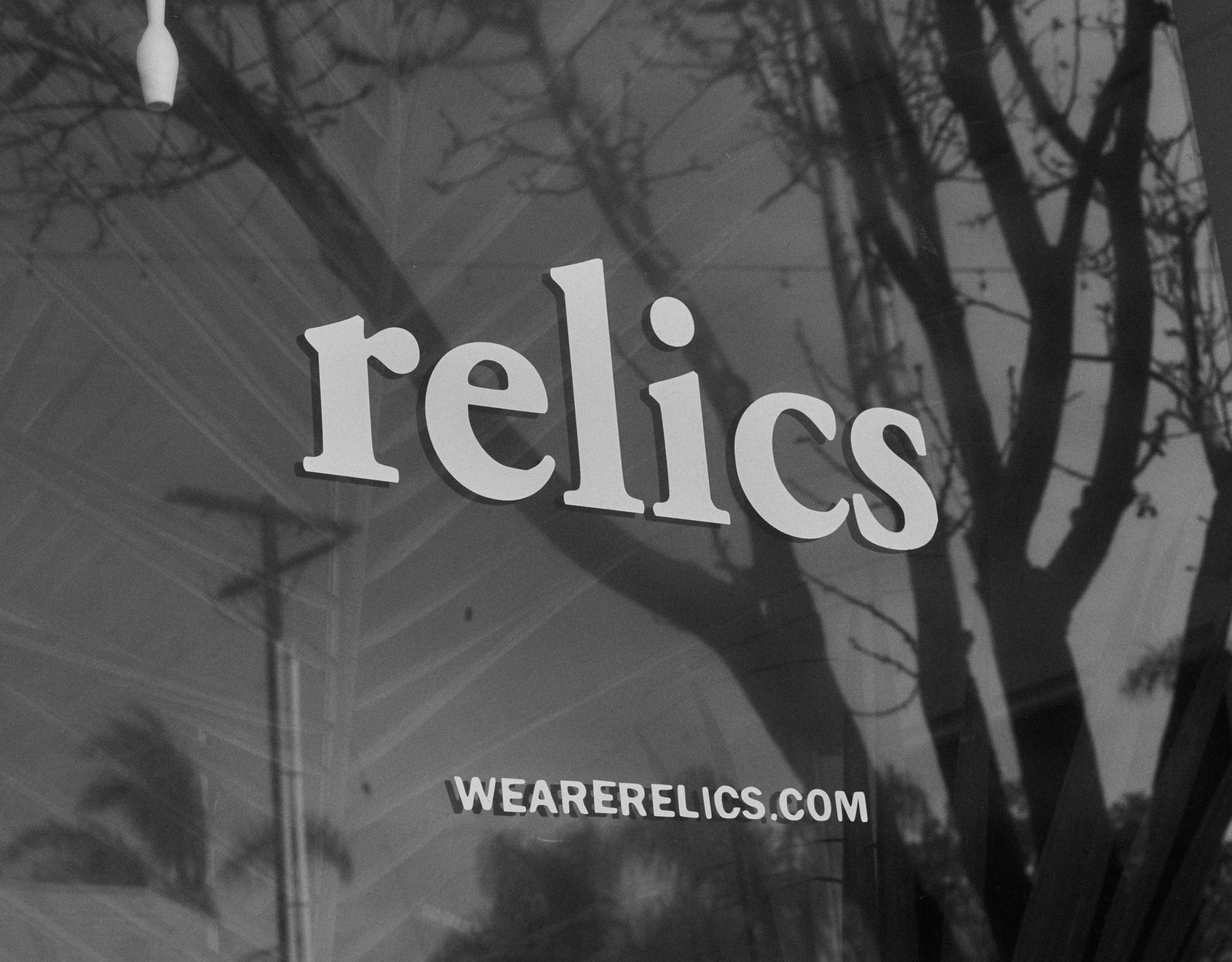 Give me your origin story; where did you grow up and how did you find yourself where you are now?
I grew up in a super rural area in Virginia and made my way out West. I came out to California when I was twenty-three, journeyed across the country, and you know, did that whole thing. I landed in San Luis Obispo, which was pretty chill. I hung out there and kind of cut my teeth out here in California, did some surfing, skating, the whole thing.
From there, I moved to San Francisco working in tech as a marketing consultant for different tech startups and got super burnt out. I knew I didn't want to do that anymore. So I quit my job, moved out here, and then everything happened in March. That's when I was like, "Alright I'm gonna reevaluate my life and what is it that I truly want to do." It wasn't until I spent some time evaluating that I decided to open up a camera shop. That's basically my passion. I love photography, and Long Beach definitely needs a shop like this. I've been collecting cameras for some time so it made sense to just sort of lean into it.
How many years were you in San Francisco? And was the burn out because you realized that work wasn't what you really wanted to be doing?
I want to say I was there for eight years. The burn out was a combination of working super long hours in tech and that culture, and not being able to balance it out with anything creative. I wasn't able to take as many photos as I wanted to because I was giving so much time to everything else for the 9-to-5. It was like here I am helping a bunch of these startups and tech companies grow… and I'm miserable doing it. It was basically the golden handcuffs.
That's rough. I know the feeling of working those long hours and when you get home, you really want to try and do something creative and pursue the things you enjoy, but you're just too damn tired.
Exactly, you got no juice left in the tank. It's just like groundhog's day! You wake up and you do the same thing over and over again. Like, "Wait a minute, what's going on?" And on the weekends you think, "Oh well, I'll try to do some stuff…" but you're like, "I'm so tired."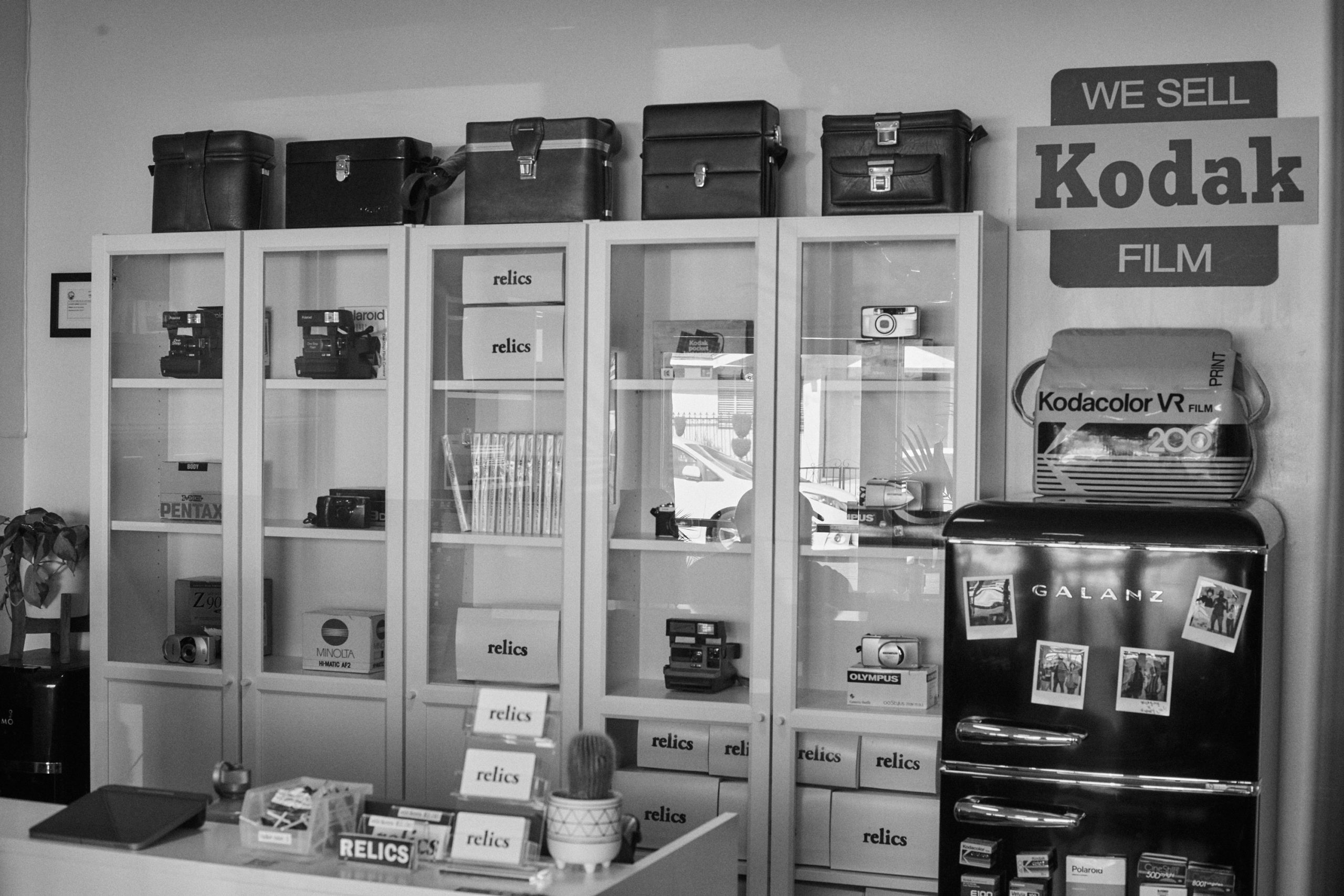 And you have to do that basic stuff on the weekends like clean your house and do laundry. So that's the career trajectory that has led you here, but I'm also interested in how you were first introduced to photography. Were you introduced to it as a kid?
Yeah, so my dad was a photographer, not professionally, but very into cameras. He gave me an old Minolta and some batteries and was like, "Alright here you go, good luck. Ask me if you have any questions!" So from that moment forward, I was very much into photography and I would take my camera everywhere… on vacations, field trips. You know, so there were kids who were doing kid stuff, but I was just so into cameras. For every holiday and birthday, I always asked for cameras and all of that. My parents were just like, "Okay… Here's another camera." It's funny because nothing changes as you get older. Another camera? Yeah… I mean, these ones are for snapshots, these ones are for landscapes… you always have to justify why you need another camera.
Tell me more about your relationship with photography now and how it has evolved.
I've always loved photography because I've always sort of been obsessed with time, a little too much. I'm always thinking about time and how there's not enough of it. I'm always thinking how fast life goes by, so for me photography is a way to capture it and slow it down. I've always liked storytelling too. I've always thought the best way to tell a story, for me, is through photography, photographs, and being able to write. So being able to tell my story and being able to see other people's stories is through photography. My relationship with photography is based on these stories — being able to tell them and see them. It's nothing new, people have been telling stories for thousands of years.
Also, growing up, my parents had a ton of photos. I was constantly digging through boxes and looking through photo albums. So for me, that's what I knew and was born into. Naturally, I wanted to document everything as much as I could. To me it's so cool to see how things are and how you grow up and to see the changes of life.
What do you like to take photos of now?
I split my time between landscape photography and street photography. I'll go to the mountains, like camping and hiking, and I'll take pictures of all of that. Then also everyday life in the streets. I'll spend some time walking through different neighborhoods, and spend a couple of hours just shooting and shooting and documenting. There's so much happening, especially in Long Beach and its different neighborhoods. There are so many little pockets that are super interesting so I guess I try to scurry and sort of run through all of the different areas that aren't super well known. I'll look for all of the holes in the walls and the things that aren't on Instagram. You know? And people are like, "Where's that?" That's what I pride myself on, trying to get those shots that aren't necessarily everywhere. The less known areas and lesser known streets.
Let's talk more about Long Beach. You and your partner moved here from San Francisco and started a business here, so you're putting down some roots here. What does the community mean to you and how has your relationship with the community unfolded thus far?
The community has been super fantastic and loving. They've really wrapped their arms around me, you know? I haven't really felt that in any other place that I've lived so it's refreshing and it's sort of the first time I've ever really felt community love. I'm hugging everyone back too! I get to see how much you can impact a community in both a macro and micro way by having more accessibility to something that they're interested in, but that was never really easy for them to get into because maybe it was too far away… you know? So it's a lot of different things here, but they've been super stoked to have a camera shop like mine here and I've been super stoked to know I'm not the only photo nerd in Long Beach, or LA for that matter. It's really nice to feel the support especially around these shaky times.
Have you encountered any challenges opening up a camera shop during a pandemic?
I think the biggest thing was that we had done a few things online and it was decent before we opened a shop, but making that transition to a physical brick and mortar, it was my first time opening a shop and I didn't know anything about it. So of course it takes time just figuring out how different that transition is, and then also just how different life and this type of shopping experience is now in keeping people safe, but also giving them an experience different from any camera shop they've been to. I want to make sure the experience is high end but also a very welcoming experience for people. I think that's the biggest thing. It's easy to just open the doors and sort of see what happens, but for me I try to be very intentional in the way I do my things. I think the biggest challenge is probably just keeping things safe and getting people to actually want to come and physically shop in your store.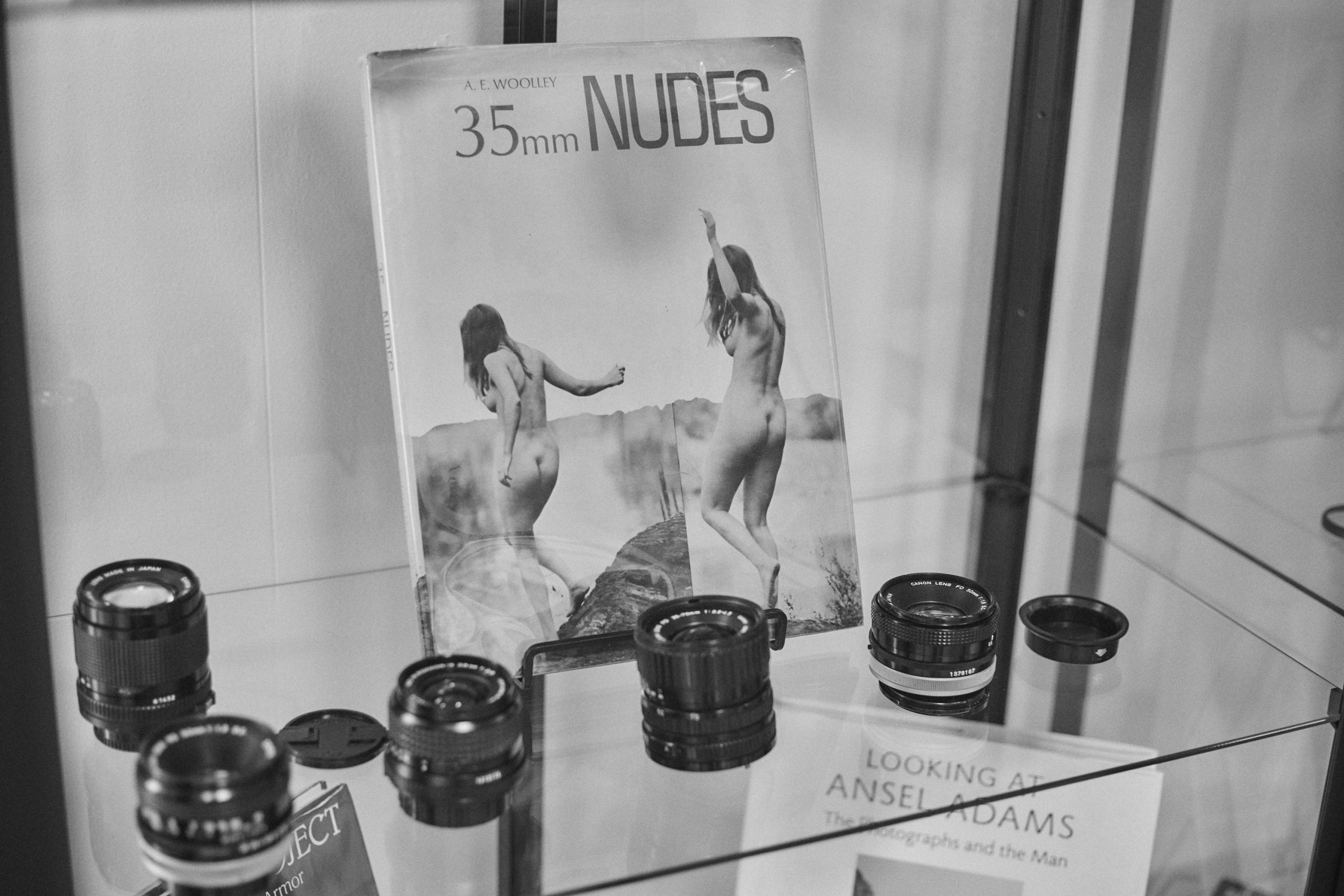 Yeah, shopping in-store is really part of this experience of buying a camera. It's one thing to look on eBay and try to find a camera, but it's different to actually immerse yourself in this kind of environment and walk into each room and be surrounded by so many different cameras. It's different than just scrolling through a bunch of eBay listings. You can hold the camera in your hand and hear how it functions.
Exactly! That's such a big thing. You want to be able to touch the cameras, feel how it is in your hand, look through the viewfinder and make that connection. I always tell people all of the basic boring stuff when they're looking at cameras, like, "This camera will do this," or "This camera won't do that," but ultimately it comes down to personal preference. How does it feel in your hand… you should be stoked to shoot on your camera!
So, you decide to open Relics, but besides just a passion and a love for photography and cameras, why do you really think you wanted to open this shop?
Besides just pure cameras, the biggest thing about opening this shop was to create diversity in photography. Real accessibility, super welcoming environment. I feel like when I grew up with my dad and he'd go into shops, or I'd go into shops, the people that owned the shops or worked there, never looked like me. I always feel uncomfortable. They would give him a hard time, they'd give me a hard time. So I was like, "Oh shit, what's this photography thing all about?" And it was interesting because it was never really represented in photography. Even to this day, we're making a ton of progress, but there are still gatekeepers and still a certain type of vibe or attitude towards certain people who are starting out or are in the game trying to make a name for themselves. There are still a lot of stereotypes, like the way people expect a photographer to look is a lot of times very different than how they actually look.
Totally! It sounds so ridiculous when you hear someone say that. It's like what are you expecting them to look like?
Yeah! "You don't look like a photographer!" It's like, "What does that mean? Doesn't a photographer just mean you're using a camera?" It doesn't matter what you're wearing or how you carry yourself, it should just be about taking the picture. It's so much more than that though. I just realized for decades and decades there were people who weren't comfortable going into a camera shop and they weren't ever really able to get into that field. I think about all of the stories that weren't able to be captured or told because of this.
That's a great point. It goes back to what you were saying about time and documentation. Like where did all of that time go if it wasn't accounted for on film or documented?
Exactly. There's so much saturation, but not from people of color. It's just not there. So we have people that don't look like us, but they're telling our stories. Which to me is obviously very suspect. Even the different protests in the 60s, which I feel like we're kind of living in that era now, but we all saw the fire hydrants and the German Shepherds but there's just so much we never got a chance to see. It makes me think like, "Huh, what else was going on in history?" It's giving people the option to tell their story through their eyes and I think that's the biggest thing.
You and I both understand that systemic racism has and continues to make it hard or impossible for people of color to access things like photography. Why do you think there are so few black-owned camera shops?
I think it's a little bit of everything. I think it's systematic racism and not having the opportunities to understand how business works, how permits work, access to real estate, everything like that. It's pretty hard to open up a business when you have so many things already stacked against you. It's so hard to get into this next level. You're at the ground floor trying to stand up and someone has their boot on top of you. I'm just trying to survive first. It's survival first then you might have a little juice left to get to level 1, but you're just trying to survive at level 0 at this point.
Through photography, I've seen that there is progress being made and there are people that are coming to the shop and that it's more than just a camera shop to them. It's so much more than that. They know that and I know that. That's why we're all here, it's so much more than just selling cameras.
As more than just a camera shop, what do you see Relics stand for?
I want Relics to stand for a sort of catalyst. I want it to be an origin for people to get their first camera, understand how it works, and be able to tell their story. And also, use it as a way to get other people involved in photography. That's the biggest thing — helping people get started. I want to be able to help photographers start their journey through Relics.
I feel like I've already been seeing that vibe through posts that are made on Instagram by people who have come here and bought a camera for the first time and are posting photos of, "My first analog camera, I can't wait to shoot with this!"
Yeah, that's amazing to see and we feel the love. We have a lot of people buying their first camera here.
And the fact that people feel comfortable to come here to make that first ever camera purchase says a lot about the space you have created. I know as a woman of color walking into a camera store when I was younger, I only encountered older white men who worked there. They'd be dismissive and I felt like I had to go in there already knowing what I needed and what I was doing, which wasn't always the case.
Oh yeah. 100% very transactional.
It was a lot of research on my end then going into a shop and acting like I knew what I was talking about.
Yeah absolutely, and it's such a vast industry. There are so many things to learn and so many details. I don't know everything, but I'll Google a lot of things or call up my buddies and ask questions. That's the environment we have here. I don't want to be part of the problem and I definitely don't want to be a gatekeeper. There are a ton of gatekeepers, unfortunately. Even in male photography it's the same thing. I want to be able to use my platform to dismantle that and to not be part of the problem, and to call out people doing shady stuff when I see it, as well, because I feel like a lot of people accept it and move on and go with it. But, no, I think we can do better than that. We should call people out when they fuck up.
You have what seems like unlimited stock. People come in here and buy things from you guys on a very regular basis, yet when I walked in this morning the shelves were filled with cameras, books, and accessories. Tell me a little bit about your collection and how you source your cameras and products.
I've been collecting cameras for some time and it's quite a big collection. I've been gathering over the years. It's interesting too because I take the time to go through all of the cameras, testing all of them out to make sure they're all fully functional. If they need oil, I'll do the lubrication and the adjustments. It definitely keeps me super busy to do all of that. I think that's another reason why people like to come here too because the cameras are in good condition and fully-functional versus the gamble of eBay. I think being able to curate what people are looking for in real time is really important because there might be weeks when everyone is really into Super 8 or other medium formats, so I know that I need to have several medium formats in my collection. I'll go grab all of those out of storage and bring them to the shop. I think it's just really important to have what people want in real time and showing up with what they need.
It's curating in the moment constantly.
Yeah, and it's kind of a juggling act. It's like working on an engine while the car is running because people will come in and say like, "Oh i'm looking for this range finder," but maybe we just sold it. So I'll let them know that I have one in storage that I won't be able to have for them today, but will have it in a couple of days. It's fun, I enjoy it and it's nice to see other people stoked on it as well.
What's one thing that has been integral to starting Relics?
I think the biggest thing is community. That's what I'm starting to see and I am continuing to build my community. I wouldn't be here today or be doing this if it wasn't for the community. Everyone is super down to be a part of what we're doing and it's starting to feel less like a camera shop and more like a movement, you know? People are coming from all over, like Texas and different states just to come to the shop. So I'm doing the best I can to continually show up and do the best I can for them because they are showing up for me. I want to make sure I can do the same for them too.
That sense of community is so important for businesses like yours. Being able to give back and embrace the community you're a part of is so integral to longevity in my opinion.
Absolutely. I agree with you 100%. I feel like some of the bigger companies take people for granted, so when people see I'm different, like, "Wow Relics actually care," they take the time to talk to me and I feel like I'm family when I'm at the shop. That's just how I am, so it's just natural for me to want to make sure that was very apparent when people walked through the door.
For more from Relics, follow them on Instagram.
Photography by Kris Evans.