This is a preview of our upcoming issue 18 feature on Slaughterhouse. You can preorder the issue here.
Heading into their studio in San Pedro, California surrounded by docks and gulls, I was greeted by the punk band, Slaughterhouse. Due to unfortunate circumstances (a job) I've been unable to catch the group in action, so the four-person group was kind enough to let me sit in on their practice. Moments after stepping into their small studio, with more room for amps than there is for humans, they ripped into their newly arranged live set. The way each member of the outfit moved into the note of the first song, the first hit, the first riff, and the first growl of the front woman's voice were heavy indicators that this band truly does not fuck around. Yes, they're a punk band, so they're generally less wound-up on technique and more eager to serve total chaotic energy; however, this band sets out to satisfy on all levels of entertainment. Every song sounded tighter than the last, and their energy was unshakable, even for a lonely crowd of one cracking away on her laptop, resisting the urge to clap after every song.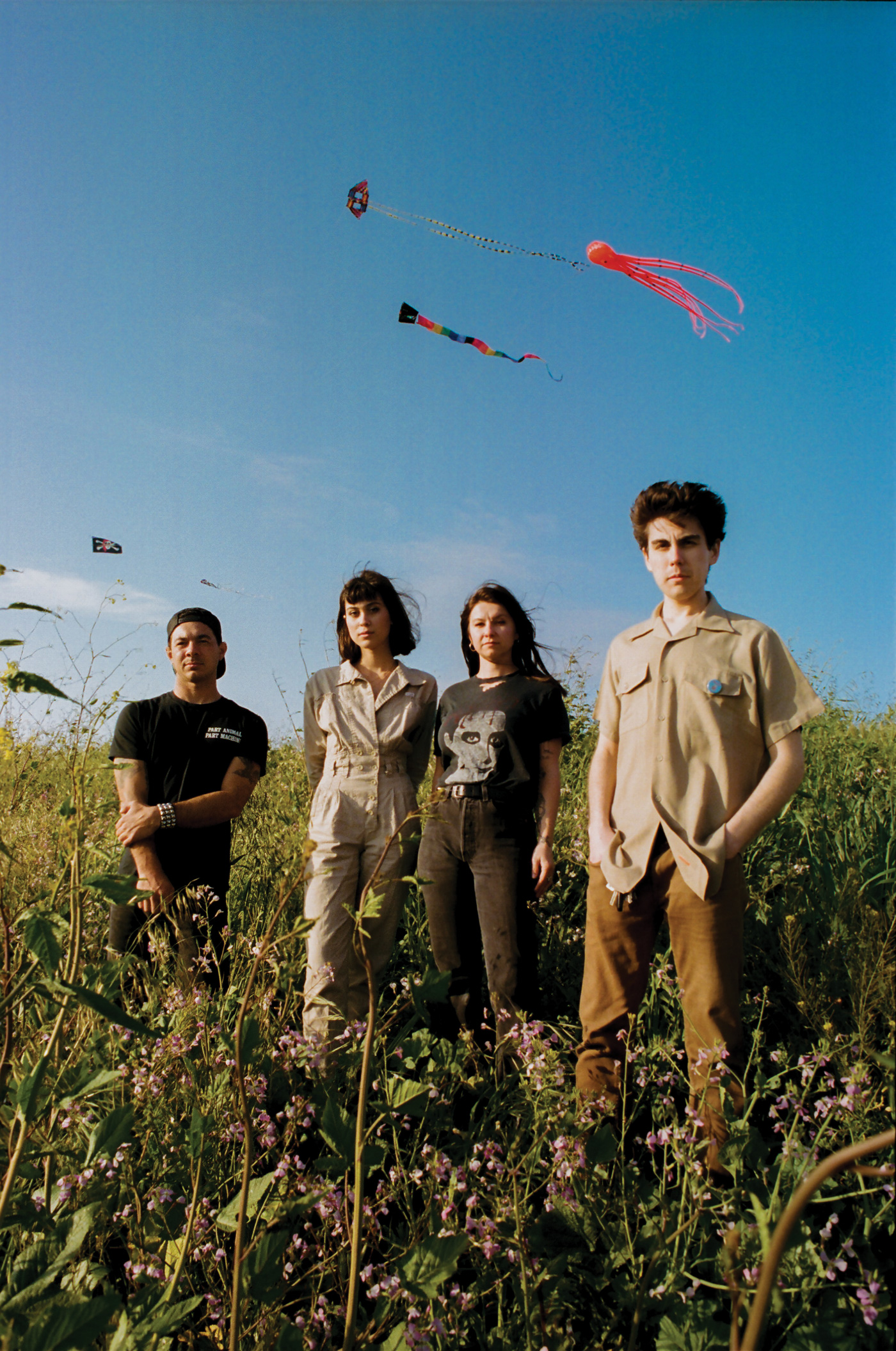 The majority of you grew up in and around the South Bay and with bands like Pennywise, Circle Jerks, Black Flag hailing from your stomping grounds, did you always feel a pull towards punk music?
Eddie: In the South Bay, everybody has a big appreciation for Black Flag and the Circle Jerks still, and probably at some point living there, by default, have been to a Pennywise show. Having guys like those around to where it's again, accessible, things are just very visible. You can't ignore that you grew up in the town that has Black Flag.
Nick: I thank god that I was turned on to punk in general. I  would still probably be the closed-minded classic rocker that I was because that's just what my dad raised me on. I got into punk, when my dad's friend who plays organ in one of Mike Watt's bands, found out I played drums and gave me a CD. It was a Minuteman album, Double Nickels on a Dime. It was kind of the perfect album for me to get into punk. It wasn't just punk, it's like everything. It's funk, it's jazz.
Taylor: It's kind of like Descendants. They're punk, but they're kind of poppy and pretty.
Nick: Exactly. And from discovering them, I was like, oh, what's punk rock? What SST records? What's X, what's Black Flag?
Taylor: Then you just go into a whole spider web.
Nick: Then you get into the indie rock world, like what's Sonic Youth?
Taylor: Then you get into post-punk goth stuff like Siouxsie and the Banshees. What Pennywise, Black Flag, and Descendants are to South Bay, Redondo, Hermosa, Mike Watt is to San Pedro.
Do you see Slaughterhouse as continuing this legacy of punk, or do you just focus on what's in front of you?
Taylor: I think focusing on what's in front of us, and what comes out naturally. If it's more punk, cool, if it's something a little different, cool—we're not really trying to be something, it's just what comes out. Then you slap a label on it later.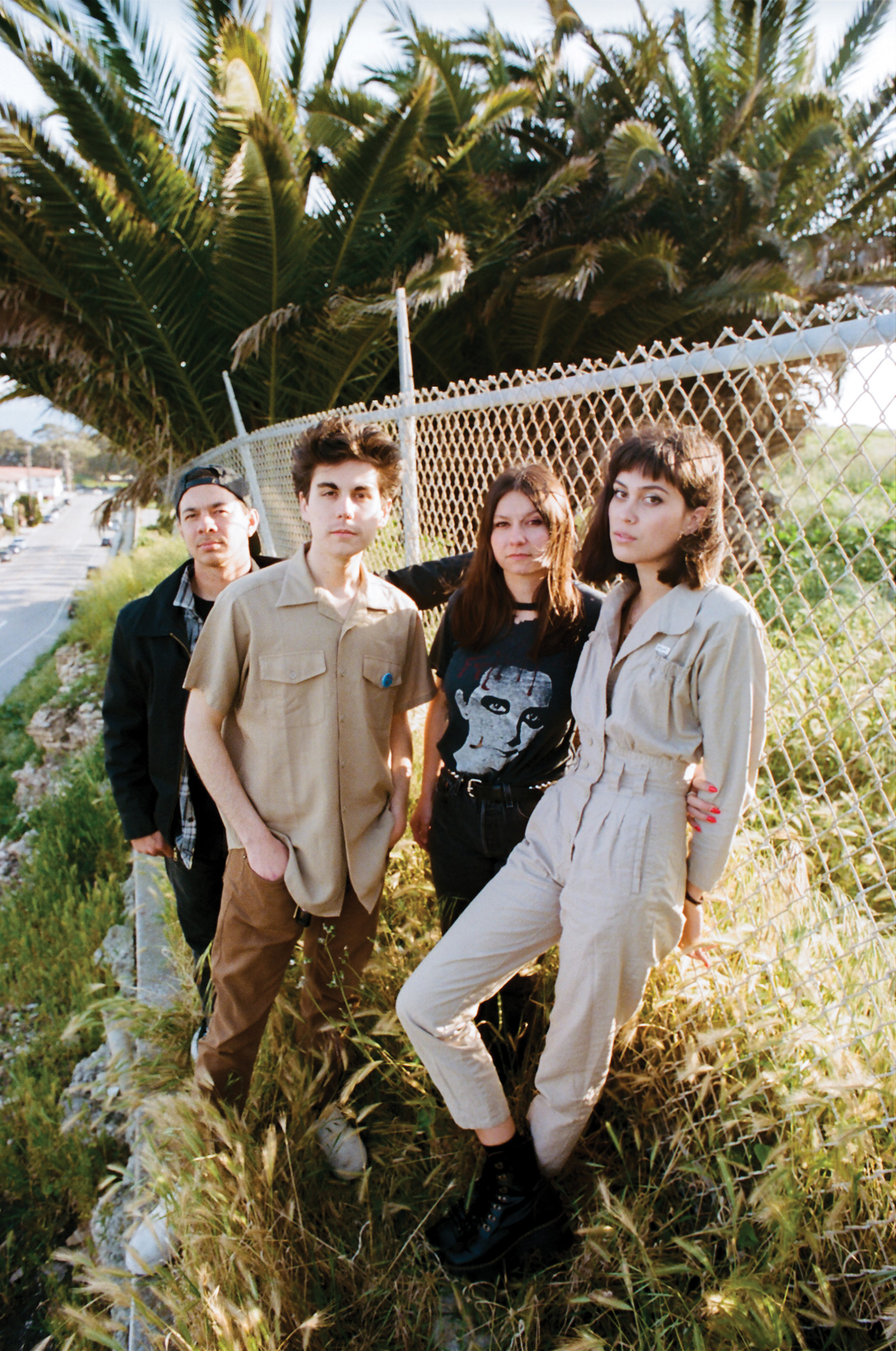 Yeah, Slaughterhouse doesn't seem to fit perfectly in the atypical punk genre.
Taylor: Punk is such a broad term. There are so many things that are punk that a lot of people wouldn't consider.
Eddie: I heard Mike Watt once say—when someone said the Minutemen weren't really a punk band—he said something along the lines of, "Says who? The second you define it, it's not anything anymore. Punk was about trying to be different."
Taylor: There were no defining walls.
Nick: D. Boon from the Minutemen said punk is whatever you make it to be.
Eddie: The Screams had no guitar. I consider guitar one of the most important things about punk. But what they were doing, they were one of the most innovative punk bands in LA and had no guitar playing.
Nick: Just organ with bass and drums and belting really awesome gnarly vocals. That's punk as fuck.
I recently interviewed Bonnie from Death Valley Girls, who you guys have played shows with, and I asked her about politics and how punk's always affiliated with politics, and whether or not she felt like the voice of people who don't really have a voice. She kind of said, "You know what, I really don't even think about that, I just want to be an escape for people." Do you guys feel the same about the way your music impacts people?
Nick: I totally agree with her.
Taylor: Politics is a part of everyday life, you can't avoid it. And it definitely affects how you feel so that's going to come out in your songs.
Eddie: I like that there are political bands that were aware of what was going on and pushed towards that but…
Taylor: I don't think we're trying to be political.
Eddie: I don't think it's any band's responsibility to be. It's not like I try to stay away from political content, but I don't think it's a band's responsibility to be the preachers to the people.
Nick: I think it just depends on how you do it. It's really hard to do. If you have a voice, you should use it.
Taylor: We just happen to be a little bit angry. Just a little bit. I'm just a naturally pissed off person.
Have you already seen a progression in the band's sound?
Eddie:  There's a Slaughterhouse sound, but I think we all draw inspiration from so many different areas. Some songs will be fast and screamy and some will be slower tempo with a little mellower guitar, softer.
Taylor: Some will be driven, some will be…
Eddie: Vocal. Some are more hardcore punk songs and some are retro 80s goth songs in a sense.
Veronica, when you first started singing, you weren't a signer at all. Did you listen to anyone, in particular, to get inspired?
Veronica: I listened to the old vocalist's recordings and I kind of got a feel for what they wanted and the sound and tried to channel that as much as I could. I think when they contacted me, I was listening to a lot of Dead Kennedys and X. I think those were on repeat pretty much and Crass. I just came in and did what I thought they wanted at first. Now that we've got a little bit further into it, I'm feeling a little more free.
For more from Slaughterhouse, follow them on Instagram.
Photography by Tony Accosta.