Let's be real: life is just one big beta test. Maybe someday someone will learn how to work out the racking kinks. Then again: a life without determining ups and downs would be dull (at best), which is why we turn to Swiss artist Sarah Haug, whose work, like that of gonzo artists before her, is influenced by her own lived-in moments.
For Haug and her long-eared friends (the rabbits through which we encounter her honest vigor), it's been an expressive year of introspection and social observation. It's been a year of juggling the work-play balance, learning to burn out and rock out; a year of new techniques and interests, be it LED screens or sex toys. And the year proved fruitful for Haug and her musings, who have an upcoming personal exhibit, Rabbit Rabbit Rabbit, in September. The exhibit is a merging of rabbitry old and new, from daily doodlings and paints to digital drawings and projections.
Check out our interview with Haug, as well as her exhibit, Rabbit Rabbit Rabbit, at Expace Quark in Geneva, September 13 through 28.
Flipping through your sketchbook, what have you been doodling, writing, inspired by as of late? 
My sketchbook is like a vacuum cleaner that sucks in and processes my life and environment through the lens of the Fly Rabbits, so lately they have been concerned with a lot of self-care after a year of being immersed in questions around politics of design, gender questions and environmental problems at my day job in the office of a design research association. These serious questions had a strange effect on the rabbits, because as tender, anti-authoritarians and contrarians, they got very confused. They joined the rainbow warriors, but also indulged in shopping orgies and sex games involving whips and pumpkins.
Personally, I have been interested in humor and satire lately, trying to understand better its different traditions, what is going on and my own position. It seems to me that we are living in an interesting time to think about humor. I have been reading about folklore around the rabbits, of course, and discovering, for example, the B'rer Rabbit stories, Japanese folklore, and ghost stories. And I am always up for a good movie or show, preferably a thriller based in a real environment. I love when documentary and wild fiction mix. I have to admit that after my recent burnout I have been watching Trailer Park Boys. I was interested in how the characters are written and evolve in the environment. Also because I am always making sure there's a touch of stupidity to my drawings. But I am relieved to be cured now of my Trailer Park obsession.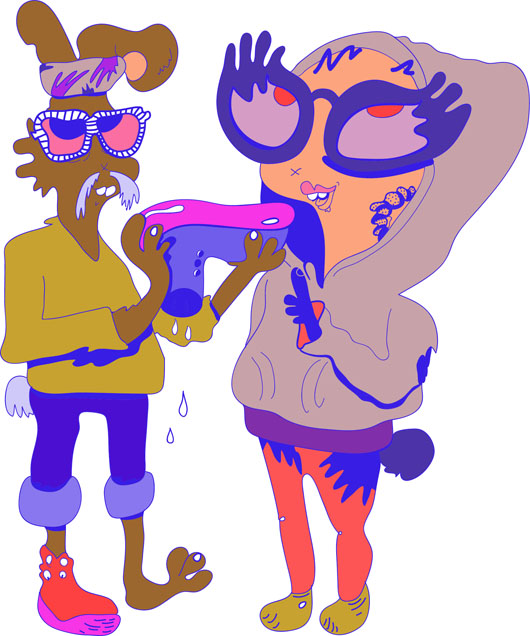 Your rabbits have taken in so many new adventures— you, too? What has this year (of living and of rabbitry) been like for you?
The last year has been an interesting one because I decided to concentrate on the rabbit project, develop it and basically become more of a Fly Rabbit myself, enjoying the moment, learning to relax and nourishing myself. Then I got so drowned by my day job, while at the same time trying to get the rabbits out into the world more, that I pushed myself into a burnout. But I have been able to travel and pursue adventures, like going to New York and Philadelphia, which was fantastic, seeing amazing art but also walking around for hours. I watched the waves break near San Sebastian in Spain and smaller excursions close to me. I also got to cross the Alps in a convertible car, which was very Fly Rabbit-like and definitely a highlight.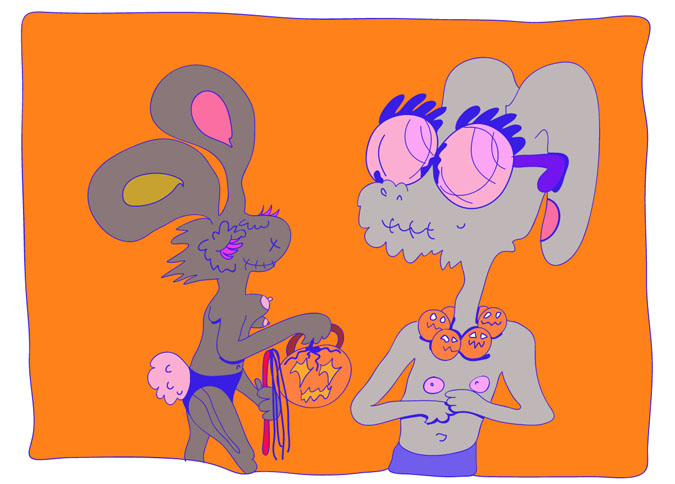 How was this past year of creative exploration for you? Were there any surprises? Any new discoveries (of the self or of the rabbits) via new mediums (paint, digital work, projections, etc.)? 
I started working on big, colorful paintings/drawings on paper, which came from a very primal desire of touching and interacting with materials and the mess that goes with it. I always loved doing big paintings, but they were black and white and more like drawings. I enjoy having a physical relationship to the space and paint as a welcome contrast to spending many hours at the computer. I am starting to find my way with the medium, and it is exciting. Also, I started drawing on an iPad, and I got some funding for a big billboard project with LEDs—I'm trying to figure out how that works.
I am working on tightening my stories and building relationships in-between the drawings, editing them and finding my own grammar and storytelling voice. The next step for me is to share it more with the public, collaborate and be more sociable with my creativity. I would like to be more and more direct and collaborate with other artists and designers.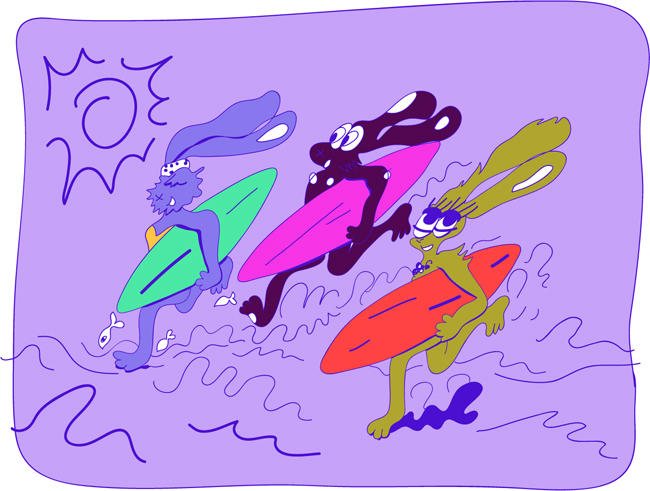 What does creative escapism look or feel like for you? How do you find peace when you need it?
Drawing always gives me a sense of peace and the feeling that I know what I am doing even when I don't. It feels very grounding to me; the pen on the paper feels similar to stroking a cat. I mostly just go with the pen and see what happens, or I start from an observation and play with it. I play with different scenarios, sometimes also scary ones, taming fears as much as having fun in developing and extrapolating a situation. Making a joke, telling a story, imagining a rabbit prank is a very cathartic and joyful process.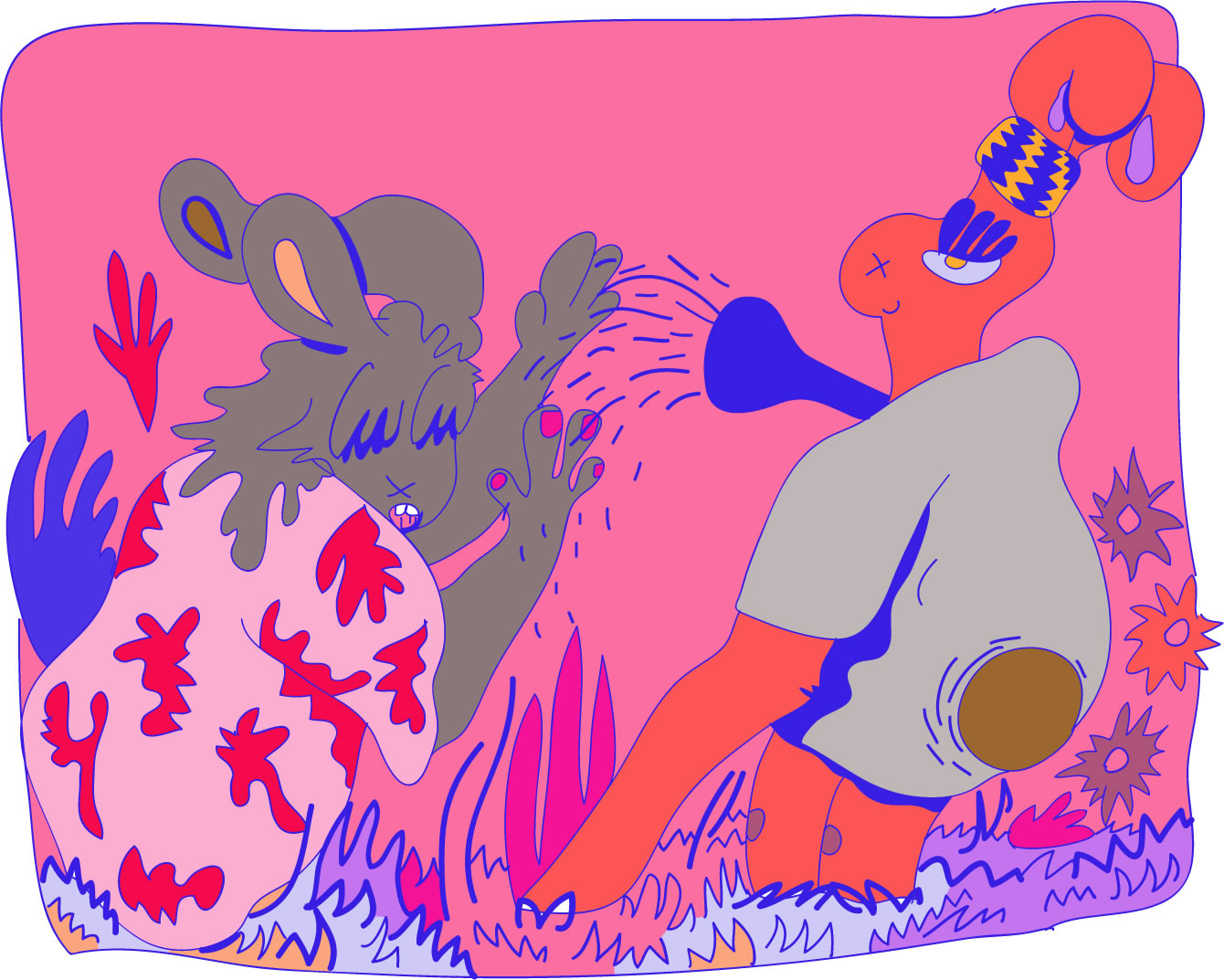 What would you look like/be doing as a rabbit in one of your pieces? 
I think I would like to be a brilliant dancer or athlete, jumping from tree to tree, or a singer.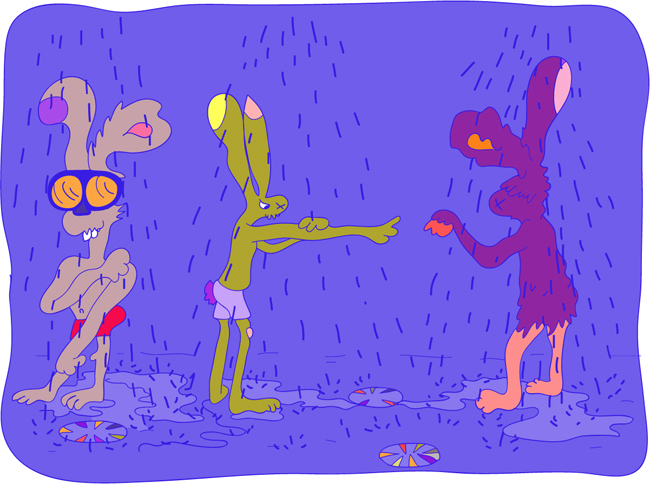 If you could install your rabbits large-scale anywhere in the world, any medium, too, where and what would it be?
Maybe they would be gigantic inflatables, King Kong style, in a city landscape that would somehow interact with architecture and change the perception of a place. But I imagine them also being small and spread massively in the environment, interacting with people in a witty way.
And there is that transportable LED screen, wooden billboard I am working on, and that is giving me a headache. I imagine it telling site-specific stories in big urban environments, like New York or Karachi (I have never been to Karachi).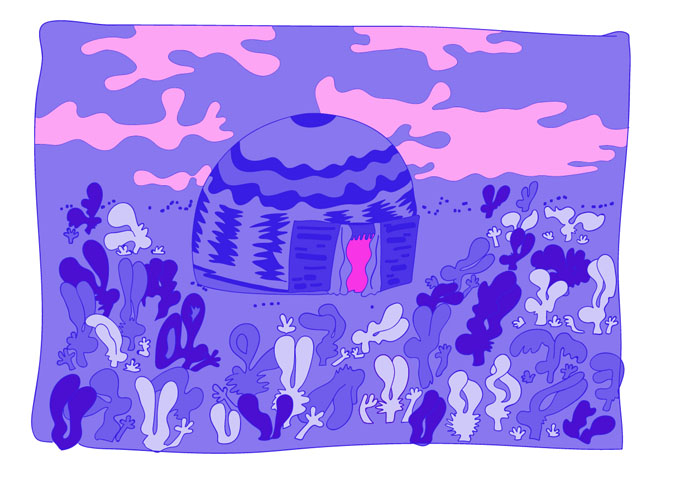 For more from Sarah Haug, visit her website.