If
it were 
possible,
Sarah Sitkin would be
a metal robot.
A cold, hard, self-cleaning aluminum body, void of the oily, jello-y characteristics of the human form and the range of excrements composed by it's constantly changing nature. She would boast an array of shiny, machine-fabricated parts that would make up her ultra clean artificial figure, and she would no longer have to worry about the repellent odors and wetness that once accumulated on her human skin.   
"I don't feel comfortable in a body at all," says Sitkin, sitting on the counter of her studio desk, cringing. "I actually hate having a body and all of the weird things that come along with it."
Sitkin is so repelled by the human body and the thin skin that holds it all together that she's devoted her work to distorting, disfiguring and breaking down every aspect of it. Crumbling and deteriorated facial structures, hands, and fingers with Stretch Armstrong-like flexibility and human heads with patchworks of different colored skins, hair and textures all indicate Sitkin's volatile relationship with the human form and her coming to terms with being confined by her own skin. Her enigmatic sculptures bend the limits of the physical human form as they delicately dance along the blurred boundaries of macabre and beauty.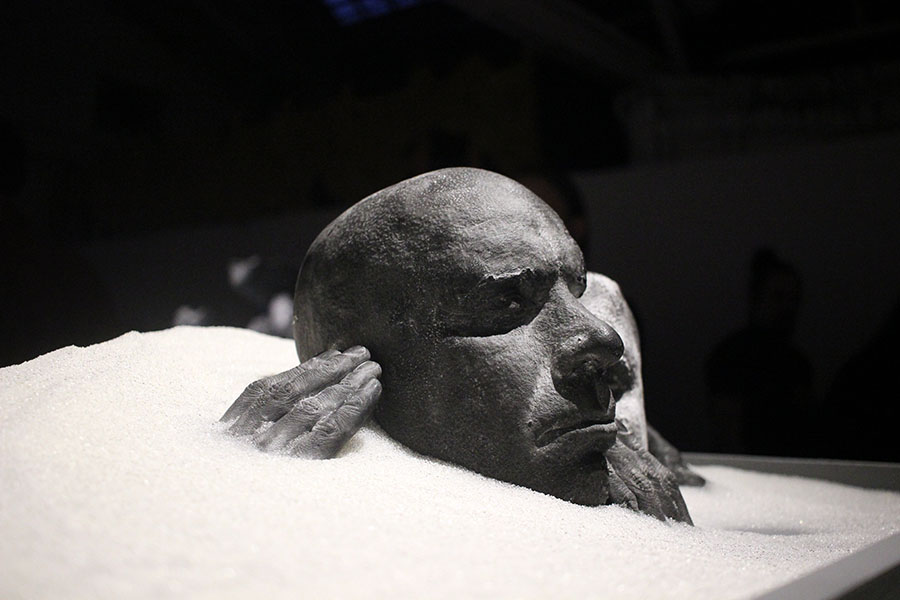 "Part of that dysmorphic aspect of my work comes from the hyper-unrealistic versions of ourselves that we are constantly bombarded with," says Sitkin. "Especially here in Los Angeles, you're driving in the car and are inundated with Barbie-like figures on billboards, or you're in the grocery store checkout line and repeatedly see these airbrushed faces with big ol' teeth on the covers of magazines."
For Sitkin, Los Angeles represents more than just her shallow, appearance-driven hometown. In many ways her work stands as a direct reflection of her Los Angeles upbringing: from her initial interaction with special effects, crafting, modeling and film props at her family's hole-in-the-wall craft store in Studio City, to the materials she now finds herself experimenting within her humble studio space on Melrose.
"My parents' shop was just down the street from all of the special effects studios," says Sitkin. "In the 90s all of these special effects artists would come into the shop with their work. Those early interactions coupled with the array of Predator masks, Facehugger models  and original props that my neighbor Bob Burns housed and shared with me, my brain was just sort of molded around those two things."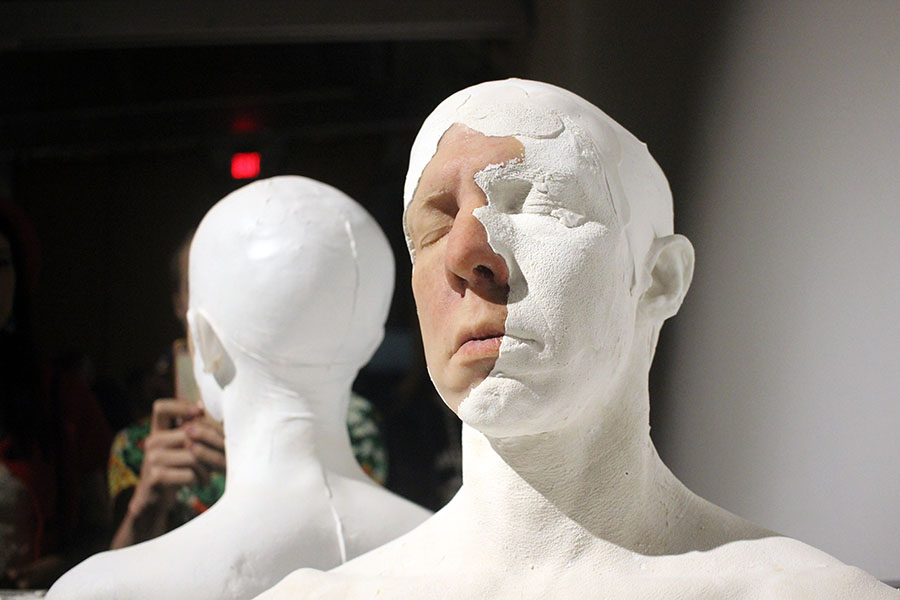 Now, Sitkin works like a mad scientist in her studio, documenting cure times, temperatures and the durometer of the varied silicon materials she uses to craft her deeply detailed and lifelike sculptures. Unlike the traditional materials associated with sculpture, like alginate and plaster, silicon functions as a unique and completely morphable substance. Everything from color, hardness, opacity, and elasticity can be transformed and contorted—details and characteristics that have since been at the creative mercy of Sitkin's developing sculpting techniques and her one of a kind process of molding, heating, stretching, prodding and tearing.
Sure, silicon has been adapted to further propagate industries like plastic surgery and sex toys, however, the material remains a new and rather foreign element in the scope of sculpting. Few sculptors, if any, have realized the overwhelmingly customizable character of the substance like Sitkin has, directly fabricating it rather than pouring simple molds
"What you can do with Silicon right now is so incredible," Sitkin gushes, making hand gestures as if she's morphing the material right in front of her. "I don't think a lot of people have experimented with it much and are still using traditional techniques from alginate and plaster and simply applying it to silicon. However, silicon is such a unique material: if you freeze it you'll slow down the cure time, if you hit it with heat it accelerates the cure time. So when I get it onto whatever I'm working with, and have a heat gun, I can change the cure times for all the different layers, and can sculpt with it while it's curing, before it's fully set. I can make it a really hard rubber, almost rock-like, to super stretchy so that it's like slime or goo."
The truly radical nature of Sitkin's procedures manifests when her sculptures are assembled into a complete figure, illusionistically painted for the most convincing or unearthly skin tones and textures, and finally staged amongst a cast of shadows and light for photographing. It's at this moment that Sitkin's sculptures take on their temporary essence, and through light and shadowing, let the rest of the image unwind in varying degrees of darkness, implying, rather than showing, all of the sculptures' details.
"I love playing with light and shadow—that's a traditional sculpting technique to not necessarily mimic the form itself, but to work with the light and shadows," says Sitkin. "Similar to how bodies are temporary, I think my sculptures are temporary too, which is why using photography was such a great integration into my work. The silicon is always in motion, gets dirty easily and deteriorates when you stretch it too much. So if I take a picture of what I was making at the moment when it looked the best to me, that's all I needed to get. Otherwise, I let the thing go into the trash."
As Sitkin sits in the corner of her dark studio amongst cubbies of scrap castings, folded up pieces of silicon skin, mold keys and dental alginate, it becomes obvious that she's forever trying to recreate the environment she grew up in: a state of continued experimentation with freaky materials to fashion her sculptures. With each new piece, Sitkin comes closer to permanently blurring the line between what appears real and fake, challenging some of our most inherent sensibilities.
This article was originally published in Amadeus issue 06. You can snag a copy here: Amadeus Issue 06. For more from Sarah Sitkin head to: sarahsitkin.com.