Honcho Poncho are five guys who grew up in the middle of one of music's most beloved cities; the one and only, Seattle, Washington. And they took advantage of growing up in their rainy city by immersing themselves in the wondrous music scene.
The group, made up of Kalin, Charlie, Jonah, Owen, and Sam, are all working musicians who've played in a range of different bands, inheriting sounds from every genre they've at one point or another inhabited. No matter if they're playing in Mary Lambert's band or a funky R&B combo, Honcho Poncho is the band they call home. The guys don't necessarily set out to be something different, but different is exactly what you get when you find yourself listening to their knee-clapping, foot-tapping debut album Late Night. It's an entirely appropriate title for an LP that took hundreds upon hundreds of late nights to make… around 730 days to be exact.
Late Night was a record based on trial and error, and it becomes evident in the eight meticulously-crafted songs. It's full of those late-night-feel-good tunes that you'll find yourself listening to when it's long past midnight and it's just you with your closest friends. The folk-rock album effortlessly emphasizes classic strumming acoustic guitars and vibrant piano melodies, all while adding their own alternative, Honcho Poncho twist. We had a chance to talk to the founder, frontman, and lyricist of the group, Sam where we got to talking about the origins of Honcho Poncho, our favorite lyricists, and fellow Seattle native Father John Misty.
How did Honcho Poncho begin. Where did you all meet and how did you all come together to form the group?
It started when I made a series of recordings by myself and wrote a couple songs. I took those and applied to a music festival in Seattle called Sound Off! I was accepted and then I needed to form a band to surround me. So I started gathering folks that way initially. The new lineup was formed one summer when I was working at a festival called Doe Bay Fest and I ran into this guy named Kevin who booked the festival. He offered me a spot at another music festival called Chomp! At that point I started gathering the crew again and we started now with our current lineup. That was our first show altogether.
All of you kind of came from different genres – a couple of you were in garage rock bands, you were in a folk/country band –  is that how you guys kind of chose to go the folk, alternative rock route?
It's just sort of the music that I write. I've always found it really difficult whenever I join a band that's like, "We want to be this type of band!" I mean, it's fun and you can do it, but it doesn't feel as authentic as when you have a group of songwriters and we're all just writing what comes to us naturally. I think after picking up all of the different styles from playing in punk bands and country bands, I eventually started mixing it all together. Those guys bring in a lot of different stuff: Kalin is in an R&B funk band, and Owen, our guitarist, he gets around town as a jazz guitarist. We're all coming from really different places. Our bass player plays bass for the Mary Lambert Band, but this is home base now. We all go off and do our own thing, but this is the thing that we call home as a project now.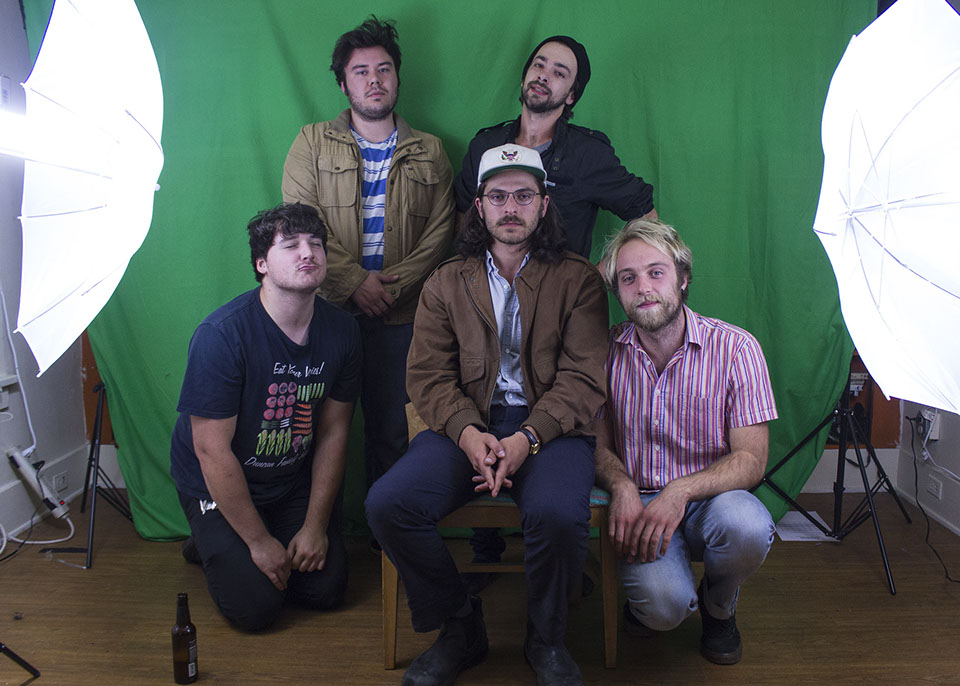 So everyone's sort of focused their gears towards Honcho Poncho now?
We all knew that we were interested in playing in it, but we didn't necessarily have the means. Sometimes it takes a little financial interest to get behind a project, especially for these guys who are all working musicians. With this one, we all just sort of showed up and were like, "Hey, these tunes are really fun to play and people really seem to like them, so why not just keep going with it?" Everyone needs what I like to call "Scooby Snacks," where it's just like your songs get added to rotation on the radio station and people keep listening and buying your stuff. It's just sort of ya' know…just Scooby Snacks! Everyone gets excited and they can keep going because they're doing what they love.
"We all go off and do our own thing, but this is the thing that we call home as a project now."
Do you think that growing up in Seattle has played a part in all of your guys' musical identity? Or do you not really see Seattle as part of the equation?
I think it's a huge part of the equation. I mean we live in an age where we have information at any time, but you still can't escape the fact when you turn on the radio in Seattle, you're probably gonna hear Fleet Foxes. There are sounds that have come out of here and have faded away, then have come back. The genres are in an interesting cycle in this city, where it depends on what band has branched out from a certain genre to make it sort of solidified in a public sphere. What I dig about what Honcho Poncho is doing is that it seems to be something that I don't see a whole lot of other bands in this sort of age in Seattle doing. That could either be a really good thing or a really bad thing. Who knows? I think that a lot of artists in Seattle sort of wait for their moment in a way. They wait for when their work is needed and then the community is so supportive here that I think it does play a huge role in it. I mean things like KEXP, and all of the different concert series and festivals that go on around town; it's a really supportive community. It's a very open access point too. There's not a whole lot of homework that you need to do in order to be in the right rooms.
I've noticed that Seattle breeds a lot of garage-punk bands.
Yeah! It's interesting because I think that the three waves – and it's hard to say if we're in one now – but I think that way back we had grunge, then we had the folk rock era, and now we're sort of in another rock and roll phase, but it seems a little more like everyone's swimming, looking for what exactly the town is in the mood for. There are a lot of old itches that are being scratched by a lot of bands in town that reminds me of another time when other bands were playing around town like Built to Spill. Yet no one's really been like, "Hey you sound like that other band from another time," which is refreshing. It happens a lot and it's hard to escape especially when you're in a town where music is so cherished, local music especially. It's easy to kind of cross breed those styles.
That makes total sense. I feel like for rock and roll… nostalgia is nice but I think that being new and different is a lot better, obviously. It separates you. Listeners won't try to pigeonhole you. So when you were growing up in Seattle, was music something that you always wanted to pursue?
Yes. I mean, I think it's sort of hard to not. It's a tradition. It's passed down in this town almost. It's sort of inherited. I think, especially for young people, the avenues to play music are immense. If you choose to not take those avenues, it's almost a very deliberate choice not to. There are a lot of communities here that are all about all-ages music venues. My weekend night as a twelve-year-old was going out to see local music. Obviously that is incredibly inspiring, and it never stops.
Do you think there was a particular moment or person where it just clicked for you, where you were like yeah this is what I want to do?
I think it was through a series of fortunate events that have led to the position to really go all the way on it. A lot of it had to do with community support. I think that once you get that blessing from whatever community you're a part of, it's easy to make that decision. I've been really humbled by the last couple of months by just seeing how the music's been received and the support of fellow band members, and I think that's what made it really real for me; recognizing how much friction there can also be. It can be work and it can be something that you get better at. I think one of the greatest dynamics of our practices is that we definitely do not coddle each other. I think we can sometimes push each other in a way that can be really hurtful, but in a really healthy way too. We hold each other accountable for a lot. We all know we can do that much more as individuals. We all trust each other well enough that if one of us is missing the mark, that person feels accountable and should feel accountable for their mistake. And also know that they're forgiven. It's a weird mix. No hard feelings… but we all know that you fucked up. That was inspiring. I come from a theater background and was an actor for a couple of years. That's a very critical environment in a really healthy way you know, it wouldn't exist without criticism. I think that's something that some bands don't focus on, and don't embrace, and don't cherish: the criticism. They just kind of show up, play their tunes, and rock out super loud and super hard. Really it should be about the individuals and focusing on one person at a time to make sure everyone's with the herd. Working in that environment is probably the most inspiring for me.
That's a really interesting perspective. So when you guys are practicing and going through these songs, making the album… I'm sure that criticism is something you guys really held with high regard. 
Yeah, it was a monstrous process. It was a two year process basically. It's actually around the 2-year anniversary of the beginning of the process of this new LP.
Happy anniversary.
Thank you, you'll get your gift in the mail! I recorded it all with Kalin, our pianist and when we were three days from saying it was done, Owen, our lead guitarist came in and said "this isn't done yet. Here are the twenty ways we can make this better." From that point, it took another 6 months. We scrapped a lot of material and a lot of parts. We re-recorded a lot of stuff and just used better equipment. The whole process went from December 2014 to July 2016. There was never a dull moment too.
There was always something that was in the works too. I was living out of Walla Walla, Washington, and was communicating with them from far away and I'd come back and record some sessions. I'd be on the phone with them a lot. They'd send me mixes and we'd send each other notes. It was an album built on criticism that I thought was really beautiful because there was no decision that wasn't questioned. I heard a story about Gene Wilder and about how when he was writing Young Frankenstein with Mel Brooks that he would be writing all day and Mel Brooks would come over for dinner every night and would sit down and look at Gene Wilder's writing and would say, "Hey this is crazy. Are you sure you want this in here? This is really ballsy." Gene Wilder was like, "Absolutely. This is the key to the whole movie." Apparently he would get red in the face and got all serious. Mel Brooks said, "Okay, I just wanted to make sure you cared. Now it's definitely in the movie." If you don't give someone an opportunity to stand up for their work then you don't know that they really care or like their decision. I think that I'm making it out to sound like we're yelling at each other all the time, but we're really just having conversations about it all, and really deliberately making choices every time we sit down.
"If you don't give someone an opportunity to stand up for their work then you don't know that they really care or like their decision."
Your lyrics are really candid and seem to be in the moment of what you're feeling. What is your writing process like? 
So what I normally do, I write all of the lyrics by myself. That's what happens most of the time. For some of the lyrics on the album, we would record something and have a vocal melody. We kind of wrote and recorded at the same time when we were doing the demo process. I would tell them to record a part and I'd come back in 15 minutes with some lyrics if I felt like it was the time. So that's one half of my writing and the other half is the painstaking, meticulous moving around of words and commas. More recently when I write a song, I'll sit down and write 20 verses and scrap 15 of them. I prefer my lyrics to be an invitation, opposed to a proclamation. When writing, my favorite lyrics are all from people who wrote something that was to be interpreted, but not in a way where people had to figure them out. They were writing so that people could develop a relationship with those words on their own. That's how I've developed relationships with all of my favorite musicians; it was by having my own time with their lyrics. I'd like to think of it as an act of generosity. I like to string together a lot of things that I don't understand yet and sort of let them have their own life in a song. It's very rare that people are given an opportunity with language that they have permission to do something with it.
Yeah, I agree. No one likes to listen to a song and feel like they're being fed something. Do you have a particular lyricist that is one of your favorites or has inspired you to write the way you do?
Yeah, it's a little scary because you're afraid to admit your formula, but I love the the lyrics of Jeff Tweedy quite a bit. Jeff Tweedy, Neil Young, Joni Mitchell and Elvis Costello. In particular, I feel that Joni Mitchell has some of the best lyrics and poetry out there. Patti Smith also. I think that these are people who really saw their songs and their lyrics as literature as well. You can sit down and read a Joni Mitchell song and have the same experience with it, it's just that she also knows how to communicate that through song. Do you have a favorite lyricist?
Hm. I really like satirical lyrics at the moment, so probably Father John Misty.
You know, I worked in the shoe store that he worked at. We never worked there at the same time, but I saw him on the street the other day, while in the care with my friend, and was in a heckling mood. I felt really bad about it as I drove away, but I rolled down the window and yelled, "Hey, when you comin' back to the Woolly Mammoth?" He looked back. He looked confused, but he also has an interminable sense of cool, so he seemed alright with it.
Up until about a year ago, I didn't even really know that he was in the Fleet Foxes.
Oh yeah. That's the real deal right there. I actually just listened to their second album Helplessness Blues the other day and it's just a masterpiece. Robin Pecknold's music used to really inspire my songwriting and I learned very quickly it's just something I love to listen to and not something I want to try and write. It takes a really particular person to write that type of music.
So what do you want your listeners to take away from your album? 
It might sound dumb, but I think that my favorite thing that could happen is that someone else would come up to me and tell me something completely different from what I meant. I think that would be the most exciting to me because then I would have succeeded in giving them an opportunity to develop a relationship with it. I'm at the point where I want to have an amicable divorce with this set of songs. I think that's where I'm at now. I want the songs to have their own life in other people's ears. If I had something to say to people, then I'd be doing what you're doing, I'd be a writer. I respect the hell out of people who can do that. I've never been able to be that direct about anything. I think that that's a talent for the few. Amadeus doesn't seem to be too instructive and I find that refreshing. It's just here's some more great stuff that you can figure out yourself, which I love.
Listen to Honcho Poncho's new album Late Night via their Bandcamp and stay updated about upcoming shows and releases on their Facebook.