San Pedro, despite being technically part of the city of Los Angeles, is in spirit a peninsular community. It has always had this persona of a small town, but it's always had this edginess of a port town, which over the years has lent itself quite well to an underground art and music scene. While Pedro was a harbor for creative protest during punk's middle passage, spawning bands like Minutemen and Peer Group, and posing as the perfect breeding ground for the DIY label, Recess Records, the Pedro scene continues to pump out noteworthy music, like the new four-piece Slaughterhouse. 
Slaughterhouse has been rocking the fuck out from the get-go. Since officially hitting the scene in early December of 2017, with Gaby Ramirez on vox, Taylor Ramirez on guitar, Eddie Cairns on bass, and Miles Gretsky on drums, their ominous punk sound has proven infectious. Ramirez's voice is as coldly foreboding as a ghostly sea siren, which alongside the eerie and searing guitar of Taylor Ramirez, and infectiously menacing bass and pummeling drums, boasts the band's take-no-prisoners fury. 
I stopped by Slaughterhouse's practice space in San Pedro a couple weeks ago where they told me about their varied influences, their new self-titled EP, and wanting to play as many shows as possible. 
How did Slaughterhouse come together?
Taylor: A year ago Eddie and I wanted to start a band because I came up with a few guitar riffs that he thought were cool. So we called our friend Miles to come play drums.
Eddie: Just prior to that Miles and I tried to start a band, but it was just us two and nothing came of it. Miles and my bands have played together over the last decade too. Gaby was in mutual friends groups and was also in a couple of different bands in the area.
Taylor: So Miles, Eddie, and I were playing together for like 10 months, coming up with these songs, and we had a really hard time finding a singer until we asked Gaby one day and she was just into it. The first practice she came to she didn't have any lyrics or anything, but she just started singing nonsense, and it was awesome.
Eddie: After that practice Gaby went out the front door where she was parked and we all went down to the basement where we were parked and as soon as she went out the front door we all kind of looked at each other and just all shrugged our shoulders and smiled and said, "Yeah that worked, right?"
Miles: You should have seen Taylor's face when Gaby started singing. It was just a big smile.
Eddie: Gaby shows up to the first practice and we're like, "Do you want us to play the songs real quick so that you can kind of feel out what you want to do." And she was like, "No, just turn the PA on." She started belting before she even had heard any of the songs.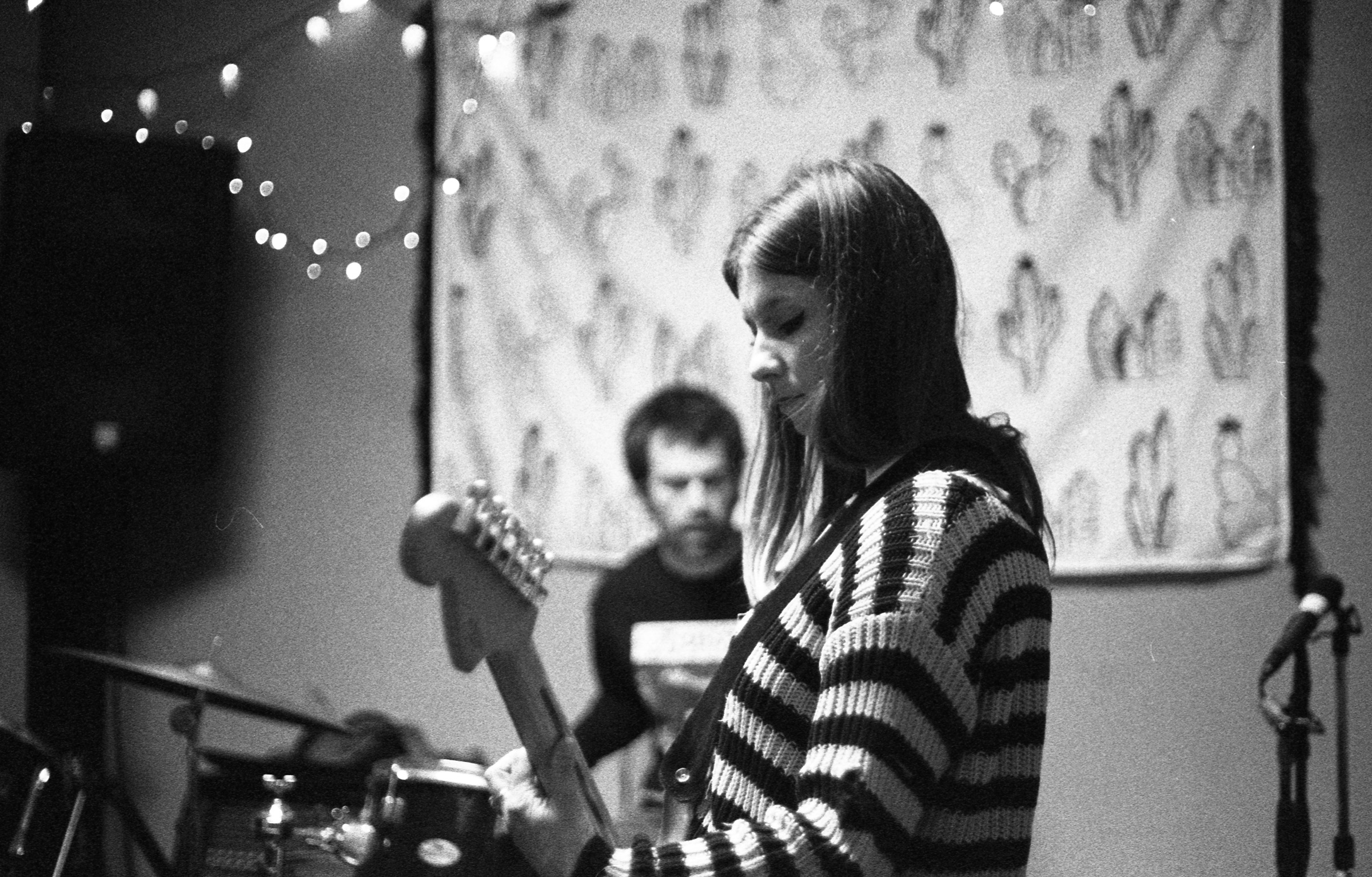 What was that first night like for you, Gaby?
Gaby: I hadn't played music for a while at that point and I really love playing. I'm in Slaughterhouse, and also started a project I play guitar in where we play Korn cover songs and originals; we're called Kunt.
So you've played guitar mostly, what's it like being on vocals now?
Gaby: Fun. I started playing guitar in 6th grade and when I was 13 I had this band called Teen Pastors. We used to cover Bikini Kill. But honestly, it's always just been fun for me.
Taylor: We had all these songs and we pretty much just said, "Can you write some lyrics to these songs and come up with the melodies," she came back and they were perfect.
Eddie: There was this one song that I had that was finished and I was set on it being sung a certain way. She didn't listen to me and sang it her way and I was like, "Fuck that was way better."


Tell me about the past year, you've been writing these songs and now you just came out with a self-titled EP.
Eddie: Over the last year while Miles, Taylor, and I were jamming, at least speaking for myself, I was super close to thinking it wasn't going to work, that nothing was going to happen. Then in November Gaby came and…
Taylor: And we said, "Fuck it let's play shows ASAP!"
Eddie: We played our first show December 6th, we recorded the EP on December 16th, and so within in a month everything was moving quickly.
That's definitely something I realized, right around November and December I started to see you post about songs, the band, and shows daily. It was like there was a small murmur about the band amongst friends at first, but then it was one release or show after another.
Taylor: When we were ready to play I just hit up Paul, who puts on the shows at 4th Street Vine in Long Beach, and told him if he ever needed a band to play during a random weeknight, that we'd be down because we're new and we want to play shows. We did that first show in December there and then after that other bands and people were hitting us up to do other shows. We just want to play a lot.
Well, it's obvious that you guys want to play, you wrote and recorded an EP in a matter of a month.
Taylor: Yeah we were very antsy.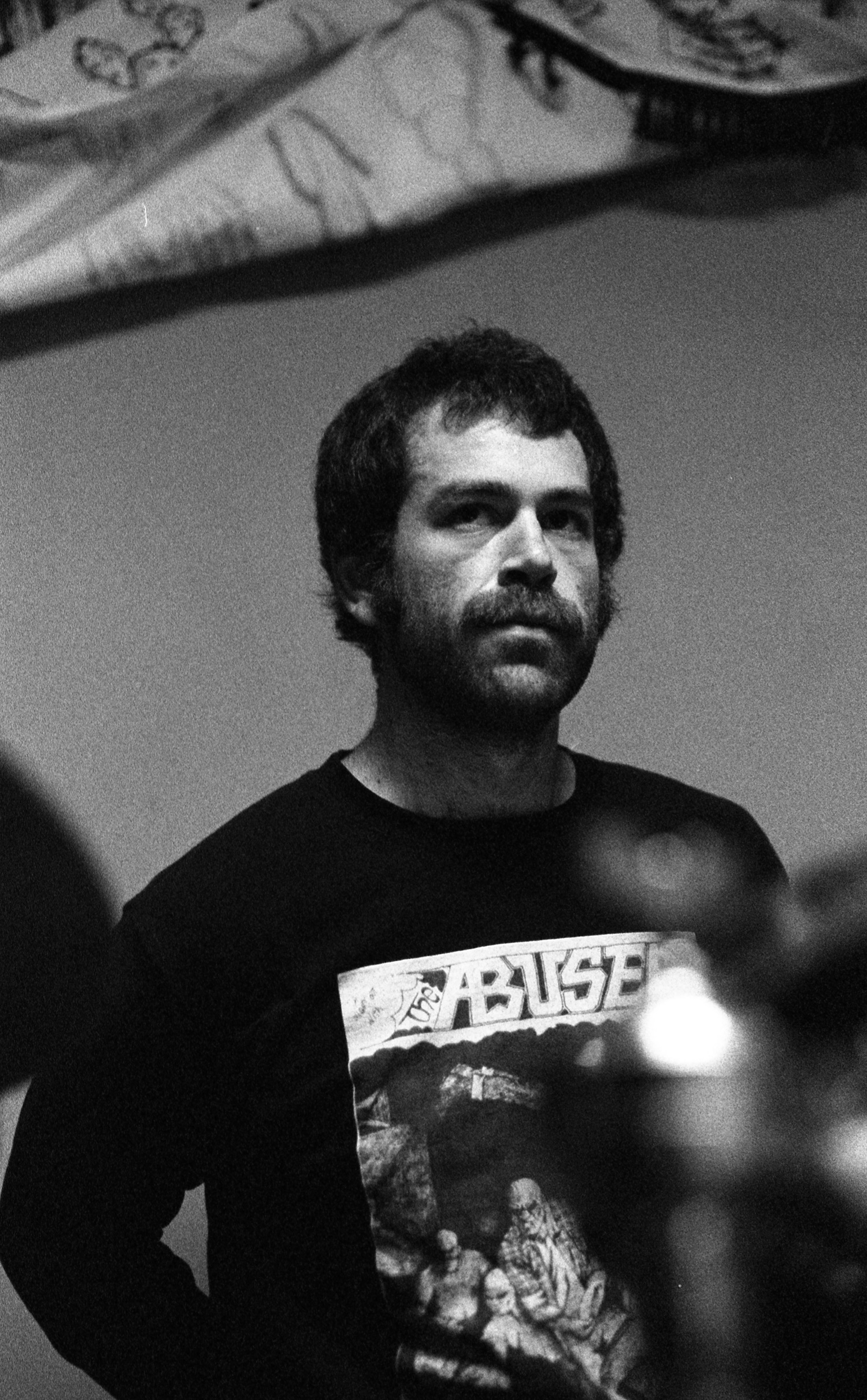 Tell me about the recording process; where did you record, over the course of how long, etc.?
Eddie: We were hanging out with one of our friends, who plays in Bombón, and her boyfriend Anthony Gamez asked us if we had recorded yet. We told him, no, and he said, "I just got new recording equipment and I want to use it." I took him up on that offer and must have called him that same weekend.
As for the writing process, it seems like you all kind of brought your own riffs, drum parts, and bass lines in for the others to build on.
Eddie: Yeah it's pretty simple, Taylor has some riffs, I had some riffs, Miles came with a couple full-structured songs that were done, and Gaby wrote lyrics to all of them.
Taylor: Since Gaby plays guitar too, she has some riffs that were going to start working on now too.
Seems like things have fallen into place nicely.
Eddie: It's really easy because everyone is pretty motivated. Miles is in four bands total and it hasn't slowed down what we're doing here at all.
So what's in the immediate future?
Taylor: We're writing some more songs, getting ready to play some fun upcoming gigs, maybe go up to Portland and Seattle in June, and we want to head up to Oakland to play with our friends Shutups.
Eddie: Gaby wants to play a show in Mexico. I think with everyone's motivation, even before we have a 25-minute set, we're ready to tour.
What were you all listening to when you were writing this EP?
Miles:  A lot of dark-wave and goth. The darker sides of music. I listen to a lot of death metal too and Gaby listens to a lot of heavier music too.
Eddie: I think it's safe to say, the dark version of everything. No matter what it is, I think we like the darker imagery or vision of it.
Miles: More music that has the sense of giving you goosebumps when you listen to it or is kind of eerie, which you hear a lot of in Taylor's guitar and in Gaby's vocals.
Taylor: Eddie and Miles also have an upbeat rhythm section, and I definitely think Miles' makes the songs stand out. Some stuff I'm always listening to is Siouxsie and The Banshees, Bauhaus, 45 Grave, Rudimentary Peni, The Cure.
Tell me about the music and creative community here in San Pedro.
Taylor: When Eddie and I moved to San Pedro we knew a lot of people here already that play in bands. There's a music scene in San Pedro that used to be a bit more active, but there is definitely still a lot of stuff going on here and everyone's so supportive of each other it's very cool. We're happy to contribute.
Slaughterhouse plays the Hi-Hat on February 28th with Rik & The Pigs and Tenement Rats presented by Hellbent Booking.
All photos taken by Alex Khatchadourian.