Luke Pelletier was known on campus as the artist to watch out for. In 2013, Luke and I met during the spring semester of our sophomore year at the School of the Art Institute of Chicago. Based on my first few impressions, he seemed somewhat of a mystery to me; however, his dedication and commitment to perfecting his craft held my attention and respect. You could regularly find Luke working away in the studio; always the first one in and the last one out. His undeniable work ethic and professionalism distinguished him from his peers, while his obsessive-compulsive sensibility gave him the savviness to produce a body of work that intimidated and inspired a favorable amount of our student body.
Last August, Luke moved from Brevard, NC to Los Angeles, CA in hopes of finding new and ambitious ways to develop his technique and artistry. Over the last twelve months, his hunger, ambition, and sense of urgency granted Luke his second solo-exhibition at New Image Art Gallery, a show our creative community is stoked to learn more about.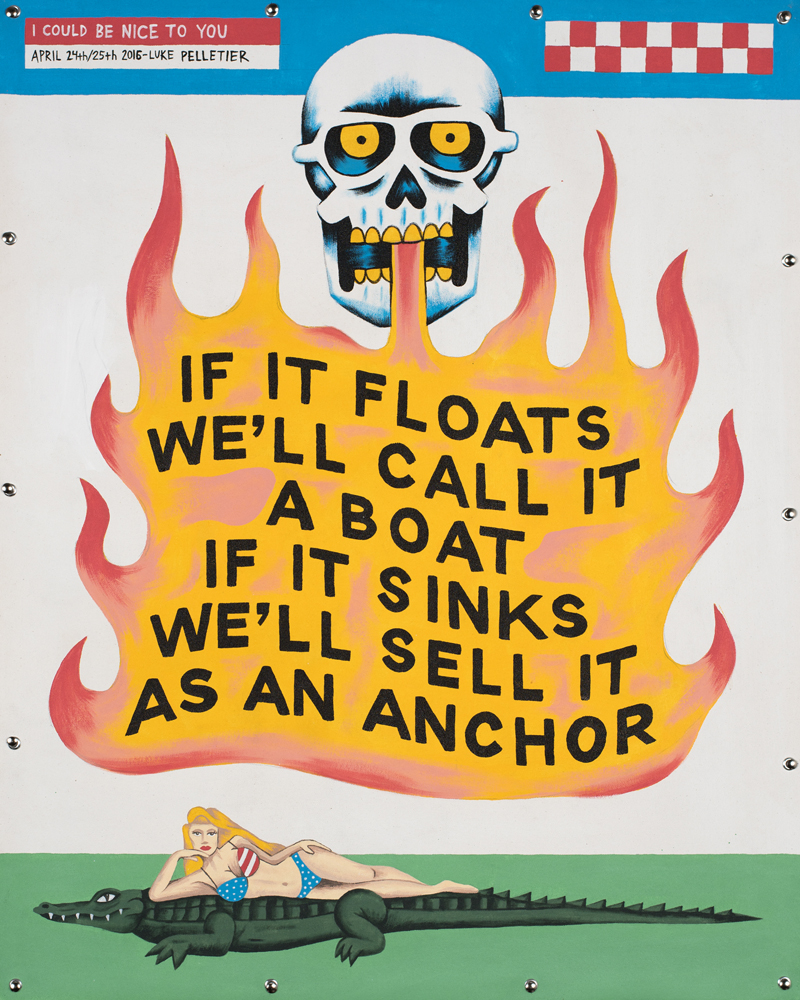 We're only twenty-fours hours away from his upcoming solo show at New Image Art Gallery, a space that's positioned artists like Shepard Fairey, Cleon Peterson, and Retna at the forefront of international exposure and creative and artistic breakthroughs. He's transformed the space by separating the gallery into four separate rooms, each fit with its own distinctive viewing experience.
"At this scale, my process had to change a little bit. Before I even started painting, I went to New Image and got blueprints. I knew exactly how many pieces I needed to make and the dimensions of every piece. After that, I let myself go."
Luke continues to create his distinguishable patterns, concepts, and visual motifs but his new body of work also delves into new and more personal territory. If It Floats… guides us into this artist's new process, aesthetic, and personal commentary on his "questionable career moves" and controversial opinions. Through the use of installation, painting, and writing, If It Floats… attempts to point out life's greatest contradictions and Pelletier's thoughts on his obsessive need to make sense of the things he does best. His work is always layered with colorful patterns, personal anecdotes, dark humor, and scenes of paradise. Luke, like his work, is unapologetic and willing and able to allow us an inside look at his deepest and darkest thoughts.
The term social practice comes to mind when analyzing Luke's process. After taking a course at the School of the Art Institute of Chicago on social practice, he found a way to produce work that could inspire debate, collaboration, and social exchange through a range of different mediums.
"When I went to college I started learning about installation art and social practice and art that could function in the real world," says Pelletier. "My first real attempt was with this pinball table I made. It provided a person with an experience. It's functional. It was my first try at creating something like that."
This body of work similarly attempts to challenge his audience and offer conversation around interaction and functionality within a gallery context. His goal, both as an artist and as a man, is to bring artists, writers, musicians, and academics together in order to provide immersive experiences for his viewers through a variety of different platforms: installations, gallery exhibitions, films, and forums.
"The best part of making is sharing it with other people," says Pelletier. "It's the whole reason I do what I do. I would never make paintings if they were just going to rot in my house. I want people to have a good time and know that I was responsible for providing them a great time. The paintings could be almost anything but they're the things that allow me to organize these events and bring people together."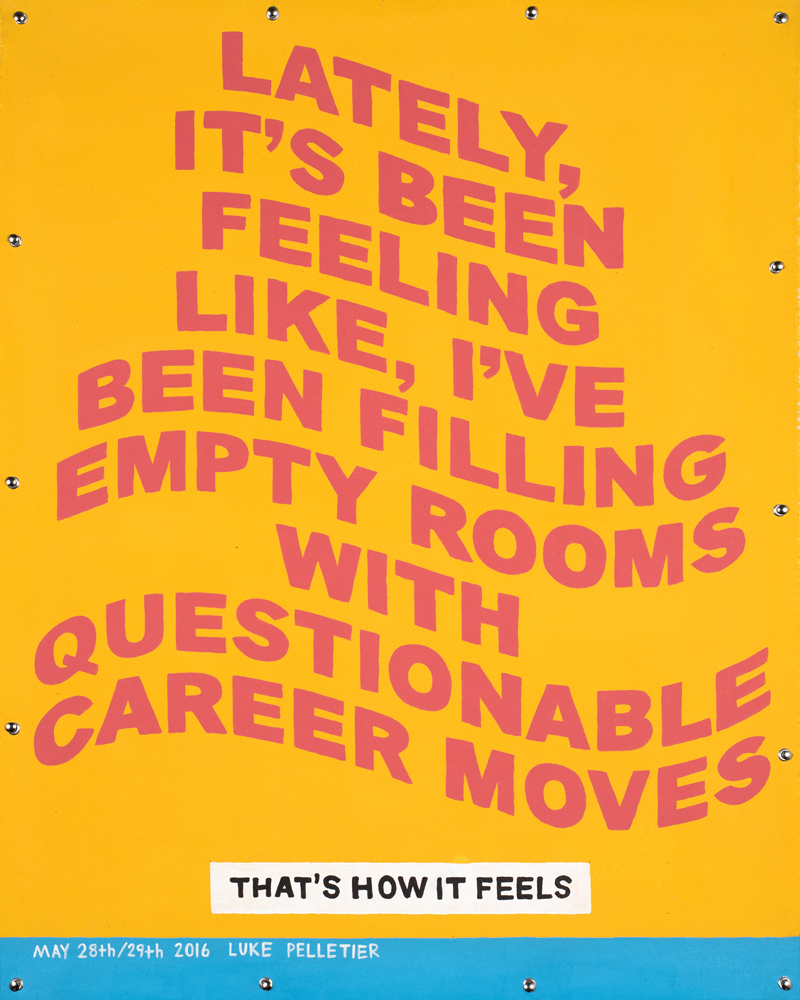 Over the last few years, Luke's developed a handful of relationships with young, passionate, and highly skilled aficionado's to collaborate with. I've been fortunate enough to work with Luke and observe first-hand his style and enthusiasm towards collaboration. Luke's new body of work is his most ambitious and conceptually developed work thus far because he's had a solid team helping him every step of the way. His brothers Cody and Tristan have been by his side these past couple weeks, offering him the support and extra set of hands to build such an immersive space. 
"Most of my ideas and most of the stuff in this art show were unrealistic without the help of others," says Pelletier. "This approach to making can't happen alone."
Many of Luke's memorable collaborations have progressed his career in a variety of different directions, but his newest relationship has so far been his greatest. Luke's girlfriend, artist, and my dear friend Kristen Liu-Wong, has provided Luke a new perspective on his practice both as an artist and as a lover. After the two collaborated on a series of large-scale paintings for a two-person show at Superchief Gallery in Brooklyn, NY, the two started dating and found it effortless to create with one another and also maintain a somewhat, conventional relationship.
"I've never been in a relationship with anyone that I've admired, respected, and looked up to as much as I do Kristen," says Pelletier. "Before I even knew her, I loved her art and thought she was great. She's completely changed my life because I'm around someone everyday that is really excelling and working really hard at something too. For the most part, my romantic relationships have been very shallow. Kristen, she's different. It's really fun."
Despite his ambition and relentless commitment to his career, he's found a way to leave a little space open for the right girl. This man's reached a level of clarity at a young age and is willing to acknowledge that it's okay to involve a woman into his life, something he thought wouldn't be possible.
"If you'd asked me a year ago how I imagined my ideal relationship, I wouldn't have said any of the things I'm saying now, just because I didn't know they existed," says Pelletier. "We are so keyed in in such a fun way because she's also an artist, she understands. I don't think I've ever fully felt understood but she knows me, she gets it. She's brought out the stuff in me I needed to get out."
Luke Pelletier's concept for this show began with a desire to create a fully immersive space to bring people together. His process began with a blueprint of the gallery and then a series of illustrations, paintings, and a select edit of personal anecdotes to follow. Over time, he found a way to connect all the work together and build an installation, providing each painting a space, purpose, and function. Join us, this Saturday, August 20th at New Image Art Gallery to witness the genius behind Luke Pelletier's newest body of work and meet his friends and family who inspired him along the way. Good job dude, I'm proud of you.
For more from Luke Pelletier, follow him on Instagram.