If it wasn't for Chicago, jazz would've never left New Orleans.
Chad Kouri lives in the vibrant city of Chicago. Under the city lights and amongst the cities' working people and working artists. He is a print nerd who loves his history, constantly researching what has come before him and using that knowledge to his creative advantage. He started off as a graphic designer for a marketing company making junk mail to send out to those poor souls who buy into that stuff. Yet eventually realized he wanted to create tangible things, that carry emotion and hold purpose. "Everything I was making could be removed with a hard drive error and it would just totally disappear. I wanted to make things that I put collective energy into, and where only one of them exists, and it can't be deleted with a simple keystroke."
Kouri, a jazz enthusiast and a saxophone player himself, inherently intertwines his music background in his work. A systematic and process-based artist, Kouri prefers to work within systems that have rules, following along wtih each step until reaching the point where it's his time to interject. "I look at my process through the lens of a musician. Everyone learns and masters different melodies and riffs and you develop a toolbox. Then when it's your turn to improvise, you chop up and combine all the things you have in your toolbox to make something new."
But for Kouri, before he can step into the spotlight for his solo, a vast amount of research needs to be done; he needs to be comfortable with his own tools and be able to play them with his eyes closed. Then when it comes time to work, he lets it all loose. "A lot of it is instinct and trusting that what I am doing at the moment is what I want. There's a lot of pushing and pulling and then coming back and trying to find that balance between the intuition and the tools. I don't really have sketches that I am referencing. It's all very gestural and spontaneous. Taking one shape at a time and then adding or taking away from that."
When Kouri found out he had dyslexia at a young age, he was forced to look at sentences and words in a different way, a more simple way; each syllable was a piece of a puzzle, forming sentences, which then formed paragraphs, and thus emotion behind it. This simplistic and systematic approach he used for reading carried over to his creative process. He works in steps, one piece at a time, adding to a grouping to slightly skew it, then adding or taking away again to skew that.
Kouri is a man of principle. Before he takes on a new project or begins a new piece of work, it has to pass his test. "I have three different studio pockets, so to speak. Research, production, and community. Generally, I try to have my projects reach into two of those pockets in order to be worth doing. I am constantly pushing myself to see how little I can interject into what I am doing while still feeling like I have a voice in that piece. I work on a lot of different projects and mediums, but they all come down to these studio practices."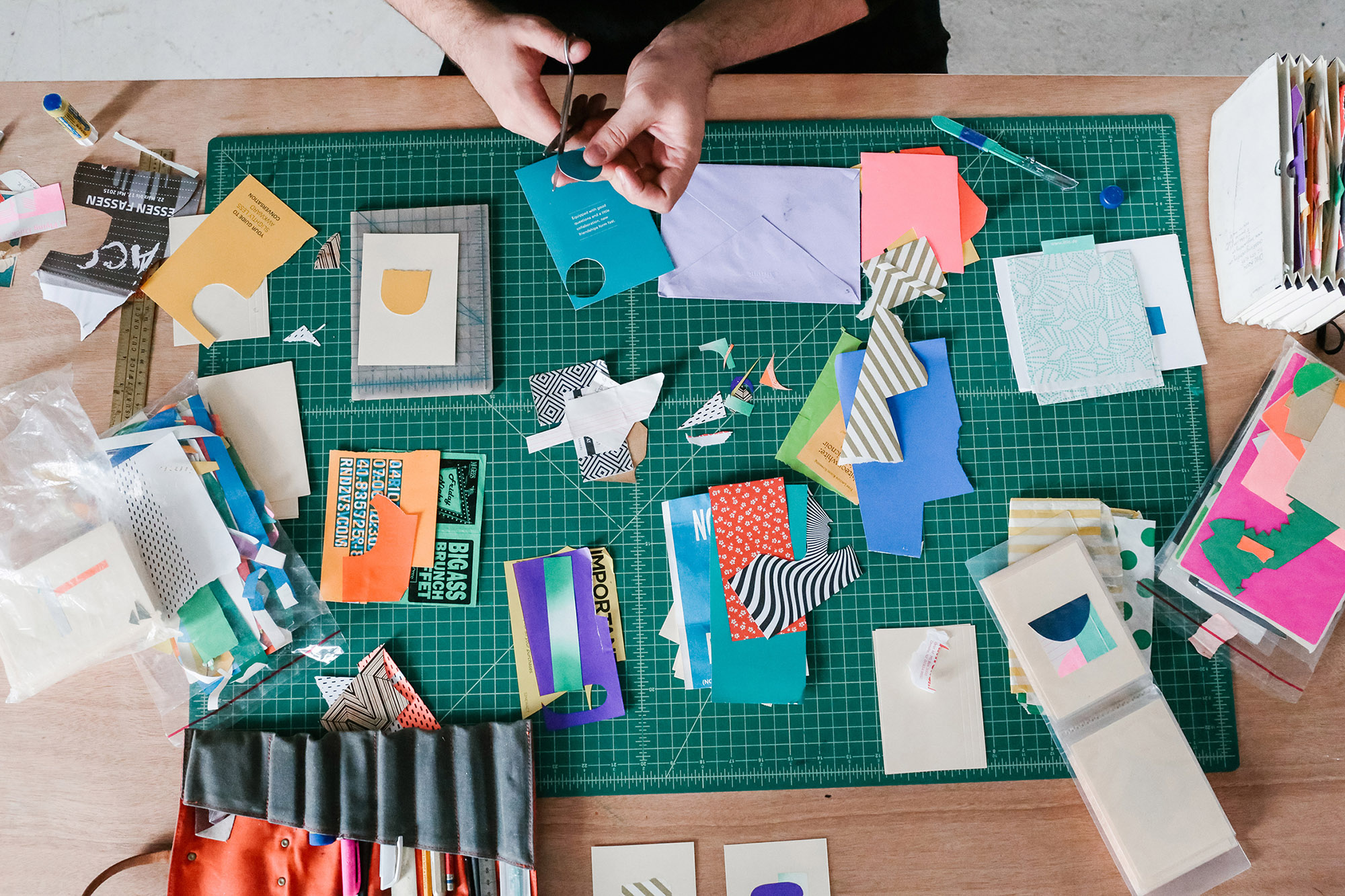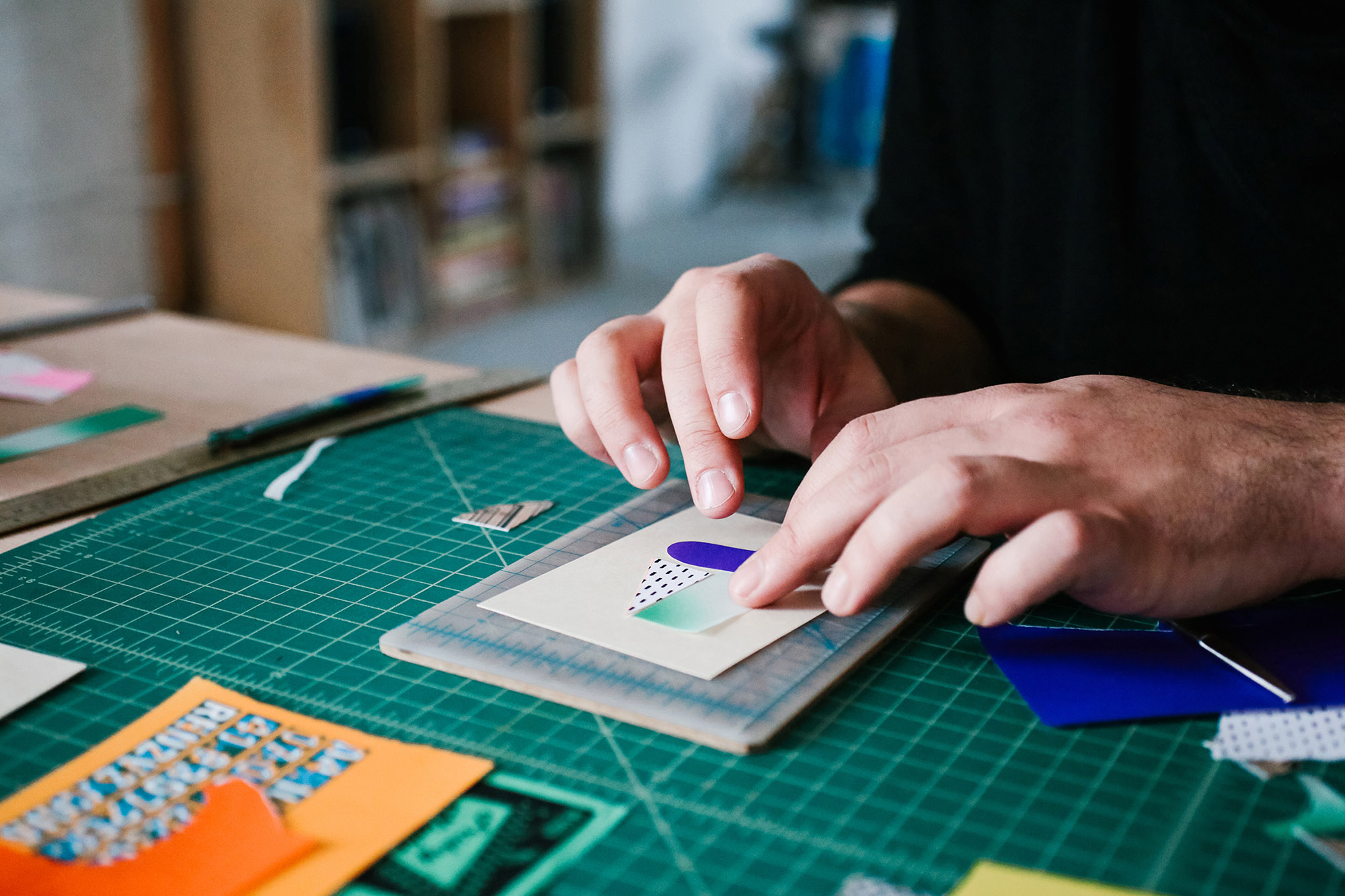 From print to canvas, wearables to design, Kouri is always looking for a new challenge to take on, a different medium to test his tools. But his systematic process of creating never changes. "The most consistent medium I am working with is cut paper and collage. A lot of the choices I am making on all of these diverse projects come from the idea of cutting apart  disparate things and putting them together in a way they wouldn't exist otherwise."
Recently, Kouri has been drawn to painting more. Coming from a visual communication and graphic design background, Kouri has always viewed painting as an artistic threshold one has to pass to gain that true artist description. "It's funny, I feel like I can easily call myself an artist because I make literal paintings. But that's what I understood an artist to be when growing up as a kid. An artist was someone who makes literal paintings on canvas that are really big and would sell for more than a car. It took me a long time to understand that wasn't the case. I am constantly trying to question and counteract the traditional ideas of what an artist is and does."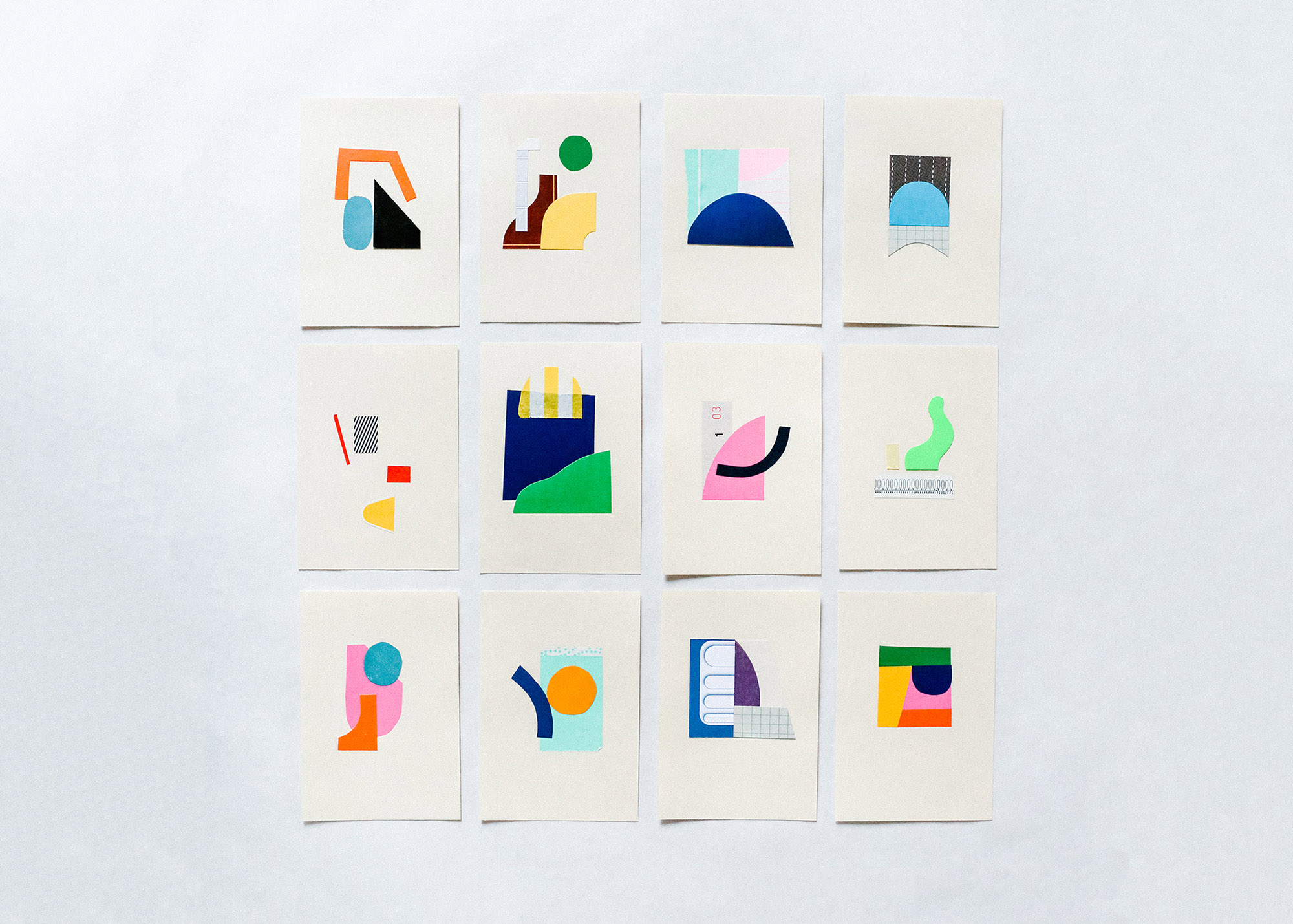 However, Kouri, well educated in art history, knows that this idea of an "artist" is just that, an idea. "I generally call myself a 'working artist'. Previously, people have been known as exhibiting artists, but only exhibiting artwork in these times is not a very reliable source of income. The percentage of people who are just making paintings and selling them to pay the bills is like 1%. Everyone I know is doing something else to support their art practice. The idea of these siloed artists in their ivory tower is not something that is realistic. We don't talk about these things, but a lot of other "famous" artists had day jobs."
Kouri takes a lot of pride in his home of Chicago and appreciates what makes his city so special. There is a certain togetherness within the art community in Chicago that he can't find anywhere else. Artists really supporting other artists and helping one another any way they can. "The last time I was in LA I was visiting some friends from Chicago who live there now and they said it really eloquently and simply, 'Chicago shows up.' People show up and support each other in a different way than how some people have experienced this in other cities. There is this collective energy here. We come from a long history of  blue-collar work, so people are more interested in the labor and the time they put into the objects they are making and less about the flash and recognition."
Having a support system can be a huge help to artists just trying to make it. Kouri knows this and understands the value of it. So when he is not working on a separate project of his own he is working at the Post Studio, which is a shared studio space started by the former Post Family, which Kouri was a founding member of over ten years ago. It's a space that has brought them back to where the Post family started, but with a different group of rotating participants. The core intent of the Post family is still true, to offer a space for making things. A place where studio artists, photographers, musicians, researchers, graphic designers, and more can work and share space together.
This idea of togetherness is something that Kouri wants to spread. With his upcoming solo exhibition entitled "The Center" at Subliminal Projects opening Saturday, February 2nd, 2018, Kouri is looking to turn a commercial gallery space in Echo Park, Los Angeles, into a community center. "Alongside new paintings and editioned works, I am hoping to host some music performances, workshops, sound baths, etc. with local artists and non-profits. I'm carpeting a portion of the space where people can come, take their shoes off and stay a little while. I am trying to find a way to create a space where different kinds of people can come together and be with one another."
For more from Chad Kouri,  follow him on Instagram.