This interview was originally published in issue 15.
Ever want to add a cute lil' flash of 90s angst to your life? Look no further than Grace Miceli aka Art Baby Girl's whimsy, vulnerable doodles. You can find her illustrations on the heels of a pair of Nike shoes, or playfully dancing across your screen, announcing the latest SZA tour. Her drawings are bright, wry takes on everyday pop-culture details. From the sass of a wilting rose, to the ironic humor in her redesign of our childhood cereal boxes, Miceli has struck a chord with the children of the internet. Her way of addressing our anxieties and vulnerabilities in a familiar, approachable way is simple and sympathetic—fuzzy bunnies holding knives make cute stickers on the back of your phone in a selfie, but at the same time, let the world know how you're really feeling.
Miceli, based in New York City, sat down to Skype with us about her career, and how it's taken off in both the digital and commercial markets. Having successfully come out on the other side of art school to thrive as a freelance illustrator, she gives us both insight and advice from her journey.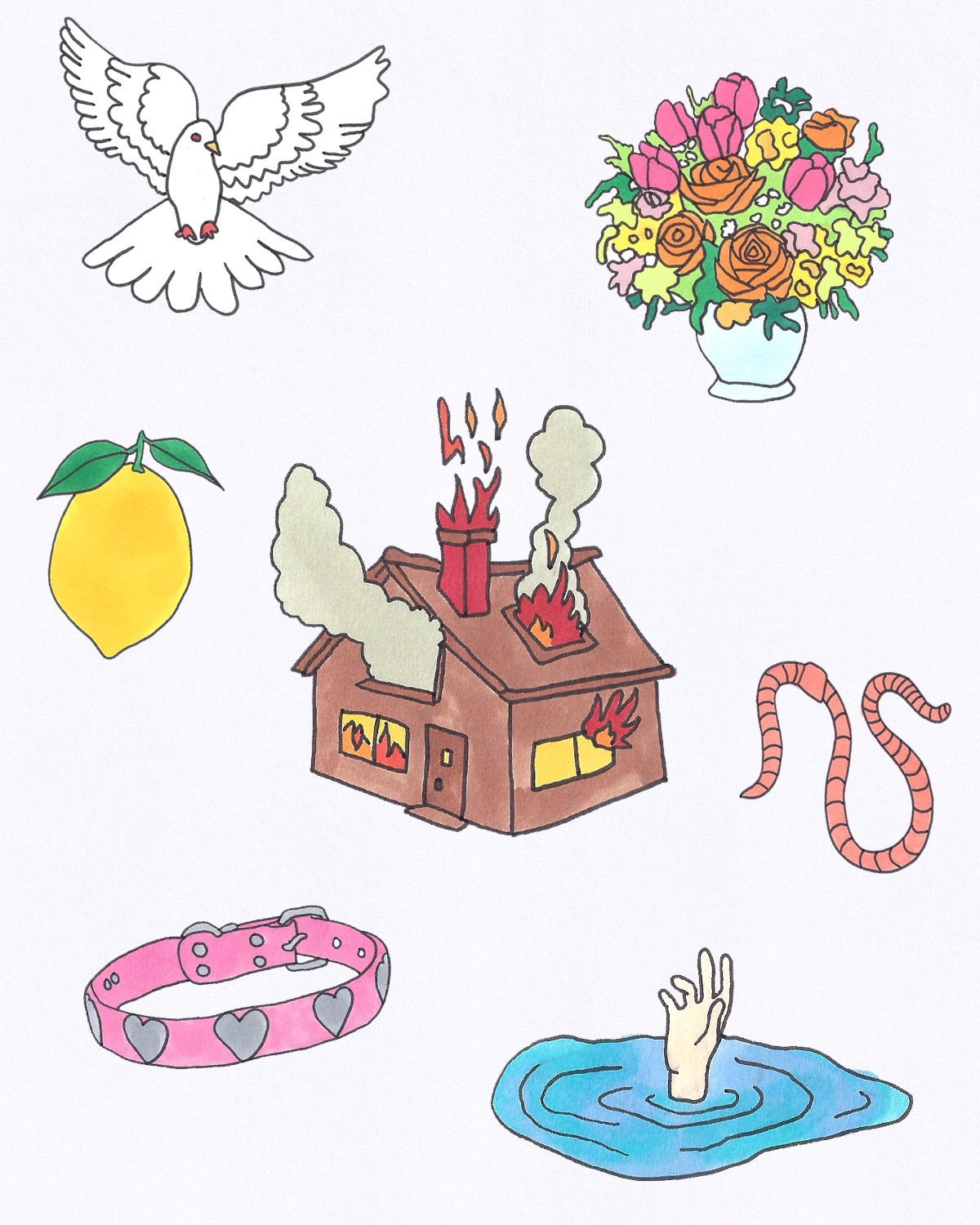 Tell me a little about yourself, independent of your art.
I grew up a few places. I was born in Chicago, lived in Oak Park, Illinois, and then I went to college at Smith College in Northampton, Massachusetts. I also did a year abroad at Goldsmith's in London. Since graduating six years ago, I've lived in New York.
Most of your work is done in a very playful style. Have you always gravitated towards that aesthetic, or have you settled into this style?
Not at all! In college, I made very serious art. I can't even look at it anymore. I studied photography in school, and I was always playful in how I created or went about the approach, but the work itself did not look like it. Within the institution, there is such a focus on the concept and relating to theory and all that stuff. But then, near the end of college, as I was applying for jobs, I realized that no one in school prepared any of us for the reality of what it is to be an artist outside of school. No one was ever like, 'Oh yeah, this is how you sell art, and this is how you make connections, etc.' So I started doing my own thing.
In what ways did you have to adjust?
Near the end of school, I was like, 'Fuck this, I'm not going to keep making work for the school,' because they didn't really care about my success. So I just started sitting on the floor, drawing with markers, and connecting to that sense of creativity that you have before you get self-conscious about what an artist is supposed to make. I was just like drawing what I wanted to and not thinking about it.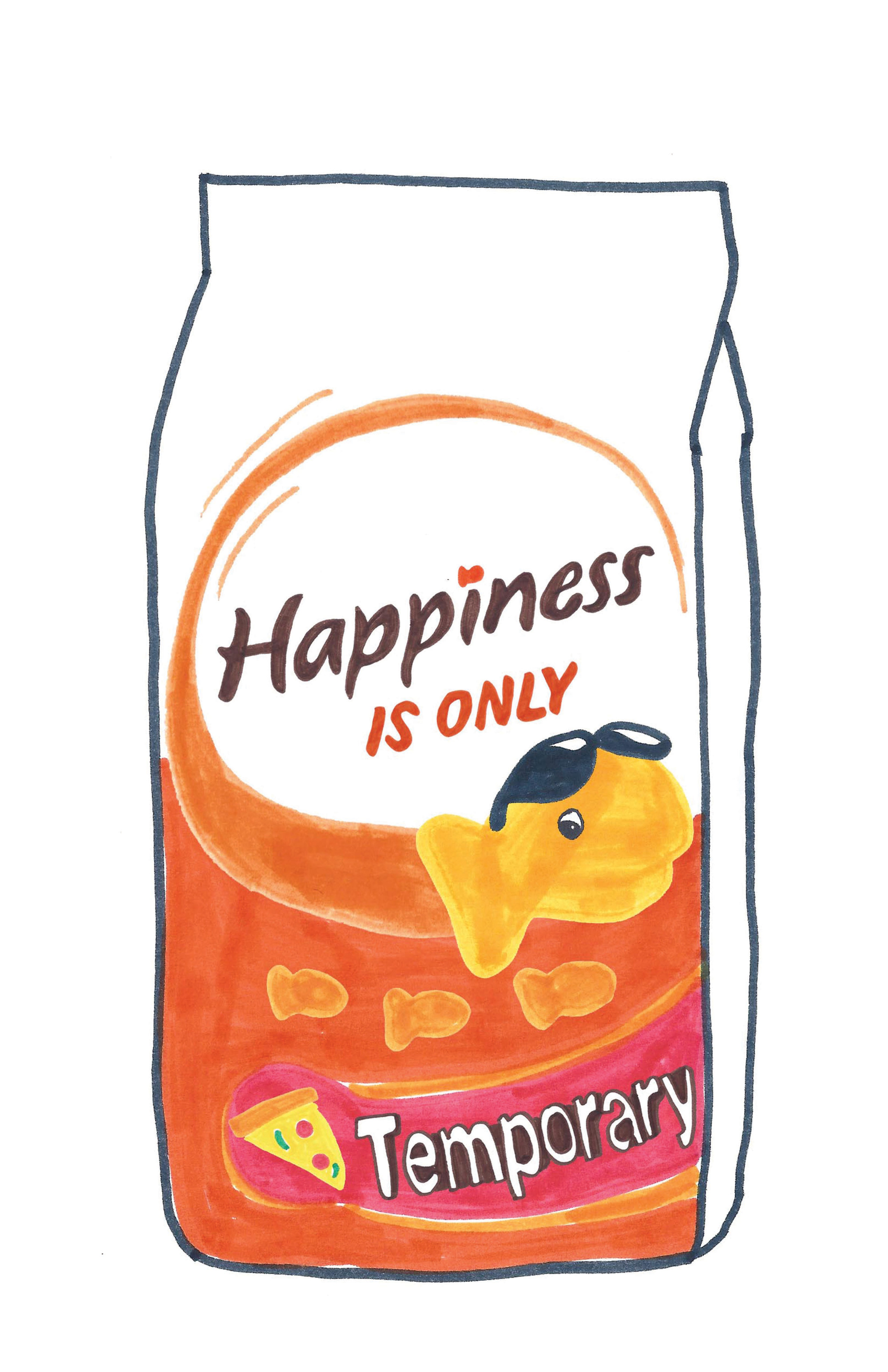 It's funny you say that you would try to not think about the work, because as I was interpreting some of your art, it seemed very meta-cognitive to me. Especially those plays you've done on commercialized foods. Do you have certain go-to concepts present in your work?
I just have my journal, and I'm always looking for inspiration. I'll write down themes I'm thinking about, or I'll write down phrases inspired by what I'm reading or something I've watched. I'll find myself watching a movie and write down objects that stick out to me—like, if I'm watching a movie that takes place in 80's suburbia, if there's a house phone that's sitting on the wall, or a book on someone's table, I'll jot it down. Objects that for some reason resonate with me. I'll go back later and piece stuff together. That's one way, or sometimes things will just come to me and I'll get an idea. I'll be eating a certain snack and think 'Oh, this makes me like this makes me feel this way when I do this,' and use that.
Going back to how you "piece things together," I think it's really interesting that you do that for you, but then so many people resonate with it. Do you think that you have any ideas as to why that is?
I think it's because I reference feelings that everyone has. I address things like insecurities or certain emotions that not everyone feels comfortable straight-out telling people. Nothing that I'm saying is that unique or different, they're just genuine, regular human emotions. Often, they're particular to those of us who use social media all the time. We're all using all of our apps and all of our shit all of the time, so there's definitely an anxiety that comes along with how we all interact with that stuff. I don't know that it's talked about as much as it should be, because it's developing as it goes. Everyone's addicted to their phone, and I feel complicated about it. I'm so pro-internet. The internet saved my life-, but also it makes me feel totally fucking crazy sometimes!
What did you mean by saying the internet saved your life?
When I was in art school and started to make that transition to expressing myself through illustration, I didn't have anyone in-person that I felt comfortable showing that kind of art to. I was able to post that work online and find other artists with similar work. When I was younger, I grew up in the suburbs of Boston where, sure, I had a few friends, but I was by no means popular or cool. Always having the internet as this alternative social space where I could connect with people kept me from feeling totally isolated.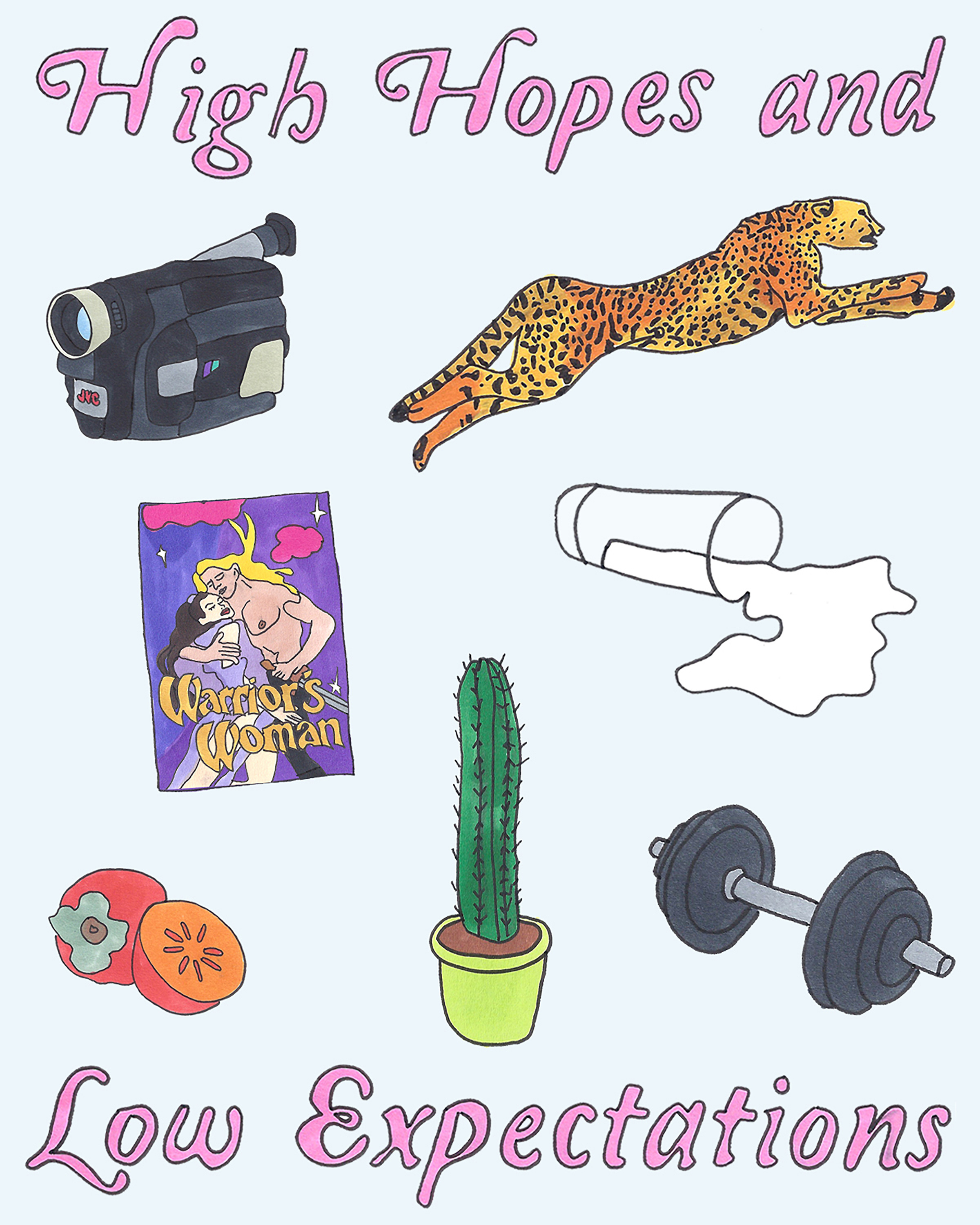 I do want to turn to your commissions. How have people found your work? You've worked with SZA and Nike, amongst others. When and how did that begin?
It's honestly been a combination of luck and continuously putting myself out there. I've been posting my work online regularly now for close to eight years, and it's only been the past three years or so that I have been taking commissions. So during those first five years, I was mostly drawing every day and posting stuff just to share it. I think developing that habit of work really helped to establish myself.
Success is a big word and has a very messy definition. Obviously, a lot of people would consider you to be successful, but do you yourself?
I feel very satisfied with what I've done and who I've worked with, but the reality of it is that as a freelance artist, there is no security. I'm still learning how this goes, and I'm learning how to work with clients and how to manage my money. I'm really grateful for the successes I've had, but at the end of the day, the idea that I'm set and just get to sit back is such a lie. I'm always in the throes of anxiety, multiple times a week, stressing out about what to be, or if I'm working on a job, are they going to be happy with it, etc.
It seems super messy; do you ever think that will ever level out? I don't know anything about being a freelance artist, so I'm curious.
I really don't know. I did just start working with an agency, so I'm hoping that will provide some relief. On Instagram and social media we don't want to show all the stressful parts of life, all the bills we have to pay, and it's hard! But yeah, to be honest, I don't know. I do I feel like now more than ever, having a career like I do is possible, though. I think it's so cool that the internet has made it possible for a lot of us to be able to exist using social media as our storefront. That's how people come to find us; they can shop, they can hire us, and that didn't exist ever before. So we'll see, it's still part of the experiment.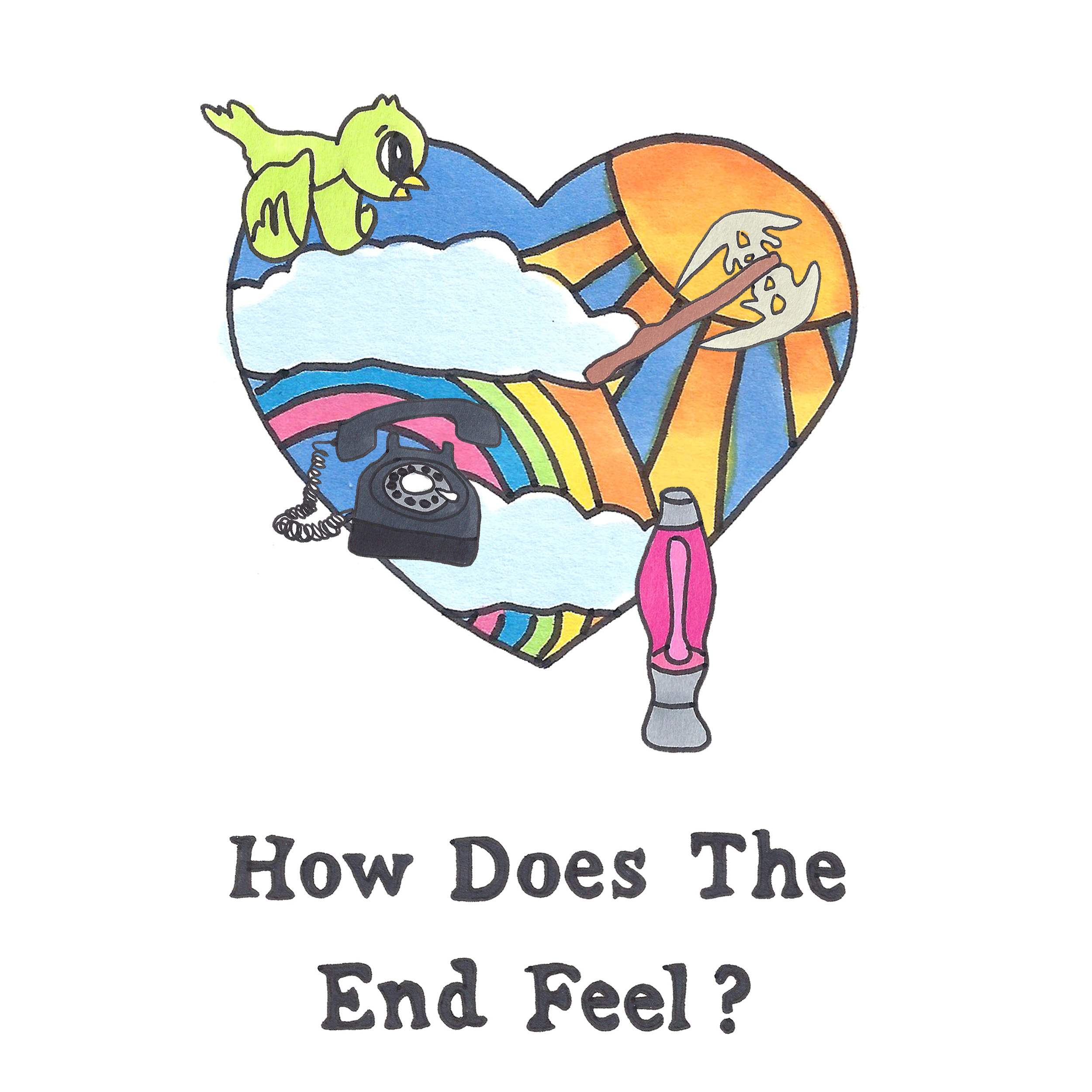 Do you find that making art about your vulnerabilities helps you to work through them?
There's definitely an overall goal of my work to be vulnerable, and share what you're going through. I think through humor and laughter, a lot can be done. I know that the cuteness in my work is something that allows a lot of people to brush it off, but it's intentional. At least for me, if something is cute or funny, that makes me feel good, to see it and interact with it. Serious art that talks about serious stuff that's going on in the world is so important, and there's such a place for it. But I also think that pleasure and healthy escapism is something that people need too.
So many times when I make art, it's because I'm trying to figure out what that feeling means. Of course, I won't lie and say that when I make something I don't have my audience in mind. Art is made to be seen, so that's always true. But when I'm first drawing or writing something down in my journal, it's like the first time that thought has popped into my head. By writing something down, it makes it real, and so by integrating the thing into a piece of art that I share with a bunch of people makes it even more real. Every level helps me to solidify the fact that that feeling has some meaning to me.
For more from Grace Miceli,  follow her on Instagram.