Palawan is a thin, long island, made up of 1,780 smaller islands, on the Philippines' western flank, that for the last ten years or so has made repeat appearances on "Top 5 Vacation" lists and summoned tourists from all of over the world with its unbelievable seascapes. The Palawan of 2019 is a stark evolution from when Isadora Alvarez grew up on the island with no internet, no phone, and limited satellite TV channel selections that beamed from the small set up in her parents' room. MTV Asia, Gwen Stefani in JNCO jeans, and second-hand Vogue magazines sent from her aunt in San Francisco fueled Alvarez's earliest creative inklings, exposing her to fashion styles that unless she flew an hour to Manila, were never made available to her.
Alvarez eventually moved to Manila for college, where she studied Fashion Design, and quickly realized that she was destined to get off the island. After moving to San Francisco, receiving a second degree in Fashion Merchandising at the Academy of Arts, she eventually made her way down to Los Angeles and began to entertain the idea of starting her own brand. BackBeatRags, Alvarez's California-inspired, low impact clothing brand, has now been around for three years. The brand takes cues from the California skate and surf culture that made the Z-Boys famous and combines characteristics Alvarez cherished in the clothing she wore back home in the Philippines—easy, breezy, breathable, and comfortable. While BackBeatRags remains an homage to the classics, Alvarez has a keen eye for incorporating contemporary colors and shape to each garment.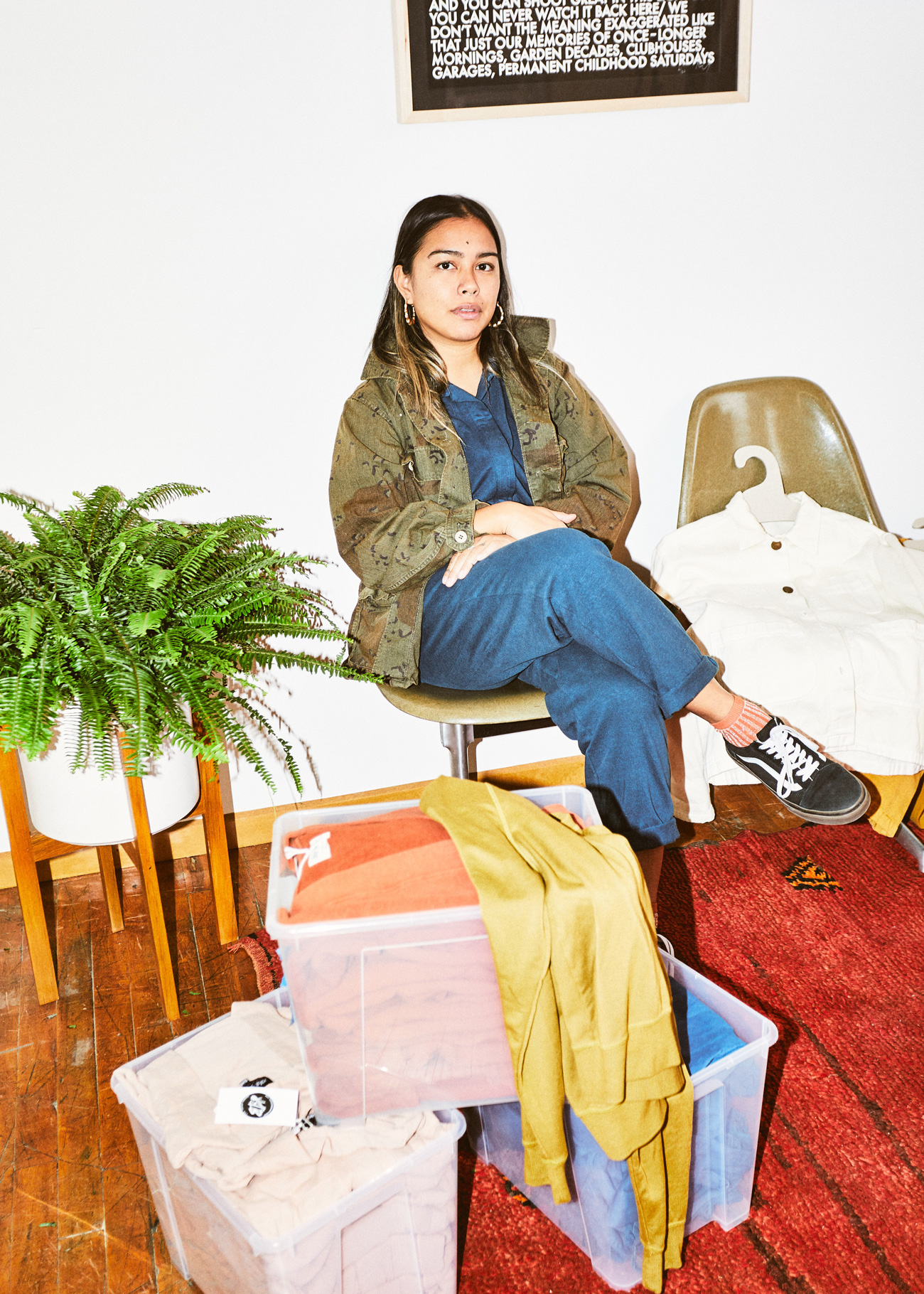 How do you see your upbringing and Philippino culture the clothing you make now?
I think living on an island definitely made me gravitate towards easier pieces because it was so hot, so it was always a t-shirt and jeans situation. I think, until now, that's why my style was a little bit—always leaning more towards the casual side. I think the lifestyle in the Philippines has influenced me a lot. I'm always looking for fabrics that feel better on your body than some synthetic material. And I think that comes from growing up in the tropics and just wanting clothing that felt good on your body in the heat and while moving around. It has a large influence on how I pick fabrics and how I want to use natural fibers for my body to be able to breathe.
How did you originally become interested in fashion design?
My aunt would always send me magazines like Vogue and all that. So, I would read those and realized, "Oh, you can actually make clothes for a living." But for a long time, I didn't really think about fashion very much because I was living in the Philippines, so I didn't see that happening. But then, I became obsessed with Gwen Stefani and she would always rock the JNCO jeans. I wanted a pair of those so bad, but you literally had to fly out to Manila, which is the center of the Philippines, which is like an hour plane ride away, to be able to shop for clothes. We didn't have anywhere to shop when I was growing up, but I knew that I wanted pants like those.
I'm tripping out on the fact that you were in such an isolated environment when you were younger. When you were growing up, what did you think that you were going to be? Did you just think you would live on that island forever? How did you eventually move?
No. I'm like, "Hell no." So, what people usually do is they move to the city for university because all of the top universities were in the city. Eventually, because of school, I knew I would move off of the island. It's crazy because it's not like that anymore. Palawan caught up with the times, but when I lived there, we were from the boonies. After high school, I had to go to Manila to go to university, and I basically lived there until I moved to the States. I always knew, some way, somehow, that I was going to live in another country. That was my dream. And I had the opportunity to go back to school, and I was like, "I'm going to travel to San Francisco because my aunt lives there." It was a pretty easy transition at that point.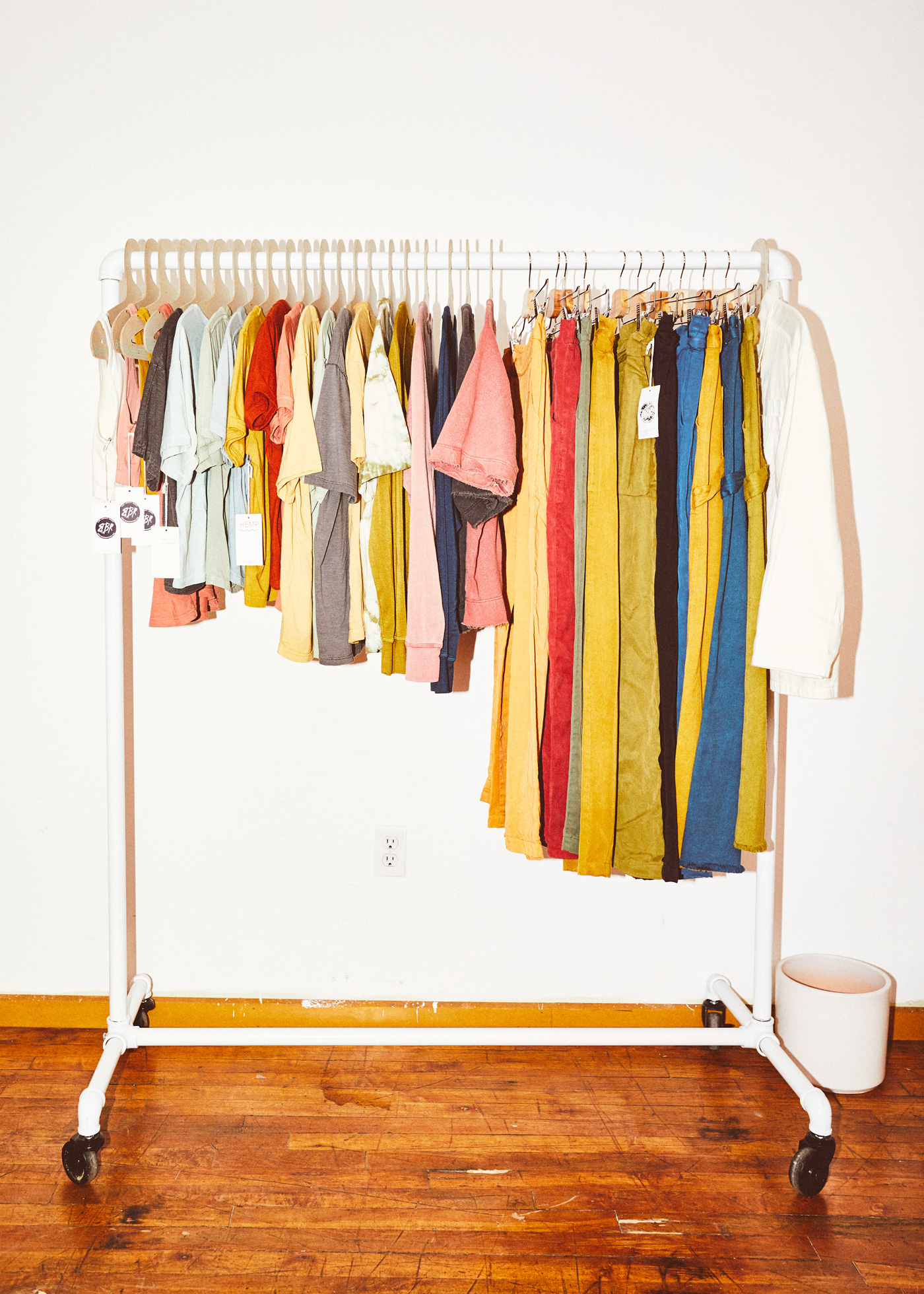 What was it like when you got to San Francisco? I'm sure there was some kind of culture shock.
Definitely. I had traveled there — travel was one thing my family really cared about— but it was still a huge culture shock. I moved to San Francisco right before the tech boom happened when everything was crazy. I would see naked people protesting on the street—just no big deal. You know, typical San Francisco—butts just hanging out at nine in the morning on my way to school. It was pretty shocking. I was 23 when I moved, so I had all of my Philipino ways and values pretty ingrained, so moving anywhere in the U.S. would have been very different, but then moving to San Francisco where it's extremely different and free, it was just like, "Wow! People can live this way and it's fine? That's cool."
Do you think you would have had the same trajectory if you had moved somewhere else? Like, say, Los Angeles or something? Or was San Francisco the right place for you to open your eyes to what's out there, what people are capable of?
I don't think it would've been the same if I had just moved to LA. I think being in San Francisco was the right place for me at that time. 
How many years did you spend in San Francisco?
I spent four years there. I was getting a Fashion Merchandising degree at the Academy of Arts.
Did you enjoy school? Was that integral to how you started BackBeatRags?
I did enjoy school. I already received an AA for Fashion Design in the Philippines. I decided to go back to school in San Francisco so that I could figure out how to run a business, a fashion business. I felt like majoring in Fashion Merchandising was a good first step to understanding and eventually moving towards wanting and pursuing my own business.
Before you started the brand, what kind of jobs were you doing while you were in school?
In San Francisco I interned for a bunch of—I thought I wanted to go into buying…well, I knew I wanted to go into buying because it was more like the business part of fashion. So, I interned at a bunch of small retailers, and then I moved to LA right after graduation, and, actually, my first and only corporate job was out here in LA for an off-price retailer.
What was that experience like?
It was both good and bad. I learned a lot about how data dictates whether or not you buy a certain style. As much as we want to make whatever is cool and whatever we want to make, sometimes numbers don't lie. So I was lucky to learn this and understand the value of data, but the other side was the fact that it was an off-price retailer, so we made crap. We made stuff that would not be usable in three to six months. After three years of working there, and always knowing that I wanted to start my own brand, I started to think whether or not that was actually an option. I started getting really fed out with what the company was putting out and all the clothing just not having any longevity. I thought, "I'm getting a little bit older and I have no kids, so now is the time for me to start my own business because if I stay here, I'm going to get comfortable and I'm going to get a bigger paycheck every year, and I'm never going to try my own thing." So, I decided to quit my job. At that point, I had started getting really into vintage. I had always bought vintage, even back in the Philippines, so all the stories that you hear about the leftovers in Goodwill and stuff here in the States that get sent to third world countries…I would buy from stores that would sell that stuff.
So, you started collecting vintage when you were in the Philippines, but how did that kind of snowball into what you were doing after you quit your job?
Well, I quickly realized that LA is pretty much the vintage mecca out here in the U.S. I would go to flea markets and would meet people my age selling things out there so I was like, "Oh, this can be a way to make money or make a living. I think I'm going to start doing it." I still wasn't sure what I was going to do with my brand and I didn't really know how to start it just then, but I knew I wanted to quit my job because I was just getting so burnt out.
What was that feeling like—when you quit your job? Was it a relief? Was it fear? Was it both?
Both. I mean, quitting your job with a very nice steady paycheck for the unknown is pretty nerve-racking, but I was also very relieved. I knew it was time. Letting go of that safety net paycheck was super nerve-racking and I learned that anyone who wants to start their own thing should do so on the side as long as you can. Until you're really sure. In hindsight, I should've stayed at my corporate job a little bit longer and saved a little bit more money, but whatever. I wouldn't have done it if I did half and half. I'm more of a do it now, do it all, type of person.
Okay, so give me the rundown on BackBeatRags. Explain the brand for those that don't know what it is.
BackBeatRags is a lifestyle brand that focuses on low-impact everyday essentials for living easy.
How did you know you wanted to go the route of using and sourcing sustainable materials?
Mostly because of my old job. I mean fashion isn't 100% sustainable or more 100% eco-friendly, but I knew I could do better than what I was doing at that company.  It's a little bit harder, but we can pick better fabrics. We can be more low-impact. It's not impossible. And we should be doing it.
Being in the fashion industry for so long, have you seen a shift where consumers are more drawn to brands that are willing to make the effort to be sustainable and care about the environment when they're manufacturing their clothing?
Yeah. I think the past two years have been insane. I mean, just looking at New York Fashion Week, this season, everybody is doing lower impact fabrics. They're sustainable, which I think is great and which is what I think we should've started doing years ago. I get it. It's hard. Believe me. It's very, very hard. Even now, a lot of fashion people in the industry, find it super hard to change, especially fabric designers and stuff like that. So, you know, it's a battle, but it can be done.
Has the mission for the brand changed at all since you started?
I started selling vintage in 2015, but I started the brand in 2016. When I started the brand, I completely shifted away from vintage, but from the get-go, we have always been low-impact everyday essentials. We've definitely moved into different categories. We used to just do knits, t-shirts, sweatshirts, and jumpsuits. But now, we have been doing a bit more jackets and pants. But overall the pieces we make are still building blocks for your outfits.
What do you think originally drew you to the California aesthetic?
Just growing up and watching all the movies and music videos had me obsessed with surf and skate culture and California has always been, I feel like, the epicenter for those things. Having been so obsessed with this lifestyle, I always knew I wanted to live in California at some point. People always ask me how I like living in LA] and I'm always like, "I love it!" The traffic sometimes bugs the shit out of me, but I still love it. If I moved anywhere, I'd just move back home to the Philippines. It's LA or nothing.
What about Southern California continues to inspire you?
Everything. It's just the vibe that I feel when I wake up in the morning and the sun is shining. I love the sky and all the sorts of blue it gives off and the beautiful sunsets—it's like three layers usually—there's a blue, a pink, and an orange happening; I love that. Or, I don't know if it's the smog, but it gives the city like this hazy filter; I'm so into that.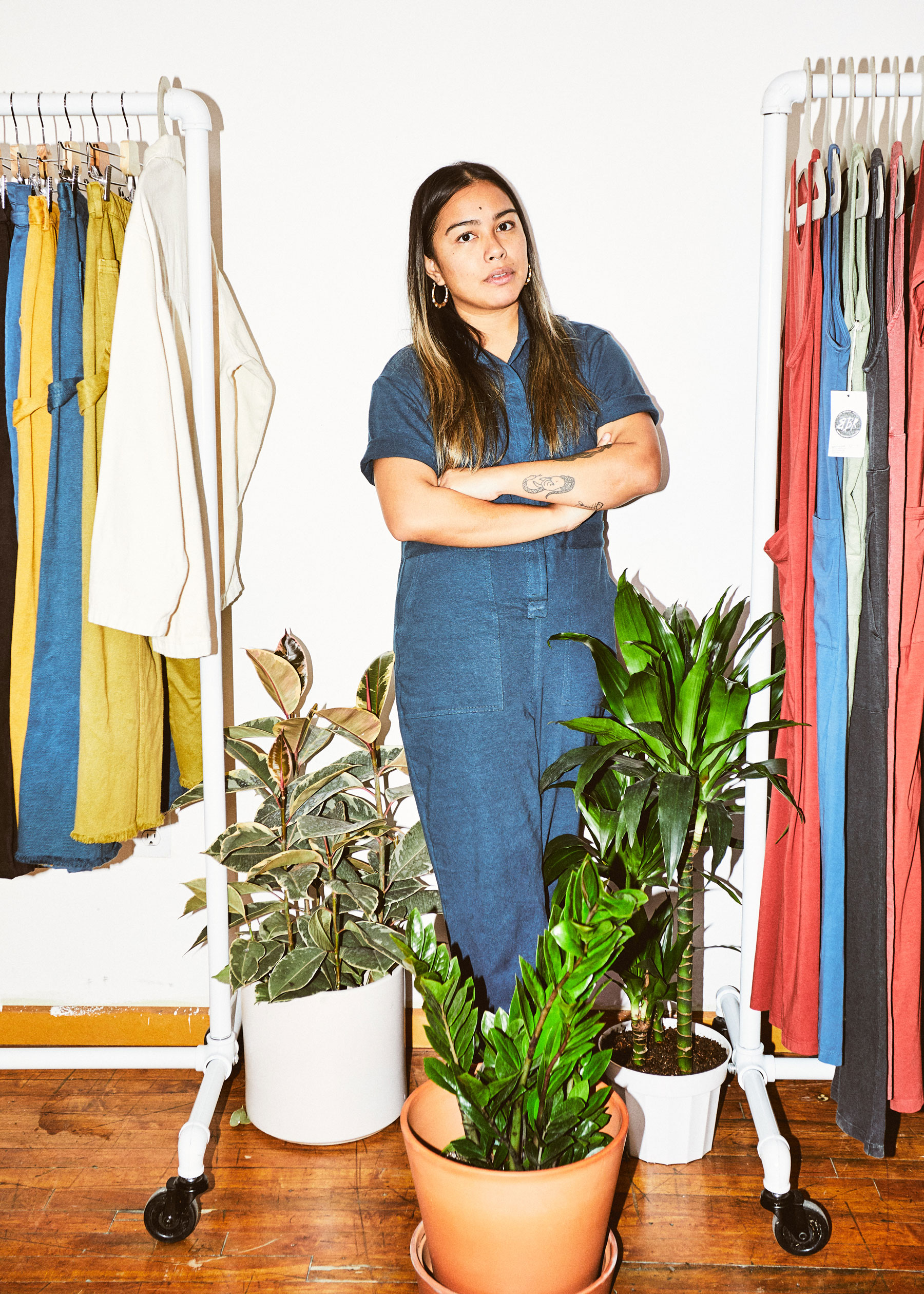 How do you think your own personality has shaped the brand?
I'm pretty easy. I'm the type of person to just wake up, get the first thing that I know is going to be soft and comfortable and is also very cute, and just wear it. I'm all about making our clothes easy. Whenever we're thinking of a new line or new piece, it's always like, "Is it easy to take off? Does it have too many ties? If it has too many ties, it's not happening."
If you had to describe BackBeatRags in three words, what words would you use?
I would say effortless, soft, low-impact. But I think low-impact would make it four words.
When you think about a typical BackBeatRags design, how does the process usually go from inception to execution?
I work with a technical designer, who helps me bring my ideas to life. I either have inspirations already brewing in my head or I see something that inspires me in a vintage item. It could be anything from a stitch to the way something is cut, and then she and I sit down and I'm like, "I want this, this, this, this, and this." And then I sketch it out or I have an inspiration photo and then we both put it together and then it goes into a tech pack.
Are all of the pieces produced here in Los Angeles?
Yes. Currently, all the pieces are produced here in Los Angeles, but for summer, we are going to have three styles that are going to be produced in India. These styles are an organic cotton and linen blend that will be plant-dyed. That's the only reason why we're doing it in India because they're the masters at plant dying.
Can you tell me a little bit more about that line?
I've always wanted to do something completely natural—natural fabric and natural dye. I've been trying to do that for the longest time here in LA, but I can't seem to find the right partners. SO even though this line goes a bit against my mission to have everything made here in LA, but I felt compelled to have this line made in a place where they're masters at this dying process and see how it goes. Not to mention, this work is helping to produce more jobs for people who need it.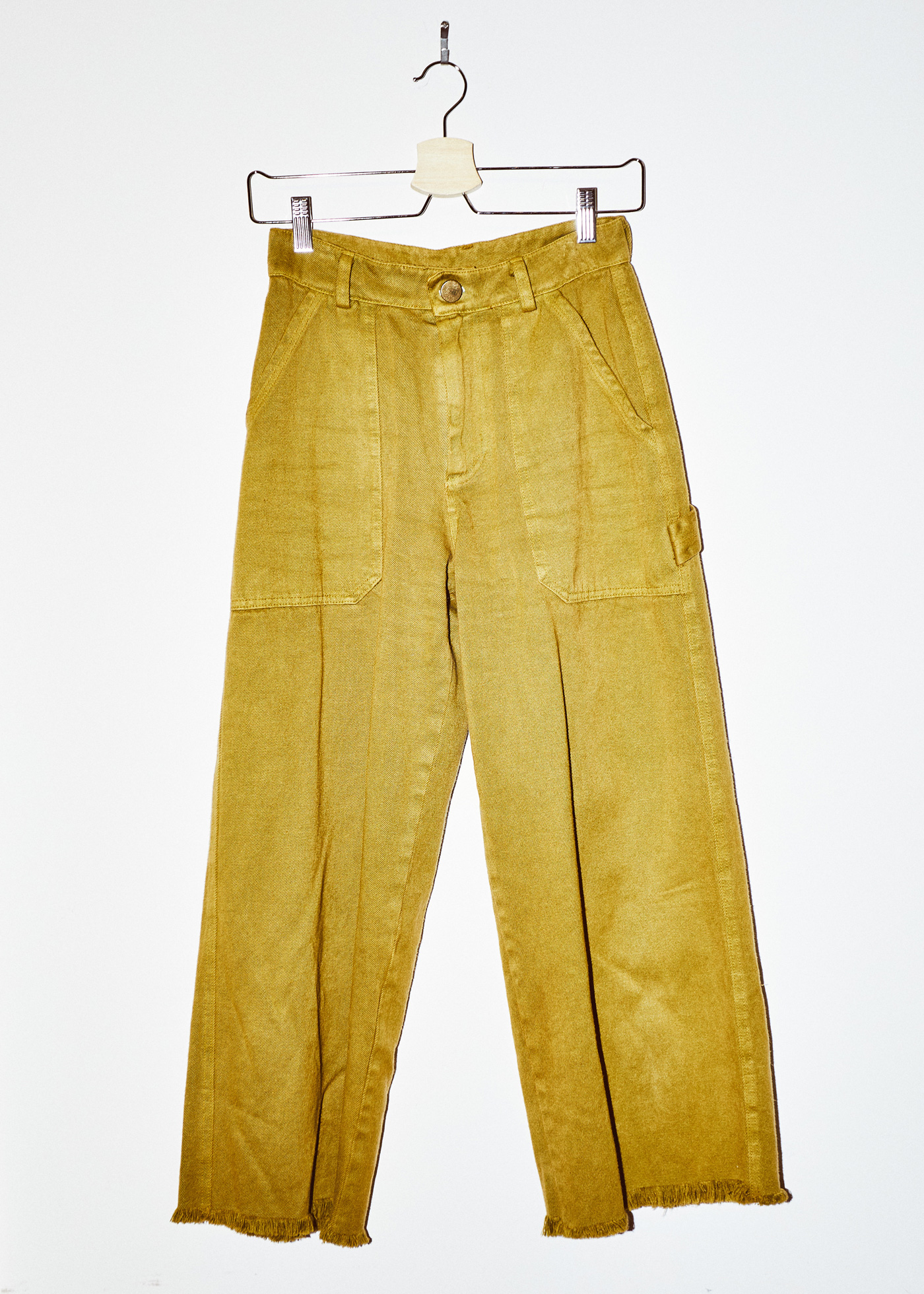 What's your go-to outfit day-to-day?
Right now I'm super into our—this is going to sound like a plug, but—I'm super into our jumpsuits. I'm actually wearing it today and I've just been super into jumpsuits, in general. You put it on and you're done. You don't have to think about tops and bottoms. But, most often, it's a t-shirt and vintage jeans and sneakers and—I'm a sock person—so my socks, 95% of the time, are really fun, and a jacket.
When you're not designing clothes, what do you usually get up to?
My husband is obsessed with art, so we go to art shows a lot. I've been getting a lot of color inspiration at these art shows. I'm really particular about color, so I spend a lot of time looking for perfect shades, so anywhere I can get inspiration, I go to.
Have you been to any shows recently that triggered some inspiration?
I recently went to the Andy Warhol Exhibition at The Whitney in New York and I'm so obsessed with the colors that he used. There's a lot of really cool pastels, but not like in a cheapy pastel way. I'm also super into Raymond Pettibon recently. My husband is obsessed with him and now I'm really into him too.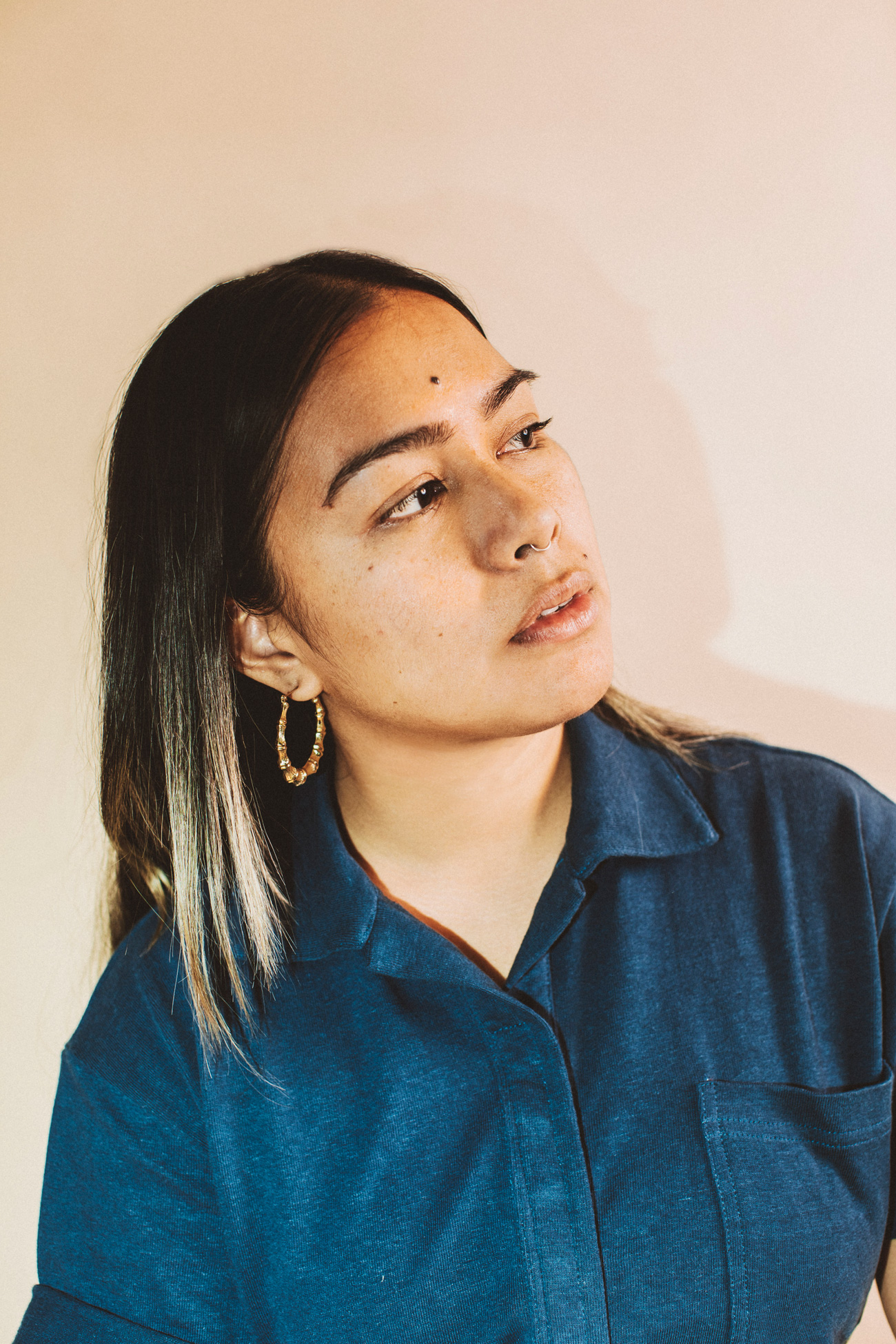 How do you usually try and stay grounded?
I have learned how to meditate now. I was a big skeptic. I'm was like, "Meditation? I don't know about that. Like it sounds really new-agey. It sounds like really LA. Come on. I'm not that LA." But last year was a little bit crazy for the business. You know, small businesses have ups and a lot of downs. So, last year, I was burning out and the doctor was like, "You need to do something. Either you quit your business or you take better care of yourself." So I had been looking into ways to take more time to take better care of myself and everybody said, "Meditate. Do some guided meditations or just do your breathing and that'll help you a lot." So I tried to do it and I forget to do it every day, but I do it quite often. Also going to the ocean helps me stay grounded. I grew up always in the water, that has always been very calming
If you could trade lives with any other woman, living, dead, or imaginary, for one week, who would it be and why?
I would always say Rihanna, but I would also say Patti Smith during her days in New York in the 70s. I have always been fascinated by how strong and talented she is, and also living in New York during that time must have been a complete trip. You don't really find that grittiness anywhere anymore. And she's just such a cool chick. She was way ahead of her time. I would either want to be her or even hang out with her just for a day.
For more from BackBeatRags, follow them on Instagram.
Photography by Brian Overend.