This is a preview of our feature on Emma in upcoming issue 15.
Multimedia artist Emma Kohlmann exists in three different worlds: her quaint, quiet life in North Hampton, Massachusetts; her social, gallery-hopping life in New York City and Los Angeles; and the indefinable otherworldly life she has created through her colorful and abstract watercolors. Each world is a telling reflection of Emma's multifaceted personality and the disparate needs she has in order to fuel her creativity.
Emma's watercolor world is playful and somewhat naive. It's balanced, yet completely off-balanced. It's a way for the Massachusetts-based artist to retreat into a figurative world that doesn't define an ideal form. Driven by her desire to deconstruct what is learned, her lively figures aren't confined to traditional gender norms, and who or what these figures are is irrelevant. What's most crucial for Emma is branching out of the typical male canon of nudity, transgressing the image, and remaining absolutely limitless in her presentation of such.
The day I speak with Emma, she seems relaxed, talking to me while enjoying the sun outside of her studio. She's just come off a string of group and solo shows, and can't wait to take the rest of the summer to step away from her work, recalibrate, jump into a Claude Cahun book, and discover new clarity.
Tell me about the sleepy town you live in. What's the vibe like?
I live in Western Massachusetts and there are a lot of people doing cool stuff. I used to go to shows four or five times a week in the summer—there's a noise and punk scene that involves a lot of creators. It's a college town; there are five colleges in the area so there are always people around, people are moving in, and doing things. But there's also this hippie, eccentric, crystal culture here; White liberal types. There's also a lot of nature and access to nature. There's literally a place across the street from my studio that I can like jump in the water.
What's it like for you not being in a city that's known for being a "creative hub" like New York or Los Angeles?
I'm always conflicted by this because I grew up in New York City and there are certain things that I appreciate like having to learn how to take the subway when I was 12. I had to know things, act a certain way, and ask questions, and I think that guided me to always wanting to learn new things and reach out to people. Instagram changed my life while living here in Western Mass because I was able to stay here and also make sure that I was on top of what was going on. You don't need to be in a specific locale to be part of a conversation. Part of my journey is trying to educate myself or learn new things.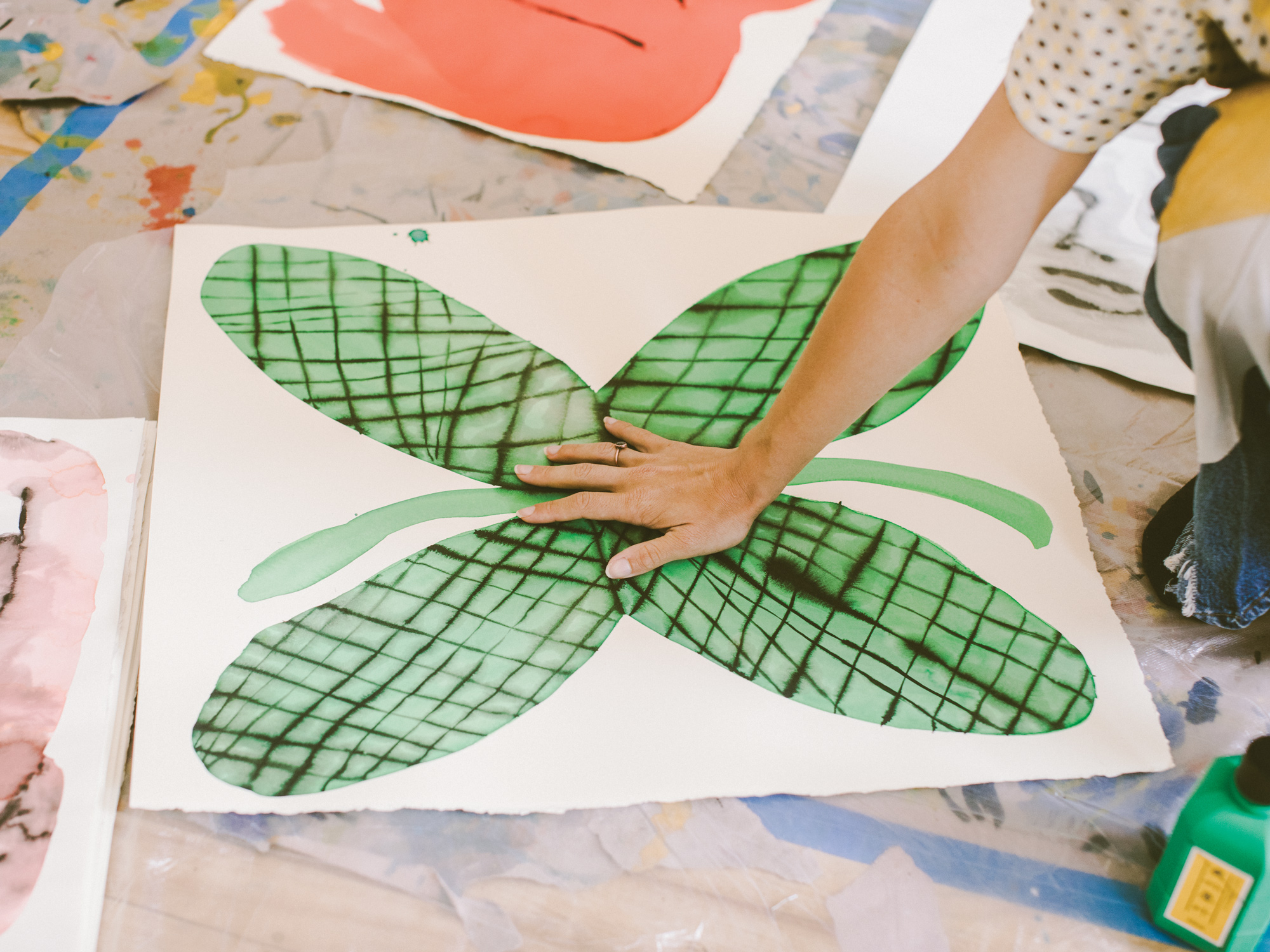 You're on this path of constant learning.
I guess because I live in the North Hampton, I'm able to have access to these really awesome libraries. I tend to work in the library fairly often and that's one place I do a lot of reading and research. I also learn a lot from my contemporaries. All of my friends push themselves and are really interested in specific things. I feel like I live between two worlds— I have this quiet place and then I also have a vibrant social world. I'm here in Massachusetts for a couple of days and then back in New York for a couple of days and then somewhere else after that.
I feel like you work at a quick pace. I saw the show that you had at New Image Gallery and you were showing so many pieces. What drives this quick pace?
I work at a really quick pace because the medium lends itself to that. I make a lot of work just so I can have more options. I make a lot of the same images over and over again because I never really find one that captures what I'm trying to convey. Things often don't come out the way I want them to, so I do it over and over to see what nuances I can give a piece to make it more beneficial to the idea I had for it.
The things that I'm trying to convey aren't attached to the world that we live in. I think that's part of the reason why I'm constantly remaking these things. I want to try to make a world where everything is on the same spectrum; there's no hierarchy. There's just this playful, sexual, universe where everything's kind of balanced and off balance at the same time.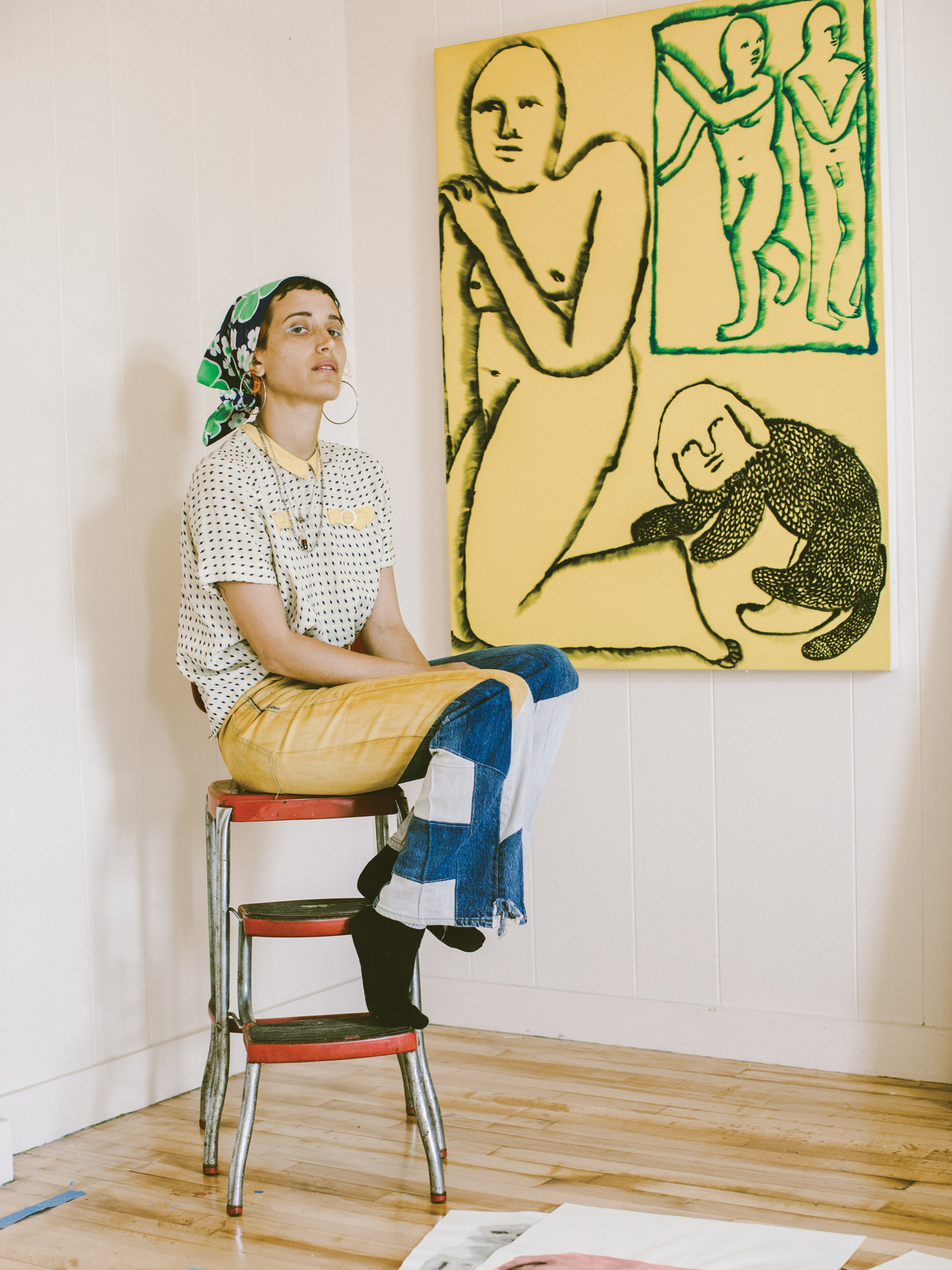 How do you continue to push yourself?
I feel really lucky that I'm able to live off my art. It kind of blows my mind that I get to do the stuff that I like. I'm constantly trying to figure out new ways of creating so that I'm not just doing one thing. I try to work on different levels, whether it's making a scene or working in a new medium or learning new things by reading new books.
I'm not sure if you're aware, but this issue is all-women. You have a lot of female contemporaries and female-identifying artist friends that you work closely with. Tell me about how you support and encourage each other?
I've mostly only had female friends for a large portion of my life. I feel like my role has always been to encourage people, to always make sure your friends feel supported, and to encourage them to produce the art the way they want. That's the best way to have a good friendship. Emotionally, art allows you to really think about things, not just about yourself, but about the world as well. Everyone should be able to make art or have access to that tool. And it doesn't require money to do it. That's something that I've always been adamant about; you don't need to have a lot of money to have an art practice. You can have a pencil and loose leaf paper and make the most amazing thing. Competition is something that was built by our Capitalistic society to make ourselves feel bad. It's a symptom of always feeling inadequate and eats us alive. We exist in Capitalism, but there are ways in which we can divert these feelings and make everyone feel included.
For more from Emma Kohlmann, follow her on Instagram.
Photography by Brian Overend.