Identity is at the heart of many crises in America. The idea of belonging to a community and being able to express your truest self is a struggle that continues to mar the likes of minorities all across the United States. Arguably, there is no group of individuals that has experienced this plight for freedom and equality more than that of the African-American. Centuries after they were forcefully enslaved from their West African homes, many African-Americans continue to feel the plight of racism, inequality and the lack of identity, as a result.
Sissón is one such African-American artist who's felt this isolation since birth. "Growing up in Glendale was my first introduction to what it felt like to be an alien in a place I called home," says Sissón. Using identity as a focal point to his aesthetic, Sissón challenges many social and political conventions in each of his gesturally dynamic pieces. I caught up with Sissón at the Winter in America group show in Los Angeles to discuss his practice.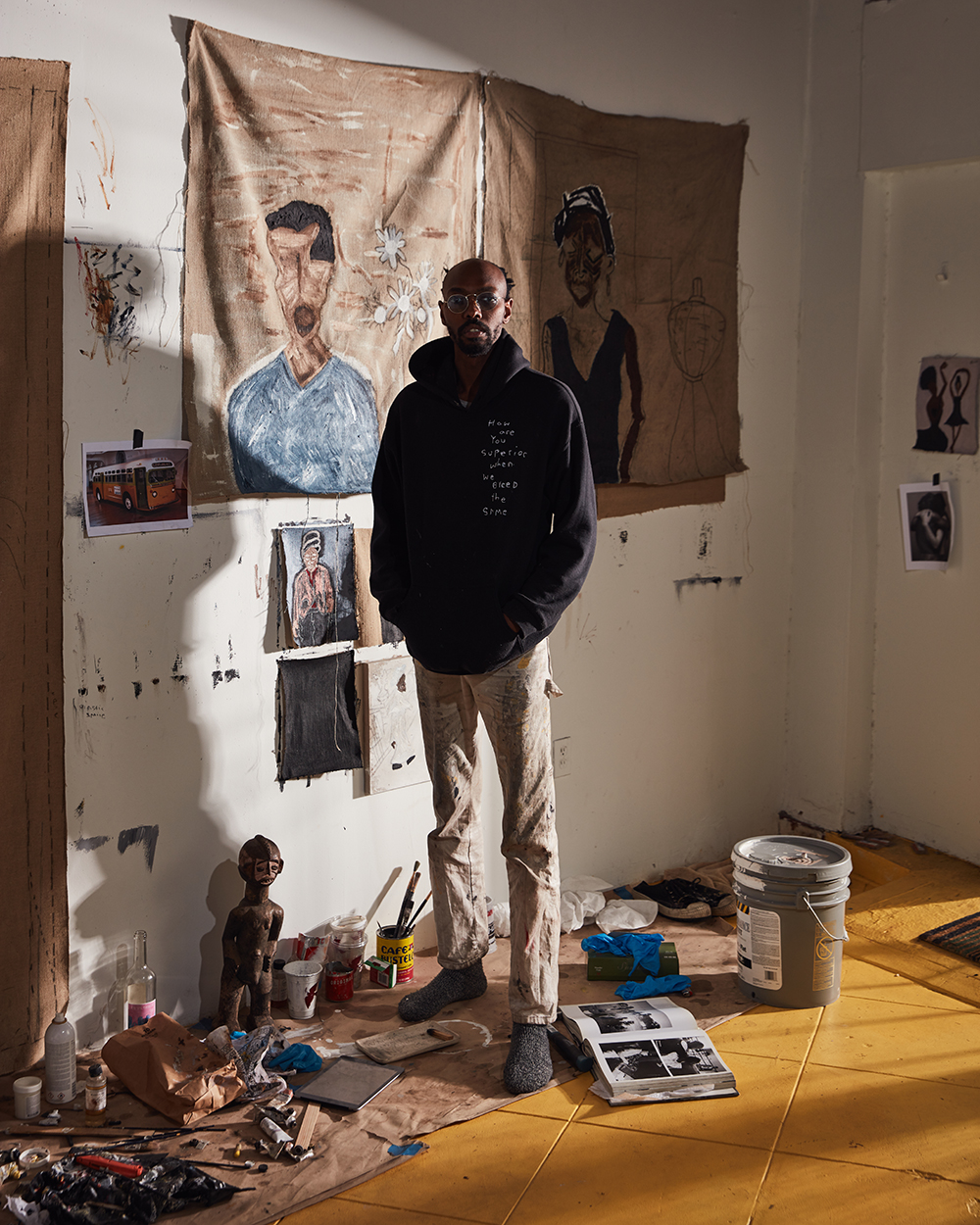 I've read that your mother is a painter and you opted to learn from her instead of going to art school. Can you describe some of your earliest influences and some of the methods your mother taught you?
My mother was an incredible artist. She passed in 2006. But everything she did was attached to her practice to a certain degree, including my teachings. I didn't make the conscious decision to bypass art school until my late teens. I just couldn't justify paying the tuition to be "taught" something that I practiced my whole life. In my late 20's the majority of my friends that went to art school were all practicing in a rigid way. I found that they were trying to unlearn the lessons they were taught in uni in order to work more freely. 
My earliest influences were all European masters because my mother had a particular affinity for the impressionists. Also, the only artist taught in school were Europeans. So that's all I knew existed for a long time. Well until the digital age happened, then the lid was blown off and the world of art that favored me opened up, such as Mary T. Smith, Jacob Lawrence, Horace Pippin just to name a few. It's difficult to pinpoint methods taught by my mother because it was all interwoven. The main thing that always stuck with me was to always believe in my hands and my ability to create magic.

As a Nigerian-American whose work tackles identity politics head-on, how did growing up in Glendale, Arizona come to influence this practice and how has it changed upon moving to NYC and LA? 
Growing up in Glendale was my first introduction of what it felt like to be a societal outcast. Racism was quite real for my stint there, which made it a very difficult place to live and create. So much so, that I reached a point where I didn't practice for a few years. The United States as a whole has that effect on me at times. The government doesn't support the arts, so in that regard, it can be difficult for any practicing creative, especially artists (and all people) of color. When I first moved to LA, I had different challenges, not so much with prejudice, but more with finding an environment that allowed me to develop my practice. It wasn't until I moved to New York that the lid got blown off everything and I found a wholly (& holy) new perspective. In LA, I had the space to create larger scale works and experiment. in NY I lacked physical space, but the city made up for it with an electric cultural experience. Living in both cities has contributed tremendously to my practice on a conscious and unconscious level.
Can you describe how African tradition plays a role in your work?
I couldn't tell you what African tradition actually is. The continent is so vast and filled with an abundance of knowledge. I reference and explore bits that personally interest me — from African folklore tales to religious beliefs such as Vodun.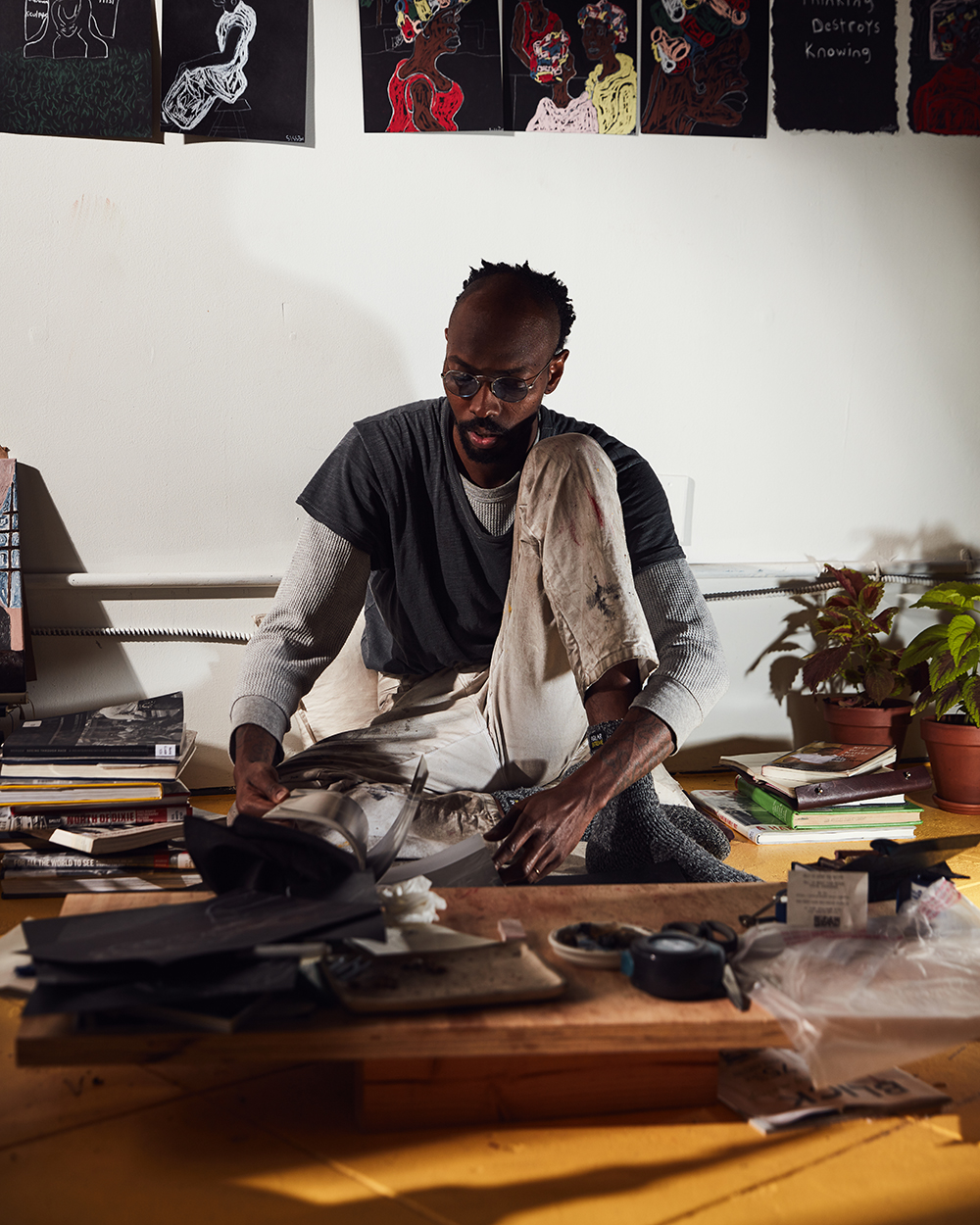 You've stated that sound plays a big component in your aesthetic, having worked alongside Composer Rocco Deluca for your exhibition, Ivory Gold Slaves. What musicians do you gravitate toward in the studio and which sounds do you look to accompany your work? 
Working with Daniel Lanois and Rocco Deluca on the score for my first exhibition Ivory, Gold, Slaves (The Tenth Painting) really helped me understand the sounds that I gravitate towards. But that was years ago.
Sonically these days I'm in a different mental state. Frank Ocean's Blonde album really changed what I looked for in sound. The music I see accompanying the work I'm creating in 2019 is quite raw, spacious and close when needed. The sound would be the love child of Julius Eastman, Lauryn Hill's Unplugged Sessions, Frank Ocean's Blonde, Max Roach's It's Time, Miles Davis' Kind of Blue, John Lennon's Plastic Ono Band and Radiohead's Ok Computer.

Your brief time in Alaska opened you to the practice of using raw materials. What are some of these found materials used and do you have a preference in your current work?
While in Alaska, I was working construction during the day and painting in the evening. I used whatever materials I could get my hands on from job sites, which included wooden panels, steel sheets, along with aluminum and nylon screening. When I returned to the lower 48, I continued to experiment with those materials but found the work wasn't appreciated on a technical level from the viewers so I put it behind me.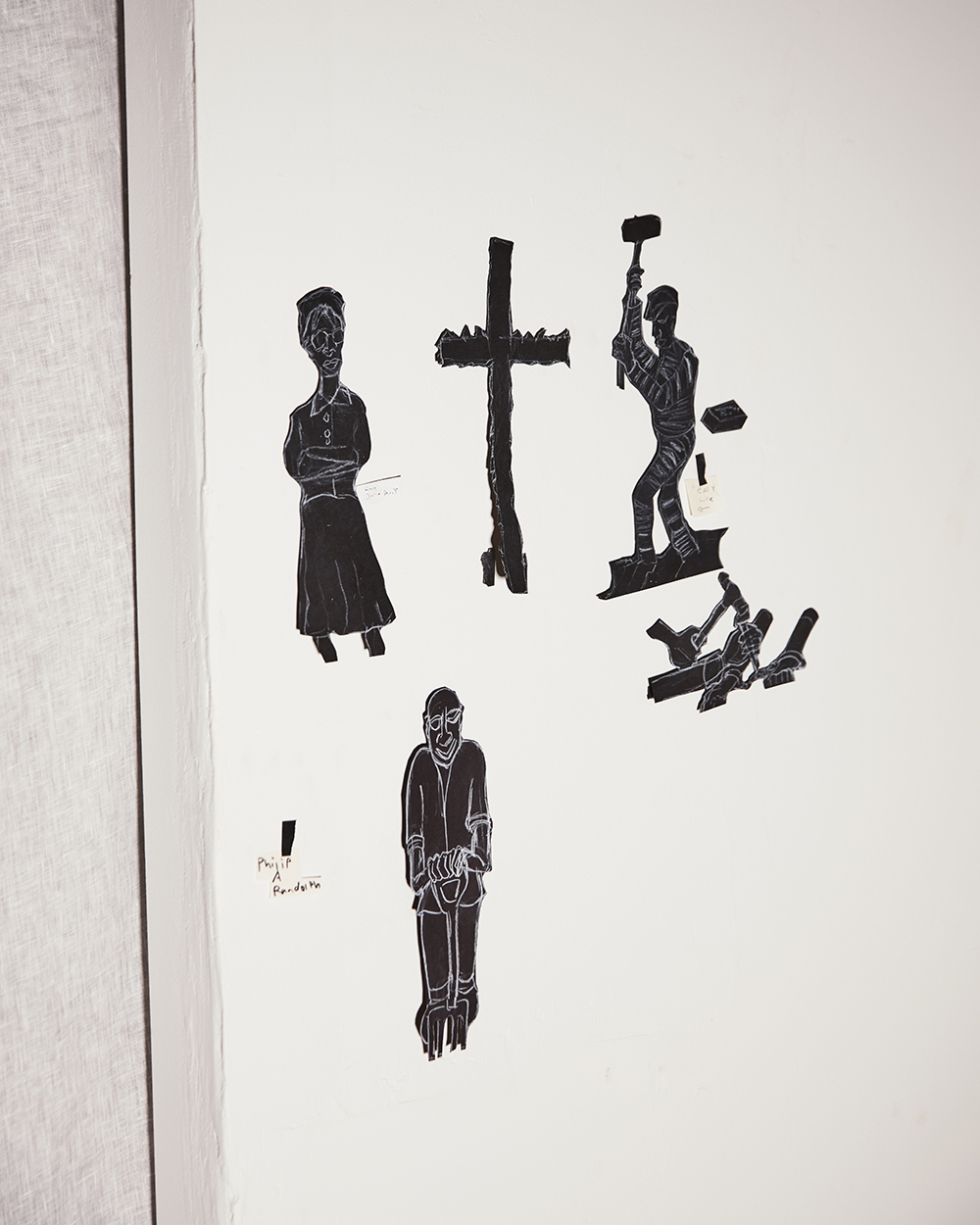 Your 2017 exhibition, Black Privilege, reflects the notion of feeling like an "alien in a place you call home." Can you elaborate on this concept of isolation and how you reflect it through your brushstrokes and abstractions? 

Isolation is less of a concept and more of a feeling for me. It's the feeling of displacement. How can I be viewed as stranger in a place I call home, due to my complexion. My brushstrokes and line work emulate that.
Civil rights have come a long way since the days of Jim Crow, although the issues surrounding racial inequality continue to mar American society. What are your thoughts on the current socio-political climate in the US?
The socio-political climate in the United States is currently an episode of The Twilight Zone. It will remain as such until the pendulum of power shifts. The old idea of what a "constitutional America" looks like must be extinguished in order for this country to progress. Those ideas were quite prehistoric by design, to begin with.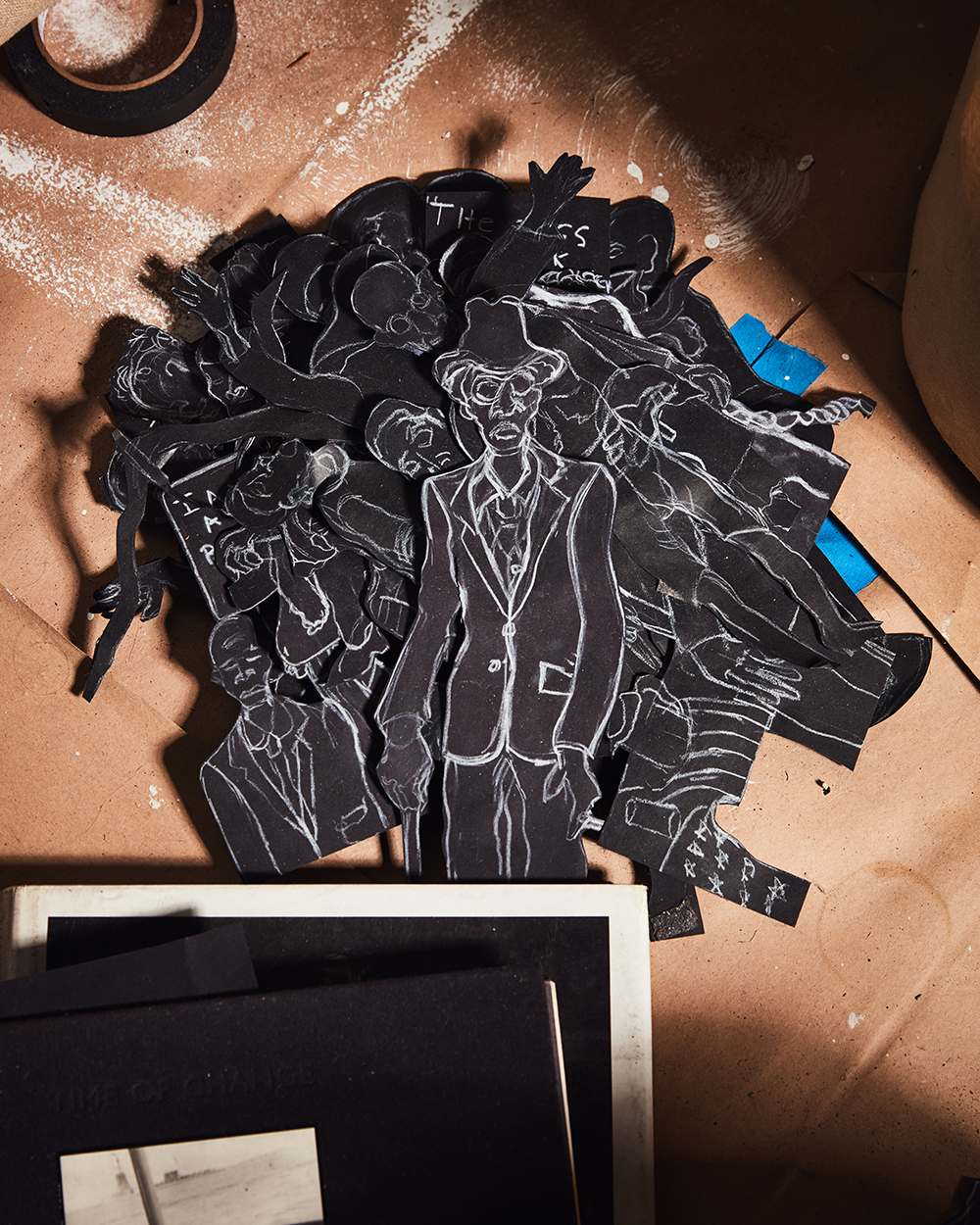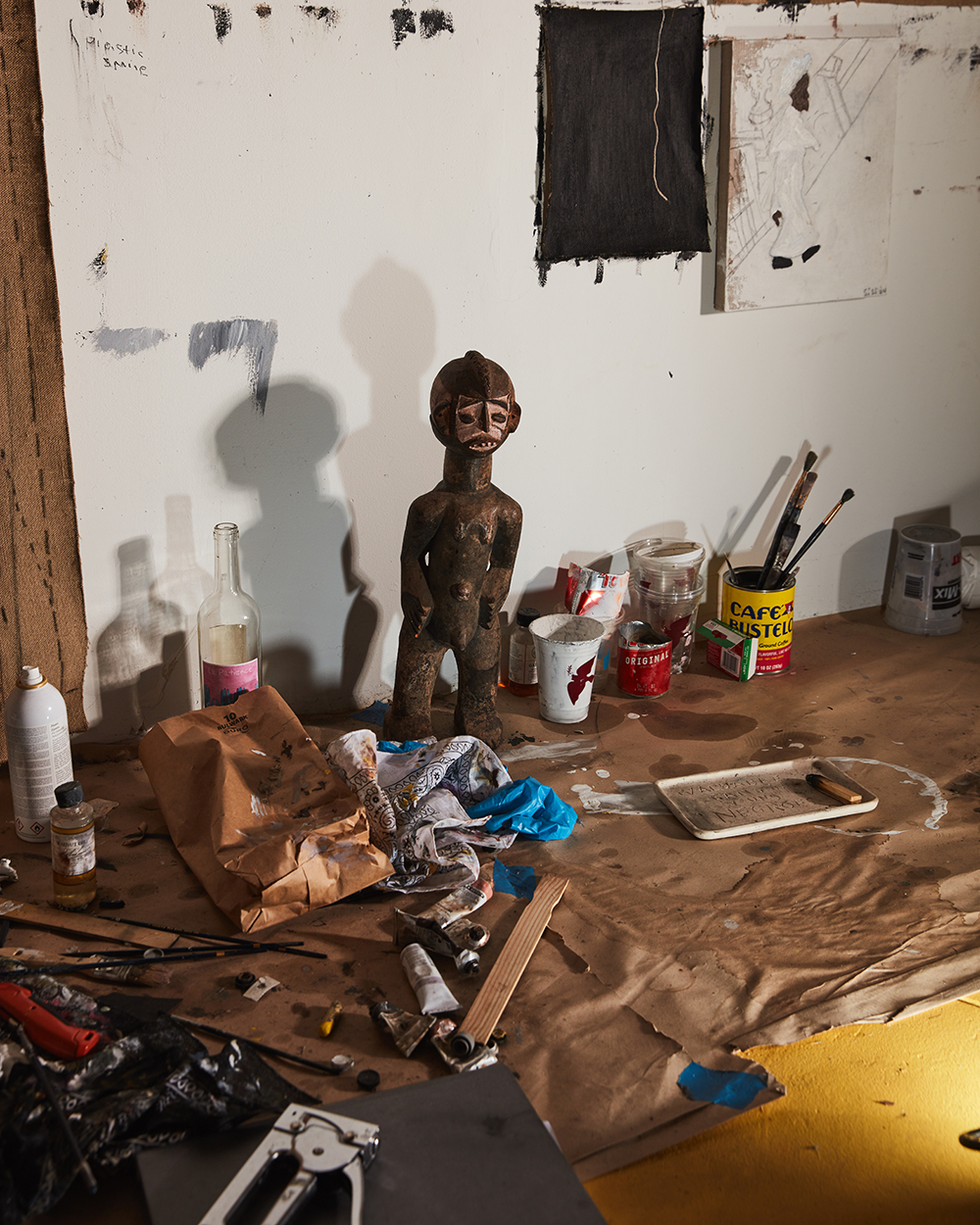 Social media is a double-edged sword when it comes to the spreading of information. What are your thoughts on Instagram and how it has become the primary space where creatives showcase to the world?

Instagram has made it easier to connect and expose workers to an audience with immediacy. I wouldn't say Instagram is the primary space for me to showcase my work, it's just another current avenue. Initially, I didn't post any work on Instagram, but then I found a rhythm that suited me. I share a specific portion of work on the platform in my own time, meaning I'm not beholden to an algorithm. I like to preserve the majority for an in-person experience as much as possible.
Can we expect a solo show in the near future?
I am currently in the laboratory developing a set of solo shows due in 2019. I believe these will be my greatest works to date. And I look forward to sharing them with the world.
For more from Sissón, follow him on Instagram.
Photography by Shaughn and John.