This is a preview of our feature on Kris Chau in upcoming issue 16. You can pre-order here.
I've admired the work of artist Kris Chau for many years and seized the opportunity to introduce myself to her earlier this year at LA Pages, a local book fair for independent, west coast publishers. In the short time I've known her, our sisterhood has matured, and as a collector of her work, my love, support, and admiration for her creative practice continues to blossom. Besides our resemblance, familial similarities, and social, spiritual, and ethical compatibility, we share a curiosity for the unknown and share a belief that our purpose is to live virtuous, authentic, and creative lives, consider our place in the world, and take care of those who take care of us, especially the men we love.   
Based in Los Angeles, by way of Honolulu, Kris is inspired by mysticism, mythology, and folklore. As a thoughtful painter, poetic illustrator, seasoned designer, and determined business owner, Kris tells stories. Drawing from her personal stream of consciousness, while still referencing indigenous cultures, fables, and fairytales, Chau's work explores symbolism, as well as solutions to the devastating and irreverent conditions of our world.
How are things?
It's been a bit of a struggle these past few months, but I'm hanging in there and trying to stay grounded. The reality of making art is that you're money poor. Your new resource is time, which is all used up making art. So it's tough to stay on track when it feels like you're just in a money time hole.
How are you staying grounded?
I think mostly talking out loud about what society deems normal behavior and also the fragility of people who live in the bubble of safety and comfort. I'm trying to be less judgmental, but also create boundaries with people who display less woke and more volatile or less accountable behavior. Also, living with the idea that all people are good and they only react poorly because they feel shame for their missteps, not because they are bad people.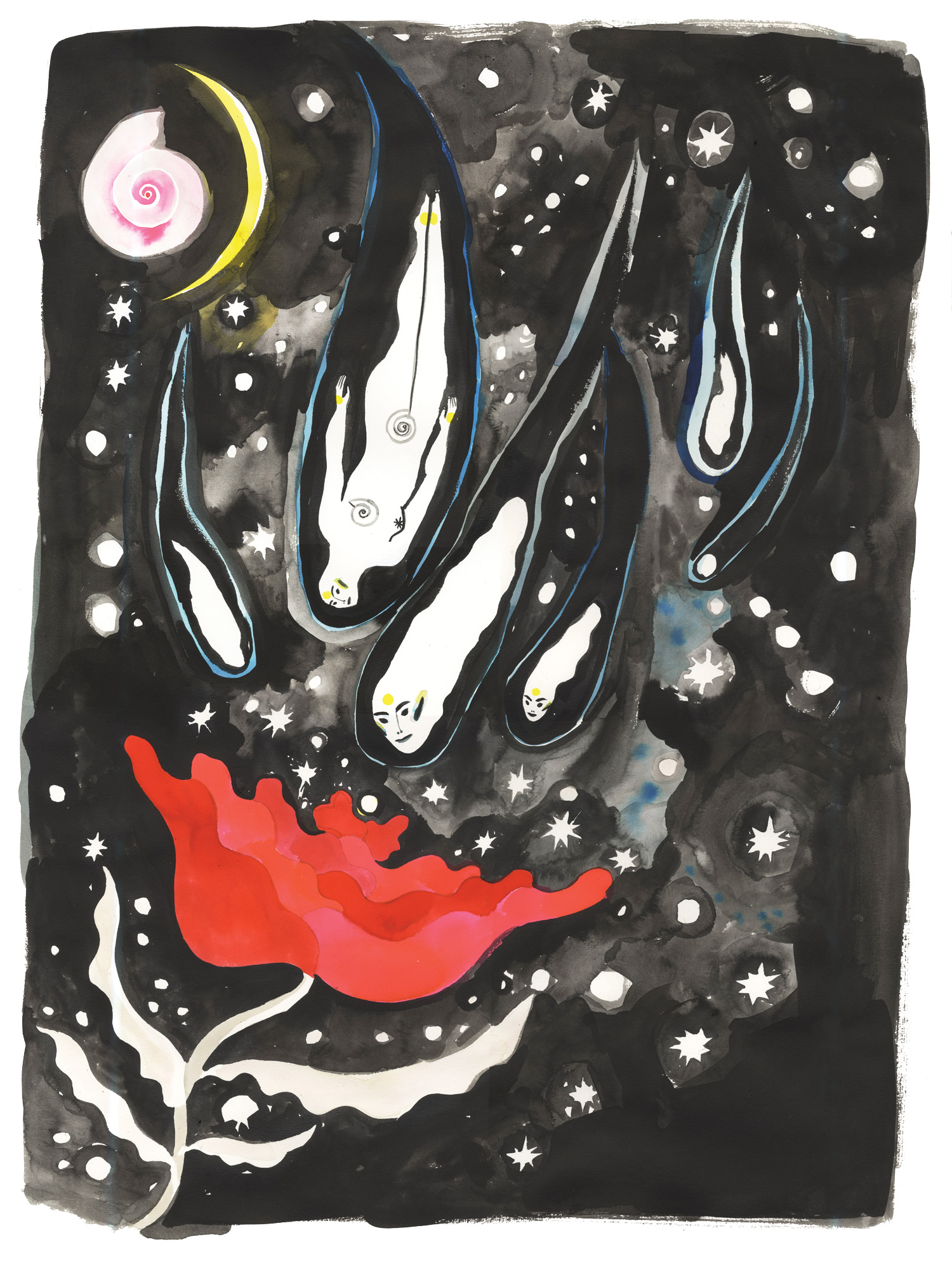 What are your thoughts on the state of our world? Are you fearful or is mindfulness saving you from internalizing all the hate and devastation?
Truth be told, this is the first time in my life I am actually concerned that an infrastructure is being built for a fascist oligarchy, right under our noses. So I have been staying abreast of the news in a way that I never have before. Now I read the news the same way I grocery shop, where did this come from? I collect stories from several non-profit media sources and cross-check. I will say that true positivity and real light lives with the reality of darkness. So all these things don't get me down as much as it used to because we are all talking about it. It's all on our minds, so we have a collective light. We have to stay together, we have to keep talking and moving and living with this consciousness.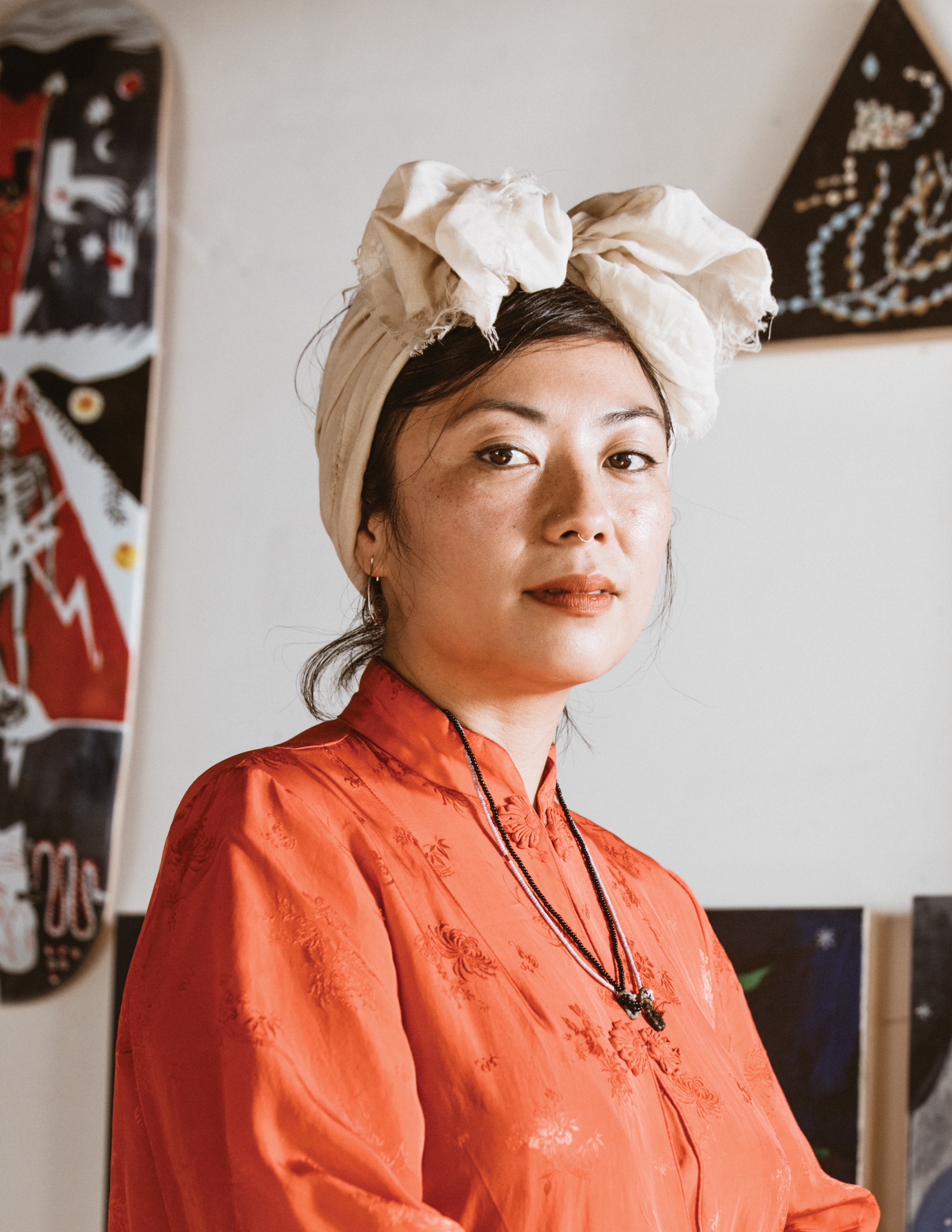 As a 38-year-old woman, far wiser than most, what advice would you give to your younger self?
I would say to not worry so much about looking the part, because when you carry the real stuff, people will already know and it'll make its way out. I would also encourage maybe a martial art or more physical practice because that helps the mind. And that you're okay you're doing great, but I get it, go prove yourself anyway.
If you could trade lives with one woman (living, dead, or imaginary) for one week, who would she be and why?
This is hard because I've already gone through years of conditioning myself to be perfectly happy as me in my own skin. Everyone's life feels equally hard and great, all the great women I admire, really pushed through many hardships, which is why they are so great. I mostly would just like to be a cat, and out of this oppressive human system.
For more from Kris Chau, follow her on Instagram.
Photography by Adam Amengual.