Maxwell McMaster has a knack for creating delicate, pastel-colored paintings that resemble the expansive and slightly disorienting smoggy sunset haze that blankets Los Angeles almost every evening. With its sugary pastel tones and dreamy gradients, McMaster's work is nostalgic but with a clean, contemporary edge that creates delicate details that shine when the painting is complete. 
When looking at McMaster's paintings you can understand their undeniable appeal. The subjects featured are recognizable — luscious pink-tinged clouds, his signature six leaf palm tree, curvy flowers — each observed and transformed in Max's painterly style. With content and color palettes reminiscent of David Hockney or Ed Ruscha, Max displays his influences with a captivating and refreshing twist. 
Max's canny approach is largely influenced by his Southern California surroundings. Originally from Sacramento, it took him quite a few trips, over a long period of time, to really understand Los Angeles' physical and social landscape. Yet now, the NorCal native seems more at home than ever, emanating the city's warm and casual vibes with every piece he completes. Of course it's different for everyone; some artists turn to museums to seek out inspiration for a project, some rely on their dreams or thoughts they have while waiting for the bus. But to know Max utilizes the landscape around him to produce his images is comforting. It makes you want to move to Los Angeles and cruise around with him in the sunshine. If you've never been to Los Angeles it can be tempting to think of it as an expanse of clogged highways, SUVs and A-list parties, but Max's work points out it's got much more to offer.
We spent some time in the studio with Max recently where we talked about the vast chasms of pastel space in each of his pieces that are left for the viewer to interpret, and how his paintings inevitably relay a SoCal vibe. 
It seems like environment plays a large role in your work.
Yeah, it's all very autobiographical, and my color palette definitely comes from the typical Southern California sunset vibes. Los Angeles is such a large part of my work, it definitely lands me certain places; I think that's why I ended up doing the show at The Standard. They wanted that Los Angeles and SoCal vibe, and my work fit into that really well. There's a certain vibe to LA, it's something that when I moved her I didn't know about, but then you get here and you're immersed in it. It's like the song "Hotel California." I always hated that song, but now I love it and totally get it. SoCal is it's own beast, and you don't understand it until you actually live it.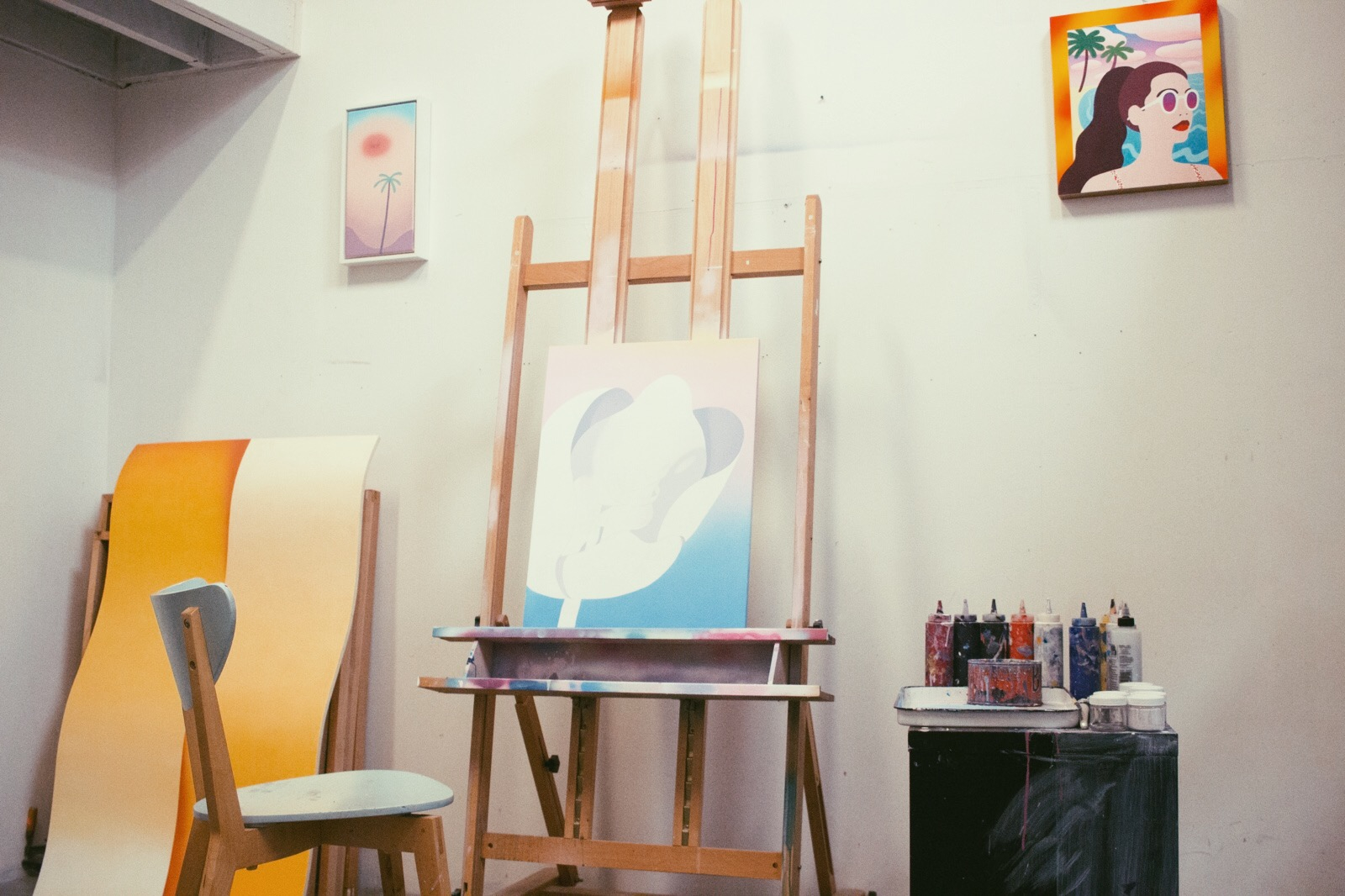 How do you think your work has evolved the most recently?
If anything has evolved, I think my skill level has improved. I've gotten way more comfortable using the airbrush and the colors and contrasts in my pieces are better. It's a matter of getting the result I want with less of a challenge. It's made my most recent work way more technical; I don't know if that's something that's going to stay, but it's something that came up naturally. I definitely want to paint bigger, that's my thing. I like painting mural scale pieces more than painting small pieces. I feel like since I come from a graffiti background, I kind of feel more at home working on a wall-size piece. When I have a wall that doesn't move, the work is a little less finicky. I feel like with murals too it's more about image making. You're not talking about art history or where you are at this place in time, like you would in a gallery setting.
Tell us about some of the reoccurring imagery or themes in your most recent work?
Well the clouds are always something I play with a lot, and the palm tree has been coming back recently. I've branded this palm tree for myself; it's simple and has only six leaves. It's kind of an M.C Esher form — he is a huge inspiration to me and was a big reason why I started painting and start making art. So it was kind of my take on a Hockney meets Esher palm tree. A lot of my work is inspired by that kind stuff. I also really like Ellsworth Kelly's work, and enjoy minimalist type of work. At a point, I was obsessed with trying to keep it minimal. Minimalism is easy to disregard if you haven't seen a lot of work, but I think if you've seen and been around a lot of work, you appreciate that moment when you see a minimal shape or composition, and realize that you can explore so much with something so simple.
That led me to think more about designing things where everything you put into the image has a purpose. Sometimes I make things that are just decorative, but that's more if I really don't have anything to talk about. But if there's something behind a piece, then you cut out all the elements except for that one thing that you're trying to make people see. I think it's more effective than making an image that is busier. As you evolve you realize that making an image more busy with detail or more realistic is kind of a cheap trick.
There's something to say about keeping a piece at a minimal state and still getting your point across. What does a painting depend on in order to portray an emotion or feeling?
I feel like if you watch someone's evolution, like Cleon Peterson, whose work was really busy for a long time, you can tell that he's honed in on the, "Ok, what is it about the work that people are really drawn to?" It's probably just the human element and savageness. Now his work is just that, and it works a lot better. I also really appreciate people like Geoff McFetridge, who can work with something so simple and still have it be so inspiring when you see it. A, the idea sticks with you, and B, the painting is enjoyable to look at and you can continue to look at it and find new elements you hadn't seen before. It's subtleties that really can make a huge deal in a piece — things that people who don't really do art probably won't pick up on, but when you do pick up on them, it's more like a feeling than even a technical thing because no one else can see it but you, yet other people will feel it. It's like good film versus bad film; what is it that separates the two? One director probably just really knows how to set a mood or has included subtle elements that in turn make a huge difference.
How does a piece come together for you?
When I am in a creative block I just start drawing stuff. I guess I like flowers a lot, and women; they're just really enjoyable to draw. I'm also kind of into these ribbon forms right now. So I'll just start drawing and then see how I can connect ideas and bring them together.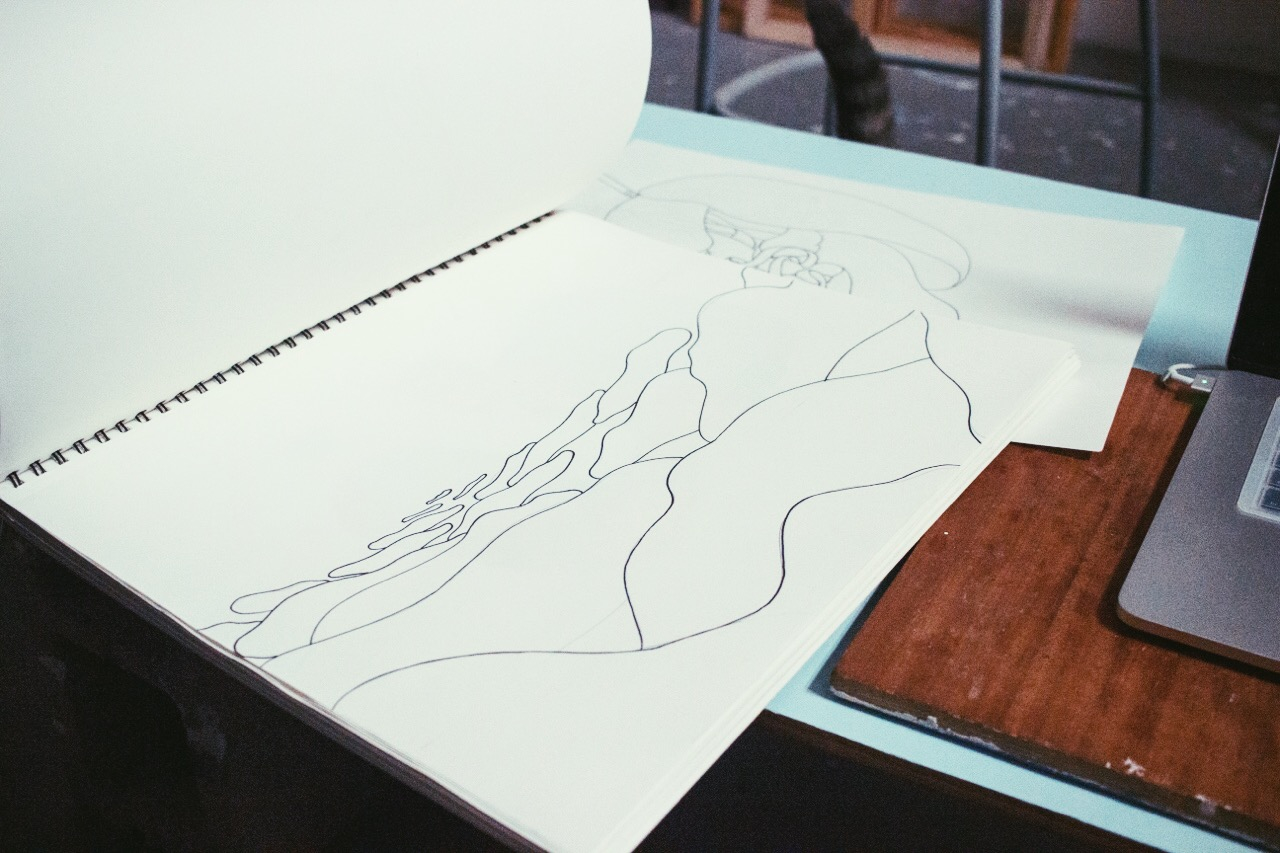 There's a lot of flow to your work.
Yeah, I used to make things more rigid, but learned a lot when I was trying to go into animation. With animation you learn that if you make a character more rigid it means they're evil, or if you make something with round edges it's supposedly portrayed as happy. I really want my work to have a good vibe, so that's why I have more of a rounded flow to things I paint. That's really more of a technical decision.
Your graphic design background probably influences the process as well.
After I started doing graphics my work changed a lot, mainly because I just became much more proficient. I could make a drawing, drop into Photoshop and sample colors and compositions before going to the canvas. It doesn't make sense for me to paint a painting straight out because I can accomplish all my ideas so much quicker on a computer.
What other ways do you think your graphic design has affected your painting?
My composition has gotten a lot better. Working with type is such a challenge, but after doing it every day while sitting down at a desk for 8-hours a day, it's just kind of become that repetitive brain activity of creating images with text. It solidifies the process for making an image and composing things. Learning how to use type has been such a challenge for me and still is. I got better at it, but it's still not something I'm super strong at. I'm not a graphic designer; I'm still just an illustrator that knows how to do graphic design.
What's currently fueling your creativity?
Painting is an aspect of my art that is geared to a release. You have so many ideas, you kind of see things you're interested in, and you gather inspo or whatever, but I really don't take one specific thing and throw it into a painting. It's kind of just in the moment when the best stuff comes. I'm not going to lie, a lot of my work is very much about my romantic relationships, so I'm almost like a writer in that way, like this part of my life is chapter, that part was a chapter, and so on. So right now I'm at a weird place because I don't really have that story going on. I don't know what the work my upcoming show is going to be about. A lot of it is more subconscious, and even some of the things that I discover with my work, like what direction to go visually, comes form happy accidents, where something worked and something else didn't. I feel like I'm in a place now where my work is more me than it has ever been. Even when I look back to really early paintings, I realized I was doing sunset paintings then, but now my work is more an evolution of that. It feels good to know that I'm doing just what I do, rather then doing something just because I think I need to do it.
For more from Maxwell McMaster follow him on Instagram: @maxwellmcmaster. His solo exhibition at Nucleus Gallery in Portland opens June 24th.
Photos shot by Alex Khatchadourian.