In less than a year, Boston-based artist Sam Fish created a temporary gallery concept and arts collective that moved from a vacant room in Somerville, Massachusetts into a three-floor storefront in the heart of downtown Boston. In an environment teeming with artistic talent, but with few casual outlets to meet and collaborate, EXIT Galleries offers an alternative place for creatives to gather.
I sat down with Fish after EXIT DTX's soft opening in early August to discuss how EXIT came about and what's driving this iteration.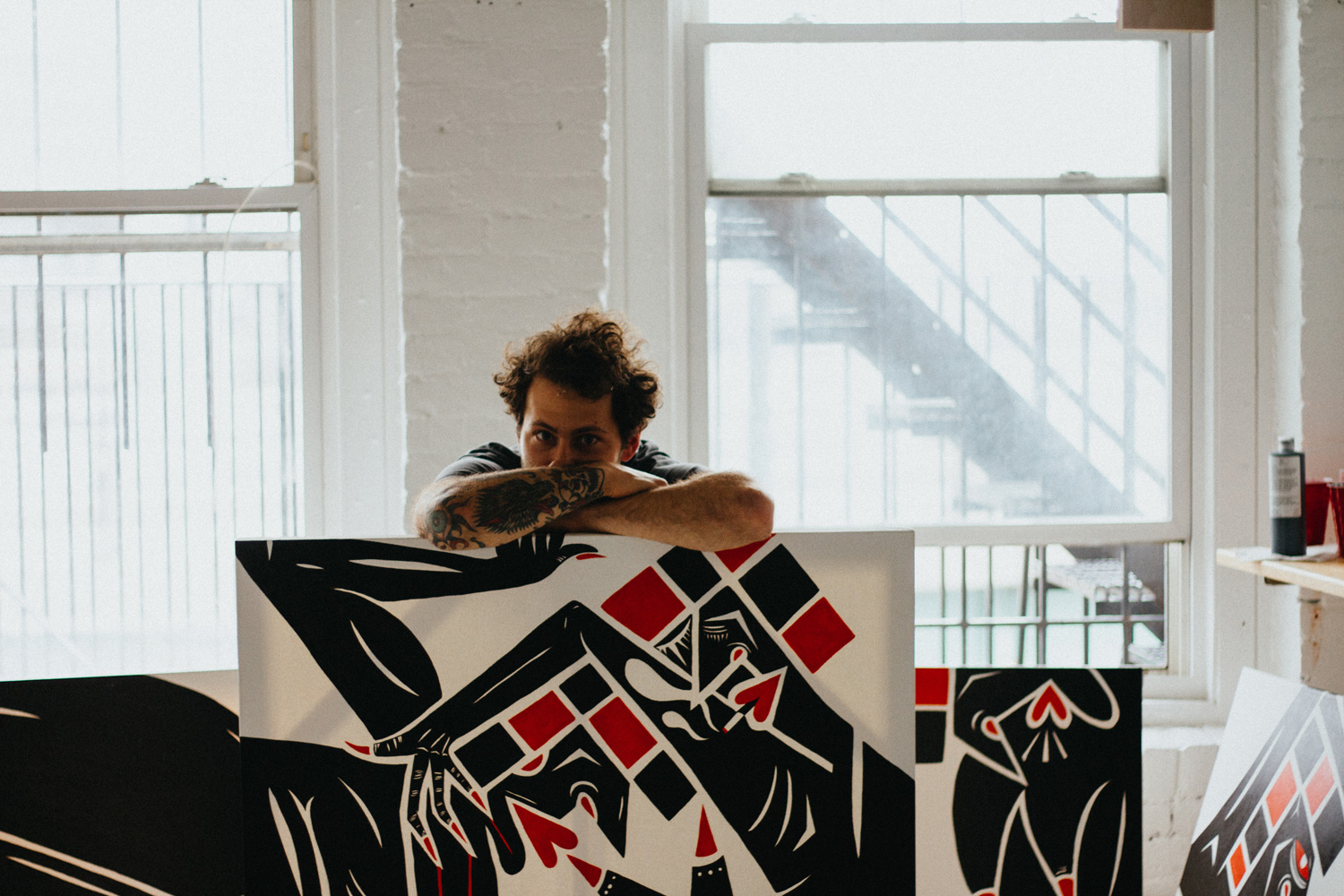 How did the concept for EXIT come about?
There was an exit sign above the door of the first vacant space I found my way into, pointing towards the stairs to the left. My collaborator Ryan Habbyshaw and I watched people trying to get out through the locked door. We thought it would be funny to trick people into coming in when they thought they were leaving.
The name also fits with my feelings and frustrations as an artist in Boston. Trying to figure out how to be successful here was seemingly futile. So I plotted the "exit". I think we ended up doing like six shows in two months. It was pretty insane. EXIT became a way to transform a space into a place where I wanted to be, where I wanted to escape to. A spot to come hang out, communicate and share ideas.
How did you get from that original space to this space you're now inhabiting in the heart of downtown Boston?
A passion for progression. A lot of good friends helping out. Some fancy PDFs. A desire to keep building a space that felt real. All the feedback from people kept urging me to keep going, to keep working. So I did. I kept looking for more spaces. Some fell through. Some didn't. 
My friends at Riverside Tattoo had someone move out of the basement of their tattoo shop, and they wanted to do something with it. That quickly became the next EXIT. We did one show, but it was small and I wanted a bigger spot. That's when I connected with the Office of Arts & Culture and with the Downtown BID.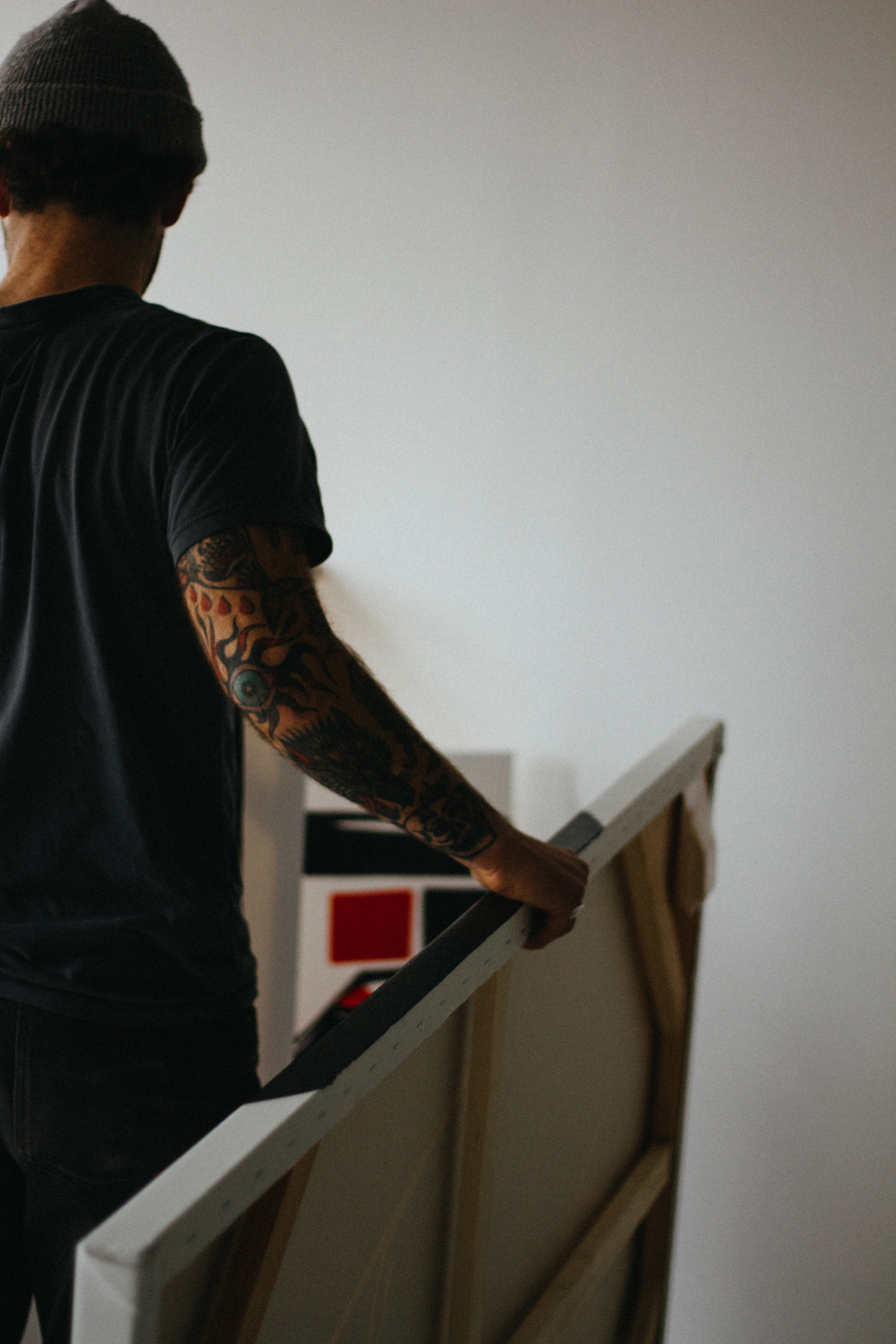 Can you talk about the temporary nature of this project?
The temporary nature of this project goes back to skateboarding—building things that are beautiful in the moment, that wouldn't normally be there, and maybe that aren't going to last. It's part of the magic. 
It's also about working with what you got. And when you don't have a lot of cash, you use what's at your disposal. The vacant spaces are just sitting there. If you can prove to landlords and owners that you can get in there quick and pull something off that is rad and a better look than a vacant storefront, they're more likely to let you use the space. 
Since this space is all about bringing creatives together, who are your collaborators in this iteration?
Our collaborators include with All You Can Eat, Boston Art Review, Spaceus, Orchard Skate Shop, Mayson Clothing, the City of Boston, Downtown BID, and Loyal.
I'm excited to link up with All You Can Eat for the kick-off event who will be bringing the music. We're partnering with Spaceus, which has been doing some similarly amazing work in the city in terms of transforming and utilizing vacant storefronts and bringing creative communities to them. They'll be taking the top floor. Orchard Skate Shop and Vans will be bringing a ramp in for everyone to skate. Boston Art Review plans on doing weekly video installations and some gatherings in September.
I want to create more of an intersection between all these creative communities and unite them. I think if we all unite, our voice will be louder when we try to push for more space like this in the city.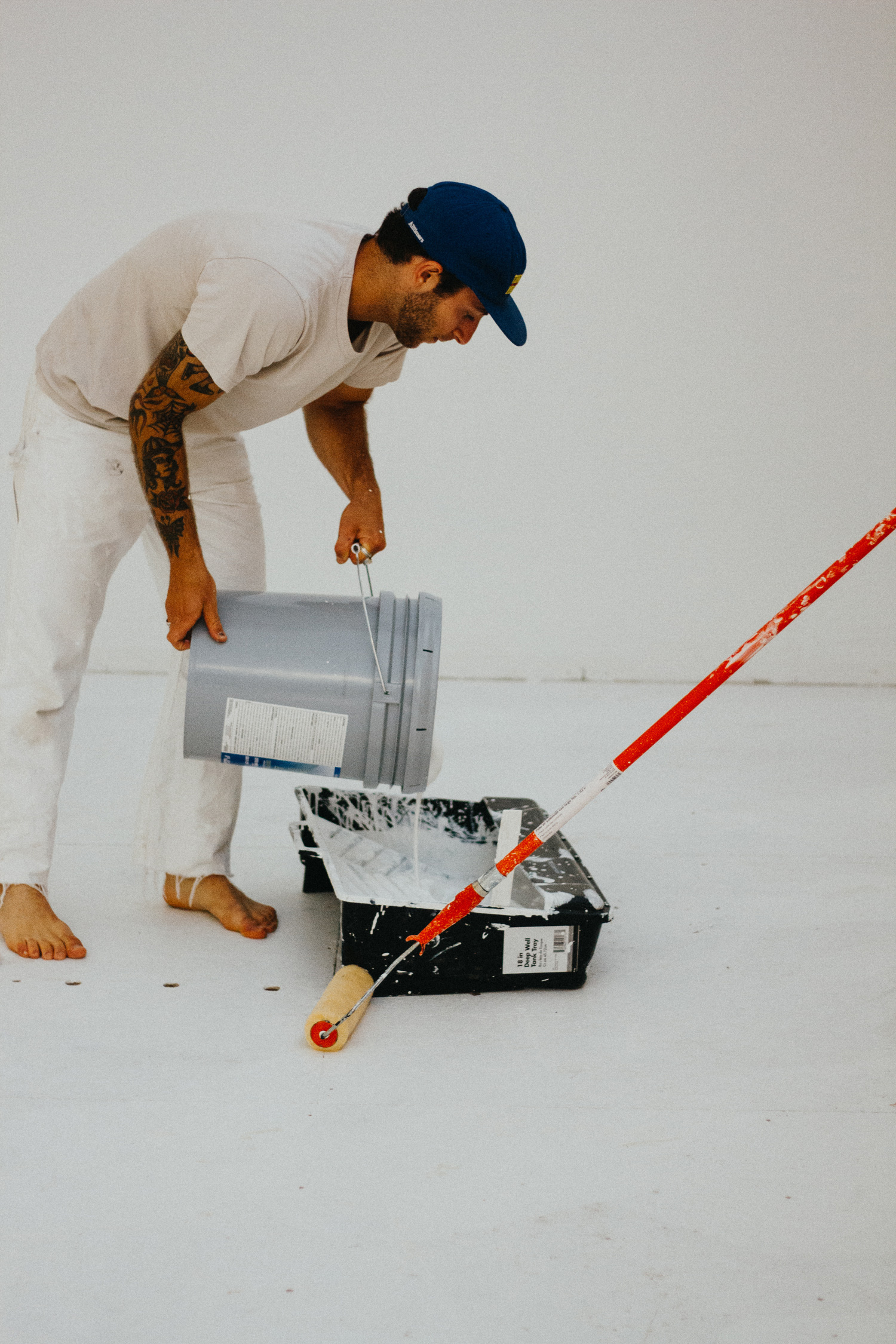 How do you choose artists for the gallery?
Right now, I've brought in some of my favorite visual artists in the city, who also happen to be my friends. It's work that feels cohesive and communicates a strong feeling—it's raw, its bold, and it's been hiding in the shadows. I want to bring this unique flavor out into this city. 
There are weird barriers to entry and prerequisites with other galleries. I didn't go to art school, and I don't know anything about the art world. I don't want EXIT to feel like you're walking into a gallery, where you feel like you need to look like you're absorbing the work in this intellectual way. That's why I called it EXIT galleries. I want it to be a new and different experience. I just want it to strike you in the heart. It has movement, it's exciting, it's telling you that it's there, it's loud. That's what the city needs. More work that communicates that we're a creative destination that's pushing boundaries.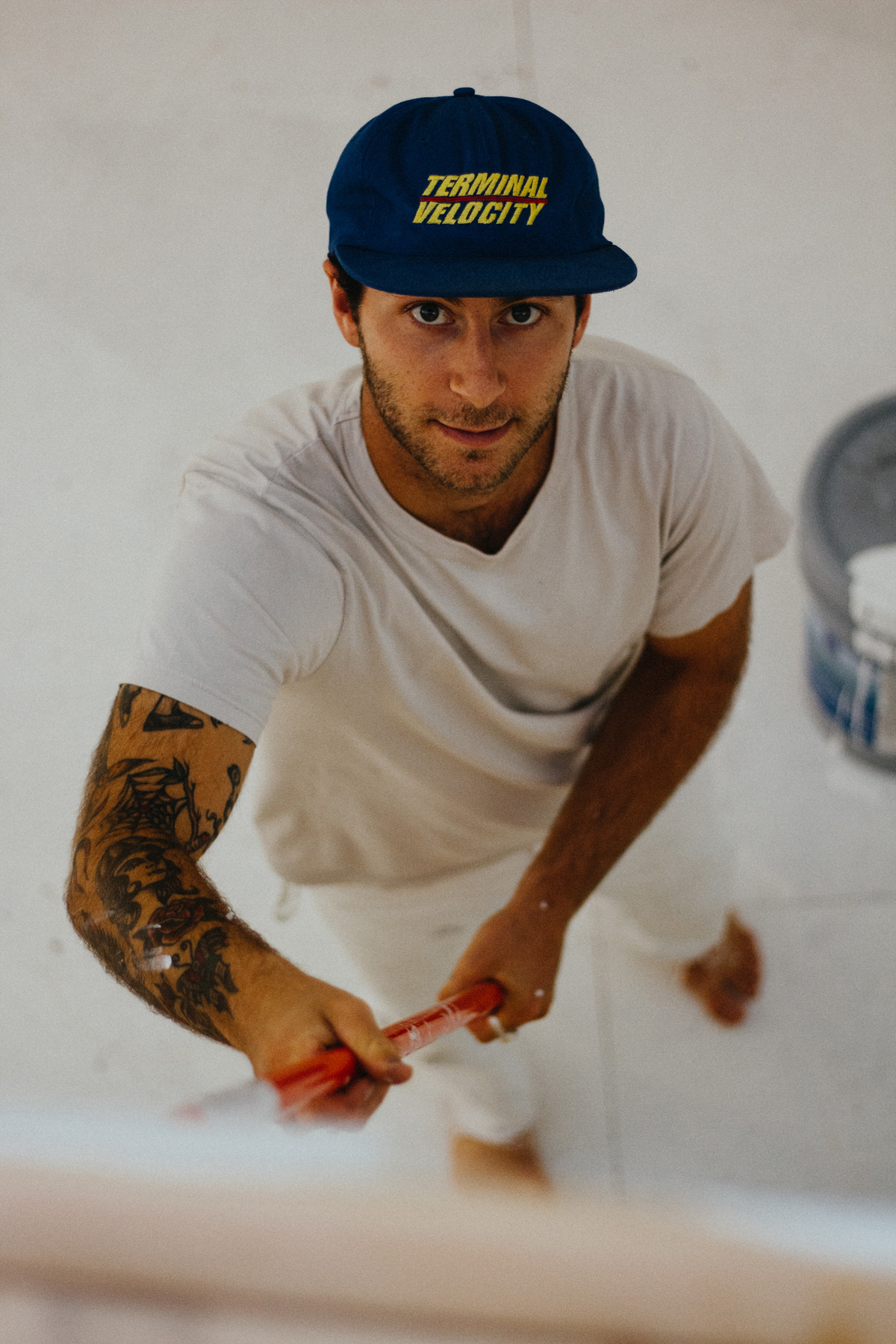 What are you hoping for people when they step into this iteration of EXIT?
I want to inspire people, for sure. To instill a new sense of curiosity and wonder that I feel is lacking in this more historically-focused city. I've had some incredible interactions with people already. People that may have lost some passion for art—something clicked for them after stepping through the doors, they realized art brought them joy. I hope to create more space that feels honest, real, and deeply personal. And that hasn't been churned through a system. Everyone's inspired when they see work that's a product of true emotion.
I want to create a ripple effect for more creativity and collaboration in the city. I think space is a crucial aspect of that. There needs to be physical connection and communication and intersection, and that's why this space is so interesting. It actually is at this intersection point in the city where there's nothing else like it. No one says, "Let's meet up at Downtown Crossing." The creative neighborhoods have had to leave the area because it's not affordable. Artists are getting pushed out farther and farther, and we're finally at this point where the city and municipalities are realizing that it's faded out and the center is weakening because of it. It's finally clicking that that is such an important aspect of communicating the value of a place. So it's cool to see that the city is backing this.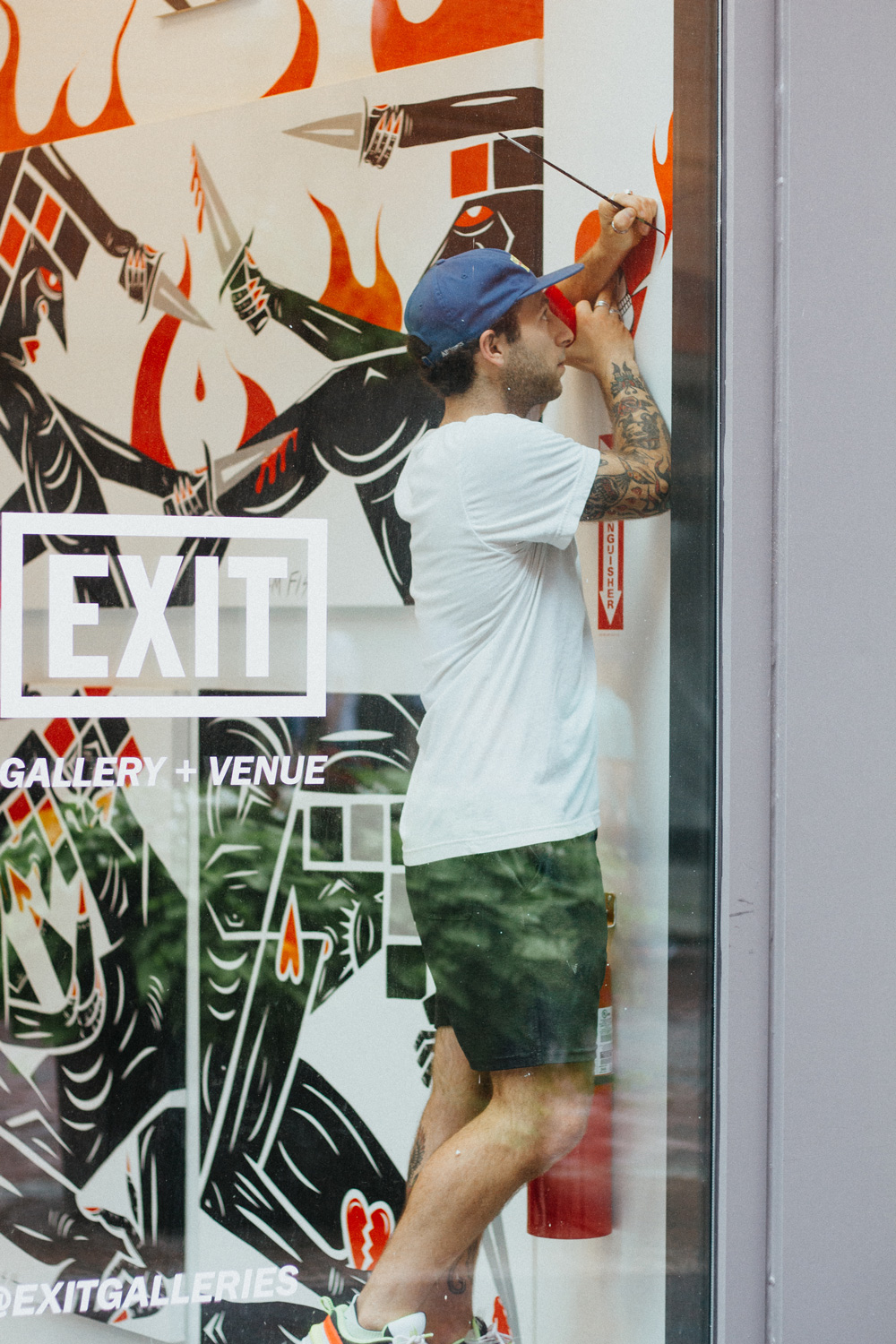 Have you gotten any feedback or indication that it's working? 
The feedback has been amazing already. People are so refreshed by the fact that it isn't just a marketing message being shoved down their throat and there is an opportunity for curiosity, exploration, and wonder. Sometimes people need to realize that it's okay to stop and take a second. We're conditioned to keep moving and stay busy and to compartmentalize how we've been told to think and feel. It's like we're desensitized to ourselves and how we can interpret something.
I've had amazing conversations and interactions with strangers off the street already where they've been inspired to make some change or take some step to try something new. It feels good to create space to allow people to realize they're in control of how they feel or observe or interpret. It's crazy that there's so much else that tells you otherwise.
It seems like in this Boston, with the heavy emphasis on intellect, there aren't a lot of places that are intentionally fun or nonsensical or that show work that isn't afraid to be those things. New York, for example, has room for all this, but in Boston, it's like we're too afraid to let loose. 
It's like the art that's showing needs to have so many layers of intellectual backing for people to digest it and value the experience, but that's just one way of doing it. There's no right way. This is a completely different way. It's more about the feeling for me. I just want to show that art can be a good time, and it can bring people together. Don't get me wrong, if there is some sort of more important meaning, there's much value in that sort of work, but I think there should be room for this, for the feeling. 
How does your skating background inform or intersect with this project? 
The skate scene is super prominent in Boston. And it's out in the street. It's all about reinvention and progression. There's something innate that skateboarders have. That you just have to go for it. And it's not for anything else besides the feeling at that moment. There's a purity there. It's open to anyone that wants to test it or that wants to put themselves through the ringer. The door is open.
Creating these spots for art comes back to skateboarding and skate spots, and building things that are beautiful in the moment—maybe something that's not going to last and that's part of the magic. Like you might walk by the next week and it'll be gone.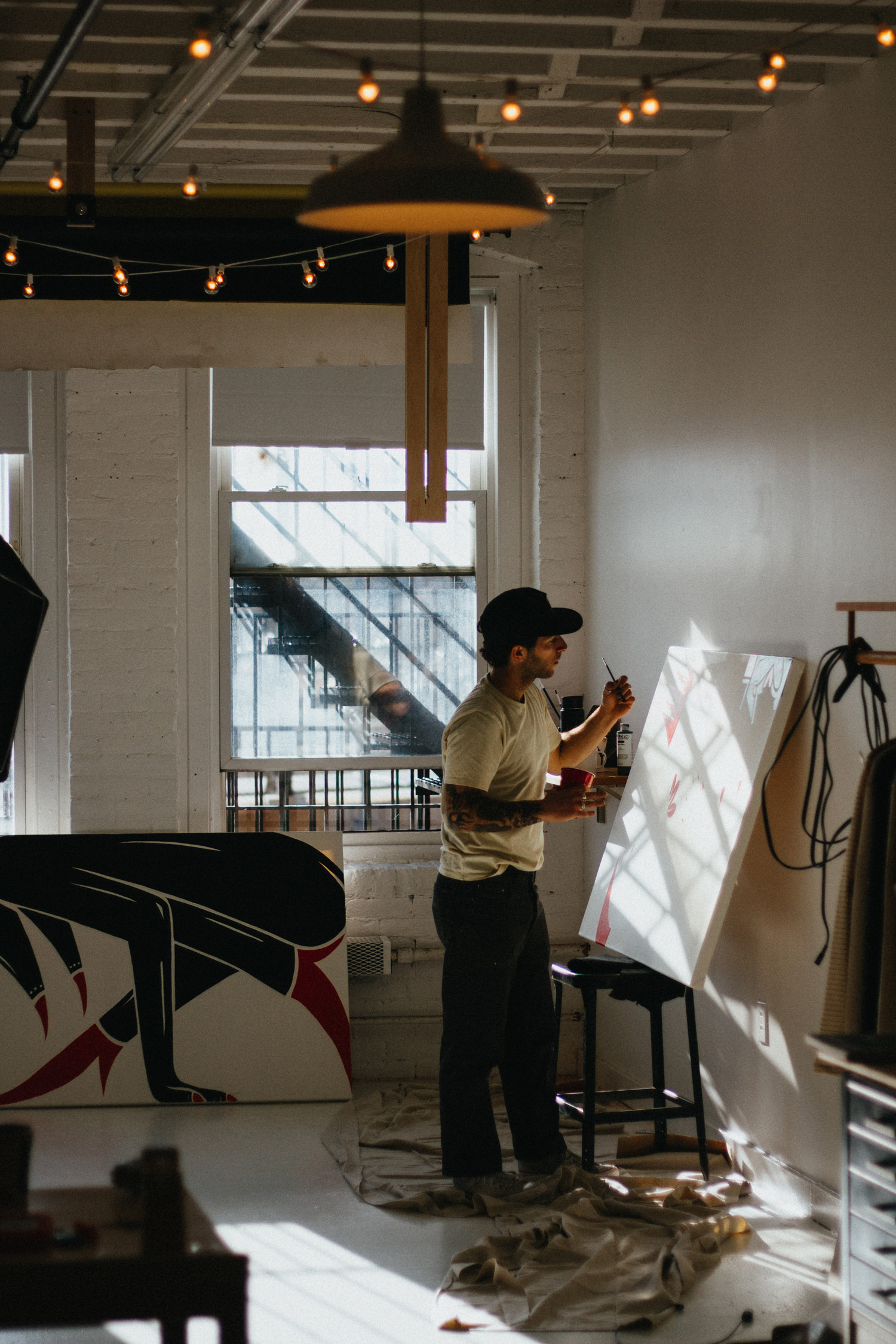 What's next for EXIT? Would you ever have a permanent space?
For now, what attracts me to this is the impermanence of it, and the idea of finding an existing spot and reinventing it with what's at our disposal. I definitely don't have a master plan with this. I'll just see where it leads. It would be rad to have multiple spots going at once and start to create a network of EXITs that somehow communicate with each other. I'm curious how they would interact or how they could be strung together. Bouncing between these little portals all over the city would be sick.
For more from EXIT, follow them on Instagram.
Photography by Caleb Mayerson.