Sitting in 405 rush hour traffic on a Friday, I decided to call up Russ Pope who was in the comfort of his New England home due to the transnational time difference. I had admired Russ' work for years through the comfort of one of my many cracked iPhones. We had brushed shoulders throughout the years at many trade shows but had never formally met. Since I was moving at the speed of an In-n-Out drive-thru line I got to know the seasoned polymath, the humble roots he came from, and what's on the horizon.
Let's hit it from the top Russ. For the people who don't really know you or your work, tell us who you are and what you do.
I grew up in Northern California then moved down to Laguna zone, lived there for about 12 years before I moved to New England 4 years ago. I make drawings and paintings and try to share them with people through art shows and social, commercial work here and there, and on skateboards every now and then. Mainly I try to make drawings and paintings that feel good.
How'd ya get into making artwork? Whats the history there?
It sounds super silly, but when I was 5 my dad made me my first skateboard. Around the same time, my kindergarten teacher made us all draw a rabbit cause it was easter. The teacher handed my rabbit drawing to my mom and was like "Hey this is Russell's rabbit; he's a really great artist," and I was like, "Holy shit I'm a great artist that's amazing!" I guarantee she said the same thing to every parent, but I was a 5-year-old sucker and I thought to myself, "I AM A GREAT ARTIST." But I've never stopped drawing, I had an uncle who was a fine artist and since I was a kid, art and skateboarding have always been a part of my life. They have always gone hand in hand, one has always enabled the other.
Have you always just made and sold artwork? Were you ever a part of the skateboard industry at any capacity?
Oh yeah for sure. I was a sponsored skater when I was younger. Then I had a job as the team manager of SMA, and after that, I started Creature Skateboards and was a founder there, then I also had Scarecrow Skateboards, and now I have a small little brand called Transportation Unit. Yeah, I've always been involved in skateboarding. During that time period you did it all, took care of the team, built ads, shot photos, there wasn't a filmer and photographer or editor. If you had a skateboard company you just did it all.
Yeah, I feel like a lot of skateboard brands today have gotten too big and have lost their direction and original vision. Grabbing for whatever company they can license and "collab" with.
Right, if you don't have a brand direction or somebody that has some sort of concept of what they want to be doing you have to rent concepts from other people by doing collaborations. Which is radically different than like a Polar, Dear, Magenta, or Isle Skateboards. All those brands clearly have creative heads that have an idea, a preconceived notion with a look and feel of what their brand is supposed to be. It all ties in and it's good. That's what I like. I don't wanna see another Star Wars series from anybody! We [skateboarding] have our own stuff we don't need to borrow from anyone.
You're totally right. Skateboarding needs to be special.
Yes, it has to be. If you can go to Target and see a series of t-shirts with the same company that a brand collaborated with it's probably not a good idea.
So the average modern creative is kinda like a balancing act. Doing merch, showing in galleries, commercial work, having your own small brand like Transportation Unit.
Yeah, I also have a little company called theTHURSDAYMAN. It's printed goods like books, postcards, tees, etc. It's built for boutique surf shops, bookshops, and galleries. I've been doing the art show thing long enough now that I have a couple places that I return to every year. In Japan, I have some places I show with once a year then I have a dealer in Milan, Italy. You can be successful in the gallery setting by building those relationships where clients expect you back each year, but you can supplement in between with other stuff. You have to be smart about it too because if you do a ton of commercial work your stuff doesn't feel as valuable or special.
I hear ya, but I also think it's cool that you diversify yourself enough where one of your fans who might not be able to afford an original piece can go home with a book, a shirt or a tote bag with your artwork on it.
Yeah even for me, I get just as hyped today from getting a super dope tote from somebody. Last time I was in New York, Grotesk gave me this tote and it's just as special to me as these drawings I have from him. It is just as cool.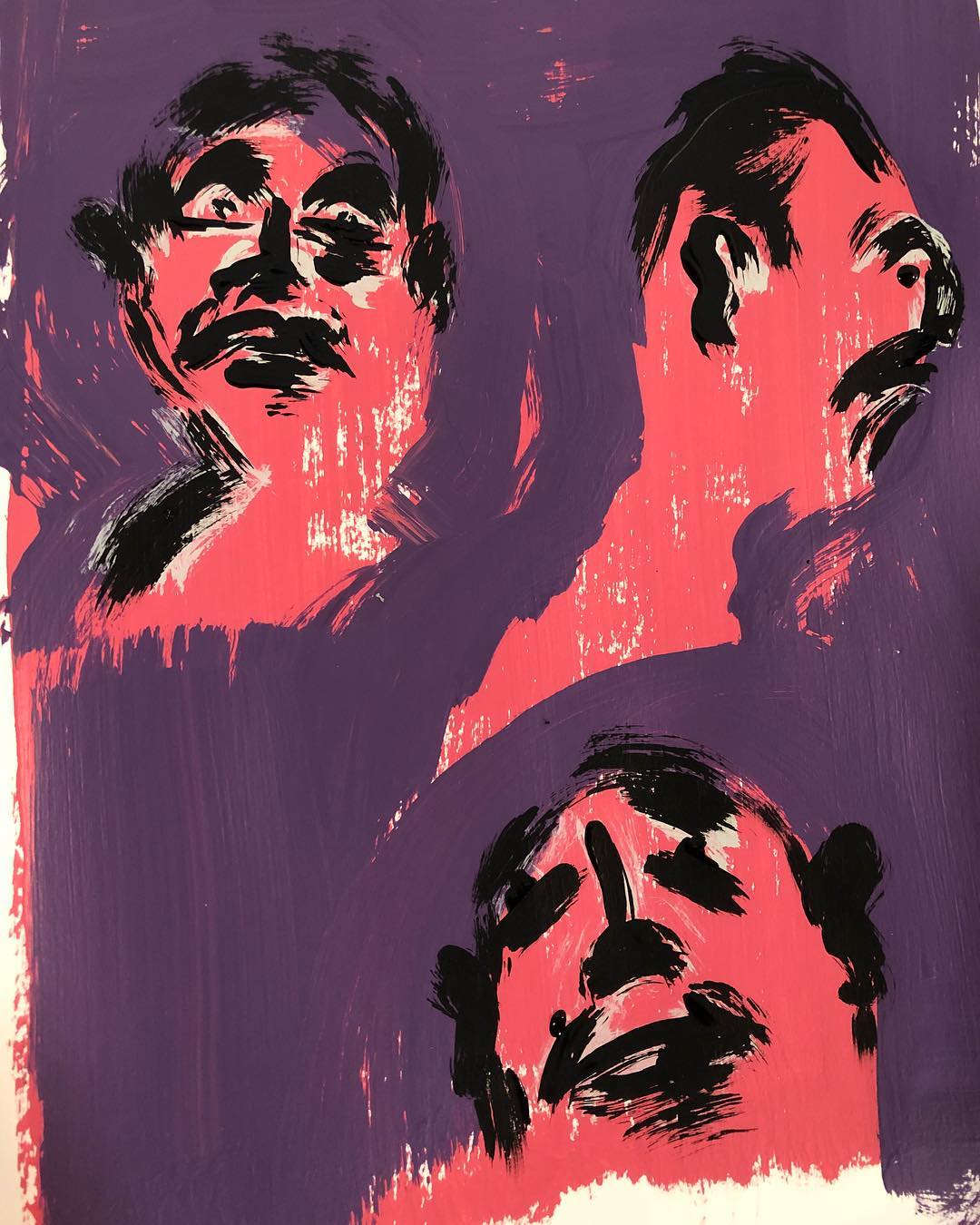 So walk us through your painting style and how you arrived at the type of work you make today.
Style-wise after high school, I did two years of a Fine Arts degree in Santa Cruz and then I split to start Creature Skateboards. My current style started then, but its always been my life in pictures or a visual diary. Almost like writing in a diary, but I'm drawing a diary; thoughts and feelings or things I come across. The ones I like best usually turn into a series of paintings. Sounds kooky, but it's sorta social commentary. It can be anything from what I see at the beach or in the forest or sometimes it's just representing a thought or a mood. It still changes year to year, tightens up or gets loose depending on how I'm feeling.
You just had 3 separate shows in Japan tell us about the new body of work you created for those.
One is all portraits, it's just people I've seen. People from out in the wild to friends that I love or some that I don't love that I thought were interesting enough to make a drawing of. Also some famous people like Saul Steinberg. John Steinbeck, Groucho Marx, Frank Gerwer and even one of my wife and a ton of random others. Then the other show is all conversations. They could be literal translations or sometimes just feelings. Half are observations of a couple different bars, breweries, coffee shops, mainly just a recording of my life in pictures.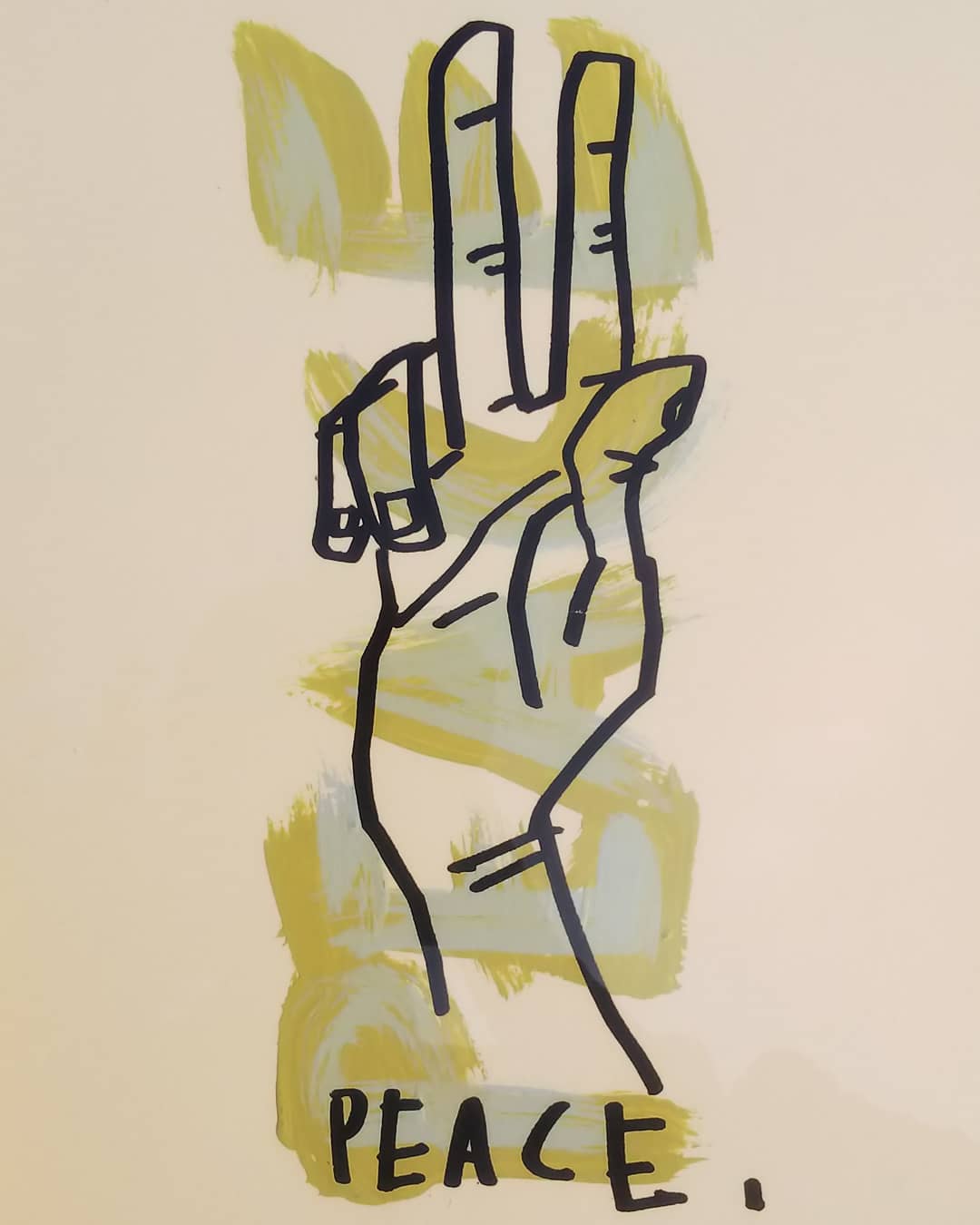 You showed at Pilgrim Surf, Trunk hotel gallery, and the Greenroom festival. Do you think these venues that are outside the traditional art gallery setting are more authentic to you because of your work history and the realm you come from?
Yeah, it's not even on purpose. I've known all these sweet humans that are so good to me. Whether I'm showing at Harvard or at Antonio Columbo Gallery in Italy or it's a partnership with BEAMS in Japan it just happens because I'm friends with these different people that support me because my whole life has been spent making art or making skateboard stuff.
You seem like one of those well-rounded dudes who just has a plethora of skills and uses any medium to execute an idea.
This is super corny and cliche, but I think there are certain people that live a creative lifestyle and look at things like, "Hey I could buy this, but I'm gonna make my own." You just figure it out. Whether that's a skate film or a good pair of 5-pocket pants. Like how do I make a better pair of Dickies? What if they weren't as rugged? All that stuff is cool. Everything you look at you look through a different lens because you're always observing and cataloging in your brain and using for inspiration.
Well, thanks for shootin' the shit with us Russ. I'll be cataloging this for some future inspiration. Anything coming up on the horizon that you want to share with everyone?
A couple shows. This one in Boston, which is a reissue of the last Harvard show, which is more for the homies. That's at Extension Gallery above Orchard Skateshop. Then I go to San Jose at Seeing Things Gallery. Then the next big show is in Milan. Jeremy Fish and I are showing at Antonio Columbo Gallery in September.
For more from Russ Pope, follow him on Instagram.