In the realm of physical art, most tends to be fairly self explanatory. Artists' messages are oftentimes clear, and it only takes a glance in a gallery to at least get a feel for what is being portrayed. Occasionally, though, some pieces stop us in our tracks, and cause us to wonder for a long while. They reach inside of us and stir something that's hardly ever been touched. This is what it feels like to view a piece of Los Angeles-based artist Torie Zalben's work.
Zalben does not simply create images—in fact, she is capable of opening portals to different states of consciousness. Through her photographs, videos, and performance pieces, Zalben transmits her own feelings concerning existence and the world beyond. Her creations are incredibly captivating in nature, with an almost hallucinogenic feel to them.
"I aim for my audience to lose sense of time and space and enter a meditative state," Zalben told us. "I hope for my viewers to look deeper into my works and find hidden faces, images and create their own meanings to the photographs."
The latest collection by Zalben is comprised of multimedia photographs, with heavily blurred edges amongst bright, fragmented pieces of the natural world. She is often inspired by the mineral and plant kingdoms, and symbolism in mysticism and Egyptology. Also dramatically influential in her work is Zalben's physical location—situated between Venice Beach and Santa Monica, she loves studying how the ocean waves move, and the gradient color scales of the sunsets. For her, beach culture is a fascinating force in her creative process.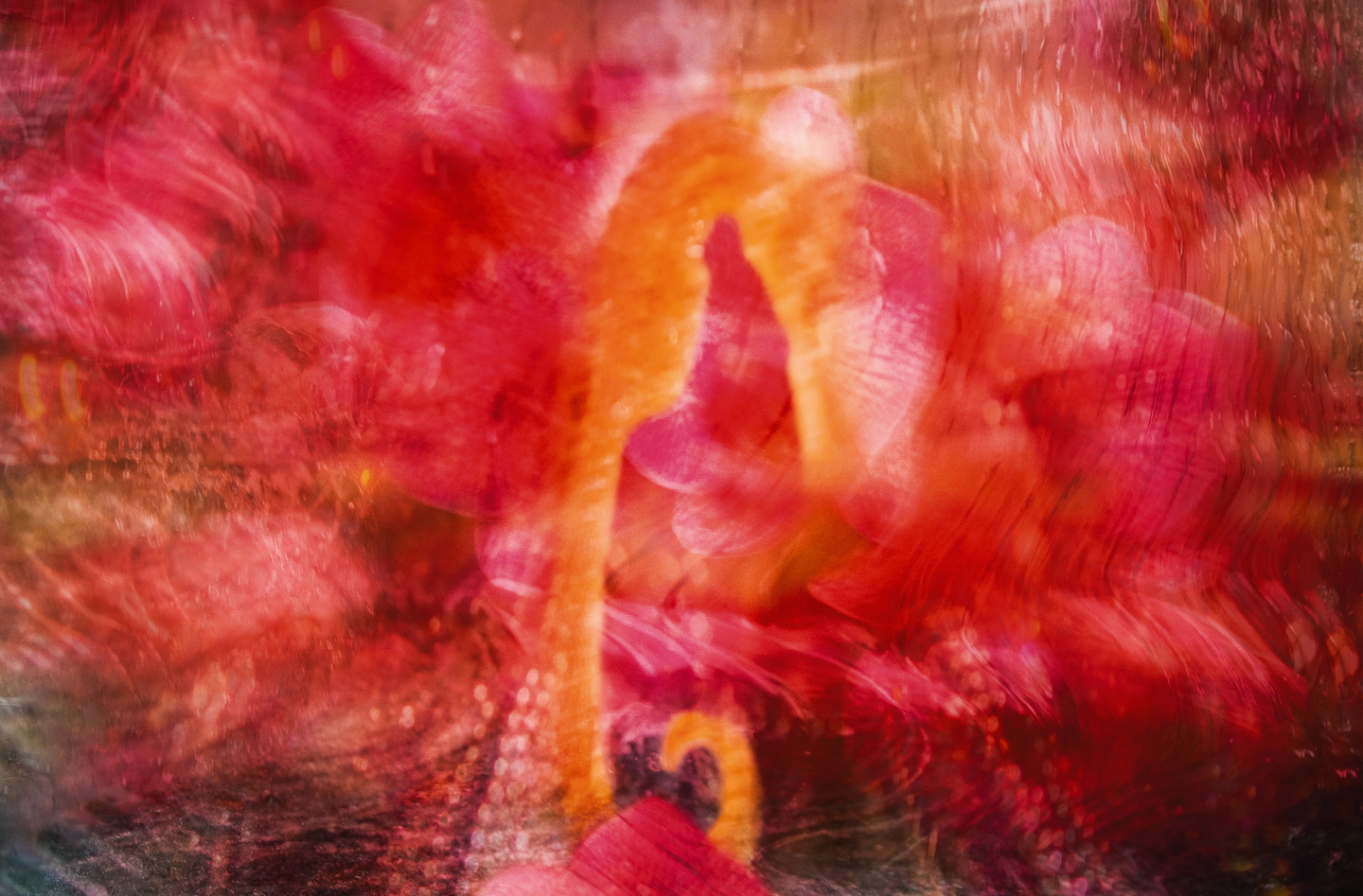 One of her most stand-out videos, Pearl's Awakening, exhibits a young woman waking from sleep in multiple settings, only a few of which are at all sensical. Being a 360° short film, fuzzed images and an unusual frame are common features contributing to the video's thought provoking and assertively confused feel. It has a surreal, romantic ambiance portraying transition from one state of consciousness to another. It allows us to contemplate our own similar day-to-day experiences.
Zalben created the piece for her thesis study at New York University. The project, inspired by muse and avant-garde filmmaker Maya Deren, led Zalben to many other artists who have personally touched her life in a magical way that defies any explanation.
"Paz de la Huerta, Mara Keeley Breene, Julia Sinelnikova, Nana Ghana, Ellen Houlihan, and Nathalia Bas-Tzion Beahan have given me an understanding towards my identity as a female artist in this day and age. These women express themselves fully, have been to hell and back and are here to tell their story of being a light bearer in a sea of darkness," Zalben explained.
Having been impassioned by way of so many fellow artists, Torie places a huge importance on participating in the world of arts education. As a result of Pearl's Awakening, she was asked to help create the CalArts Immersion group, a program exploring technological approaches in immersive cinema.
"I spoke to students about the best methods to create immersive content and explained how I made my film," Zalben said. "The group resulted in a curated night of immersive cinema by CalArts students that was showcased at LA Center Studio's Vortex Immersion Media Dome theater."
She is more recently creating a young board for the Institute of Contemporary Art, Los Angeles which will expose members to performance and live art in the city. Zalben herself believes that there is a basis of performance to all artwork, this being that still pieces are just versions of the enacted. She will often accompany her videography with live performance, which she says constantly develops her work further with the inducement of improv. "I love the art of acting and captivating a hungry audience with different inflections in my voice, and movements of my body," Zalben states.
Torie currently has her hands in a few different creative endeavors herself. She is collaborating in creating a dollhouse sized show, featuring a multitude of two-inch paintings and fully furnished, tiny houses. She hopes that featuring this medium will help to mentally transport viewers to the places portrayed.
She has also completed a more recent video, Subcelestial Seraphim, which will be featured in a group show, Multiple Feeds, debuting at the end of the month. Multiple Feeds and Torie's work will be located at Los Angeles Art Association's Gallery 825. The show runs April 28th to June 1st.
Opening reception is Saturday, April 28th, from 6-9 P.M at Los Angeles Art Association/Gallery 825.
For more from Torie Zalben head to her website here.