This feature was originally published in Issue 16. You can order here.
Music and art share a symbiotic relationship. One describes the feeling, one describes the thought. Both, in one way or another, describe the ineffable. It comes as no surprise, that some of the most memorable records in history are often cherished visually as much as they are musically. "Music is art," states Indiana-based designer, Aaron Lowell Denton, who never envisioned art and design as a career path, but rather a means to further express his longtime love for music.
Having studied art at the University of Indiana and inspired by the likes of Barnett Newman and Donald Judd, Denton is a keen lover of color and abstraction, which can be seen across his variety of poster designs for the likes of Tame Impala, Crumb and Leon Bridges, to name a few. Each of Denton's posters carries a nostalgic feel that is designed through a hypnotic blend of color, composition and the layered textures he creates with old book scans. I hopped on a cross-country call to explore Denton's entrance into the world of design and the equally valuable place it holds in the world of music.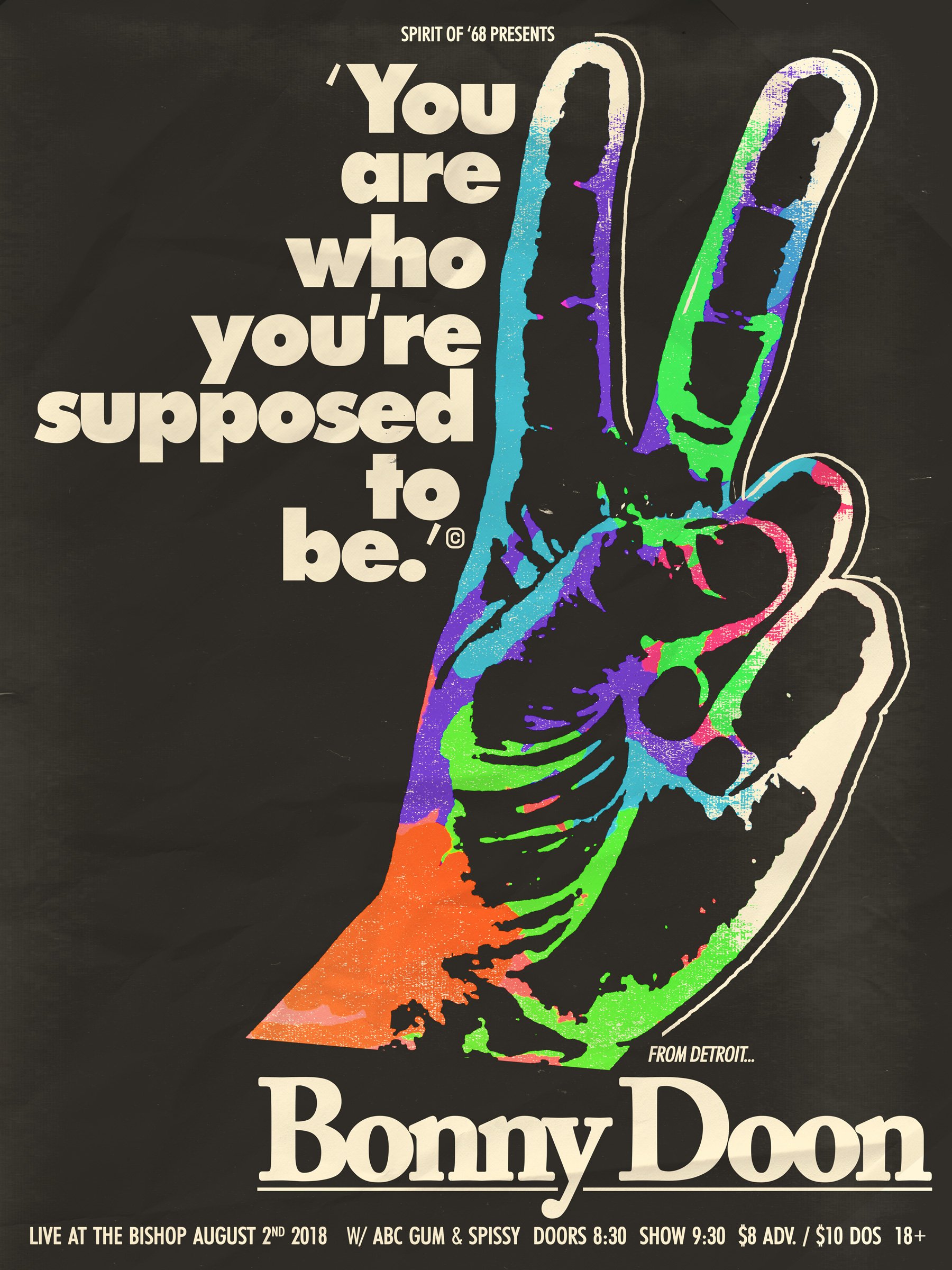 Having grown up in a small, quiet town far removed from big cities, like NYC or LA, what would you say were some of your earliest exposures to art and design?
Well, I didn't have much access to museums or anything growing up so never really saw any real art until college. So I didn't have much influence when younger, but because of that, I had an imagination about what it was or perhaps a less cynical or even academic perspective of it. A more dreamy sort-of-escape. My family and the place I grew up in didn't have anything to do with the arts, so it was a sort of way to rebel. I just loved it, just reading art books. I remember going to Borders—
R.I.P.
—yeah and just gawking at the art books and being really interested in that world but not quite understanding it at all.
It's interesting you mention a 'less cynical' outlook because when we look at art, we often identify ourselves with an artist, a movement, or a trend. Having such limited access allowed you, in a way, to just take it all in…free of judgment.
Totally, yeah I didn't know anything of the arts and no one around me was making any art seriously. So I began to form this relationship towards it, that looking back, was pretty pure.
It wasn't based on someone telling me what to like or dislike. It was purely my own thing that I gravitated to certain artists and movements. So when I got to college I found that I could just study that. It was pretty naive saying it now, but growing up in Indiana, there's no money given to art, at least where I grew up. You can really figure what you like. 'Oh I saw this and I feel connected to it.'
Totally, when you mention movements, what were some that you gravitated towards?
I remember seeing a Warhol book that really got me into Pop Art. It just seemed different and accessible. I was really drawn to the colors and I really liked that it didn't look like a Renaissance painting, which made me think, 'This is art too and it doesn't look like a classical painting.'
From there I grew out of that and got into Jasper Johns and the Abstract Expressionists, for no other reason then I was drawn to the colors, the boldness and the perception that there was an intellectual thought behind it. Also loved how it was a reaction to something. Upon studying more art in college and talking to people who really knew theory, I really got into the Constructivists and serious about the idea of abstraction. From there I started studying Minimalism and the likes of Donald Judd, which led me to start writing about it in a sort of critical way. Since then, I'm less interested in painting and more into political art…do you know Chris Burden?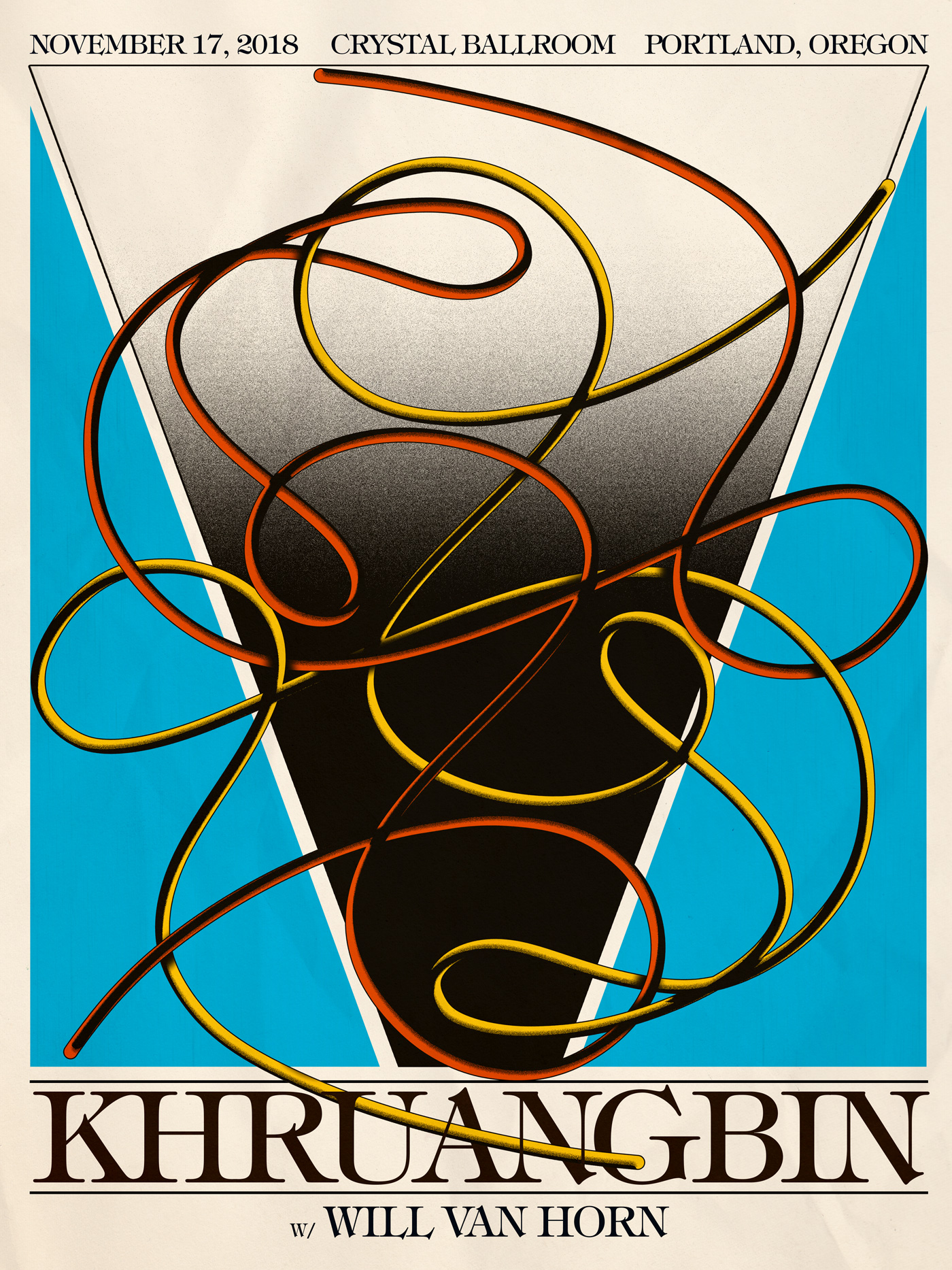 No, not familiar.
He's pretty interesting. I loved his action arts, stuff that isn't object-oriented. Sorry went off on a little tangent here.
Nah man, tangents are good.
Those are just some of the names I grew to like when younger but nowadays I just like going to museums or shows that I haven't been to and don't really like to overthink things. I got really serious in school about art history and thought I was going to be some sort of art critic or historian, but now I just need to enjoy it. I'm drawn to work that aesthetically feels good.
Do you think that's why you're inspired by figures like Judd and Barnett Newman, as opposed to figurative art?
I think Barnett Newman is a great example. I mean if you look at a Rothko or any of those masters, I always thought they're very beautiful and powerful. For me, I don't first think, 'Ok that's four colors in two lines,' but you just react to it. It's like the iceberg effect, where you can just tell there was a lot of time put into this thing, even though it's so simple.
That has really resonated with me lately with my own work, where things just take forever, and it gets complicated, but the simplicity always wins the day. But it's the journey to getting to that, which is what I feel was the case with all those painters like Judd and Newman. They've exhausted all the other options, and there's no other way this idea can look. That's how I feel I get to a finished mark when creating posters and designs where I've exhausted everything I could do in my ability and this is the best result.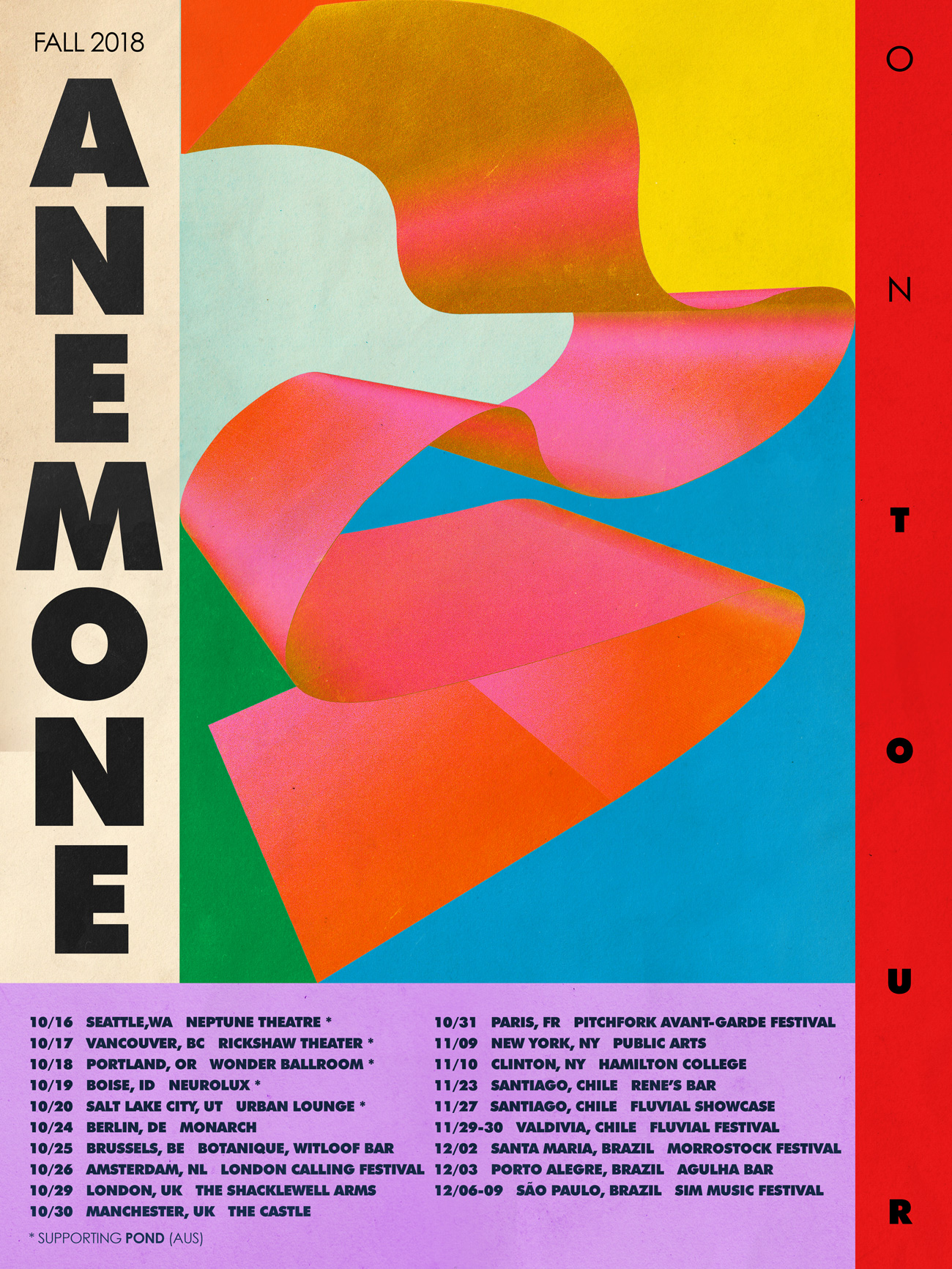 Kind of like a process of simplification, where it's like how much can you abstract this mood, thought, or feeling.
The simplest designs are always the ones that take the longest. They're usually born out of really going overboard. You don't just walk up to a painting and slap one color on it and say 'It's done.' That's not fulfilling or expressive.
I think that I relate to the idea that there is a kind of struggle to find a solution to a problem. At the end of the day, something really simple happens and something about that journey to get to that mark is what makes pieces powerful. You can tell, too, when someone is trying to go simple against someone who ends up as simple.
Especially in today's trend-fueled landscape, where you can weed out the ones who genuinely land on that mark. Your posters are compelling in the way you set type and color alongside this retro pastiche. Can you describe your aesthetic and your process behind it?
I've thought a lot about this trend in design, and maybe I just perceive it as a trend because I don't have a real history in design, but in these deeply textured things. I don't really think of my own work in that way, but I do like the idea that it feels like a real object and I'm not doing it to trick or make you think in that way, but color works a lot better when its overplayed with texture. You get this super flatness and sense of depth with color when playing alongside texture.
Absolutely, and most of your designs are music based, did you play yourself?
Yeah, since I was a teenager.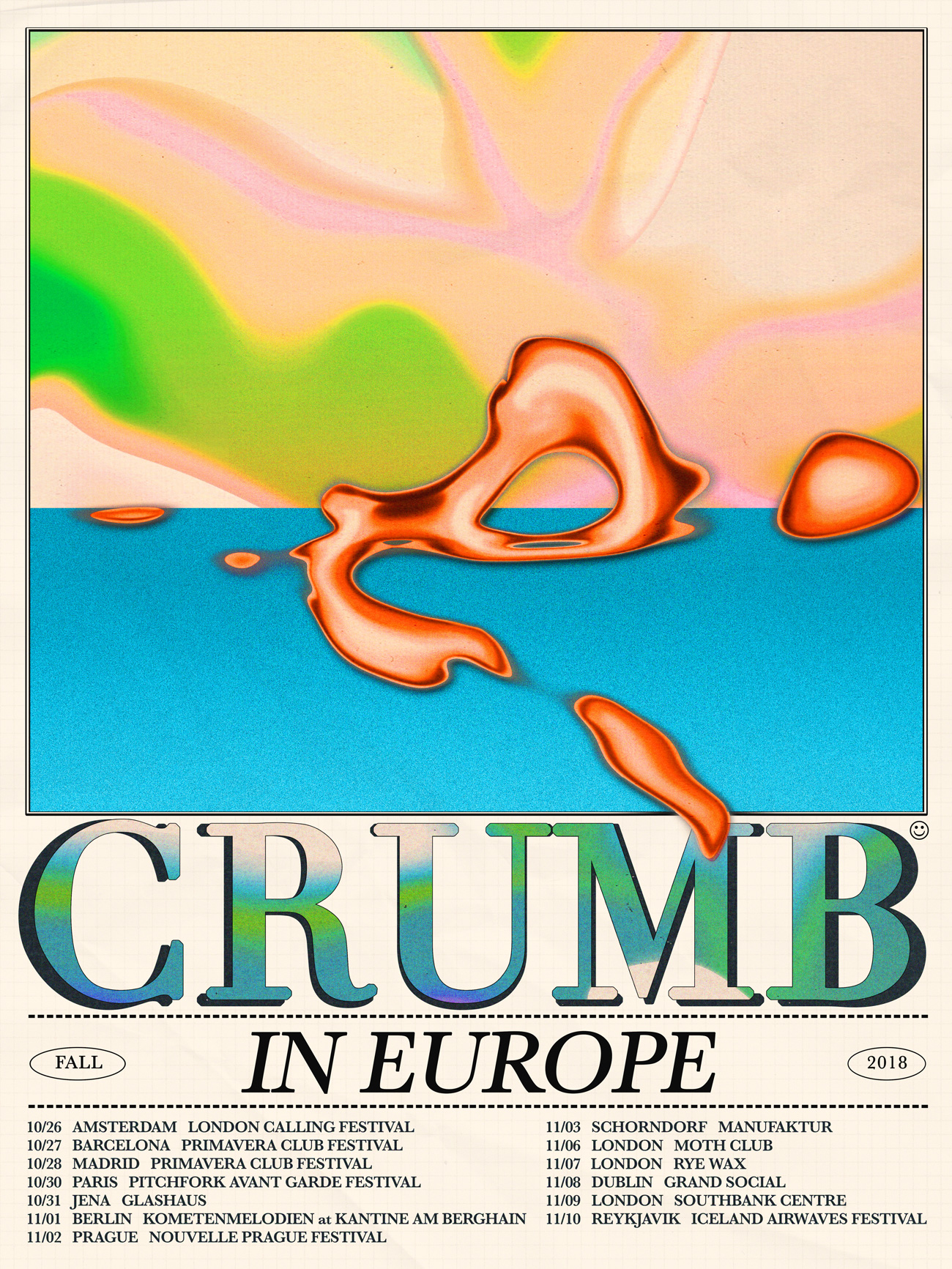 Do you plan to venture past music, maybe toward some medium of fine art?
Not sure yet, but the answer is yes and it's kind of been happening now. I've had some recent commissions that are loosely tied to music and the posters are devoid of text. But the text has become a real part of the thing.
I keep telling people, 'I never just made art, without an event or having something associated with it.' A little because that's my way of living, but even before that. It's so hard to just make art constantly, tackling this complex thing and being expected to also make money off it. I was never motivated nor wanted to do it. I really thrive in music-related art, because you're always dealing with like-minded people, such as musicians, which I understand and relate to deeply because everyone who is close to me is basically a musician.
Also, the deadlines are insane, so I sort of thrive to really dedicate myself to coming up with how an event is supposed to be expressed visually. That makes you finish things and I enjoy that.
When you talk about turnaround time, which I can imagine being a bit crazy, are there certain elements you aim to convey as a designer?
It entirely depends on the piece, but in general, I don't like to have preconceived anything when I sit in front of the computer and start. So it's interesting when you look at my body of work, you can tell what I was into at the time. I experiment with things until I feel satisfied then dig into what I feel is working.
Simply a solution to a problem approach.
Also because I'm a musician, I feel pretty proud that I'm keyed into the music world. I really like new music and its so cool that bands I like will approach me to do artwork. So having been a fan prior, I kind of think I know what I feel would work for them. I can anticipate what aesthetics those musicians are into, which are similar to my own interests. You can feel it sometimes, and I like it, but this doesn't look like a poster for The National, you know? You gotta' approach it like, 'What is correct for this band?' without losing your sense of expression.
Totally and to backtrack just a bit, what was your entryway into music? Like what band or cover made you think, 'What the fuck, this is what I want to do.'
Yeah, like I said, my parents weren't really into music but I have an older brother who used to buy CDs, which I would listen to, he had these Pavement CDs which made me think, 'I didn't know music could sound bad but be good,' and that was really exciting. Also got into Nirvana, and then after got into Stereolab which made me think, 'music is art.' I really got into Arthur Russell as well in high school.
Posters can kind of shape what a show is going to be like, not mine, but just in general. If a show has a well-thought-out poster, it means someone really cares about it. Nowadays, man, I don't know how it feels in LA, but even in Bloomington, it feels like there are so many bands that are touring for some reason but no energy or dedication behind it. So when you see a show that people care about and put love into, that makes the difference.
For sure man, and you can see that all over LA, where you can see the ones who are dedicating their heart into the craft as opposed to the ones who are there to just collect a check.
And not to disparage, I completely understand those who just make their living making music. I just feel like its sad that it sometimes feels like a mill. I think it's just cool to have a fuckin' sick poster for one show…like, let's make this poster cool.
It's interesting too, cause long after the show, the poster along with, say an album cover, lives on with people for generations.
I also feel like that's what bridges the gap for me personally. Sure I design stuff for music, but I have the bravado to feel like it's fine art. I think of music and records as fine art. I recently got a book on Hipgnosis and their collection of work. Looking at those albums…that is what I remember, which is from decades ago. You sometimes don't even remember the music but the art itself.
Totally, The Dark Side of the Moon cover is arguably the most recognizable record cover of all-time.
Yeah and if you think about it, that reaches more people than a painting, you know? There's something heartening about that for me. I just did a cover for a band named Wild Nothing and had friends hit me up saying they saw it in a store. That's amazing to me that it's just sitting there amongst all these stores and I can show all these strangers my art without having to be in some stuffy gallery or weird event.
Right, and bringing back to the 'less-cynical' mindset, your designs live in this unpretentious space where people can just take in the art—
Yeah, and they can be like, 'This, I like this.'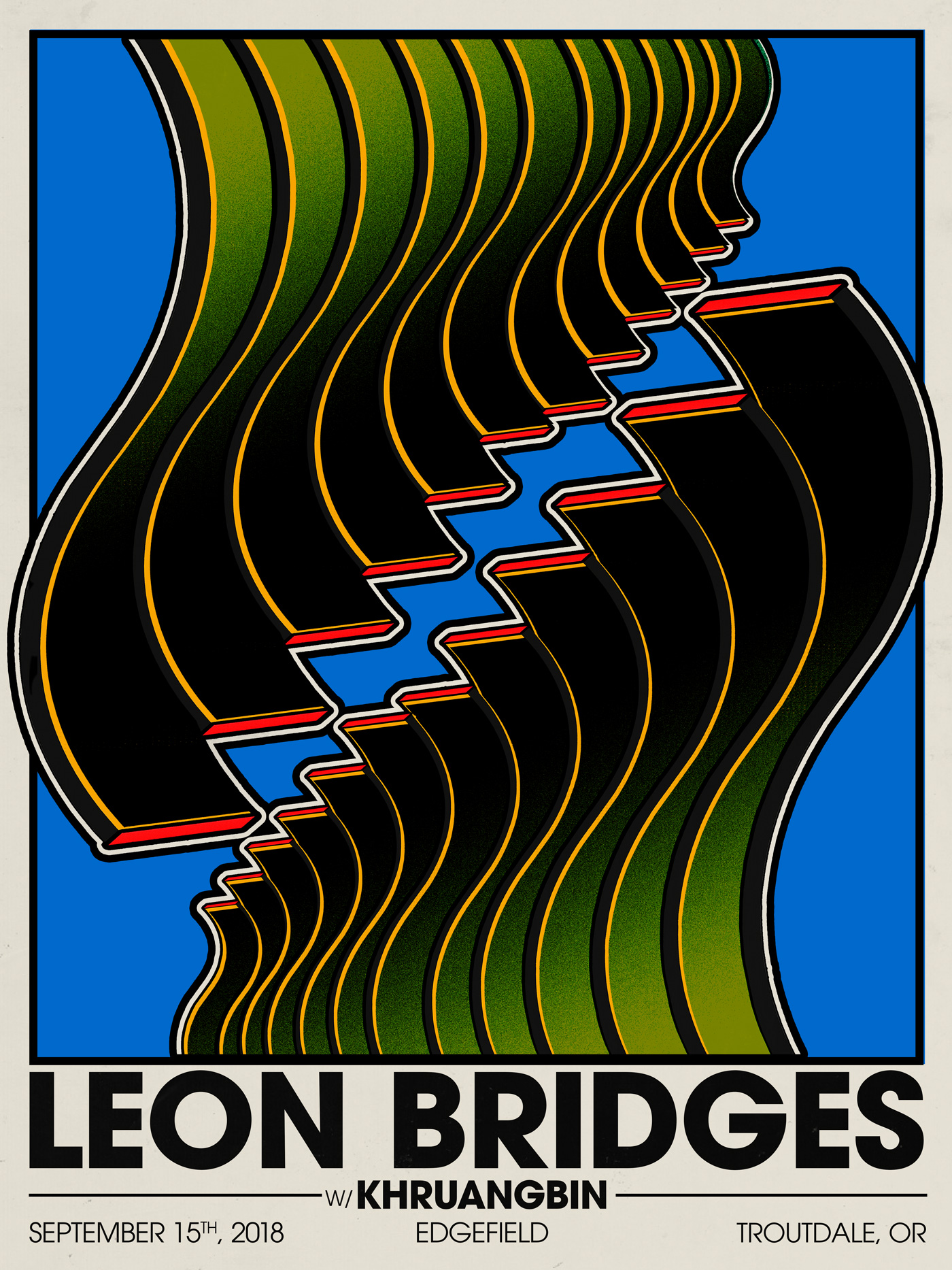 Yeah, and not necessarily know why.
It just feels like in a museum setting, you feel pressured to have a sort of experience and get something out of it. Whereas, in the context of Instagram or a record store, you either like it or you don't…yes or no. It's a pressure-free zone.
Are there any future projects you'd like to share with us?
Yeah, there's been a few bands who've approached me to continue to be a creative partner and I've been excited to do more art direction for albums. Also, have done more posters that have been produced and sold at shows. That's really exciting for me.
I like show posters cause they feel like a sort of memento from an event and I like being a part of that. I also may have my first show in the fall, here in Bloomington. I'd like to do shows that are not so much in galleries but just spaces around the world. I just kinda like doing this, meeting creatives like yourself through something I started doing like two years ago. It's weird and great but I love it.
For more from Aaron Lowell Denton, follow him on Instagram.